Books
Tithe: A Modern Faerie Tale (2002)
Anthologies: The Faery Reel: Tales from the Twilight Realm (2004), The Coyote Road: Trickster Tales (2007), Troll's Eye View: A Book of Villainous Tales (2009), Full Moon City (2010), Vampires: The Recent Undead (2010), Naked City (2011), Happily Ever After (2011), Teeth: Vampire Tales (2011), Under My Hat: Tales from the Cauldron (2012), Magic City: Recent Spells (2014)
Tithe: A Modern Faerie Tale (2002)
Tithe came up multiple times as a recommended book for me on Amazon, but when I read the description and saw it was a about a sixteen year old, I thought, "No thanks. Not in the mood for teen angst." But I finally put Tithe on my wishlist, and then received it for Christmas this year. Then it sat unread, as I continued to not want to read about ten angst.
Really, sometimes I'm stupid. I've read a lot of YA fiction, yet somehow I often manage to forget how much I really enjoy it. Yes, there are occasionally angsty teenage bits and books, but for the most part, YA fantasy is as good or better than what's out there for adults.
Last night I went knelt down by the bookshelf to peruse the to-be-read pile that had migrated upstairs. (Which is different from the to-be-read pile downstairs.) I flipped to the first page of Tithe to see if it was what I was in the mood to read. Five minutes later, after my knees started to really ache, I moved to the sofa and tore through more than half the book.
Kaye lives a life that most teens would dream of–her mother plays rock and roll and doesn't make her go to high school. So Holly works during the day, smokes all she wants, and gets to hang out at bars while waiting for her mother's shows to finish. However, an unfortunate and unexpected even sends them back to New Jersey and Kaye's grandmother's house, where she is expected to go to school, and to act like a normal teenage girl.
Unfortunately for Kaye, she is soon to discover that she is anything but a normal teenage girl, and her life is soon to be turned completely inside out and upside down.
This story does so many things right I can hardly believe it. First of all, the angsty whiney teenage stuff is kept to a minimum. Second, nothing is predictable. Third, the writing is very good and sharp. Fourth, the story draws you in and keeps you. Even when Kaye is being whine and stupid, it's still and and it's also completely reasonable–after all, she is 16.
If you like urban fantasy, then you definitely want to check out Tithe. The story is good, and like to many YA novels, the writing is good and although there is a bit of romance, there is no boinking. I highly recommend reading the first couple pages–you should know immediately if it is a book for you or not.
Rating: 8/10
Anthologies
The Faery Reel: Tales from the Twilight Realm (2004) edited by Ellen Datlow & Terri Windling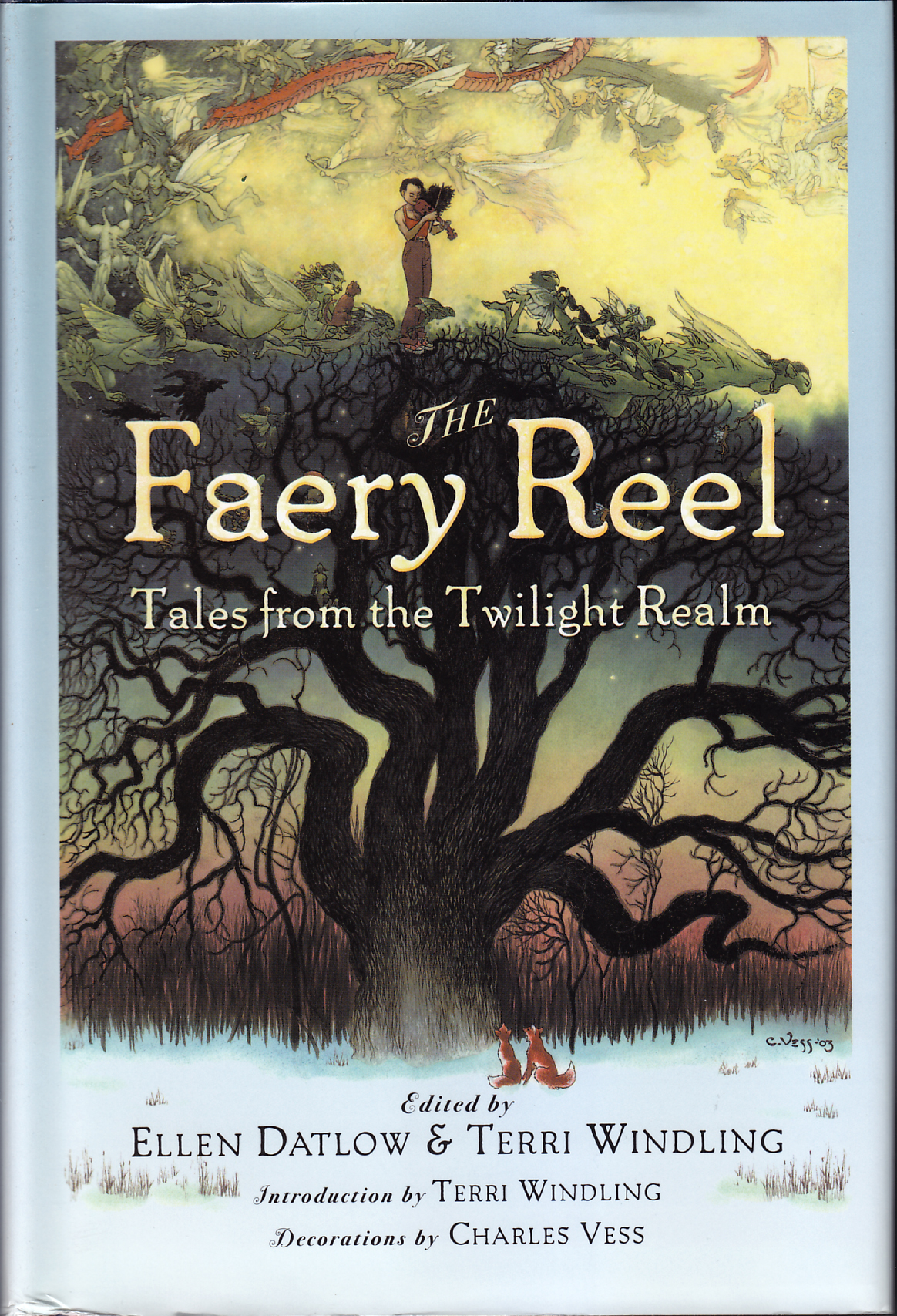 Any time I see a fantasy anthology edited by Ellen Datlow and Terri Windling, I'll often as not pick it up, because I know that it's going to be good. Usually very good. This volume however, has the added bonus of poems by both Charles de Lint and Neil Gaiman.
Needless to say I snatched it up--even thought it was in hardback--when I came across it.
These faery tales are based not upon the fairies of Disney but upon the faery of folktales. As they say in the introduction:
In this book about our good neighbors, we've asked a number of our favorite writers to travel into the Twilight Realm (an ancient name for the land of Faerie) and to bring back stories of faeries and the hapless mortals who cross their path. "No butterfly-winged sprites," we pleaded. "Read the old folktales, journey farther afield, find some of the less explored paths through the Realm.
It would be hard for me not to love this book.
The Night Market - Holly Black
All in all an excellent anthology. But I hardly expected anything less.
Rating: 8/10
Published by Viking
The Coyote Road: Trickster Tales (2007) edited by Ellen Datlow & Terri Windling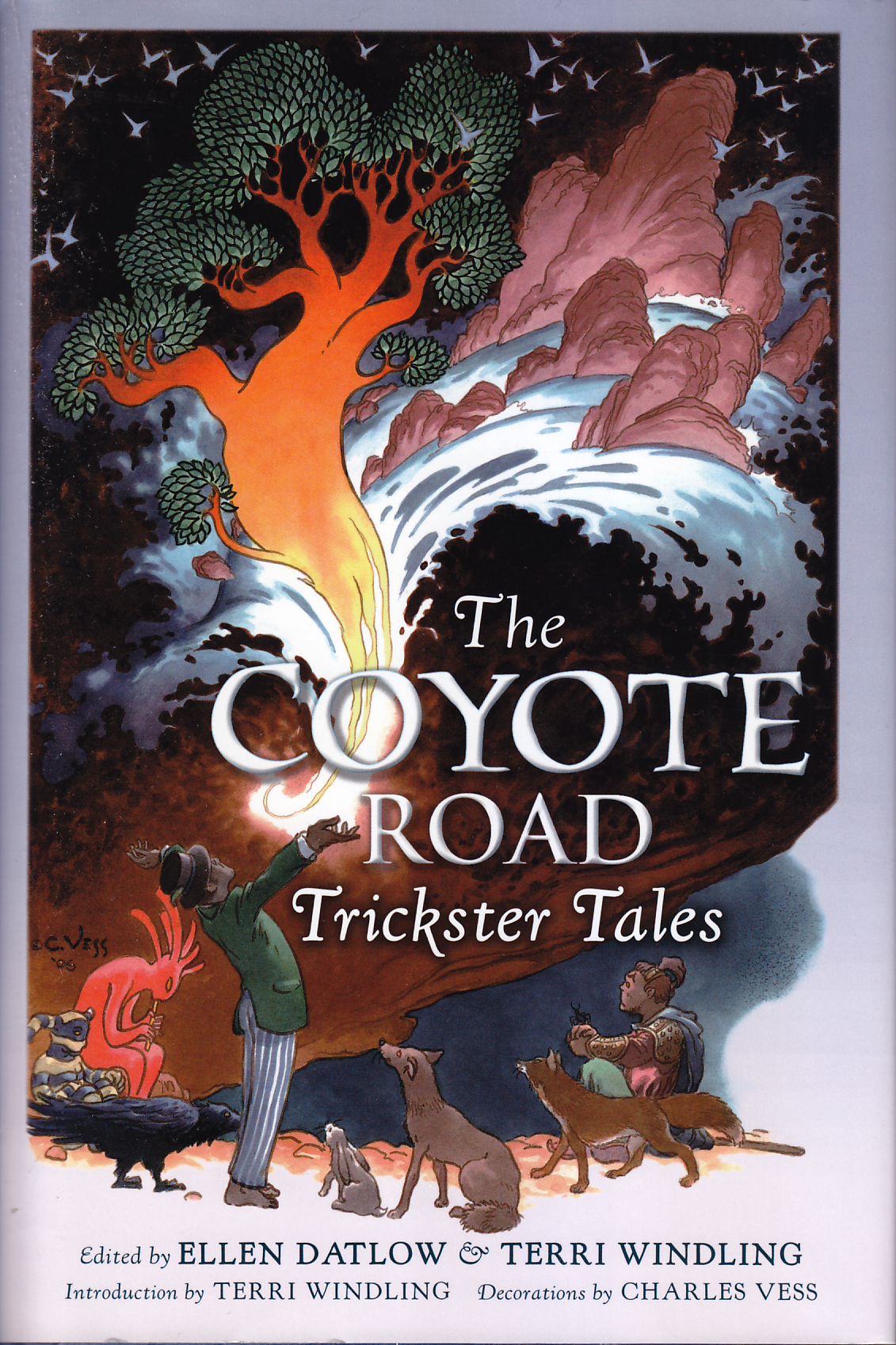 I love short stories. Aside from collections by Charles de Lint, I best love anthologies by Ellen Datlow & Terri Windling best. Their books are like comfort food, and I save them up for when I'm sick or feeling low.
In the same vein as The Green Man and The Faerie Reel, Datlow and Windling have this time collected stories about tricksters, and they've got some of my favorite authors in this collection: Charles de Lint, Nina Kiriki Hoffman, Ellen Kushner. As usual, they manage to collect stories by some of my favorite story tellers.
Another deal with the Devil story was Holly Black's "A Reversal of Fortune." Despite the gross out bits (considering eating candy all day is enough to make me feel ill), was an excellent story.
If like short story collections, or trickster tales, then you will want to read The Coyote Road. It has stories from many of my favorite writers, and as with all their collections, I was delighted to discover new authors for whom I'll be on the lookout.
Rating: 9/10
Troll's Eye View: A Book of Villainous Tales (2009) edited by Ellen Datlow & Terri Windling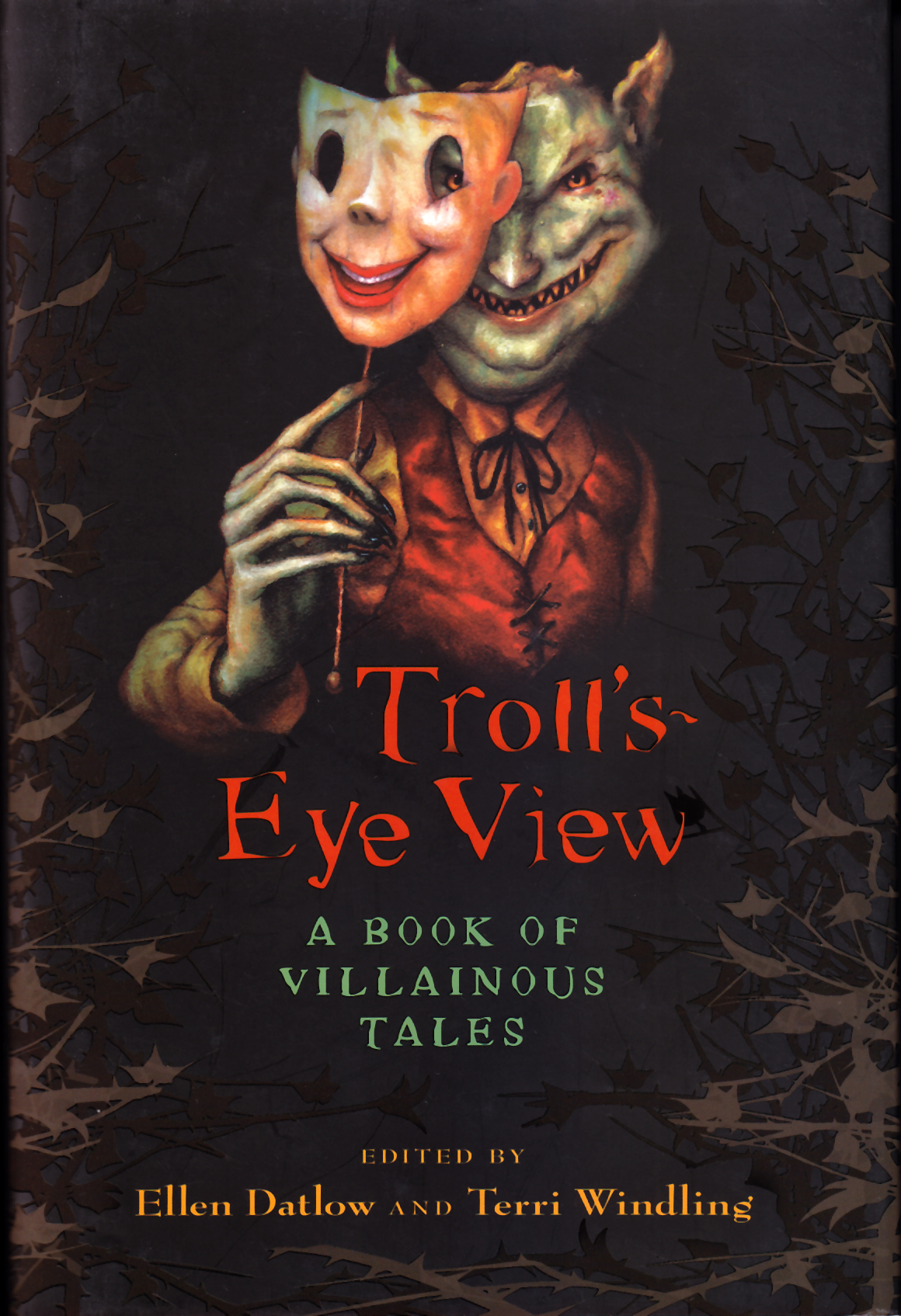 "Wizard's Apprentice" by Delia Sherman
"An Unwelcome Guest" by Garth Nix
"Faery Tales" by Wendy Froud
"Rags and Riches" by Nina Kiriki Hoffman
"Up the Down Beanstalk: A Wife Remembers" by Peter S. Beagle
"The Shoes That Were Danced to Pieces" by Ellen Kushner
"Puss in Boots, the Sequel" by Joseph Stanton
"The Boy Who Cried Wolf" by Holly Black
"Troll" by Jane Yolen
"Castle Othello" by Nancy Farmer
"'Skin" by Michael Cadnum
"A Delicate Architecture" by Catherynne M. Valente
"Molly" by Midori Snyder
"Observing the Formalities" by Neil Gaiman
"The Cinderella Game" by Kelly Link
Published by Viking Books for Young Readers
Vampires: The Recent Undead (2010) edited by Paula Guran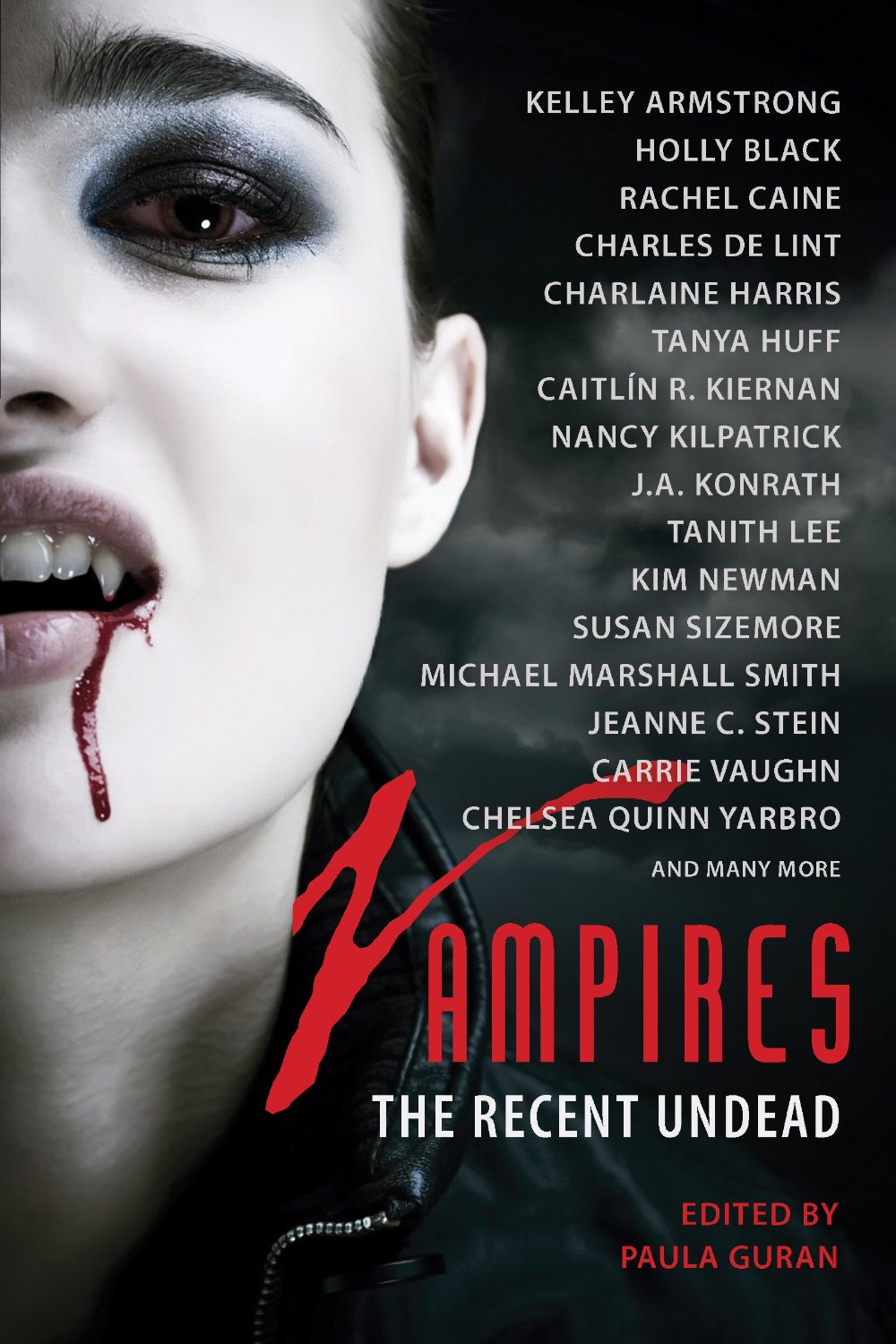 "The Coldest Girl in Coldtown" by Holly Black
It has taken me an almost embarrassingly long time to finish this. How long you ask? I purchased it a couple months after it was published–that long ago.
The problem is I hit a point where I wasn't interested in a story, and instead of just skipping to the next story, I put the whole thing down. I know, rookie mistake. (But you'll see I made it several times, so I decided to just finish off these anthologies, and if I didn't like a story? SKIP.)
"The Coldest Girl in Coldtown" by Holly Black
I read this one before, and purchased the book because of it. Except that I've not actually read the book.
Both of the guys laughed. She tried to laugh with them even though she knew she wasn't included in the joke. She was the joke. The trashy little slut. The girl who can be bought for a big fat wine cooler and three cranberry-and-vodkas.
And I don't know why, because to grab that quote I ended up starting to re-read the story. Which is not helpful when writing a review.
So, it was an uneven anthology for me, but there were some very good stories that are well-worth the price of the anthology.
Rating: 7/10
Published by Prime Books
Full Moon City (2010) edited by Martin H. Greenberg & Darrell Schweitzer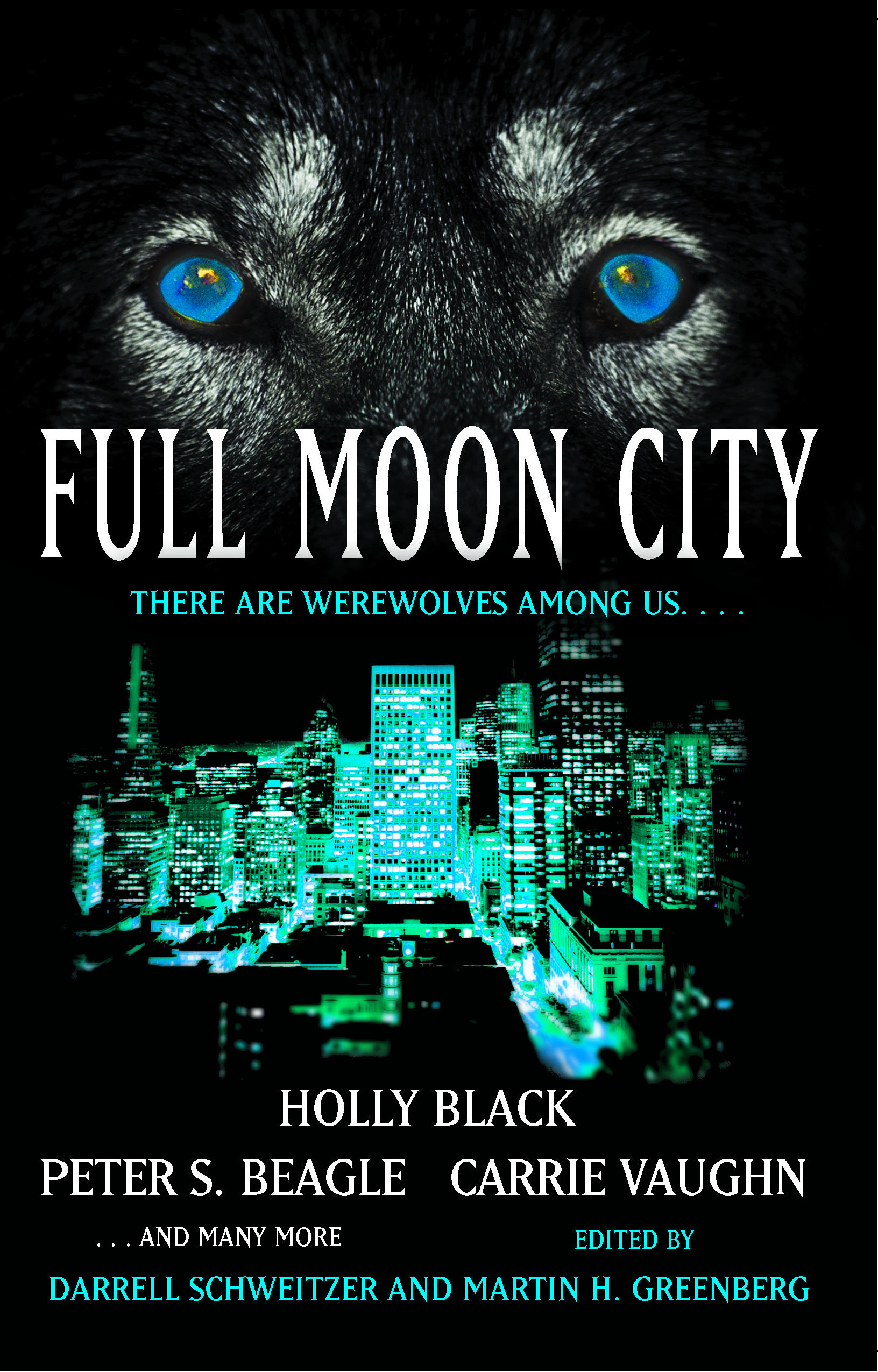 I love anthologies. Though I have to admit that with the way paranormal romance has taken off, the ratio of wheat to chaff has been unfavorable for me. However, Carrie Vaughn and Peter S. Beagle were pretty compelling reasons to get this anthology.
The Aarne-Thompson Classification Revue - Holly Black
Holly Black's story, "The Aarne-Thompson Classification Revue" was another odd story. A werewolf girl trying to make it in the big city. I liked it, even though I was never quite sure where it was going.
Although there were several stories I didn't particularly like, but all in all, the stories that were good were very good, and well worth the price of the anthology.
Rating: 8/10
Happily Ever After (2011) edited by John Klima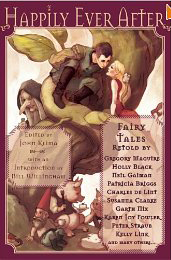 Not sure how I missed this when I first came out, but this anthology is full of things I love: authors whose books I love, stories based on folk and fairy tales–lovely!
The only thing I didn't like, is I wish the anthology hadn't ended on such a dark and depressing story.
Mind you, the dark and depressing stories were good–very good–but these tales ran very true to the original stories, with a not insignificant amount of rape and incest and general horribleness. Just like the original tales.
But there's also a good amount of humor as well, and I just wished the collection had ended with one of the funnier stories.
"The Night Market" by Holly Black tells of a girl trying to make a deal with faerie, to save her sister. I really very much enjoyed this story, with it's non-Grimm non-European roots.
Please note, as previously mentioned, the stories have rape and incest and lots and lots of sex in addition to evil stepmothers and other such killers.
There were also a fair number of very dark and very depressing tales that were very good, but that I didn't enjoy at all.
Rating:8/10
Published by Night Shade Books
Naked City (2011) edited by Ellen Datlow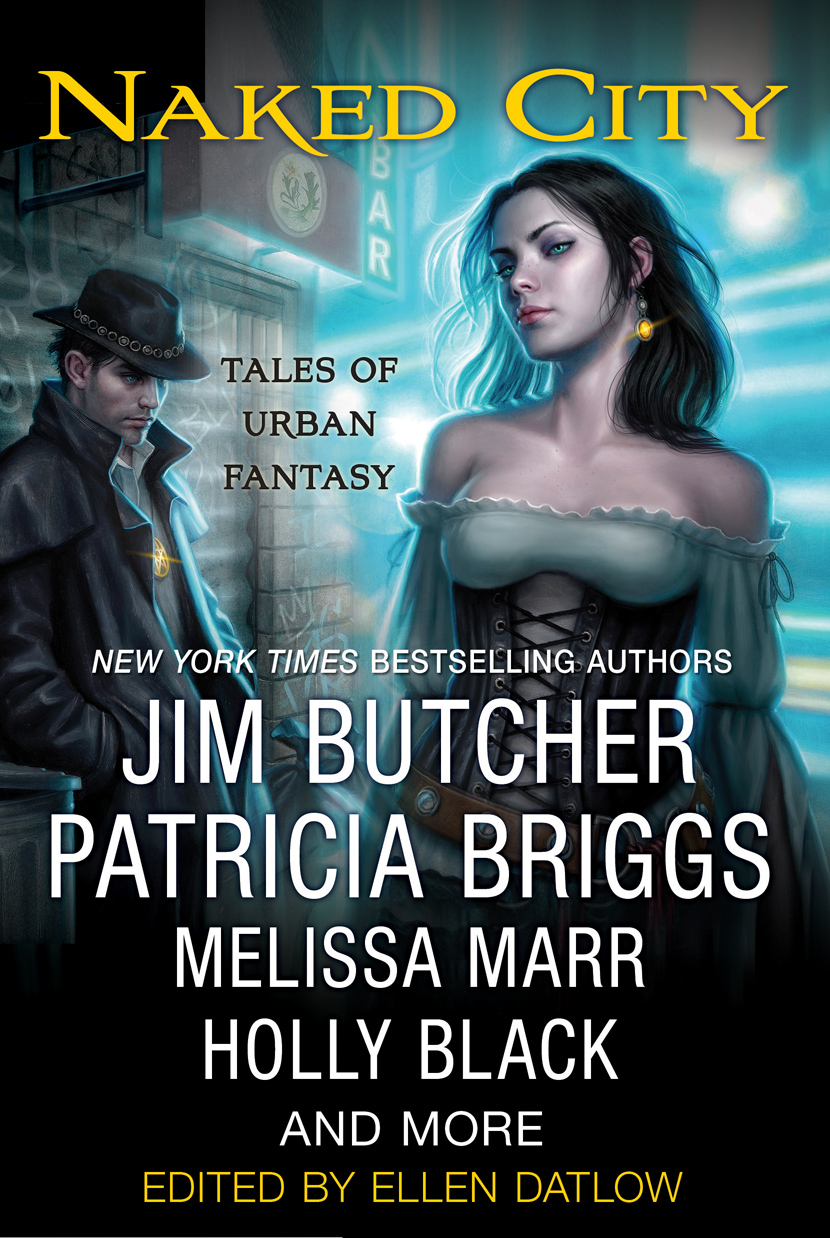 This collection of urban fantasy stories has several of my favorite authors, so it was a no-brainer to get. The bad thing is that I've been reading this collection for several months, so I now have no idea what the stories at the start of the anthology were about, which is dangerous, because it means I may end up accidentally rereading several of them.
Holly Black's story "Noble Rot" is a ghoul love story. Really.
Although there were several stories I didn't care for, I believe that was more a matter of personal taste than quality. And the stories I did like, I liked very much.
Rating: 8/10
Published by St. Martin's Griffin
Teeth: Vampire Tales (2011) edited by Ellen Datlow & Terri Windling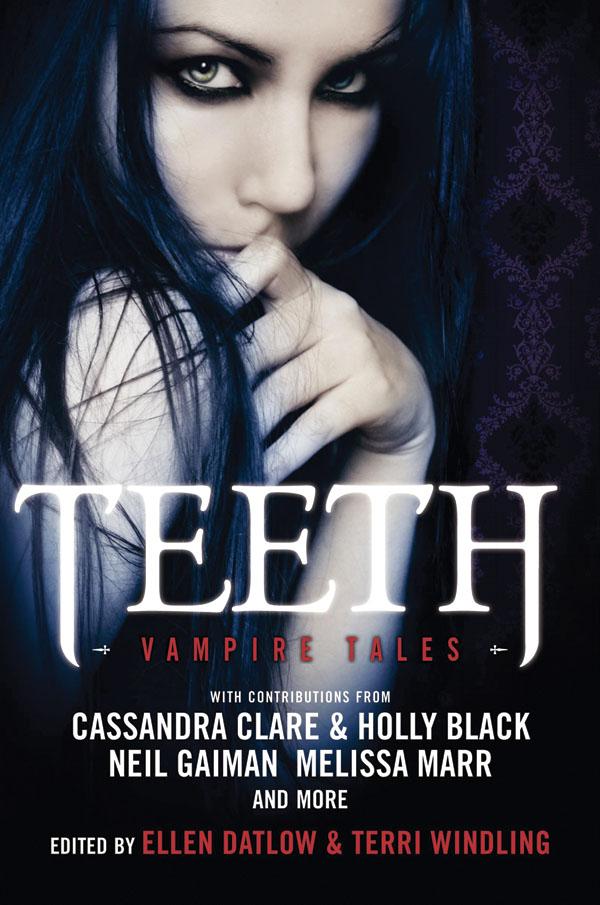 This is an Ellen Datlow and Terri Windling anthology, so as always, there are fascinating bits of folklore.
Rice, not garlic, was the most effective means of keeping Chinese vampires at bay, for they had a strange compulsion to count. Throwing rice at the ghost compelled it to stop; it would not move again until each grain was counted.
"The Perfect Dinner Party" by Cassandra Clare & Holly Black is disturbing and creepy and again looks at the downsides of never growing older. Especially if you're a child when you were turned. This story was disturbing, but I quite liked it.
As expected, this was a very good anthology, and although I didn't like the horror or the poetry, that's a failing of mine, not the anthology.
Rating: 8/10
Published by Harper Collins
Under My Hat: Tales from the Cauldron (2012) edited by Jonathan Strahan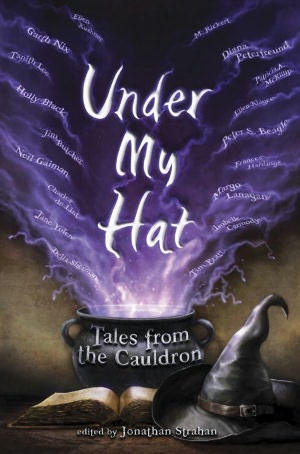 This is a lovely YA anthology, with some amazing stories by some of my favorite authors. I didn't love all the stories, but none of them were bad. The theme is young witches coming of age, but the stories are far greater than that.
Holly Black's story "Little Gods" was different from many of the other stories, in that there didn't seem to be any true witchcraft, but instead a teen wanting wicca to be something more. I have to say that at a couple points I was a little worried, but Ellery seemed more than capable of holding her own.
Rating: 9/10
Published by Random House
Magic City: Recent Spells (2014) edited by Paula Guran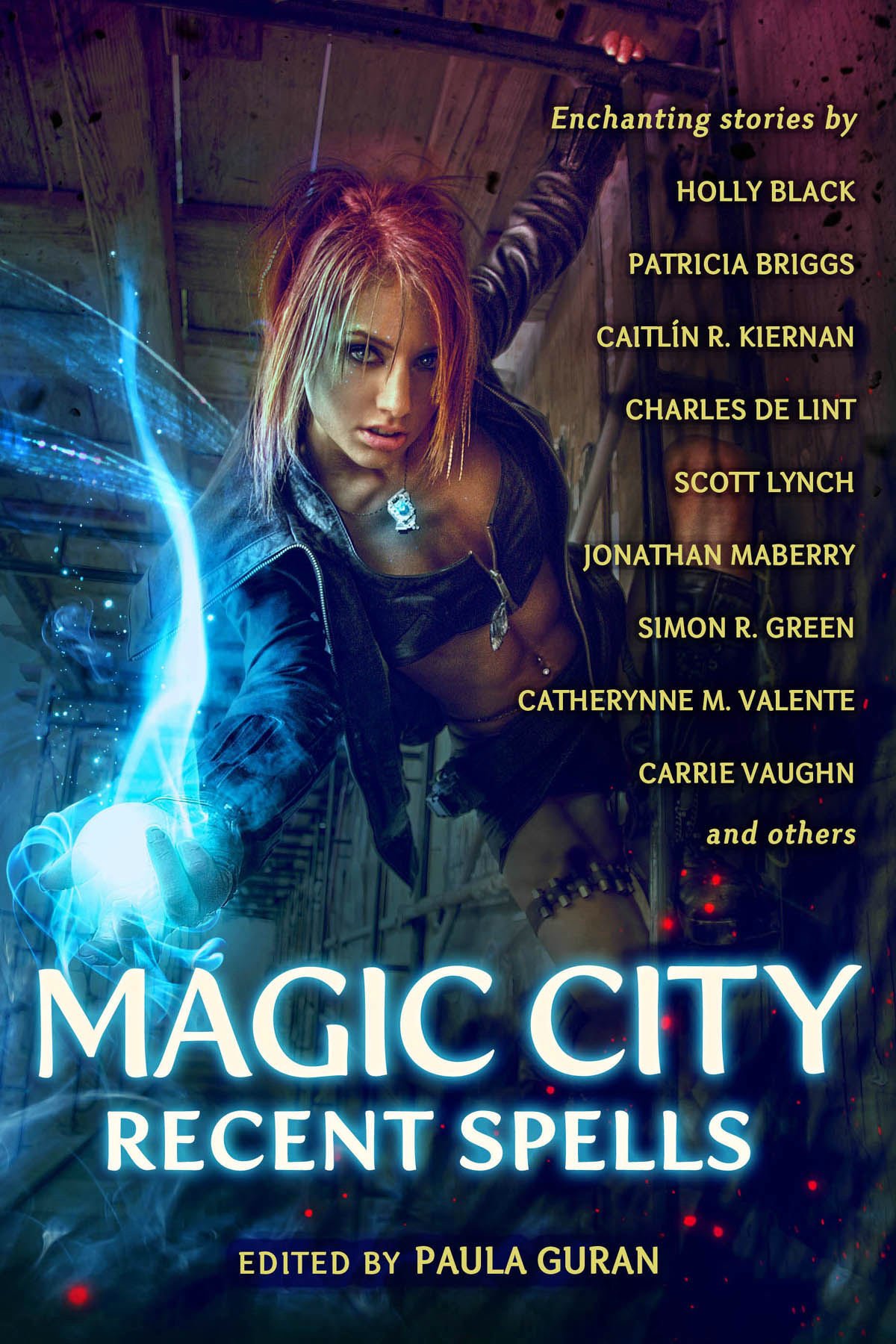 "The Land of Heart's Desire" by Holly Black
"The Land of Heart's Desire" by Holly Black is a story of humans and faerie living together, perhaps uneasily. I felt like I was missing something in this story.
All in all this is a marvelous collection, that I highly recommend.
Rating: 8.5/10
Published by Prime Books