Books: Fantasy
Jonathan Strange & Mr. Norrell (2004), The Ladies of Grace Adieu (2006)
Anthologies
The Sandman Book of Dreams (1996), The Secret History of Fantasy (2010), The Way of the Wizard (2010), Happily Ever After (2011)
Jonathan Strange & Mr. Norrell (2004)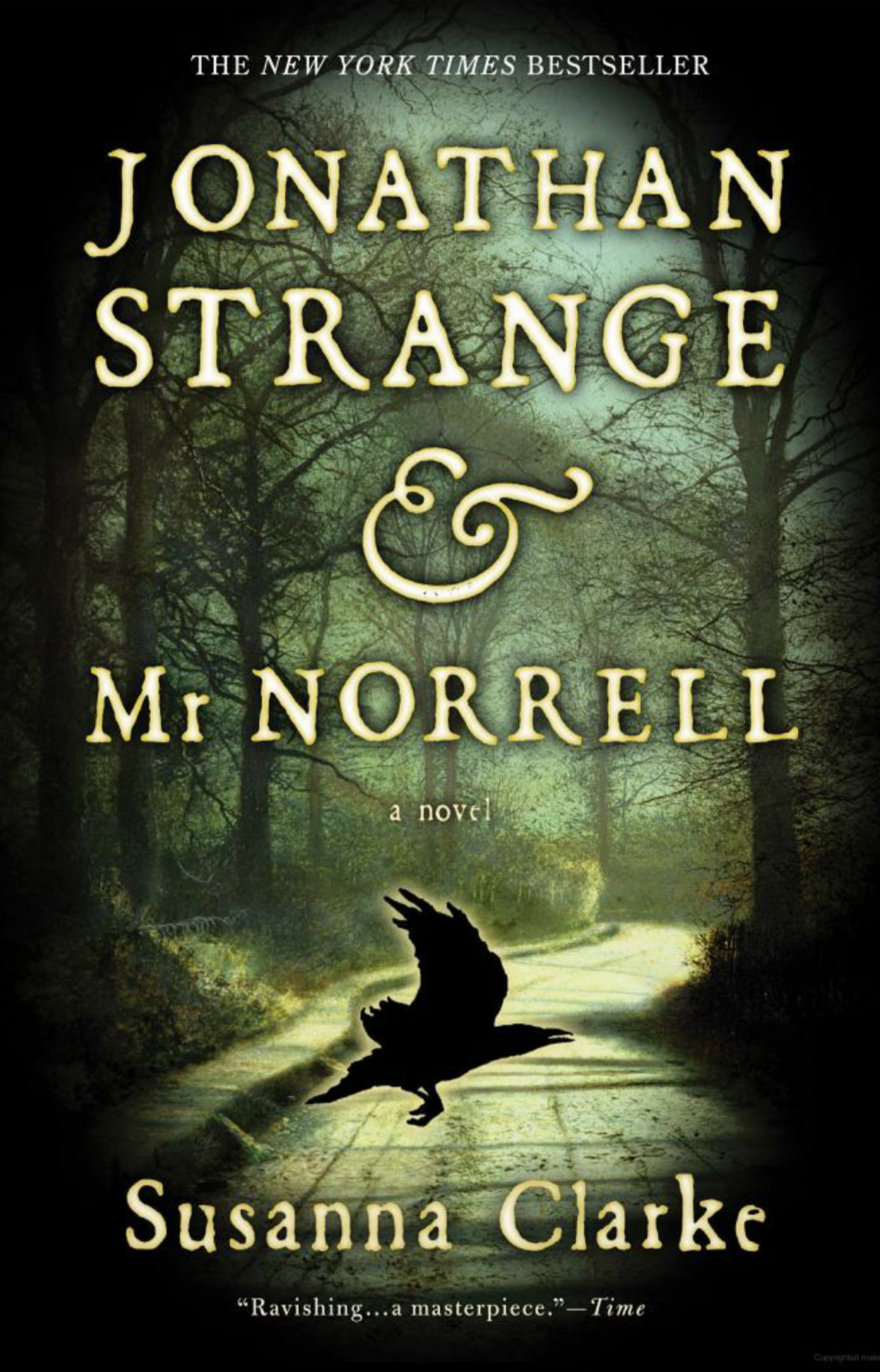 I got Michael this book for Christmas last year, but put off reading it myself because the book is huge: 800 pages huge. It's not the kind of book I could curl up with; instead I had to set the book on the table, or prop it up in my lap, or lean it against a pillow.
But it was worth it.
This is an excellent book. I loved the story. I loved the characters. I loved the setting. I loved the idea. I loved the writing. I loved everything.
It's the 19th century, and magic has almost entirely disappeared from England. There are theoretical magicians who study the old texts and stories, but there do not seem to be any practical magicians.
Until Mr Norrell shows up.
Mr Norrell was very well pleased. Lord Liverpool was exactly the sort of guest he liked--one who admired the books buy shewed no inclination to take them down from the shelves and read them.
Despite everything, I like Mr Norrell.
But that's all I want to tell you, because one of the things I loved about this book is discovering what happens and watching the story unfold.
The characters are also wonderful. I love Jonathan Strange--he's wonderful. And the other characters are also very good, especially Stephen Black. There is something about Stephen Black then I just kept hoping that things were going to work out for him.
And I loved the writing.
Today Spitalfields is inhabited by the low and the poor and is much plagued with small boys, thieves, and other persons inimicable to the peace of citizens.
I love the buried in descriptions and if you aren't paying attention you'll miss it, kind of humor.
It was not that the Ministers were dull-witted — upon the contrary there were some brilliant men among them. Nor were they, upon the whole, bad men; several led quite blameless domestic lives and were remarkably found of children, music, dogs, landscape painting.
And the descriptions themselves, of this strange England, are wonderful. They remind me somewhat of Arthur Conan Doyle's descriptions of England and the countryside, though I don't know exactly why.
And the real bits that she works in are lovely, like this bit about Lord Byron.
And though my companions are careful to tell people that I am that dreadful being, an English magician, I am clearly nothing in comparison to an English poet and everywhere I go I enjoy the reputation—quite new to me I assure you—of the quite, good Englishman, who makes no noise and is no trouble to anymore…
This is simply a wonderful book.
If you have not already read it (it has, after all, been out for more than a year) I highly recommend you read Jonathan Strange & Mr Norrell. But set aside some time and space at home for it, because this isn't a book you can stick in your pocket and take with you.
And this book was very close to being a 10/10. Only the sheer size of the book, and how uncomfortable it was to read, knocked it down to a 9.
Rating: 9/10
Reread: December 2011 | Rating: 9/10
The Ladies of Grace Adieu (2006) Illustrated by Charles Vess
The Ladies of Grace Adieu is a collection of short stories set in the same world was Jonathan Strange and Mister Norrell during the 18th and 19th centuries. Several of the stories revolve around familiar characters–Jonathan Strange, the Raven King, the Duke of Wellington. Others are retellings and reworkings of folk tales, such as Tom Tit Tot, which is written with language and spellings similar to the tone of the original story.
As much as I loved Jonathan Strange and Mister Norrell, I found The Ladies of Grace Adieu to be hit and miss. Some of the stories I loved, some I found disappointing. The stories that I liked the most tended to have the same tone as Jonathan Strange and Mister Norrell, including footnotes in Tom Brightwind, which was probably my favorite story in the collection.
On Lickerish Hill was one of the stories I found disappointing. I found the language somewhat difficult to read, and the story jumped around a bit. It's probable she was trying to keep to the tone and feel of the original story, however, "Tom Tit Tot" is not one of my favorite folktales, in that I've never particularly liked any of the characters, which meant that a somewhat difficult story was made more difficult, since I disliked most of the characters involved.
But over all, most of the stories were very good, and I enjoyed them. Mr Simonelli had the feel of a folktale, but I couldn't place it's source. Antickes and Frets I found especially interesting, as I recently finished a book or Queen Elizabeth and Mary Queen of Scotts.
But my favorite story in the collection was Tom Brightwind. Tom Brightwind tells of the friendship between the fairy Tom Brightwind and the Jewish doctor David Montefiore. Like Jonathan Strange and Mr Norrell, this story had footnotes and added to both the story and the characters. Also like Jonathan Strange and Mr Norrell, the story wandered to and fro, with the details about the characters and the world just as interesting as the tale itself.
If you have not read Jonathan Strange and Mr Norrell, then the story Tom Brightwind should give you a good idea of the tone of the book. If you are already a fan of Jonathan Strange and Mr Norrell, then you'll snatch this book up, because who knows how long it will be before we see another novel by Susanna Clarke, and while several of the stories were only so-so, others had the tone and feel that I enjoyed so much in the novel.
Rating: 6/1
Anthologies
The Sandman Book of Dreams (1996) edited by Neil Gaiman and Ed Kramer
Chain Home, Low by John M. Ford
Stronger Than Desire by Lisa Goldstein
Each Damp Thing by Barbara Hambly
The Birth Day by B.W. Clough
Splatter by Will Shetterly
Seven Nights in Slumberland by George Alec Effinger
Escape Artist by Caitlin R. Kiernan
An Extra Smidgeon of Eternity by Robert Rodi
The Writer's Child by Tad Williams
Endless Sestina by Lawrence Schimel
The Gate of Gold by Mark Kreighbaum
A Bone Dry Place by Karen Haber
The Witch's Heart by Delia Sherman
The Mender of Broken Dreams by Nancy A. Collins
Ain't You 'Most Done? by Gene Wolfe
Valóság and Élet by Steven Brust
Stopp't-Clock Yard by Susanna Clarke
Afterword: Death by Tori Amos
It took me several months to read this book, not because it was boring, but because I was carrying it back and forth to work to read at lunch, or if I had to go somewhere for an appointment. This means that as I finished the last story in the book, I could barely remember the first story in the book.
I liked B.W. Clough's The Birth Day, a story of the beginning of an idea. I also liked Robert Rodi's An Extra Smidgen of Eternity, which is the second of two stories about Wanda from A Game of You. I liked A Bone Dry Place by Karen Haber, because it had several of the Endless interacting, although the story that tied everything together confused me, even on a second read. One of my favorite stories was Nancy A. Collin's The Mender of Broken Dreams. I quite liked the idea of the creatures of the realm of dream wondering about themselves. I of course loved Steven Brust's Valosag and Elet, but then I tend to love everything that Steven Brust writes, so you'll have to consider the source. One of the stories merits is that it is written as a folktale, and since I love folktales, that made it all the more endearing.
The horror tales were my least favorite. Will Shetterly's Splatter was set during The Doll's House collection in the Collectors, one of the more gruesome tales. The Writer's Child by Tad Williams is disturbing, although everything is alright in the end. But I don't particularly care for horror, so you'd best not take my opinion if you like it yourself. The stories were well written, but they were not anything that I particularly enjoy so take that as you will.
There was so much more that I wanted to say about these stories, but it's been over a month since I finished the collection, so I best say this for now, lest I forget everything.
These were stories written in the world of the Sandman, but they were not written by Neil Gaiman. If you liked Sandman and like short stories, then you'll like this collection. But if you are looking for more of Neil Gaiman's writing, or know little or nothing of The Sandman, then this collection is probably not for you.
Published by Harper Torch
Black Swan, White Raven (1997) edited by Ellen Datlow & Terri Windling
"Introduction" by Terri Windling and Ellen Datlow
"The Flounder's Kiss" by Michael Cadnum
"The Black Fairy's Curse" by Karen Joy Fowler
"Snow in Dirt" by Michael Blumlein
"Riding the Red" by Nalo Hopkinson
"No Bigger Than My Thumb" by Esther M. Friesner
"In the Insomniac Night" by Joyce Carol Oates
"The Little Match Girl" by Steve Rasnic Tem
"The Trial of Hansel and Gretel" by Garry Kilworth
"Rapunzel" by Anne Bishop
"Sparks" by Gregory Frost
"The Dog Rose" by Sten Westgard
"The Reverend's Wife" by Midori Snyder
"The Orphan the Moth and the Magic" by Harvey Jacobs
"Three Dwarves and 2000 Maniacs" by Don Webb
"True Thomas" by Bruce Glassco
"The True Story" by Pat Murphy
"Lost and Abandoned" by John Crowley
"The Breadcrumb Trail" by Nina Kiriki Hoffman
"On Lickerish Hill" by Susanna Clarke
"Steadfast" by Nancy Kress
"Godmother Death" by Jane Yolen
Published by Avon
Black Heart, Ivory Bones (2000) edited by Ellen Datlow & Terri Windling
Introduction by Terri Windling and Ellen Datlow
"Rapunzel" by Tanith Lee
"The Crone" by Delia Sherman
"Big Hair" by Esther Friesner
"The King with Three Daughters" by Russell Blackford
"Boys and Girls Together" by Neil Gaiman
"And Still She Sleeps" by Greg Costikyan
"Snow in Summer" by Jane Yolen
"Briar Rose and Witch" by Debra Cash
"Chanterelle" by Brian Stableford
"Bear It Away" by Michael Cadnum
"Goldilocks Tells All" by Scott Bradfield
"My Life as a Bird" by Charles de Lint
"The Red Boots" by Leah Cutter
"Rosie's Dance" by Emma Hardesty
"You, Little Match-girl" by Joyce Carol Oates
"Dreaming among Men" by Bryn Kanar
"The Cats of San Martino" by Ellen Steiber
"The Golem" by Severna Park
"Our Mortal Span" by Howard Waldrop
"Mr. Simonelli or the Fairy Widower" by Susanna Clarke
Publisher: Eos
The Secret History of Fantasy (2010) edited by Peter S. Beagle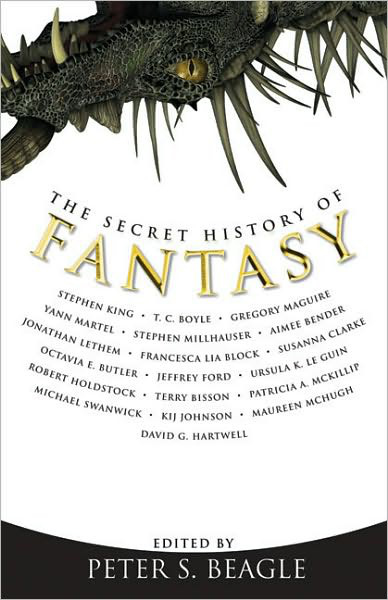 This is an interesting collection of short stories, by some very good authors. I can't say all the stories were to my taste, but they were all very good.
"Ancestor Money" by Maureen F. McHugh
"Scarecrow" by Gregory Maguire
"Lady of the Skulls" by Patricia A. McKillip
"We Are Norsemen" by T.C. Boyle
"The Barnum Museum" by Steven Millhauser
"Mrs. Todd's Shortcut" by Stephen King
"Bears Discover Fire" by Terry Bison
"Bones" by Francesca Lia Block
"Snow, Glass, Apples" by Neil Gaiman
"Fruit and Words" by Aimee Bender
"The Empire of Ice Cream" by Jeffery Ford
"The Edge of the World" by Michael Swanwick
"Super Goat Man" by Jonathan Lethem
"John Uskglass and the Cumbrian Charcoal Burner" by Susanna Clarke
"The Book of Martha" by Octavia E. Butler
"The Vita Aeterna Mirror Company" by Yann Martel
"Sleight of Hand" by Peter S. Beagle
"Mythago Wood" by Robert Holdstock
"26 Monkeys, Also the Abyss" by Kij Johnson
Susanna Clarke's "John Uskglass and the Cumbrian Charcoal Burner" I found very amusing, which was a nice change of pace from all the sad stories that came before it. And that is followed by "The Book of Martha" by Octavia E. Butler which isn't sad and isn't scary but is about God.
All in all, an excellent collection of stories, albeit one I don't recommend reading when you're depressed.
Rating: 8/10
The Way of the Wizard (2010) edited by John Joseph Adams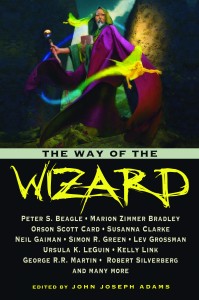 I love anthologies. They give me an escape in bite size pieces that won't keep me up past my bed time on a work night, and they also often a wonderful introduction to authors I have not read previously.
This anthology focuses upon wizards of all sorts, doing wizardly things, though not very many evil wizards.
In the Lost Lands by George R.R. Martin
Family Tree by David Barr Kirtley
John Uskglass and the Cumbrian Charcoal Burner by Susanna Clarke
Wizard's Apprentice by Delia Sherman
The Sorcerer Minus by Jeffrey Ford
Life So Dear or Peace So Sweet by C.C. Finlay
Card Sharp by Rajan Khanna
So Deep That the Bottom Could Not Be Seen by Genevieve Valentine
The Go-Slow by Nnedi Okorafor
Too Fatal a Poison by Krista Hoeppner Leahy
Jamaica by Orson Scott Card
The Sorcerer's Apprentice by Robert Silverberg
The Secret of Calling Rabbits by Wendy N. Wagner
The Wizards of Perfil by Kelly Link
How to Sell the Ponti Bridge by Neil Gaiman
The Magician and the Maid and Other Stories by Christie Yant
Winter Solstice by Mike Resnick
The Trader and the Slave by Cinda Williams Chima
Cerile and the Journeyer by Adam-Troy Castro
Counting the Shapes by Yoon Ha Lee
Endgame by Lev Grossman
Street Wizard by Simon R. Green
Mommy Issues of the Dead by T.A. Pratt
One-Click Banishment by Jeremiah Tolbert
The Ereshkigal Working by Jonathan L. Howard
Feeding the Feral Chidren by David Farland
The Orange-Tree Sacrifice by Vylar Kaftan
Love Is the Spell That Casts Out Fear by Desirina Boskovich
El Regalo by Peter S. Beagle
The Word of Unbinding by Ursula K. Le Guin
The Thirteen Texts of Arthyria by John R. Fultz 
The Secret of the Blue Star by Marion Zimmer Bradley
I'd previously read "John Uskglass and the Cumbrian Charcoal Burner" by Susanna Clarke in her anthology. It contains many of the things that I liked so much about Jonathan Strange & Mr. Norrell.
"Well," said Saint Kentigern, cheerfully. "Let me see what I can do. Saints, such as me, ought always to listen attentively to the prayers of poor, dirty, ragged men, such as you. No matter how offensively those prayers are phrased. You are our special care."
There were multiple stories I didn't care for, but on the whole, I found it a good and enjoyable collection. After all, I don't have to read the stories I don't like.
Published by Prime Books
Rating: 7/10
Happily Ever After (2011) edited by John Klima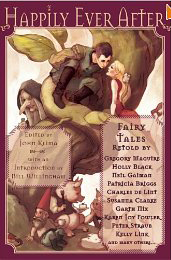 Not sure how I missed this when I first came out, but this anthology is full of things I love: authors whose books I love, stories based on folk and fairy tales–lovely!
The only thing I didn't like, is I wish the anthology hadn't ended on such a dark and depressing story.
Mind you, the dark and depressing stories were good–very good–but these tales ran very true to the original stories, with a not insignificant amount of rape and incest and general horribleness. Just like the original tales.
But there's also a good amount of humor as well, and I just wished the collection had ended with one of the funnier stories.
The Seven Stage a Comeback by Gregory Maguire
And In Their Glad Rags by Genevieve Valentine
The Sawing Boys by Howard Waldrop
Bear It Away by Michael Cadnum
Mr. Simonelli or the Fairy Widower by Susanna Clarke
The Black Fairy's Curse by Karen Joy Fowler
My Life As A Bird by Charles de Lint
The Night Market by Holly Black
The Rose in Twelve Petals by Theodora Goss
The Red Path by Jim C. Hines
Blood and Water by Alethea Kontis
Hansel's Eyes by Garth Nix
He Died That Day, In Thirty Years by Wil McCarthy
Snow In Summer by Jane Yolen
The Rose Garden by Michelle West
The Little Magic Shop by Bruce Sterling
Black Feather by K. Tempest Bradford
Fifi's Tail by Alan Rodgers
The Faery Handbag by Kelly Link
Ashputtle by Peter Straub
The Emperor's New (And Improved) Clothes by Leslie What
Pinocchio's Diary by Robert J. Howe
Little Red by Wendy Wheeler
The Troll Bridge by Neil Gaiman
The Price by Patricia Briggs
Ailoura by Paul Di Filippo
The Farmer's Cat by Jeff VanderMeer
The Root of The Matter by Gregory Frost
Like a Red, Red Rose by Susan Wade
Chasing America by Josh Rountree
Stalking Beans by Nancy Kress
Big Hair by Esther Friesner
The Return of the Dark Children by Robert Coover
As one would expect, "Mr. Simonelli or the Fairy Widower" by Susanna Clarke was as winding and meandering and wonderful as you'd expect from her.
No one would enjoy vast wealth more than I; and my feelings are not entirely selfish, for I honestly believe that I am exactly the sort of person who ought to have the direction of large estates.
Of course.
Please note, as previously mentioned, the stories have rape and incest and lots and lots of sex in addition to evil stepmothers and other such killers.
There were also a fair number of very dark and very depressing tales that were very good, but that I didn't enjoy at all.
Published by Night Shade Books
Rating: 8/10