Anthologies: Highwaymen: Robbers and Rogues (1997), Assassin Fantastic (2001), Murder by Magic (2004), Maiden, Matron, Crone (2005)
Anthologies
Assassin Fantastic (2001) edited by Martin H. Greenberg & Alexander Potter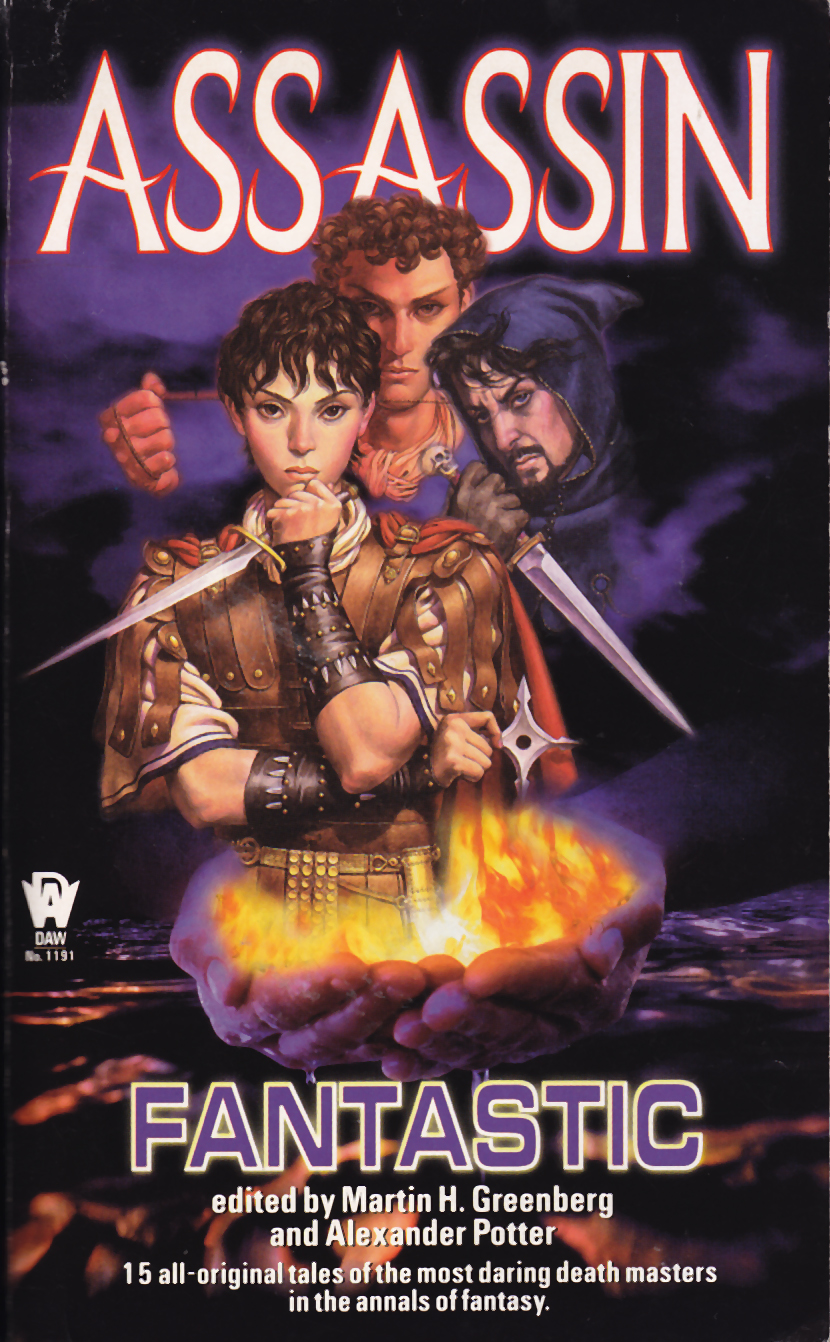 I know that Martin Greenberg puts together good anthologies, however there's something about the "Fantastic" that gets tacked onto the end of each anthology theme title that puts me off for some reason. However, I've always been fond of Assassin characters, so I picked up the book.
Death Rites by Tanya Huff
Green Stones by Stephen Leigh
Coin of the Realm by Kristine Kathryn Rusch The Svedali Foundlings by Fiona Patton
History and Economics by Anna Oster
Never Say...Uh...Die? by Josepha Sherman
Dying By Inches by Teresa Edgerton
Darkness Comes Together by Mickey Zucker Reichert
Raven's Cut by Lynn Flewelling
Myhr's Adventure in Hell by P.N. Elrod
He by Leyte Jefferson
War of the Roses by Rosemary Edghill
On My Honor by Bernie Arntzen
A Touch of Poison by Jane Lindskold
Echoes by Michelle West
...
All in all it was a good anthology, and I quite enjoyed it. There were lots of original stories, and for the most part even the ones I didn't care for were well-written, making it more a matter of taste than of quality. And I found a couple of new authors to look for as well, which is always a good thing.
Rating: 7/10
Published by DAW
Highwaymen: Robbers and Rogues (1997) edited by Jennifer Roberson
Give a Man a Horse He Can Ride - Esther Friesner Kid Binary and the Two-Big Gang - Michael A. Stackpole The Moonlight Flit - Rosemary Edghill The Bandido of Pozoseco - Kate Daniel We Met Upon The Road - Jane Emerson Where Angels Fear to Tread - Laura Anne Gilman
Diana's Foresters - Susan Shwartz Fool's Gold - Doranna Durgin Highwayscape with Gods - Lawrence Schimel The Bishop's Coffer - Janny Wurts The Abbot of Croxton - Melanie Rawn

Published by DAW
Murder by Magic (2004) edited by Rosemary Edghill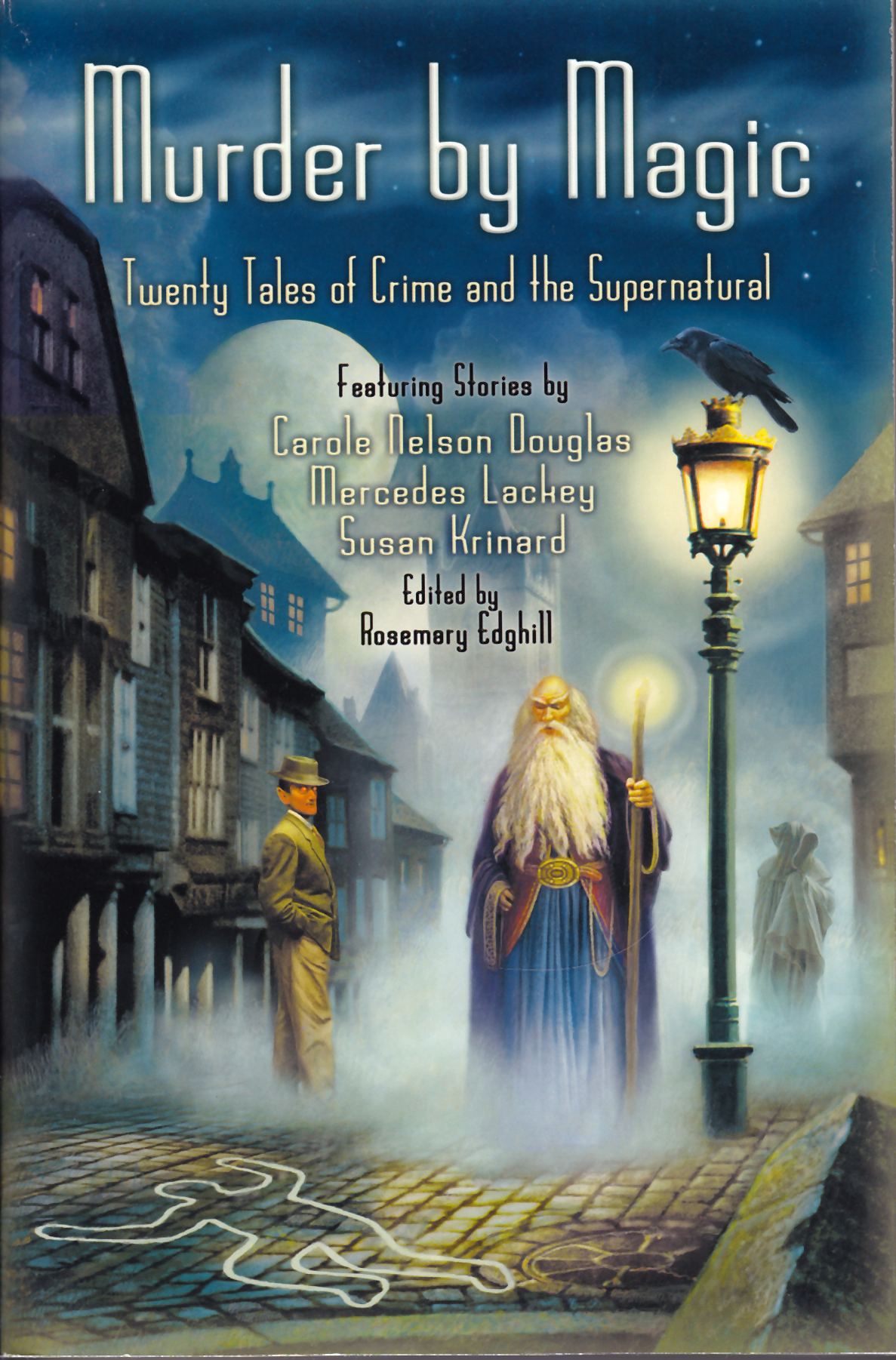 I love fantasy, and I love mysteries, so I figured that this should be a great short story collection. After all, I've read some excellent fantasy mysteries recently, such as those written by Charlaine Harris and Simon R. Green. This collection, however, was a mixed bag. For one thing, it look me about three months to read. I'd zip through a couple of stories, and then get bogged down in a story that took days to read, and then I set it aside for something else that looked more interesting.
The problem with several of the stories seemed to be that the ability to write good fantasy does not mean the ability to write good fantasy, and vice versa.
But there are some excellent stories in this collection.
Piece of Mind - Jennifer Roberson
Special Surprise Guest Appearance by... - Carole Nelson Douglas
Doppelgangster - Laura Resnick
Mixed Marraiges Can Be Murder - Will Graham
The Case of the Headless Corpse - Josepha Sherman
A Death in WOrking - Debra Doyle
Cold Case - Diane Duane
Snake in the Grass - Susan R. Matthews
Double Jeopardy - M.J. Hamilton
Witch Sight - Roberta Gellis
Overrush - Laura Anne Gilman
Captured in Silver - Teresa Edgerton
A Night at the Opera - Sharon Lee and Steve Miller
A Tremble in the Air - James D. Macdonald
Murder Entailed - Susan Krinard
Dropping Hints - Lawrence Watt-Evans
Au Purr - Esther M. Friesner Getting the Chair - Keith R.A. DeCandido
The Necromancer's Apprentice - Lillian Stewart Carl
Grey Eminence - Mercedes Lackey

My favorite story was Laura Resnick's "Doppelgangster," and I even made Michael read that one (he also loved it). It's quick and funny, it even made me laugh out loud. And it was a good mystery as well, with the clues there to be found, if you noticed them.
I enjoyed Esther M. Friesner's story "Au Purr" which was well done fantasy and a pretty good mystery. I also really liked Lawrence Watt-Evans' story "Dropping Hints." It reminded me of a puzzle that I'd heard, or perhaps a folk tale, of five identical creatures, and how do you tell them apart? M.J. Hamilton's "Double Jeopardy" was also interesting, although I found the fantasy element rather confusing in the beginning.
And confusing is where the stories I didn't like seemed to go wrong. I had a terrible time trying to make any sense of Debra Doyle's "A Death in the Working." The story was only 8 1/2 pages, but took me three days to read, and I never did make sense of what was happening.
And there were some stories that were good fantasies, but really didn't seem like mysteries. I enjoyed Mercedes Lackey's "Grey Eminence" but it hardly seemed a murder mystery.
So, as a mystery collection, I found this anthology mostly disappointing. But I really do recommend looking for Laura Resnick's "Doppelgangster," which was just plain fun.
Rating: 5/10
Maiden, Matron, Crone (2005) edited by Martin H. Greenberg & Kerrie Hughes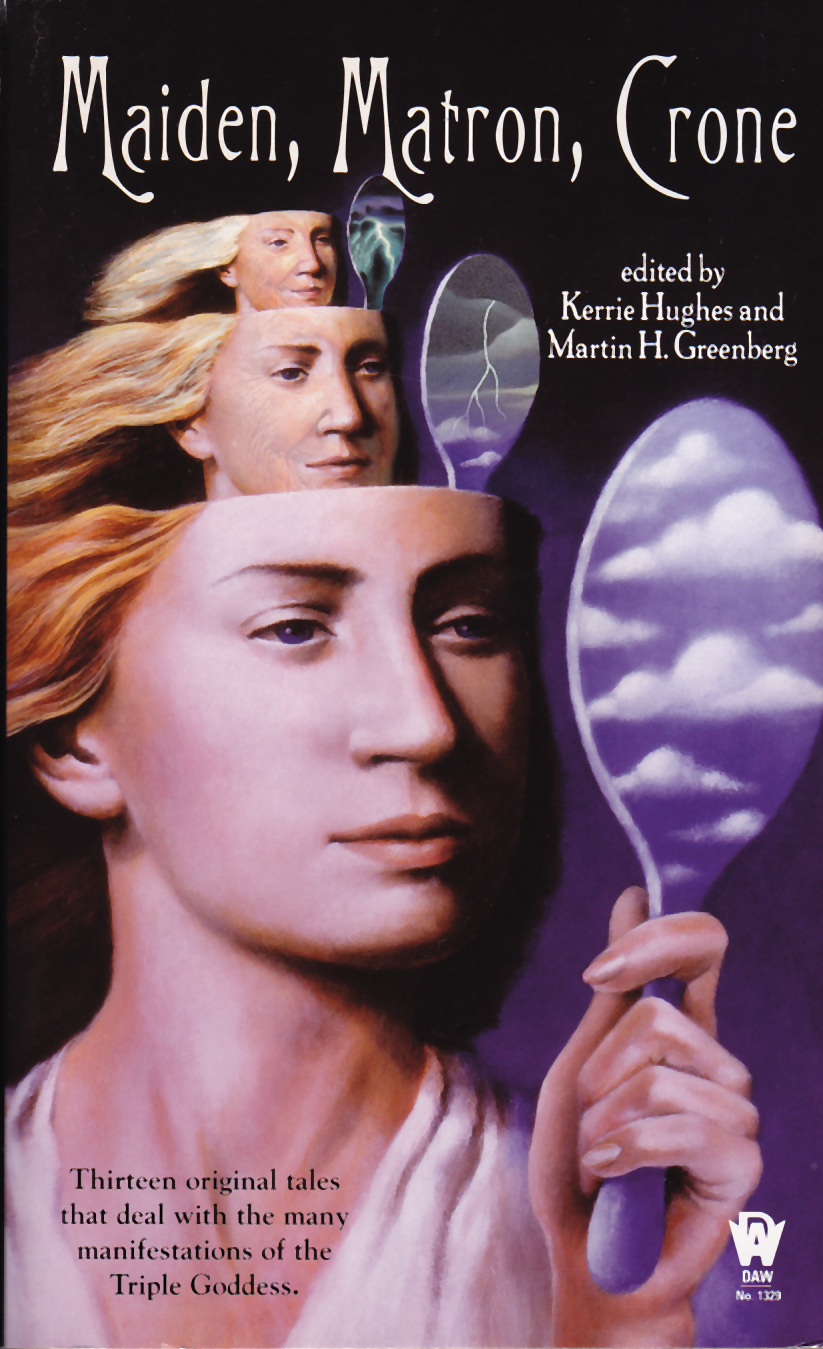 I try to pick up fantasy anthologies when I see them, since chances are they won't be there the next time I look. I picked up Maiden, Matron, Crone while ago, but saved it to read during the school year, because short story collections are much easier to put down than books.
Some of the stories in this collection were good, some were so-so, and a couple were quite excellent. And there weren't any stories that I absolutely hated, which is always a good thing. The best part of this collection, however, is that if focused on female characters, and for the most part strong female characters.
A Lingering Scent of Bacon - Brenda Cooper
A Choice of Ending - Tanya Huff
Strikes of the Heart - Nina Kiriki Hoffman
Misery and Woe - Jean Rabe
In Sight - Charles de Lint
The Gift - Jody Lynn Nye
Bearing Life - Devon Monk
Advice from a Young Witch to an Old Priestess - Rosemary Edghill
The Three Gems of the Fianna - Fiona Patton
The Things She Handed Down - Russell Davis
Seeking Gold - Jane Lindskold
Opening Her Door - Alexander B. Potter
The Unicorn Hunt - Michelle West
Published by Daw