Josepha Sherman
Books
Anthologies: Dragon Fantastic (1992), Warrior Enchantresses (1996), Twice Upon A Time (1999), Assassin Fantastic (2001), Rotten Relations (2004), Murder by Magic (2004)
Anthologies
Dragon Fantastic (1992) edited by Martin H. Greenberg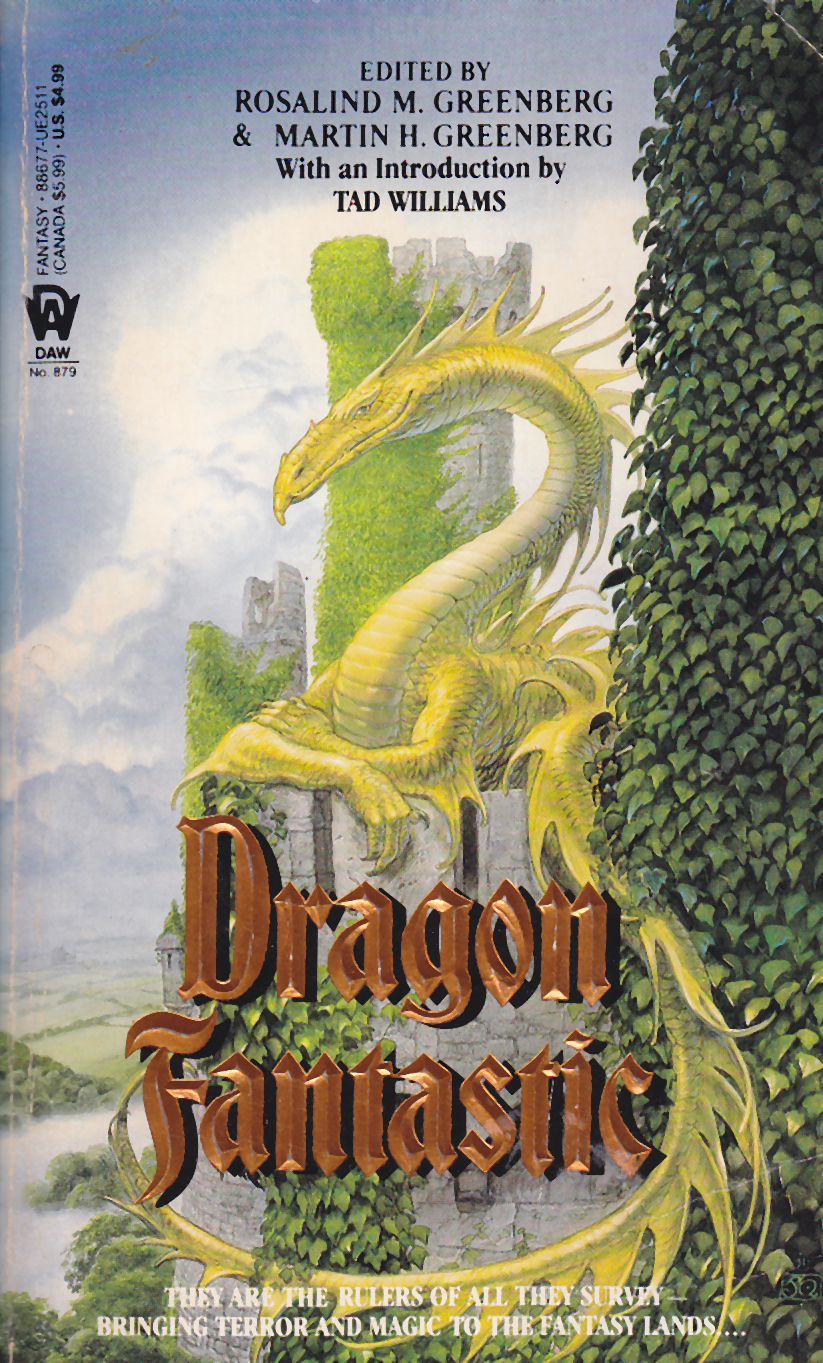 Lethal Perspective – Alan Dean Foster
The Champion of Dragons – Mickey Zucker Reichert
Phobiac – Lawrence Schimel
Home Security – Karen Haber
The Stolen Dragon – Kimberly Gunderson
Cold Stone Barrow – Elizabeth Forrest
Fluff the Tragic Dragon – Laura Resnick
The Hidden Dragon – Barbara Delaplace
Take Me Out to the Ballgame – Esther M. Friesner
The Dragon's Skin – Ruth Berman
Shing Li-Ung – Tanya Huff
Concerto Accademico – Barry N. Malzberg Dragon's Destiny – Josepha Sherman
Between Tomatoes and Snapdragons – Jane Lindskold
The Trials and Tribulations of Myron Blumberg, Dragon - Mike Resnick
Straw Into Gold, Part II – Mark A. Kreighbaum & Dennis L. McKiernan
Published by Daw
Warrior Enchantresses (1996) edited by Martin H. Greenberg & Kathleen M. Massie-Ferch
Introduction - Kathleen M. Massie-Ferch The World Well Lost - Tanith Lee Auãour the Deepminded - Andre Norton Of the Deaths of Kings - Melanie Rawn The Warrior and the Dragon's Son - Josepha Sherman Earthen Mound - Diana L. Paxson
The Ginseng Potion - William F. Wu The Mist of Melusine - Rosemary Hawley Jarman
Published by DAW
Twice Upon A Time (1999) edited by Denise Little
Fairy tales seen from another perspective--the wife of the giant from the story of Jack and the Beanstalk. The hunter in the tale of Little Red Riding Hood. The Wolf who appears in multiple tales.
This book is hit and miss. Some of the stories are excellent, others are so-so. The idea of retold fairy tales is an excellent one, unfortunately not all the stories in this collection were able to pull it off as well as it should be done.
(What I found interesting is that although no single story was a retelling of Hansel and Gretel, they still managed to show up in several different tales.)
Spinning a Yarn - Jody Lynn Nye
How I Came To Marry a Herpetologist - Nina Kiriki Hoffman
Puck in Boots, the True Story - Connie Hirsch
Case #285B - Ester M. Friesner
Beanstalk Incident - Jane Lindskold
Gilly the Goose Girl - Nancy Springer
Fifi's Tale - Alan Rodgers
Thy Golden Stair - Richard Parks
True Love (Or the Many Brides of Prince Charming) - Todd Fahnestock And Giles Custer
Savior - John Helfers
Wolf at the Door - Lupita Shepard
Castle and Jack - Tim Waggoner
Baron Boscov's Bastard - Jacey Bedford
Emperor's New (And Improved) Clothes - Leslie What
One Fairy Tale, Hard-Boiled - P. Andrew Miller
Feeding Frenzy or the Further Adventures of The Frog Prince - Josepha Sherman
A Leg Up or the Constant Tin Soldier (Gonzo Version) - Gary A. Braunbeck
Mrs. Myrtle Montegrande vs. the Vegetable Stalker/Slayer - Elizabeth Ann Scarborough
Of the rest of the tales, some were good, some less so. I'd pick it up if I saw it used, but I don't think it's worth the $6.99 cover price.
Rating: 5/10
Rotten Relations (2004) edited by Denise Little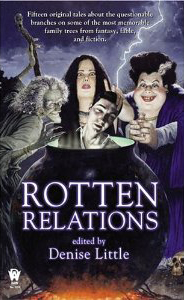 I was really disappointed in this collection. I had, as the song goes, high hopes, but was, in the end, let down.
I picked up the book because the idea of it sounded great: villains from fairy tales and literature telling their side of the story (much like Gregory Maguire's Wicked I believe.)
As with Twice Upon a Time, we got stories based on the same tales, several times, when there are so many other stories out there besides Cinderella, and I can only take so much of Cinderella.
Home for the Holidays - Pauline J. Alma    
With A Face Only a Mother Could Love - Jenn Reese Switched - Nina Kiriki Hoffman The Trick of the Tricksters Tricked - Josepha Sherman Thrice Told - Von Jocks Dynasty - Bill Mccay Serpent's Tooth - Susan P. and Bradley H. Sinor Mirror, Mirror - Jacey Bedford After The Ball - Pamela Luzier Peggy Plain - Devon Monk Healthcliff's Notes - David Bischoff Cuckoo's Egg - Jody Lynn Nye Rapunzel, the True Story - Robert Sheckley Among The Stars - Susan Sizemore King of Shreds and Patches - P.N. Elrod
There are some good stories in this collection, such as Josepha Sherman's The Trick of the Trickster's Tricked, where we get to see the wife of Iktome, Spider, and what she's learned, living with a trickster for so long. Josepha Sherman got the Trickster tale tone perfectly. I also liked Von Jocks Thrice Told, which reminded me of a story I heard on Selected Shorts. However many of the stories came across as half-hearted attempts of the evil-doer to justify their actions.
No offense, but there's enough of that in the news and media, I don't need it in my fantasy.
Rating: 3/10
Assassin Fantastic (2001) edited by Martin H. Greenberg & Alexander Potter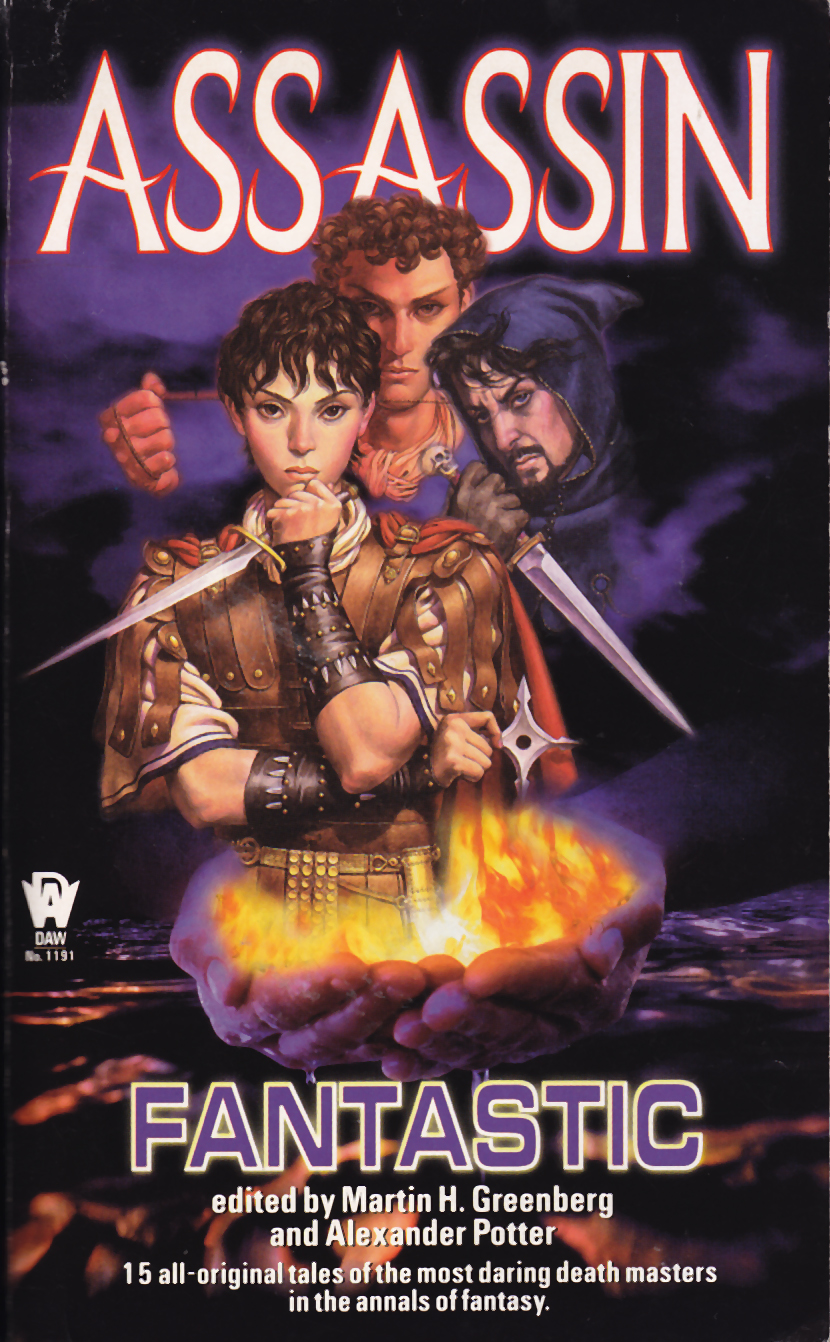 I know that Martin Greenberg puts together good anthologies, however there's something about the "Fantastic" that gets tacked onto the end of each anthology theme title that puts me off for some reason. However, I've always been fond of Assassin characters, so I picked up the book.
Death Rites by Tanya Huff
Green Stones by Stephen Leigh
Coin of the Realm by Kristine Kathryn Rusch The Svedali Foundlings by Fiona Patton
History and Economics by Anna Oster
Never Say...Uh...Die? by Josepha Sherman
Dying By Inches by Teresa Edgerton
Darkness Comes Together by Mickey Zucker Reichert
Raven's Cut by Lynn Flewelling
Myhr's Adventure in Hell by P.N. Elrod
He by Leyte Jefferson
War of the Roses by Rosemary Edghill
On My Honor by Bernie Arntzen
A Touch of Poison by Jane Lindskold
Echoes by Michelle West
I think I would have liked Josepha Sherman's "Never Say Die" far better if it hadn't be written in the first person--or perhaps if it had been in a slightly different style. What is it about assassin stories that so many were written in first person? As if assassins have to channel hard boiled detectives? For instance:
The neat little sign in my tiny office reads simply, "Alexei Danilovich," which is almost my true name. And beneath that, in smaller, precise letters: "Removal Service--Discreet and Efficient"
I would think that assassins and detectives would have quite different voices--the in-your-face bragging of detectives seems to have little place in the world of death by stealth. But here, the narrative voice just doesn't strike me as discreet.
...
All in all it was a good anthology, and I quite enjoyed it. There were lots of original stories, and for the most part even the ones I didn't care for were well-written, making it more a matter of taste than of quality. And I found a couple of new authors to look for as well, which is always a good thing.
Rating: 7/10
Published by DAW
Murder by Magic (2004) edited by Rosemary Edghill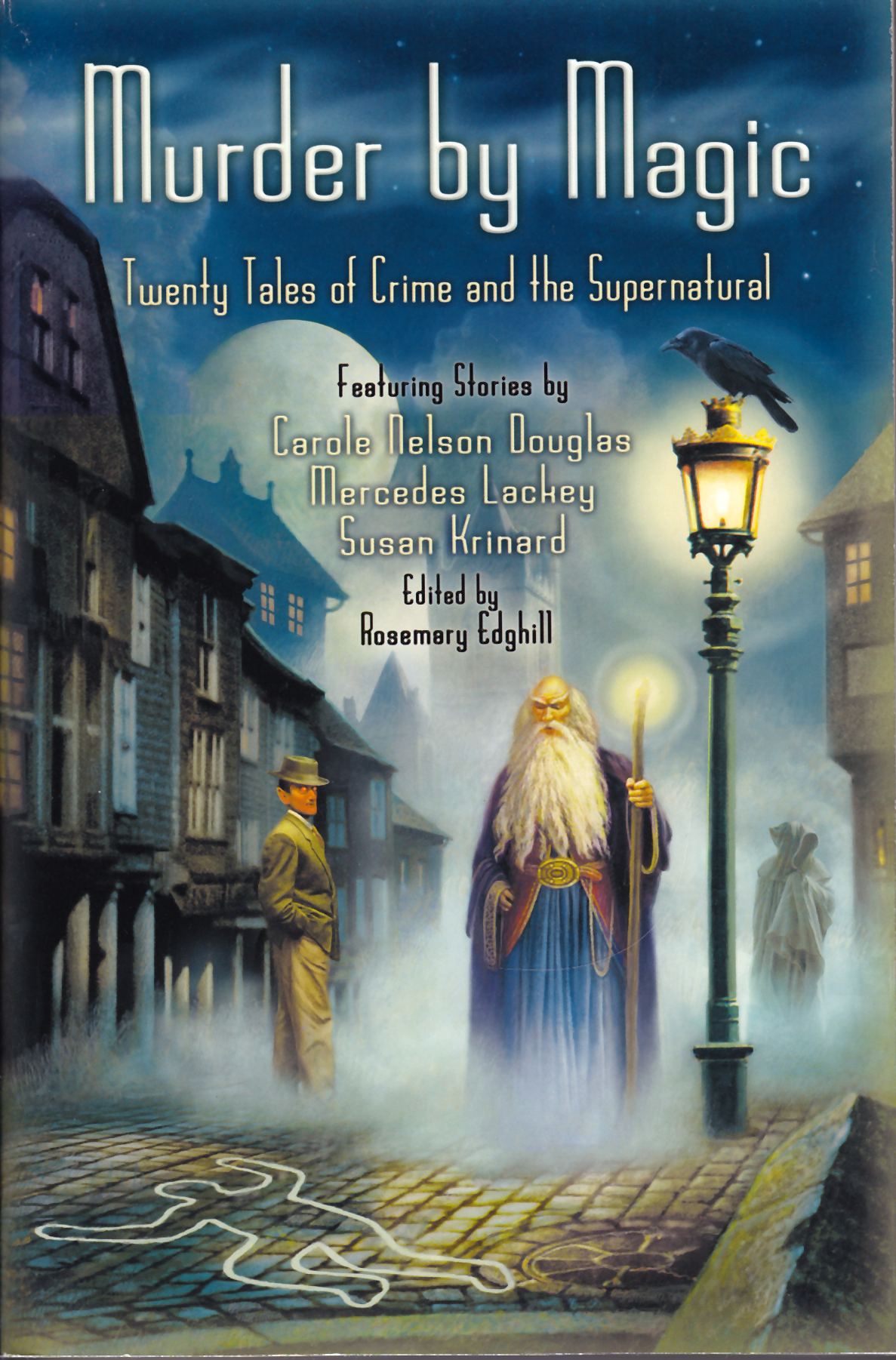 I love fantasy, and I love mysteries, so I figured that this should be a great short story collection. After all, I've read some excellent fantasy mysteries recently, such as those written by Charlaine Harris and Simon R. Green. This collection, however, was a mixed bag. For one thing, it look me about three months to read. I'd zip through a couple of stories, and then get bogged down in a story that took days to read, and then I set it aside for something else that looked more interesting.
The problem with several of the stories seemed to be that the ability to write good fantasy does not mean the ability to write good fantasy, and vice versa.
But there are some excellent stories in this collection.
Piece of Mind - Jennifer Roberson
Special Surprise Guest Appearance by... - Carole Nelson Douglas
Doppelgangster - Laura Resnick
Mixed Marraiges Can Be Murder - Will Graham
The Case of the Headless Corpse - Josepha Sherman
A Death in WOrking - Debra Doyle
Cold Case - Diane Duane
Snake in the Grass - Susan R. Matthews
Double Jeopardy - M.J. Hamilton
Witch Sight - Roberta Gellis
Overrush - Laura Anne Gilman
Captured in Silver - Teresa Edgerton
A Night at the Opera - Sharon Lee and Steve Miller
A Tremble in the Air - James D. Macdonald
Murder Entailed - Susan Krinard
Dropping Hints - Lawrence Watt-Evans
Au Purr - Esther M. Friesner Getting the Chair - Keith R.A. DeCandido
The Necromancer's Apprentice - Lillian Stewart Carl
Rating: 5/10