Books
The White Mists of Power (1991)
Anthologies: The Year's Best Fantasy & Horror: Eighth Annual Collection (1995), Earth, Air, Fire, Water (1999), Assassin Fantastic (2001), Faerie Tales (2004), Places to Be, People to Kill (2007), At the Scene of the Crime (2008), By Blood We Live (2009) Between the Dark and the Daylight: And 27 More of the Best Crime and Mystery Stories of the Year (2009), The Best Paranormal Crime Stories Ever Told (2010), A Fantastic Holiday Season (2014)
The White Mists of Power (1991)
I found this story both enjoyable and maddening. Enjoyable because it was a very interesting story, but maddening, because the "twist" in the story felt more like a trick than a twist.
I also wasn't quite clear about the Enos and what the difference was between the Enos and the Old Ones. Perhaps I missed something important somewhere, but I found there part at the end of the story rather confusing.
Not to say that there were not many strong points to this story. There were. The characters were well done, and the story was interesting and compelling. (This was my waiting/travel book that I ended up pulling out of my jacket to finish.)
I just found the "twist" and my confusion about the Enos very distracting. I was also distracted by several point that were specifically brought up, but then never reconsidered. As well as the sudden halt in the growth of one of the characters. We spent time in his mind and watch his growth, and then suddenly he kinda drops off the face of the earth to become more of a minor supporting character.
Though I have to say that this is an absolutely gorgeous cover. I believe the artist has done many other fantasy books, but I can't remember their name off the top of my head, and of course the cover artist wasn't mentioned on the copyright page.
So, I found this interesting, but flawed.
Rating: 7/10
Anthologies
The Year's Best Fantasy & Horror: Eighth Annual Collection (1995) edited by Ellen Datlow & Terri Windling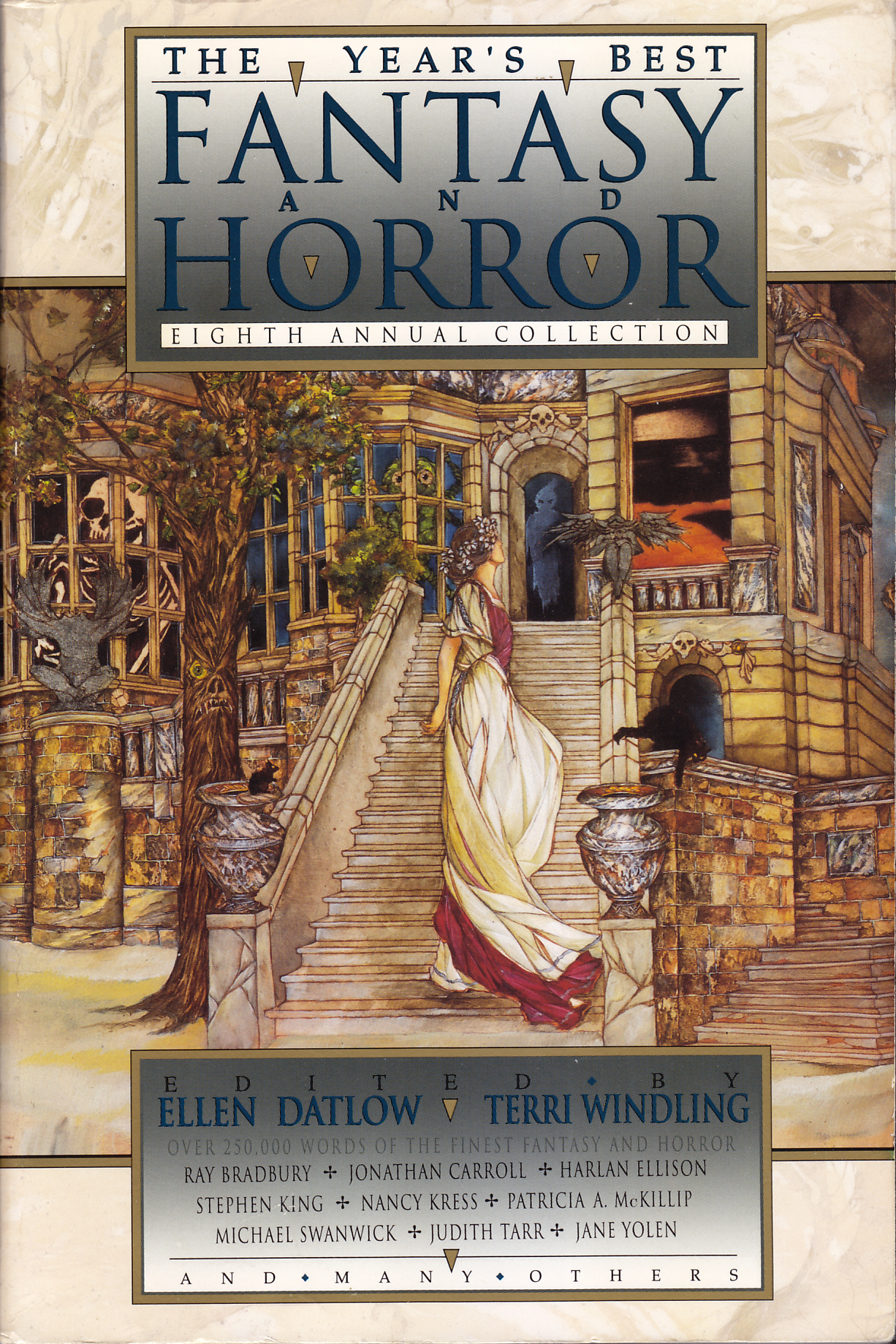 Transmutations by Patricia A. McKillip Bottom's Dream by Rachel Wetzsteon La Promesa by Leroy Quintana Aweary of the Sun by Gregory Feeley A Wheel in the Desert, the Moon on Some Swings by Jonathan Carroll Who Will Love the River God? by Emily Newland Brothers by Joyce Carol Oates Subsoil by Nicholson Baker Elvis's Bathroom by Pagan Kennedy Yet Another Poisoned Apple for the Fairy Princess by A. R. Morlan The Big Game by Nicholas Royle Buenaventura and the Fifteen Sisters by Margarita Engle De Natura Unicorni by Jane Yolen
Blue Motel by Ian McDonald A Friend Indeed by David Garnett Sometimes, in the Rain by Charles L. Grant Rain Falls by Michael Marshall Smith That Old School Tie by Jack Womack Animals Behind Bars! by Scott Bradfield Monuments to the Dead by Kristine Kathryn Rusch Unterseeboot Doktor by Ray Bradbury Young Woman in a Garden by Delia Sherman The Man in the Black Suit by Stephen King
'In the Tradition...' by Michael Swanwick Words Like Pale Stones by Nancy Kress
Märchen by Jane Yolen Giants in the Earth by Dale Bailey A Conflagration Artist by Bradley Denton Report by Carme Riera The Village of the Mermaids by John Bradley —And the Horses Hiss at Midnight by A. R. Morlan The Entreaty of the Wiideema by Barry Lopez White Chapel by Douglas Clegg The Stone Woman by Linda Weasel Head Coyote Stories by Charles de Lint
The Box by Jack Ketchum A Fear of Dead Things by Andrew Klavan He Unwraps Himself by Darrell Schweitzer Chandira by Brian Mooney Fever by Harlan Ellison The Best Things in Life by Lenora Champagne Mending Souls by Judith Tarr The Ocean and All Its Devices by William Browning Spencer Strings by Kelley Eskridge Superman's Diary by B. Brandon Barker Isobel Avens Returns to Stepney in the Spring by M. John Harrison The Sisterhood of Night by Steven Millhauser Winter Bodies by Noy Holland The Sloan Men by David Nickle Is That Them? by Kevin Roice The Kingdom of Cats and Birds by Geoffrey A. Landis Angel Combs by Steve Rasnic Tem Snow, Glass, Apples. by Neil Gaiman
Published by St Martins Press
Earth, Air, Fire, Water (1999) edited by Margaret Weis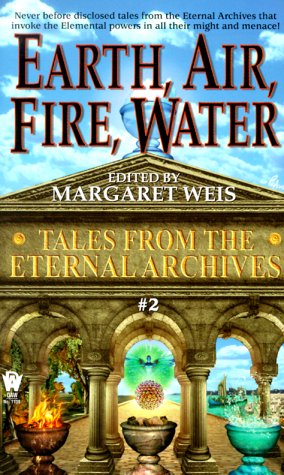 Burning Bright - Tanya Huff
The Fire of a Found Heart - Linda P. Baker
The Forge of Creation - Carrie Channell
How Golf Shaped Scotland - Bruce Holland Rogers
The Giant's Love - Nina Kiriki Hoffman
Family Secrets - Robyn McGrew
Dvergertal (Intercourse with a Dwarf) - Nancy Varian Berberick
An Elemental Conversation - Donald J. Bingle
Water Baby - Michelle West
Only As Safe - Mark Garland and Lawrence Schimel
Out of Hot Water - Jane Lindskold
Strange Creatures - Kristine Kathryn Rusch
Sons of Thunder - Edward Carmien
Assassin Fantastic (2001) edited by Martin H. Greenberg & Alexander Potter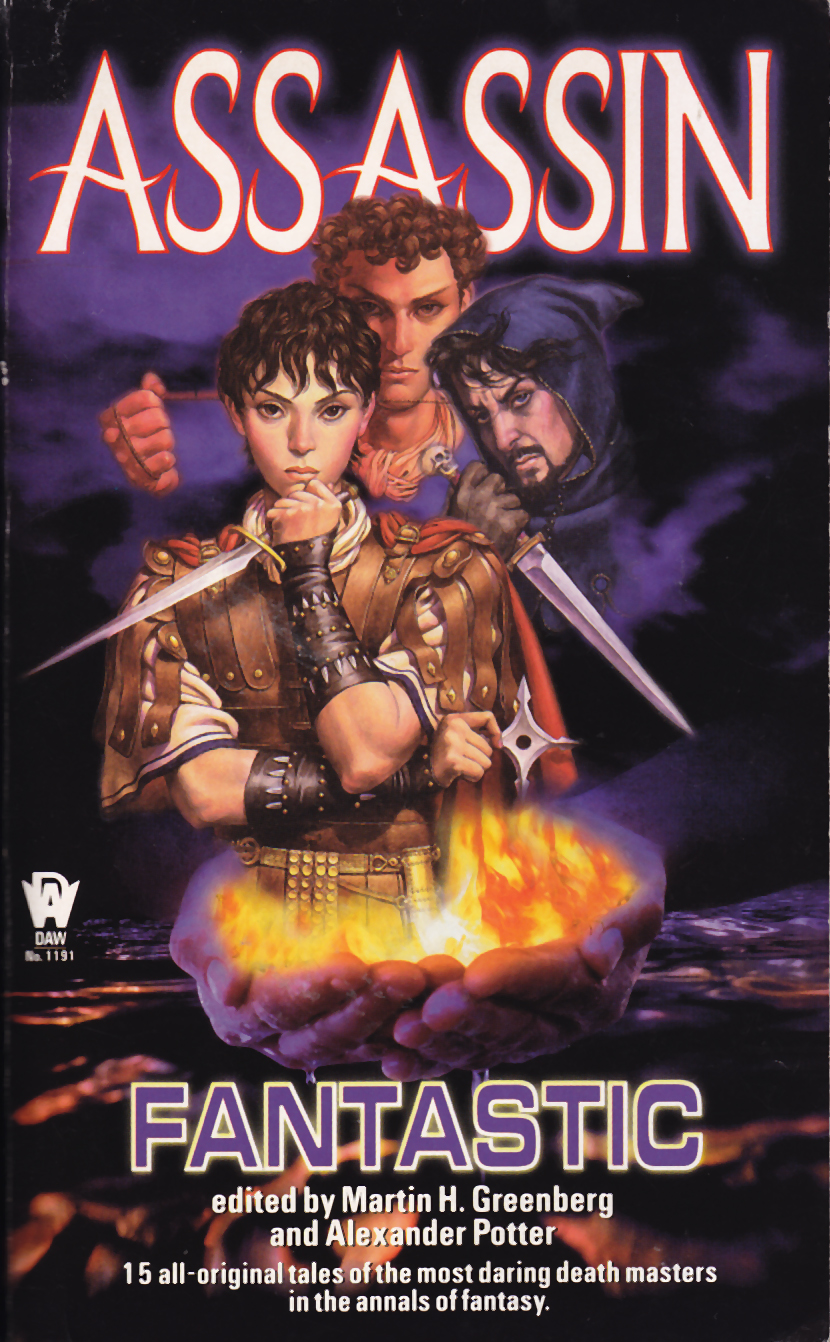 I know that Martin Greenberg puts together good anthologies, however there's something about the "Fantastic" that gets tacked onto the end of each anthology theme title that puts me off for some reason. However, I've always been fond of Assassin characters, so I picked up the book.
Death Rites by Tanya Huff
Green Stones by Stephen Leigh
Coin of the Realm by Kristine Kathryn Rusch The Svedali Foundlings by Fiona Patton
History and Economics by Anna Oster
Never Say...Uh...Die? by Josepha Sherman
Dying By Inches by Teresa Edgerton
Darkness Comes Together by Mickey Zucker Reichert
Raven's Cut by Lynn Flewelling
Myhr's Adventure in Hell by P.N. Elrod
He by Leyte Jefferson
War of the Roses by Rosemary Edghill
On My Honor by Bernie Arntzen
A Touch of Poison by Jane Lindskold
Echoes by Michelle West
After the first few stories I almost gave up--the story by Tanya Huff I found confusing, and I saw the trick of Stephen Leigh's "Green Stones" almost immediately, so although it was a good story, it wasn't a great story. The same went for Kristine Kathryn Rusch's "Coin of the Realm" I knew where the story was going, so it lost much of its punch. (It's an anthology about assassins--chances are that the main character--especially in a first person narrative--is going to be the assassin. Because it's hard for the assassinated to tell their story after the fact. So that pretty much kills any surprise or twist.) However, it picked up from there.
...
All in all it was a good anthology, and I quite enjoyed it. There were lots of original stories, and for the most part even the ones I didn't care for were well-written, making it more a matter of taste than of quality. And I found a couple of new authors to look for as well, which is always a good thing.
Rating: 7/10
Grails: Quests of the Dawn (2004) edited by Richard Gilliam and Martin H. Greenberg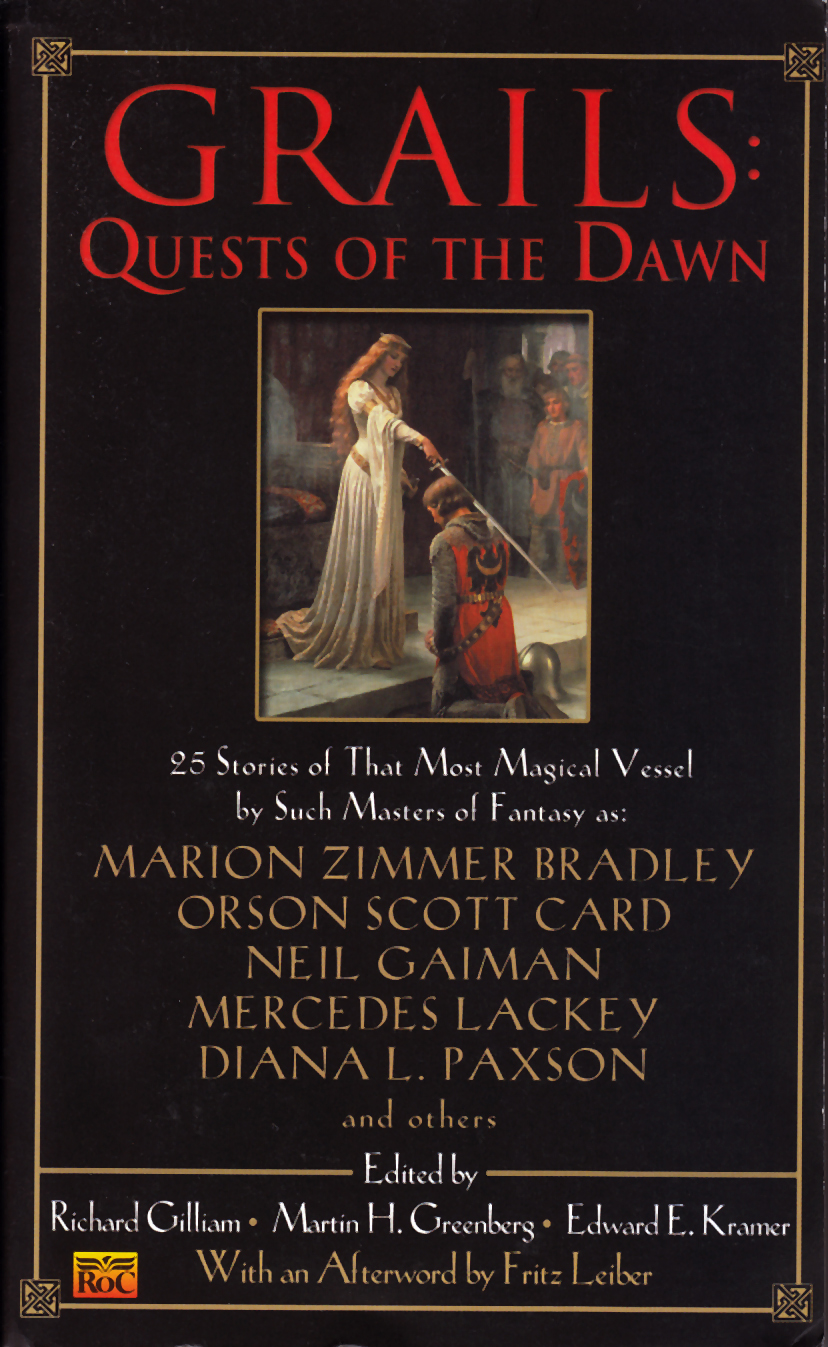 The Question Of The Grail by Jane Yolen
The Cup And The Cauldron by Mercedes Lackey
The Which Overfloweth by Andre Norton
Chalice Of Tears, Or I Didn't Want That Damm Grail Anyway by Marion Zimmer Bradley
The Feast And The Fisher King by Diana L. Paxon
The Gift Of Gilthaliad by Brad Strickland
Curse Of The Romany by Ilona Ouspenskaya
Dagda by James S. Dorr
The Sailor Who Sailed After The Sun by Gene Wolfe
Water by Lee Hoffman
What You See... by Alan Dean Foster
Storyville, Tennessee by Richard Gilliam
Somewhere In Her Dying Heart by Lisa Lepovetsky
Hell-Bent For Leather by Jeremiah E. Phipps
Atlantis by Orson Scott Card
Invisible Bars by Dean Wesley Smith
That Way Lies Camelot by Janny Wurts
Hitchiking Across An Ancient Sea by Kristine Kathryn Rusch
Visions by Lawrence Watt-Evans
The Awful Truth In Arthur's Barrow by Lionel Fenn
Reunion by Brian M. Thomsen
Quest Now by Margo Skinner
Chivalry by Neil Gaiman
Falling To The Edge Of The End Of The World by Bruce D. Arthurs
Greggie's Cup by Rick Wilber
The Grail Legend: An Afterword by Fritz Leiber
Faerie Tales (2004) edited by Martin H. Greenberg & Russell Davis
Introduction (Faerie Tales) - Russell Davis
Sweet Forget-Me-Not - Charles de Lint Yellow Tide Foam - Sarah A. Hoyt The September People - Tim Waggoner Judgment - Kristine Kathryn Rusch Changeling - John Helfers He Said, Sidhe Said - Tanya Huff A Very Special Relativity -  Jim Fiscus Witches'- Broom, Apple Soon - Jane Lindskold Wyvern - Wen Spencer A Piece of Flesh - Adam Stemple The Filial Fiddler - Elizabeth Ann Scarborough The Stolen Child - Michelle West
Published by Daw
Places to Be, People to Kill (2007) edited by Martin H. Greenberg & Brittiany A. Koren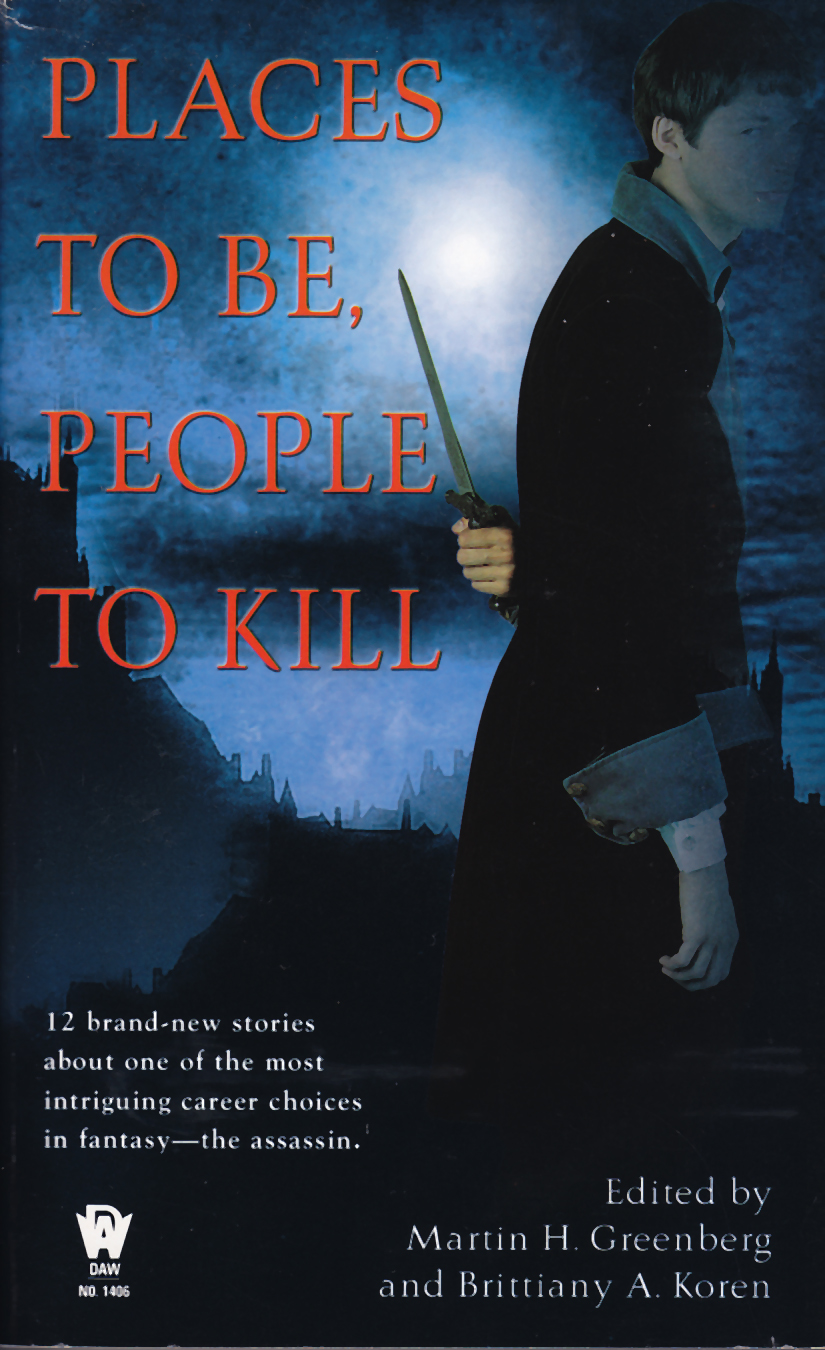 I really like short stories, so I'm a sucker for anthologies. I've been burned a couple of times, but for the most part, anything that Martin H Greenberg has a hand in will most likely contain a majority of stories I'll enjoy. The fact that the stories were about assassins was an added bonus. (For some reason I love to read about characters I would want absolutely nothing to do with if I read them in life: assassins, thieves, and scoundrels. Places to Be, People to Kill contains all three.
As with most anthologies, there were some stories I especially liked, and some I cared for less.
Exactly - Tania Huff
Bloodlines - Jim C. Hines
Hang Ten - Jean Rabe
Fealty - S. Andrew Swann
Breia's Diamond - Cat Collins
While Horse and Hero Fell - Sarah A. Hoyt
Deadhand - John Helfers
All in the Execution - Tim Waggoner
Money's Worth - Bradley H. Sinor
Substitutions - Kristine Kathryn Rusch
Drusilla - Ed Gorman
The Hundreth Kill - John Marco
...
Substitutions by Kristine Kathryn Rusch was another story I liked. It's somewhat of a supernatural fantasy, only it focuses upon the more spiritual aspects of the supernatural rather than the creepy crawlies. I also like the idea of death outsourcing to multiple individuals to help cover the work load.
...
If you enjoy short stories–especially short stories about scoundrels and assassins, then I recommend that you check out Places to Be, People to Kill.
Rating: 6/10
At the Scene of the Crime (2008) edited by Dana Stabenow
I first stumbled across Dana Stabenow when I picked up a fantasy/mystery anthology she edited. After a second anthology, I discovered she was primarily a mystery write, and so picked up her Kate Shugak series. Which I absolutely loved. So I found myself interested when I discovered a forensic crime anthology.
I actually am not familiar with most of the writers, which caused me to put this on my wishlist instead of buying it outright. However, when I ended up getting two copies for Christmas, I decided it was a sign I should read the anthology.
As with all anthologies, I liked some stories better than others. Unlike some anthologies, there were not any stories I hated, so that's always good.
Smart Aleck - Loren D. Estleman Better Lucky Than Good - Jeanne C. Stein The High Life: A Heartland Homocide Story - Max Allan Collins And Matthew V. Clemens Rust - N.J. Ayres I/M-Print: A Tess Cassidy Short Story - Jeremiah Healy A Trace Of A Trace - Brendan Dubois Five Sorrowful Mysteries - Julie Hyzy Mitt's Murder - John Lutz The Retired Arsonist - Edward D. Hoch Patriotic Gestures - Kristine Kathryn Rusch Articulation Of Murder - Michael A. Black Occam's Razor - Maynard F. Thomson On The Evidence: A Liam Campbell Short Story - Dana Stabenow
The main character in Brendan Dubois's story "A Trace of a Trace" is newly retired, but the detective in a perplexing case asks him to help out on a case where they think someone has gotten away with murder. I found the mystery and murder quite interesting–perhaps the perfect murder, so I was curious to see how they thought they might catch the murderer.
"Five Sorrowful Mysteries" by Julie Hyzy was another story I particularly liked. The story begins with a woman doing an autopsy, and ends with her husband the detective making the arrest, but I particularly enjoyed how their putting together of the evidence was almost accidental.
"The Retired Arsonist" by Edward D. Hoch was a good story, and although I didn't necessarily buy the resolution of the mystery, I enjoyed the characters andthe story nevertheless.
"Occam's Razor" by Maynard F. Thompson was another particularly good story. The murder is related to a somewhat indifferent reporter, who is interviewing the retired medical examiner, and gets the case that started him on his path in police work.
All in all, it's an interesting collection.
Rating: 7/10
By Blood We Live (2009) edited by John Joseph Adams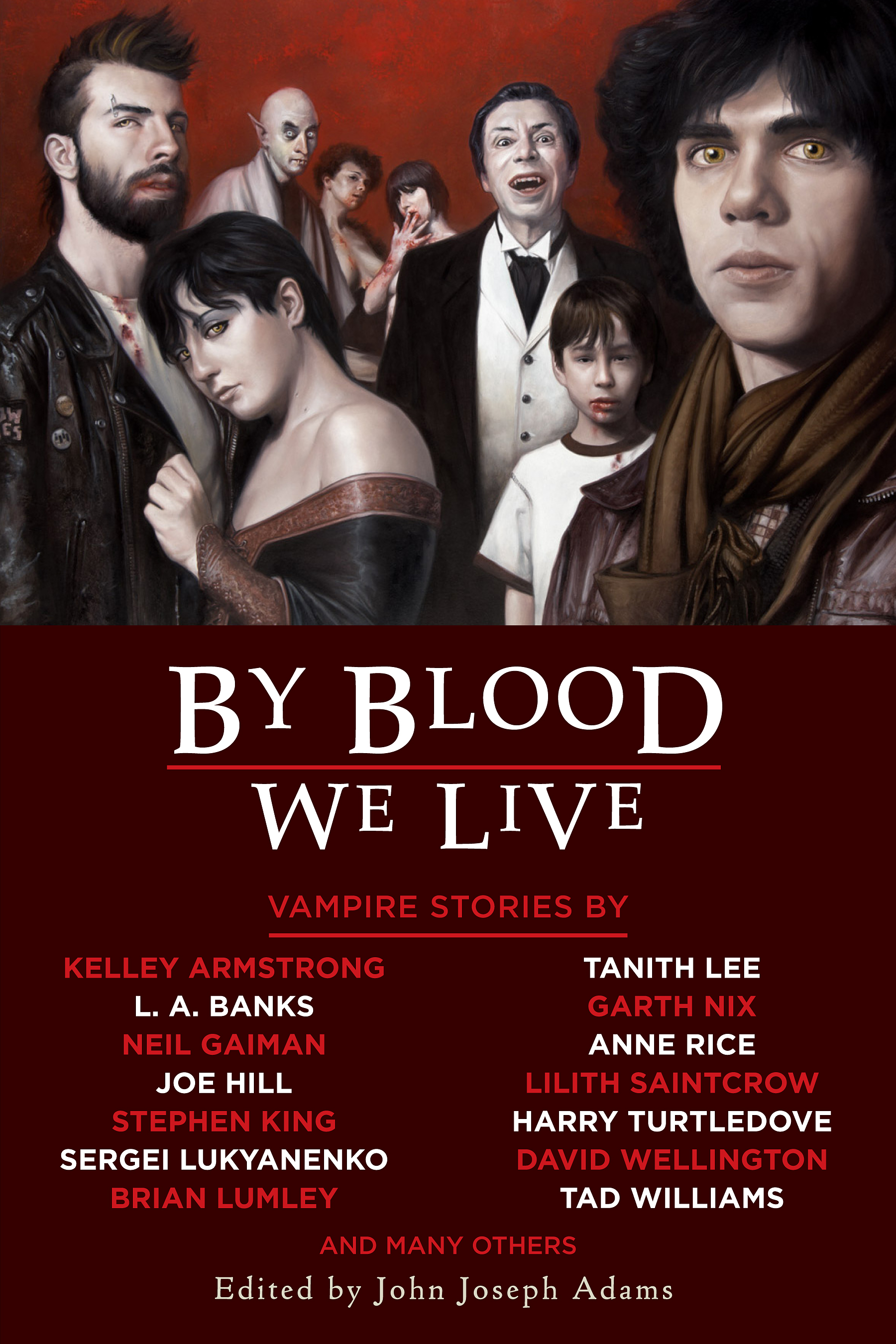 Snow, Glass, Apples - Neil Gaiman
The Master of Rampling Gate - Anne Rice
Under St. Peter's - Harry Turtledove
Child of an Ancient City - Tad Williams
Lifeblood - Michael A. Burstein
Endless Night - Barbara Roden
Infestation - Garth Nix
Life is the Teacher - Carrie Vaughn
The Vechi Barbat - Nancy Kilpatrick
The Beautiful, The Damned - Kristine Kathryn Rusch
Pinecones - David Wellington
Do Not Hasten to Bid Me Adieu - Norman Partridge
Foxtrot at High Noon - Sergei Lukyanenko
This is Now - Michael Marshall Smith
Blood Gothic - Nancy Holder
Mama Gone - Jane Yolen
Abraham's Boys - Joe Hill
Nunc Dimittis - Tanith Lee
Hunger - Gabriela Lee
Ode to Edvard Munch - Caitlín R. Kiernan
Finders Keepers - L.A. Banks
After the Stone Age - Brian Stableford
Much at Stake - Kevin J. Anderson
House of the Rising Sun - Elizabeth Bear
A Standup Dame - Lilith Saintcrow
Twilight - Kelley Armstrong
In Darkness, Angels - Eric Van Lustbader
Sunrise on Running Water - Barbara Hambly
Hit - Bruce McAllister
Undead Again - Ken MacLeod
Peking Man - Robert J. Sawyer
Necros - Brian Lumley
Exsanguinations - Catherynne M. Valente
Lucy in Her Splendor - Charles Coleman Finlay
The Wide, Carnivorous Sky - John Langan
One for the Road - Stephen King
Between the Dark and the Daylight: And 27 More of the Best Crime and Mystery Stories of the Year (2009) edited by Martin H. Greenberg & Daniel M. Hoyt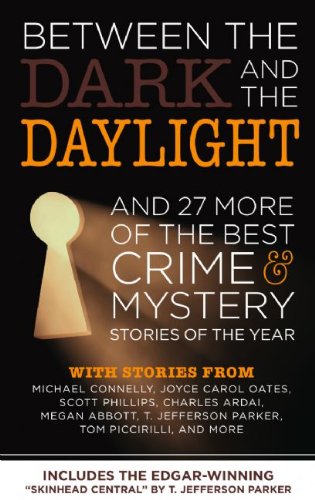 I generally love mystery anthologies, but I had a hard time with this one.
First and foremost, the collection is full of unreliable narrators. I have absolutely nothing against unreliable narrators, and usually enjoy them, however, when you read story after story where the narrator is actually the killer, it quickly becomes unsurprising, and I wasn't interested in reading all the various justifications the murderers and criminals gave for their actions.
Father's Day - Michael Connelly
Walking the Dog - Peter Robinson
Lucky - Charlaine Harris
A Sleep Not Unlike Death - Sean Chercover
The First Husband - Joyce Carol Oates
Between the Dark and the Daylight - Tom Picirilli
Cheer - Megan Abbot
Babs - Scott Phillips
Ms. Grimshanks Regrets - Nancy Pickard
Skinhead Central - T. Jefferson Parker
The Bookbinder's Apprentice - Martin Edwards
I/M Print - Jeremiah Healy
The Devil's Acre - Steve Hockensmith
The Instrument of their Desire - Patricia Abbot
Crossroads - Bill Crider
The Kim Vovack Effect - Gary Phillips
The Opposite of O - Martin Limon
Patriotic Gestures - Kristine Kathryn Rusch
The Quick Brown Fox - Robert S. Levinson
What Happened to Mary? - Bill Pronzini
Jonas and the Frail - Charles Ardai
The Pig Party - Doug Allyn
Perfect Gentleman - Brett Battles
Road Dogs - Norman Partridge
Rust - N.J. Ayres
Skin and Bones - David Edgerly Gates
La Vie En Rose - Dominique Mainard
Sack O' Woe - John Harvey

That said, there were some stories I enjoyed, but overall, I just wanted to finish the anthology so I could move onto something else.
Rating: 6/10
Published by Tyrus Books
The Best Paranormal Crime Stories Ever Told (2010) edited by Martin H. Greenberg & John Helfers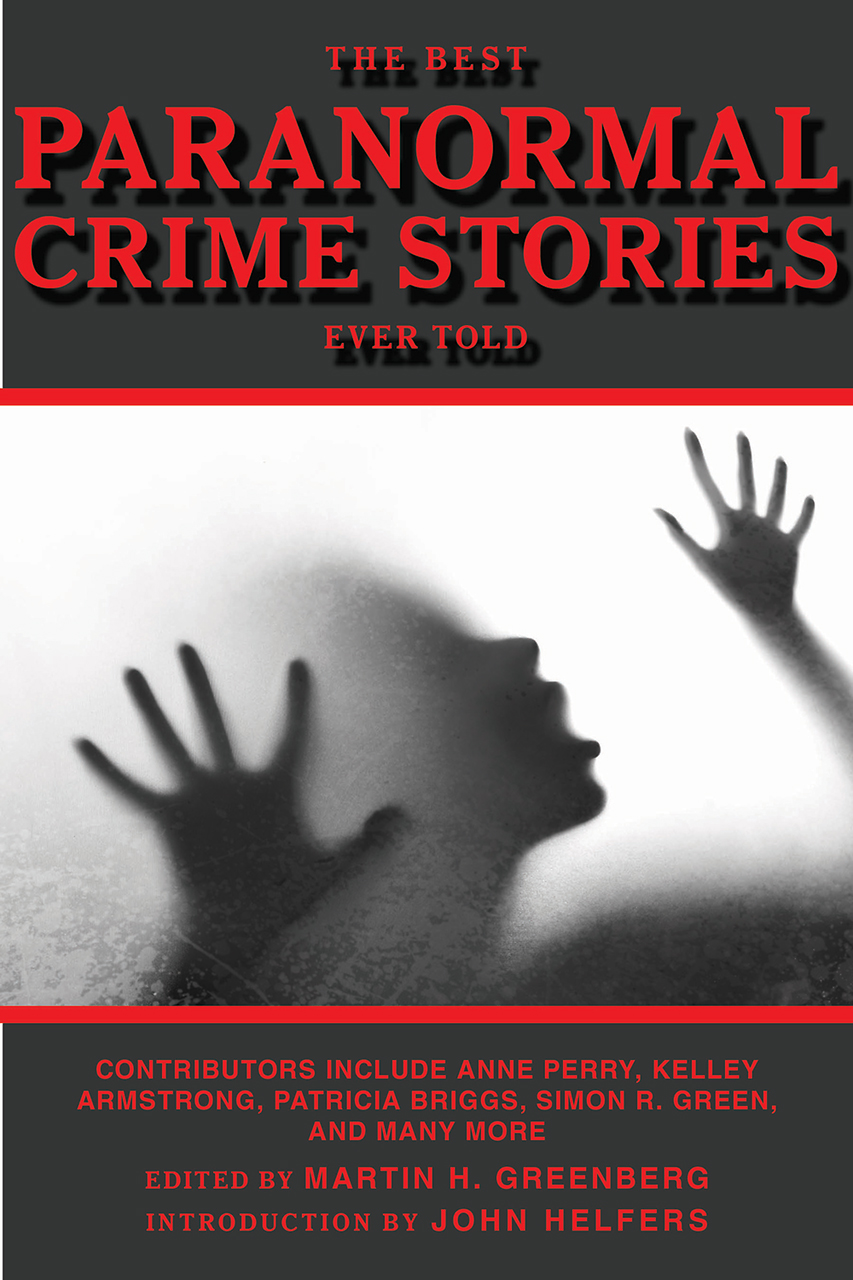 I wouldn't say the best necessarily, but it's not a bad selection of stories. And the fact that I got to read it for free probably helped.
Appetite for Murder - Simon R. Green
Star of David - Patricia Briggs
If Vanity Doesn't Kill Me - Michael Stackpole
Grave-Robbed - P.N. Elrod
The Judgement - Anne Perry
Surprise Special Guest Appearance by... - Carole Nelson Douglas
Occupational Hazard - Mike Resnick
She's Not There - Steve Perry
Hostile Takeover - Nina Kiriki Hoffman
Doppelgangster - Laura Resnick
The Necromancer's Apprentice - Lillian Stewart Carl
The Night of their Lives - Max Allen Collins
Road Dogs - Norman Partridge
Ninja Rats on Harleys - Elizabeth A. Vaughan
Stalked - Kelley Armstrong
Corpse Vision - Kristine Kathryn Rusch
The Unicron Hunt - Michelle West
...
Kristine Kathryn Rusch's story "Corpse Vision" was one of the darker stories. Joe is slowly drinking himself to death in Paris, while working for a newspaper instead of writing his novel like he wanted to. This story takes awhile to get going, but it is quite good once I got into it. I suppose the problem with anthologies is that when a story has a very different tone from from the one before it, it takes a bit to settle down and figure what's going on.
...
There were a couple other stories in the collection, but I didn't love or hate them, so all in all, this was a pretty strong collection.
Rating: 8/10
Published by Skyhorse Publishing
A Fantastic Holiday Season: The Gift of Stories (2014) edited by Kevin J. Anderson & Kieth J. Olexa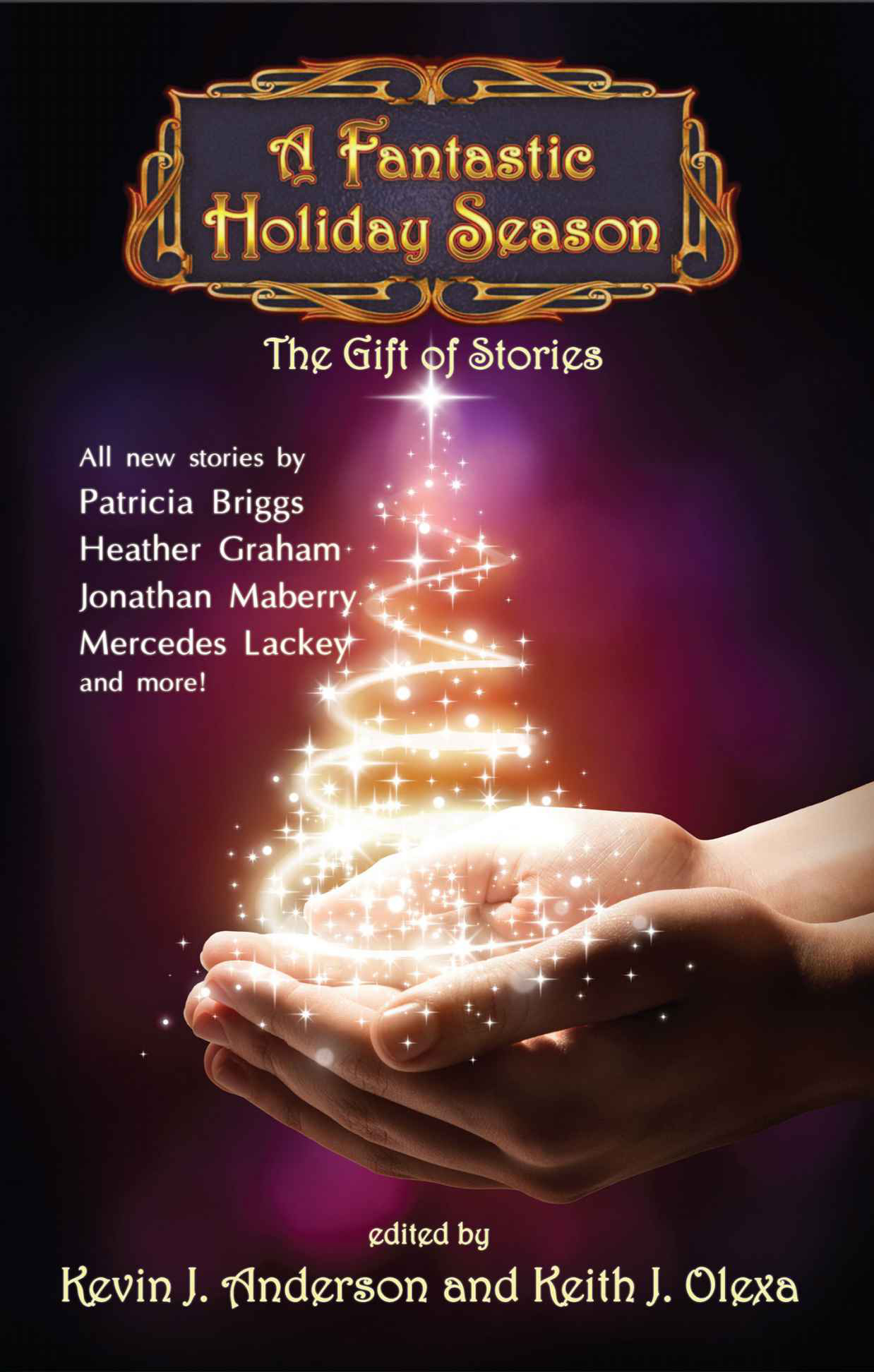 I picked this collection up solely for the Patricia Briggs story, but once I saw some of the other authors, read through the stories that interested me (but skipped the ones that didn't grab me after a page or two).
"Naughty & Nice" by Kevin J. Anderson
"Close Knit" by Nina Kirki Hoffman
"Astronaut Nick" by Brad R. Torgersen
"The Longest Night" by Mercedes Lackey
"Jimmy Krinklepot and the White Rebels of Hayberry" by Quincy J. Allen
"Midnight Trains" by Kristine Kathryn Rusch
"A Christmas Feast" by Jonathan Maberry
"A World Done In by Great Granny's Grateful Pie" by Ken Scholes
"Santa's Mortuary" by Heather Graham
"Yes, Virginia2097c, There is a Santa Claus" by Sam Knight
"Christmas Eve at Harvey Wallbanger's" by Mike Resnick
"The Atmosphere for Miracles" by David Boop
"A Sufficiently Advanced Christmas" by Eric James Stone
"Unappreciated Gifts" by Patricia Briggs
...
"Midnight Trains" by Kristine Kathryn Rusch was an interesting story that was a bit about trains, a bit about fairies, but mostly about Christmas.
...
This is a decent collection with something for everything, even if all the stories don't appeal to everyone.
Rating: 8/10
Published by WordFire Press