Books
The Renshai Chronicles: The Last of the Renshai (1992), The Western Wizard (1992), Child of Thunder (1993)
The Legend of Nightfall (1993), Spirit Fox (1998)
Anthologies: Dragon Fantastic (1992), Assassin Fantastic (2001), In the Shadow of Evil (2005)
Thieves' World: Turning Points (2003), Enemies of Fortune (2004)
The Legend of Nightfall (1993)
Nightfall, the legendary assassin, has taken his name from the children's song that warns about the danger of the night. A master of disguise, he survives by his wits, but survives primarily, despite is small size, because of his natural talent. A talent coveted by sorcerers who methods of extracting natural talents leaves much to be desired.
On the other end of the spectrum is Prince Edward of Alyndar, who strives to fight justice by confronting it head on, which causes nothing but trouble for his father, especially when Ned accidentally kills a man while confronting injustice.
This is a very good book, although I remembered as being somehow different. The story is very good, the characters are very good, my only complaint is that I think the ending is a bit too pat. But you'll have that sometimes, and in general it doesn't take away from an otherwise excellent book.
And for what it's worth, I picked up and bought the book because of the cover. I love this cover--the guy looking precisely like someone you really don't want to meet with his sharp knives and stringy hair, the images on the sides that you don't quite notice at first, everything.
Rating: 7/10
I enjoyed Spirit Fox, but I can not get into her Renshai series. I'll try again eventually.
Anthologies
Dragon Fantastic (1992) edited by Martin H. Greenberg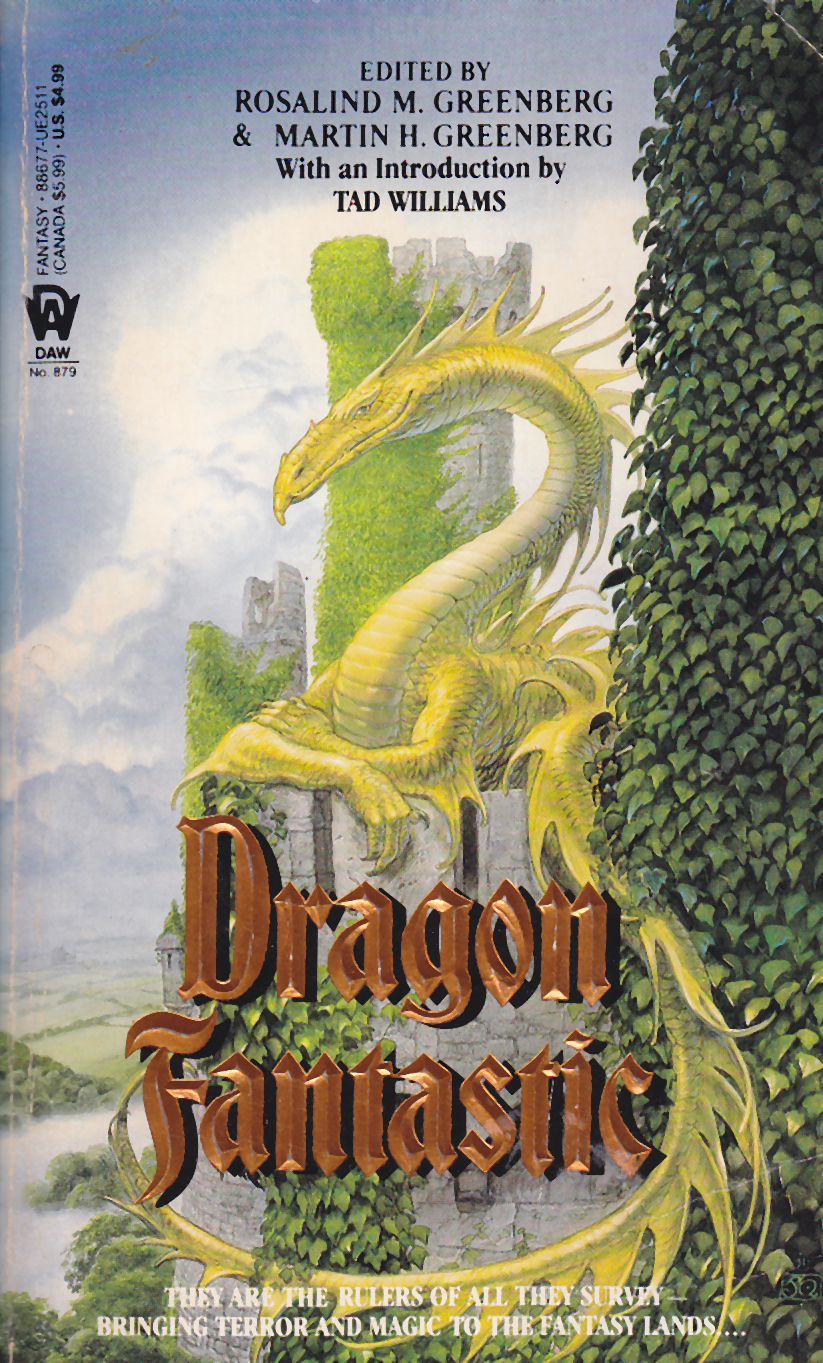 Lethal Perspective – Alan Dean Foster
The Champion of Dragons – Mickey Zucker Reichert
Phobiac – Lawrence Schimel
Home Security – Karen Haber
The Stolen Dragon – Kimberly Gunderson
Cold Stone Barrow – Elizabeth Forrest
Fluff the Tragic Dragon – Laura Resnick
The Hidden Dragon – Barbara Delaplace
Take Me Out to the Ballgame – Esther M. Friesner
The Dragon's Skin – Ruth Berman
Shing Li-Ung – Tanya Huff
Concerto Accademico – Barry N. Malzberg Dragon's Destiny – Josepha Sherman
Between Tomatoes and Snapdragons – Jane Lindskold
The Trials and Tribulations of Myron Blumberg, Dragon - Mike Resnick
Straw Into Gold, Part II – Mark A. Kreighbaum & Dennis L. McKiernan
Published by Daw
Assassin Fantastic (2001) edited by Martin H. Greenberg & Alexander Potter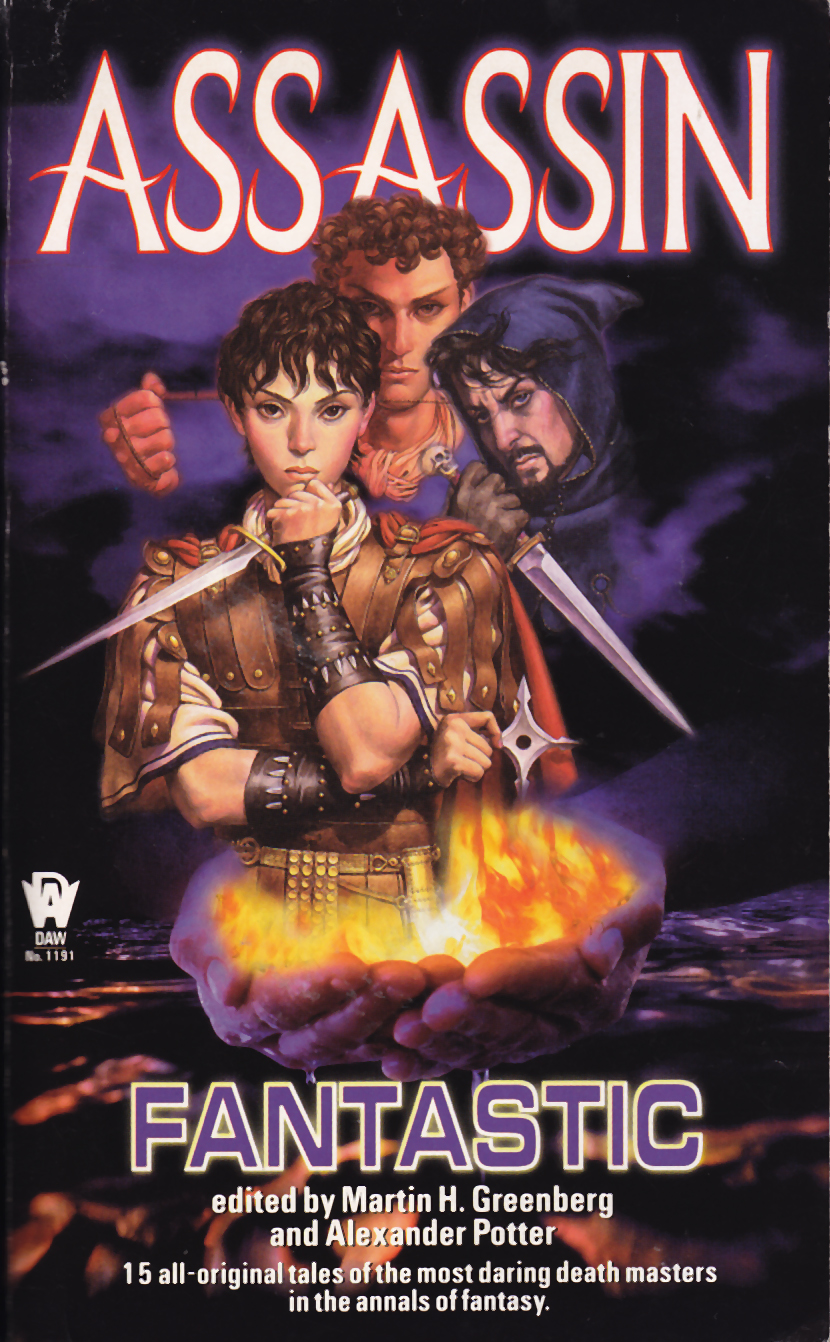 I know that Martin Greenberg puts together good anthologies, however there's something about the "Fantastic" that gets tacked onto the end of each anthology theme title that puts me off for some reason. However, I've always been fond of Assassin characters, so I picked up the book.
Death Rites by Tanya Huff
Green Stones by Stephen Leigh
Coin of the Realm by Kristine Kathryn Rusch The Svedali Foundlings by Fiona Patton
History and Economics by Anna Oster
Never Say...Uh...Die? by Josepha Sherman
Dying By Inches by Teresa Edgerton
Darkness Comes Together by Mickey Zucker Reichert
Raven's Cut by Lynn Flewelling
Myhr's Adventure in Hell by P.N. Elrod
He by Leyte Jefferson
War of the Roses by Rosemary Edghill
On My Honor by Bernie Arntzen
A Touch of Poison by Jane Lindskold
Echoes by Michelle West
...
Quite lovely. It drew me in immediately.
Mickey Zucker Reichert
's Nightfall story was also very good, although I have to admit that I already liked Nightfall. (This story would be pre-
Legend of Nightfall
I think.)
...
All in all it was a good anthology, and I quite enjoyed it. There were lots of original stories, and for the most part even the ones I didn't care for were well-written, making it more a matter of taste than of quality. And I found a couple of new authors to look for as well, which is always a good thing.
Rating: 7/10
In the Shadow of Evil (2005) edited by Martin H. Greenberg & Rosalind M. Greenberg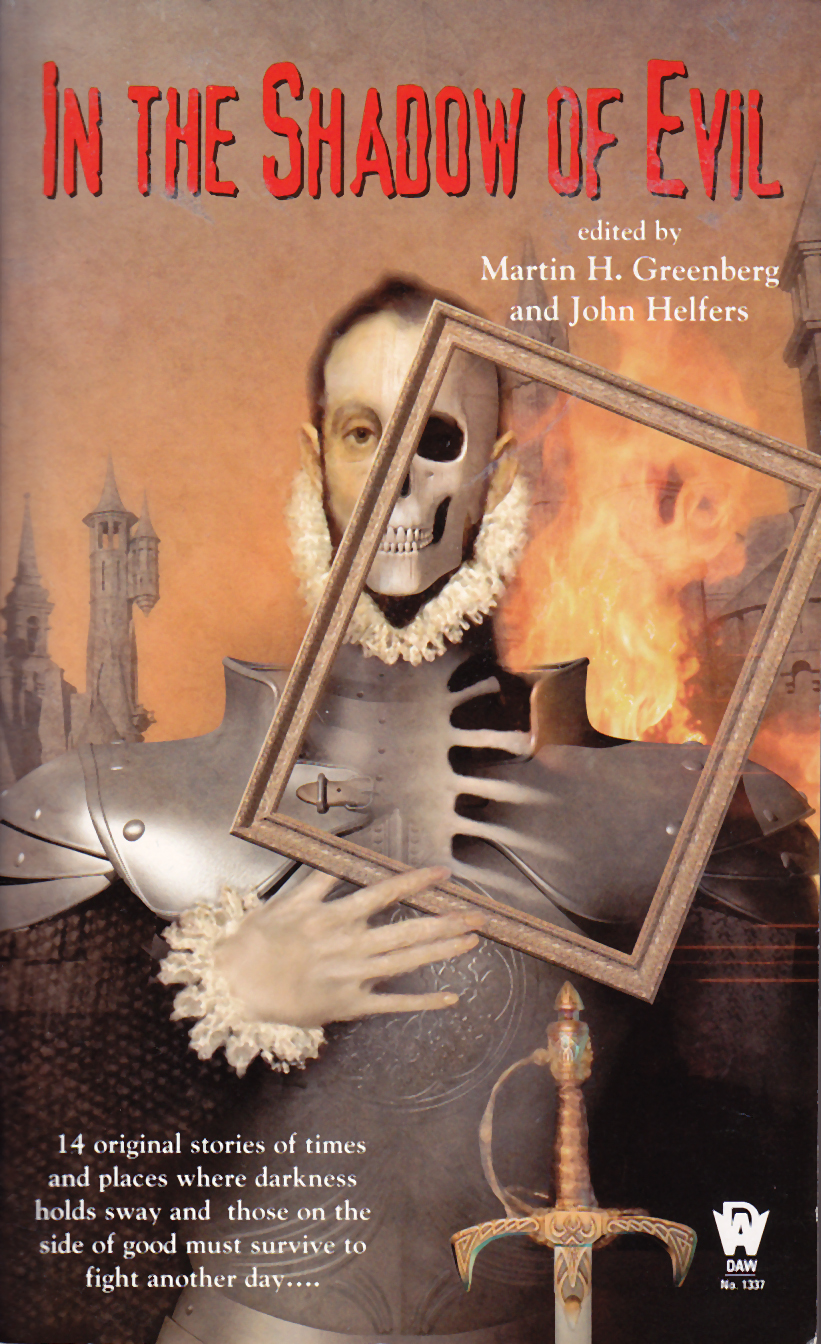 To Embrace the Serpent – Tim Waggoner
Few of Us – Jean Rabe
The Angel Chamber – Russell Davis
Ineffable – Isaac Stpindel
Flint and Iron – Rick Hautala
Feel – Julie E. Czerneda
Comes Forth – Jane Lindskold
Climb, Said the Crow – Brooks Peck
Red Star Prophecy – Mickey Zucker Reichert
Rekindling the Light – Jody Lyn Nye
Iraqi Heat – Gregory Benford
Slow Poison – Tanya Huff
The Weapon – Michelle West
The Captain of the Dead – Fionna Patton
Published by Daw