Books
In Legend Born (1998)
Esther Diamond: Disappearing Nightly (2005), Doppelgangster (2010)
Anthologies: Dragon Fantastic (1992), Return to Avalon (1996), Murder by Magic (2004), Better Off Undead (2008), The Best Paranormal Crime Stories Ever Told (2010)
In Legend Born (1998)
Michael liked In Legend Born and the following books. I got to about page 52 and got bored. Miribar is a magic user, in a land where mages are killed. She lives in a hidden commune, where she is feared, but tolerated. Tansen is an assassin who has come back to his homeland, only to be immediately arrested for carrying weapons. Jorasin has rebelled against the oppressive regime, and now has a price on his head.
This was strange, because I should have liked this book from the start. The action started pretty quickly, which I usually like.
The problem, I think, is that just as I started to get interested into a character, the point of view jumped to someone else, and I'd have to start all over again. So I'd get a ten page introduction, and then we'd move on. I found it frustrating more than enticing.
I think that if I can get past all the introductions then I might like this book. But that's probably going to require a wait at the dentist office or something, where I have to sit still and don't have anything else to do, so I'm forced to go through the first 100 pages to meet everyone and get into the heart of the story.
Esther Diamond
Disappearing Nightly (2005)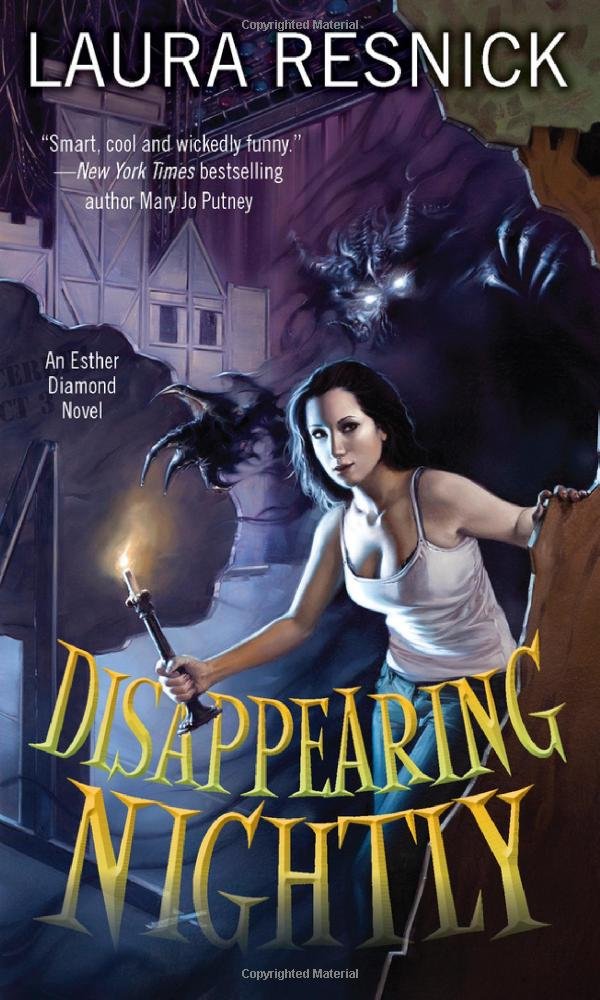 This book was a disappointment. About halfway through I started reading as fast as I could so I could get the whole thing over with. The frustrating thing was that the story was good, the mystery portion of good. I just hated the main character. She struck me as incredibly annoying, and I found myself hoping that she would go head and perform the magic trick and disappear.
In New York, magician's assistants are disappearing for real in the middle of their acts, and as Esther Diamond is the understudy who is supposed to perform next, she's more than a little worried when she starts receiving notes warning her that if she performs she may be next to disappear.
As I said, the book wasn't a complete lost. I did like some of the supporting characters, the mystery was good, and the story telling was interesting. But I couldn't get past the fact that I found Esther painfully annoying. But someone who didn't find Esther annoying would probably enjoy the book.
Rating: 5/10
Doppelgangster (2010)
Considering that I disliked Disappearing Nightly, I hesitated to pick up Doppelgangster, however, the premise intrigued me so much I decided to give it a chance. (OK, the cover also helped. I really liked the cover.)
Esther Diamond is working at Bella Stella as a singing waitress while waiting for her next big role. She's also hoping things will work out with Detective Lopez, who has asked her out several times, and is very clearly interested. Unfortunately for Esther, the fact that Bella Stella is an infamous gangster hangout is just one thing putting a crimp in her relationship with Lopez.
The Doppelgangsters that start appearing just make matters worse.
Esther was far less annoying in this book than I found her in the previous. Yes, she's still headstrong, however, she's a bit less self-centered, which makes her over-the-top behavior easier to tolerate.
Plus, I really liked the supporting characters.
You should easily be able to read Doppelgangster even if you have not read Disappearing Nightly (in fact, I'd completely forgotten the events in Disappearing Nightly.) It was a fun romp, and I have to admit that I liked that things kept not working out for Esther and Lopez–a nice change of pace from most of the paranormal/supernatural books out there.
Rating: 7/10
Anthologies
Dragon Fantastic (1992) edited by Martin H. Greenberg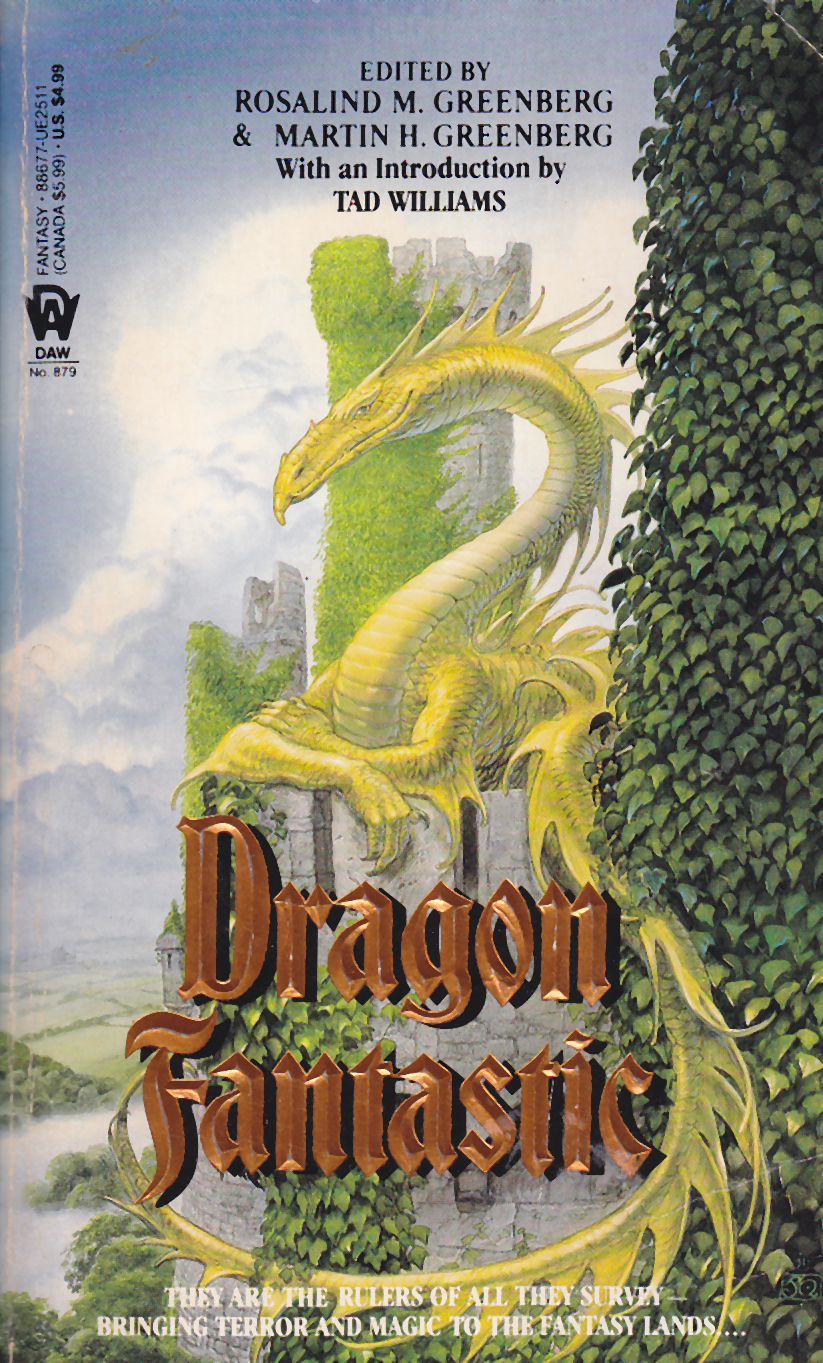 Lethal Perspective – Alan Dean Foster
The Champion of Dragons – Mickey Zucker Reichert
Phobiac – Lawrence Schimel
Home Security – Karen Haber
The Stolen Dragon – Kimberly Gunderson
Cold Stone Barrow – Elizabeth Forrest
Fluff the Tragic Dragon – Laura Resnick
The Hidden Dragon – Barbara Delaplace
Take Me Out to the Ballgame – Esther M. Friesner
The Dragon's Skin – Ruth Berman
Shing Li-Ung – Tanya Huff
Concerto Accademico – Barry N. Malzberg Dragon's Destiny – Josepha Sherman
Between Tomatoes and Snapdragons – Jane Lindskold
The Trials and Tribulations of Myron Blumberg, Dragon - Mike Resnick
Straw Into Gold, Part II – Mark A. Kreighbaum & Dennis L. McKiernan
Published by Daw
Return to Avalon (1996) edited by Jennifer Roberson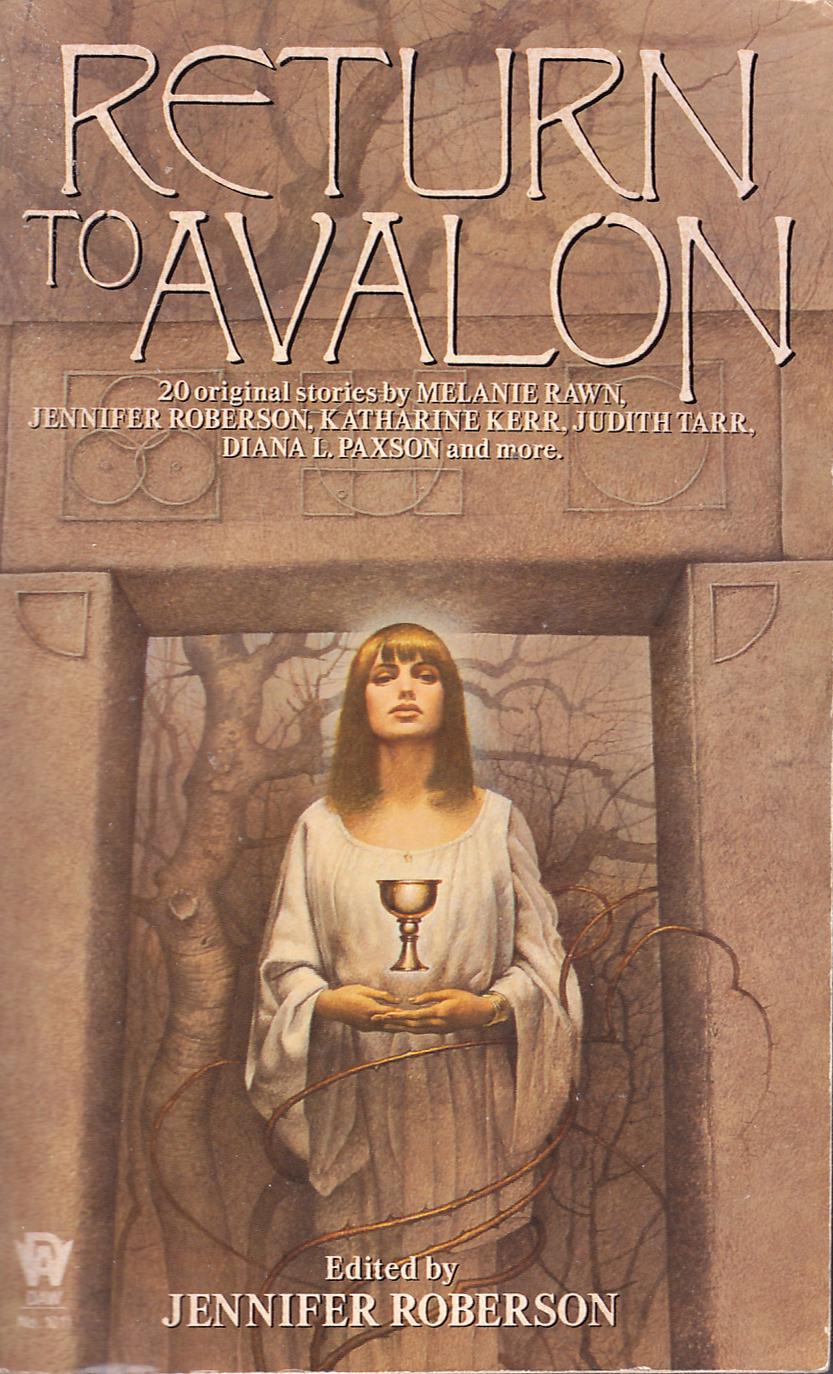 To Light Such A Candle - eluki bes shahar
The Grail of Heart's Desire - Judith Tarr
Lady of Avalon - Diana L. Paxson
With God to Guard Her - Kate Elliot
Sing To Me Of Love and Shadows - Deborah Wheeler
The Wellspring - Katherine Kerr
Knives - Dave Smeds
A Refuge of Firedrakes - Susan Shwartz
The Hag - Lawrence Schimel
Salve, Regina - Melanie Rawn
Trees of Avalon - Elisabeth Waters
Sparrow - Esther Friesner
The Spell Between Worlds - Karen Haber
The Stone Mother's Curse - Dave Wolverton
Iontioren's Tale - Paul Edwin Zimmer
Winter Tales - Adrienne Martine-Barnes
Dark Lady - Jane M. Linskold
The Lily Maid of Astoloat - Laura Resnick
Guinevere's Truth - Jennifer Roberson
Published by DAW
Murder by Magic (2004) edited by Rosemary Edghill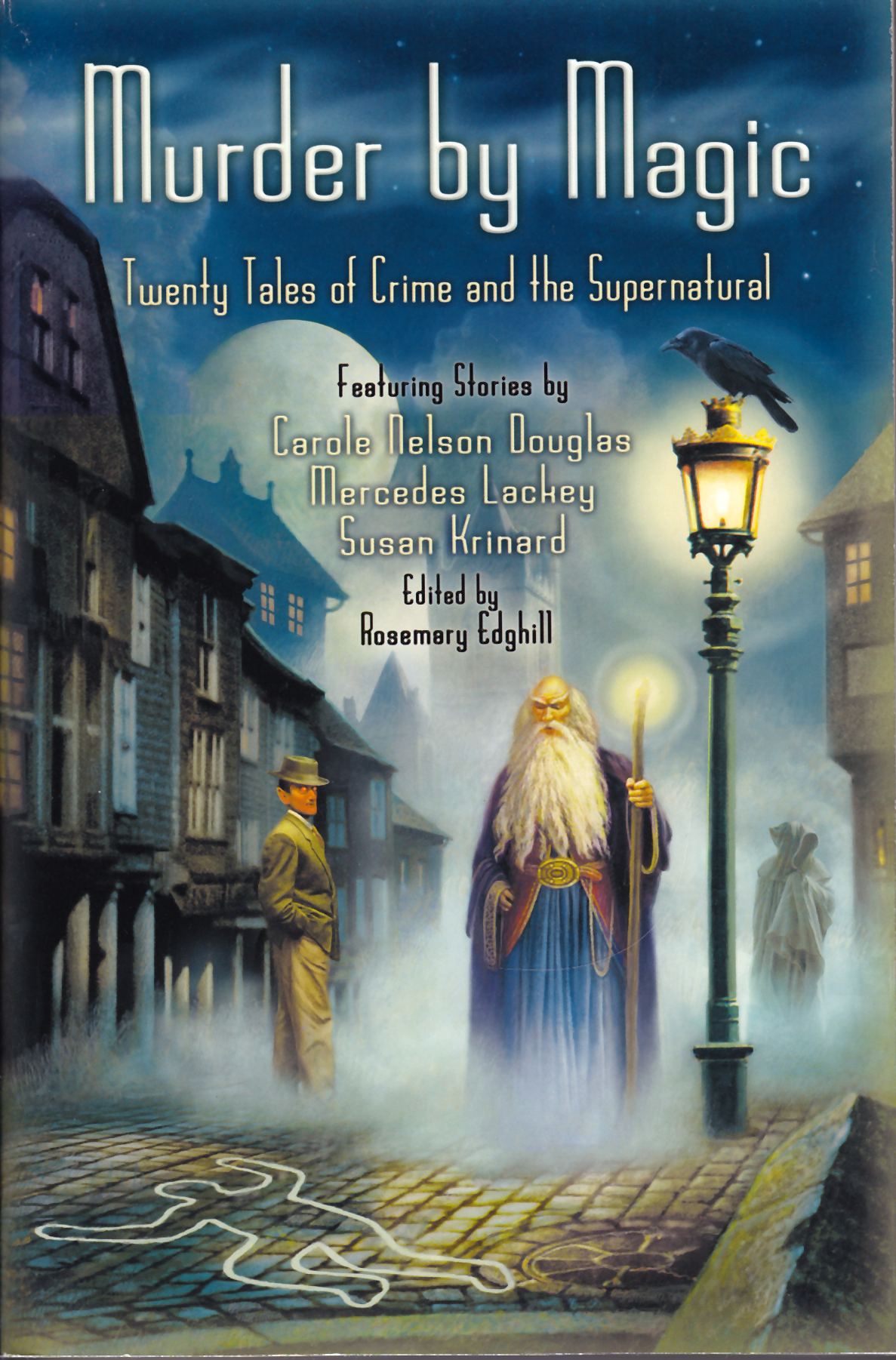 I love fantasy, and I love mysteries, so I figured that this should be a great short story collection. After all, I've read some excellent fantasy mysteries recently, such as those written by Charlaine Harris and Simon R. Green. This collection, however, was a mixed bag. For one thing, it look me about three months to read. I'd zip through a couple of stories, and then get bogged down in a story that took days to read, and then I set it aside for something else that looked more interesting.
The problem with several of the stories seemed to be that the ability to write good fantasy does not mean the ability to write good fantasy, and vice versa.
But there are some excellent stories in this collection.
Piece of Mind - Jennifer Roberson
Special Surprise Guest Appearance by... - Carole Nelson Douglas
Doppelgangster - Laura Resnick
Mixed Marraiges Can Be Murder - Will Graham
The Case of the Headless Corpse - Josepha Sherman
A Death in WOrking - Debra Doyle
Cold Case - Diane Duane
Snake in the Grass - Susan R. Matthews
Double Jeopardy - M.J. Hamilton
Witch Sight - Roberta Gellis
Overrush - Laura Anne Gilman
Captured in Silver - Teresa Edgerton
A Night at the Opera - Sharon Lee and Steve Miller
A Tremble in the Air - James D. Macdonald
Murder Entailed - Susan Krinard
Dropping Hints - Lawrence Watt-Evans
Au Purr - Esther M. Friesner Getting the Chair - Keith R.A. DeCandido
The Necromancer's Apprentice - Lillian Stewart Carl
Grey Eminence - Mercedes Lackey

My favorite story was Laura Resnick's "Doppelgangster," and I even made Michael read that one (he also loved it). It's quick and funny, it even made me laugh out loud. And it was a good mystery as well, with the clues there to be found, if you noticed them.
...
So, as a mystery collection, I found this anthology mostly disappointing. But I really do recommend looking for Laura Resnick's "Doppelgangster," which was just plain fun.
Rating: 5/10
Better Off Undead (2008) edited by Martin H. Greenberg & Daniel M. Hoyt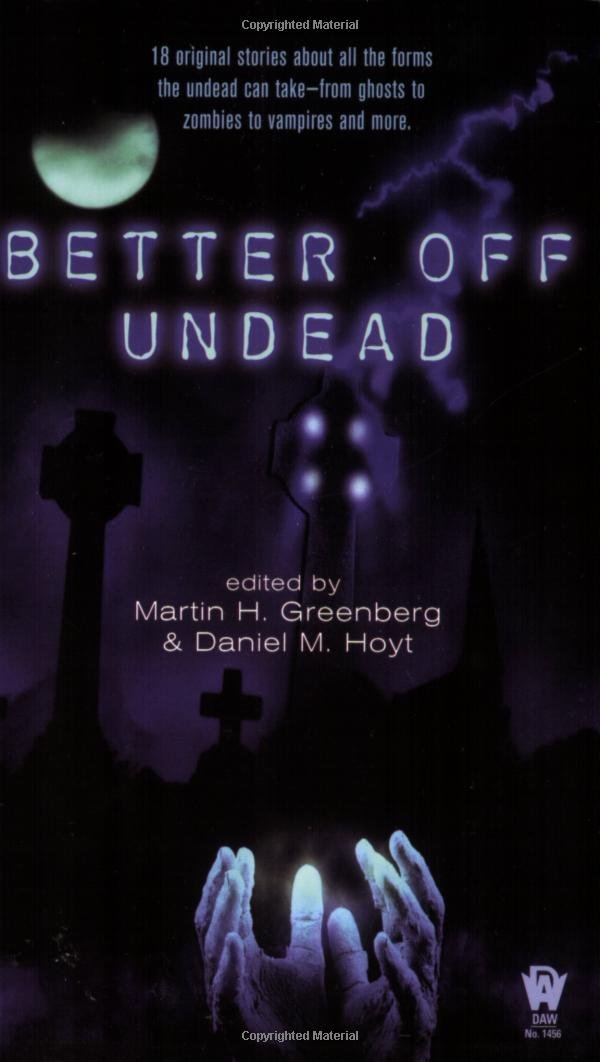 Anthologies edited by Martin H. Greenberg are usually ones I can pick up knowing that I'll like the majority of stories within.
This volume? Not so much. There were a handful of stories I thought were good, but for the most part? Meh.
A Grain of Salt - Sarah A. Hoyt
The Poet Gnawreate and the Taxman - Dave Freer
The Infernal Revenus Service - Laura Resnick
Mummy Knows Best - Esther M. Friesner Genius Loci - Chelsea Quinn Yarbro
Ah, Yehz - Alan Dean Foster
Gamma Ray versus Death - Carrie Vaughn
Museum Hauntings - Irene Radford
My Teras Have Been My Meat - Nina Kiriki Hoffman
The Perfect Man - Fran LaPlaca
Two All Beef Patties - Jay Lake
That Saturday - Devon Monk
Walking Fossil - Robert A. Hoyt
Night Shifted - Kate Paulk
Twelve Stepping in the Dark - Rebecca Lickiss
Gobble, Gobble, One of Us - Charles Edgar Quinn
Bump in the Night - Amanda S. Green
Separation Anxiety - S.M. Stirling
"A Grain of Salt"–the first story in the book–was one I did like. It reminded me of Liz Williams' Detective Inspector Chen stories, not just because it was Chinese in flavor, but the underworld was in many ways like Liz Williams' hell.
Alan Dean Foster's story "Ah, Yehz" was one that I particularly liked. Lots of the stories in this anthology had twists at the end, but for the most part that was the whole of the story–working up to the punchline in the end. But "Ah, Yehz" was interesting in and of itself, and for the brevity of the story, had some nice world building. Archie is caught stealing from a fountain in the cemetery by one of the ghosts. While trying to escape he meets an unusual fellow who is willing to help him.
Irene Radford's "Museum Hauntings" was another story that was well done from start to finish. I liked the main characters, and the focus wasn't on the twist at the end, but upon the development of the two characters. Cute and fun.
As always, I liked the story by Nina Kiriki Hoffman, "My Tears Have Been My Meat." Sometimes dead isn't always dead, and your friends and enemies are hard to tell.
I loved the idea of Jay Lake's Unrapture in his story "Two All Beef Patties." I'm generally not fond of zombies, but for a zombie story, this was quite good.
And… that was about it. Like I said, most of the stories were meh, and some I actually disliked, but if you come across any of the above in another anthology, I highly recommend them.
Published by DAW
Rating: 5/10
The Best Paranormal Crime Stories Ever Told (2010) edited by Martin H. Greenberg & John Helfers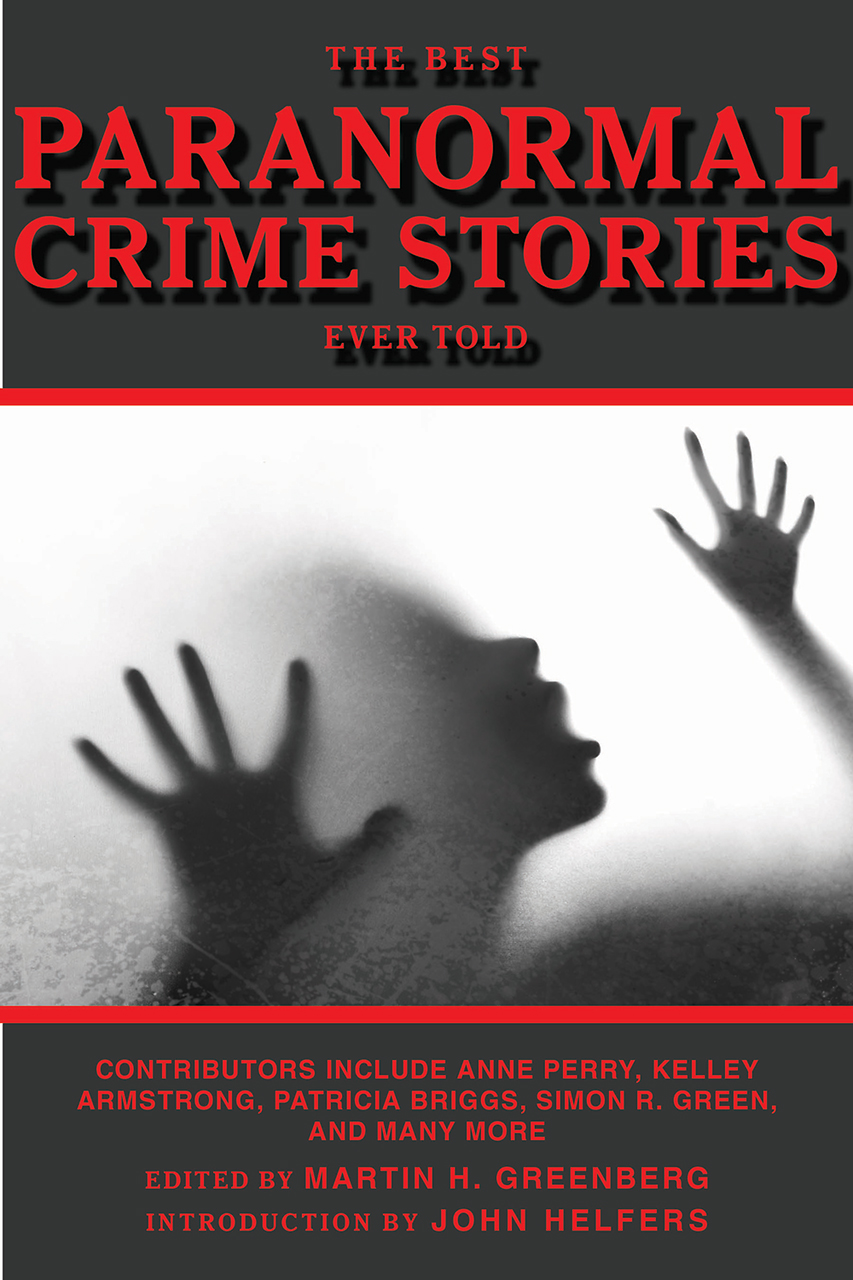 I wouldn't say the best necessarily, but it's not a bad selection of stories. And the fact that I got to read it for free probably helped.
Appetite for Murder - Simon R. Green
Star of David - Patricia Briggs
If Vanity Doesn't Kill Me - Michael Stackpole
Grave-Robbed - P.N. Elrod
The Judgement - Anne Perry
Surprise Special Guest Appearance by... - Carole Nelson Douglas
Occupational Hazard - Mike Resnick
She's Not There - Steve Perry
Hostile Takeover - Nina Kiriki Hoffman
Doppelgangster - Laura Resnick
The Necromancer's Apprentice - Lillian Stewart Carl
The Night of their Lives - Max Allen Collins
Road Dogs - Norman Partridge
Ninja Rats on Harleys - Elizabeth A. Vaughan
Stalked - Kelley Armstrong
Corpse Vision - Kristine Kathryn Rusch
The Unicron Hunt - Michelle West
...
"Doppelgangster" is similar to (but not the same as) Laura Resnick's book Doppelgangster, and I think I prefer the story without Esther (the main character in the book).
...
There were a couple other stories in the collection, but I didn't love or hate them, so all in all, this was a pretty strong collection.
Published by Skyhorse Publishing
Rating: 8/10