Books: Fantasy
Anthologies
Many Bloody Returns (2007), Wolfsbane and Mistletoe (2008), Crimes by Moonlight (2010), Death's Excellent Vacation (2010), Home Improvement: Undead Edition (2011), An Apple for the Creature (2012)
Many Bloody Returns (2007) edited by Charlaine Harris and Toni L. P. Kelner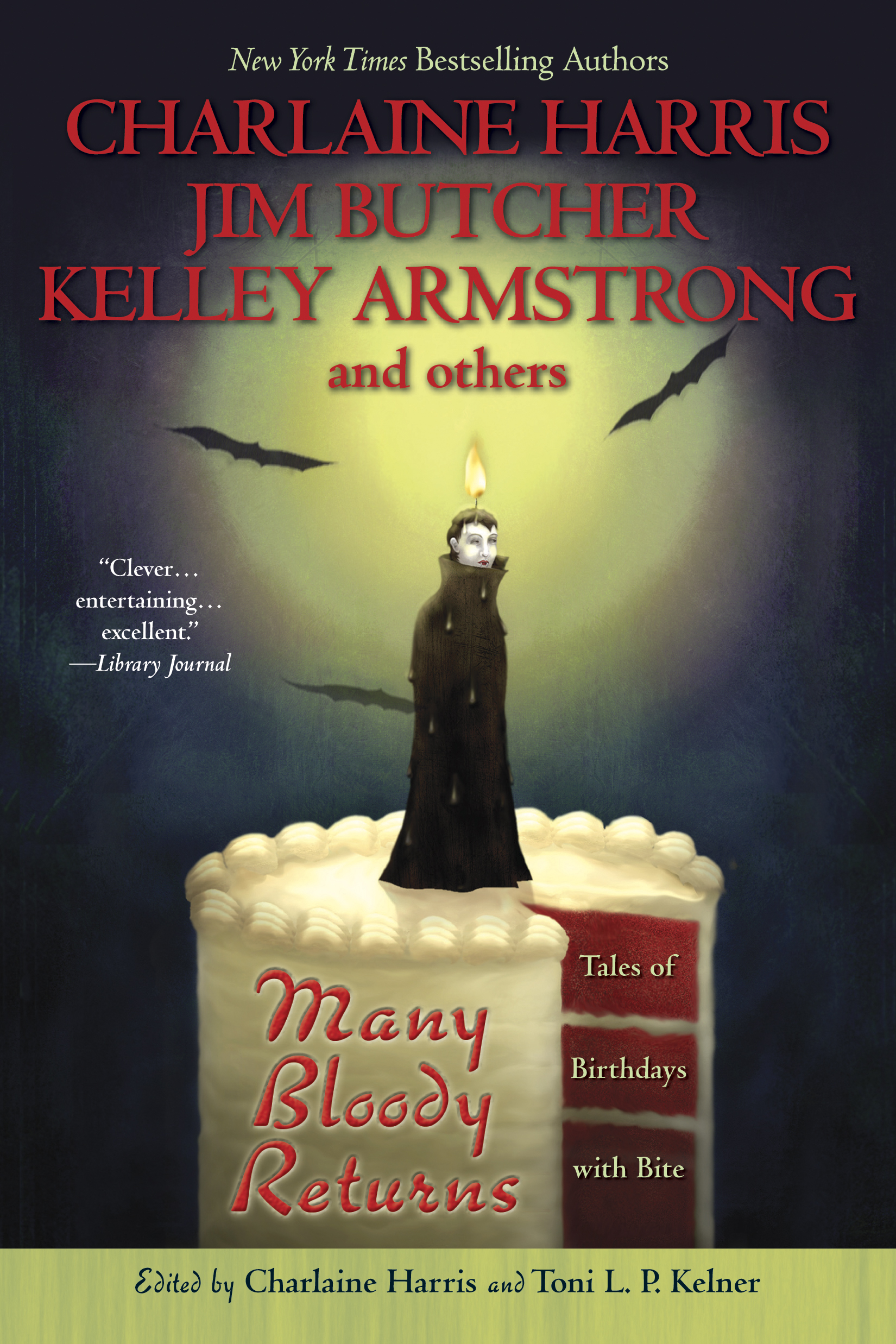 I pre-ordered this, not realizing it was in hardback. As much as I love anthologies, I'm not that excited about hardback books–especially anthologies where I don't know all the authors or the quality of the stories.
Many Bloody Returns pretty much tells you the focus of the stories: vampires and birthdays. In some cases it's the vampire who is having a birthday, in other cases…not.
Luckily, I wasn't too disappointed with my purchase. There were several stories by authors I like and characters whose books I'm reading, namely, Charlaine Harris, PN Elrod, Jim Butcher, and Tanya Huff. Unsurprisingly, some those were also some of the stories I enjoyed most, as they built upon characters with which I am already familiar.
Jim Butcher wrote a very solid Harry Dresden story. Although there isn't a lot of development of Harry's character, what I did like was how this story added another dimension of Harry's relationships with Molly (his apprentice) and Thomas (his half-brother). The continued building of those relationships was really the strong point of this story for me. One of the things that has annoyed me about Harry is his inability to turn to his friends for help, so I really liked seeing him working with others.
I also really enjoyed the P.N. Elrod story. Although I've found the Jack Flemming stories to have their ups and downs, I enjoy reading about Jack, and enjoy the time period in which his stories are written. Strangely, this was hardly a period piece in comparison to the other Jack Flemming stories. Instead, the focus is on the mystery/problem, and how Jack solves that mystery. And I quite liked Jack's solution to the problem at hand.
Another story I particularly liked as Jeanne C. Stein' story "The Witch and the Wicked". Although I did guess part of where the story was going, I enjoyed Sophie's musings and thoughts about her future, and her interactions with the vampires. But I mostly liked how the story went in a direction I was not at all expecting.
And I thought Elaine Viets' story, "Vampire Hours" was wonderful. Although being in a vampire collection, it was pretty obvious who/what the people Katherine was watching were, it didn't particularly distract from the story, since the focus was upon Katherine and her chase for eternal youth. The story felt a bit like First Wives Club crossed with a vampire tale. Fun and amusing, although I am not sure how I felt about the fact that Katherine was so focused upon her body and her beauty as her main assets.
But I have to admit that there were stories that I found disappointing. As much as I enjoy Charlaine Harris' Sookie Stackhouse series, this story didn't seem to add much, and in some ways Sookie felt to me as if she was acting slightly out of character. nothing I could put my finger on, but the story just felt a bit off to me.
I also didn't care too much for Rachel Caine's story "The First Day of the Rest of Your Life" because I felt like I was missing something–I was never quite certain what was happening or why, and why Eve really had no clue as to what she was going to do. Instead of interesting, I found her somewhat annoying. Which was somewhat surprising to me, since I enjoyed Rachel Caine's first Weather Warden book.
Otherwise, this was a pretty good collection of stories. I probably would have preferred the book in paperback, but over all I enjoyed it.
Rating: 7/10
Wolfsbane and Mistletoe (2008) edited by Charlaine Harris and Toni L. P. Kelner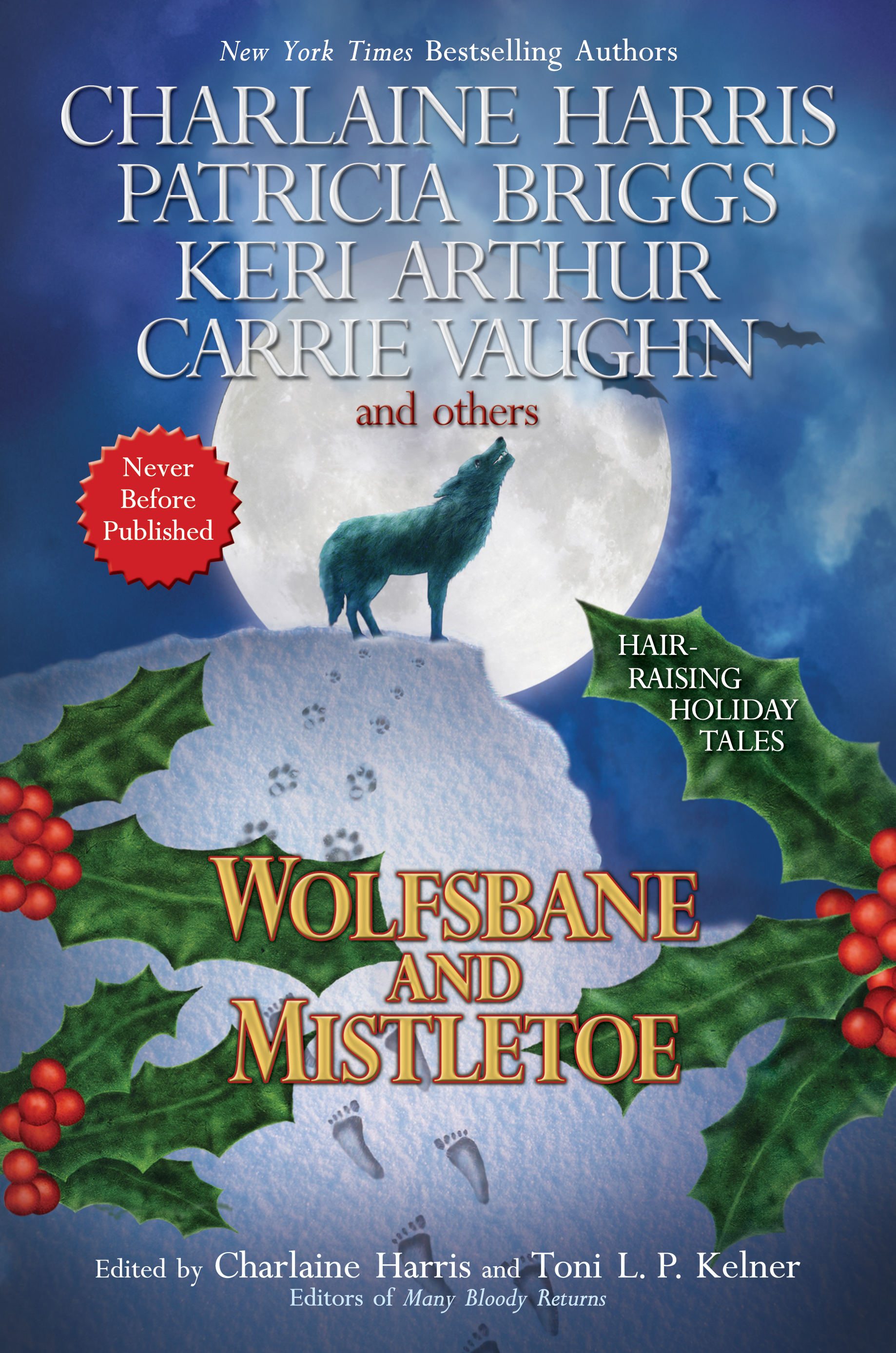 Crimes by Moonlight (2010) edited by Charlaine Harris and Toni L.P.  Kelner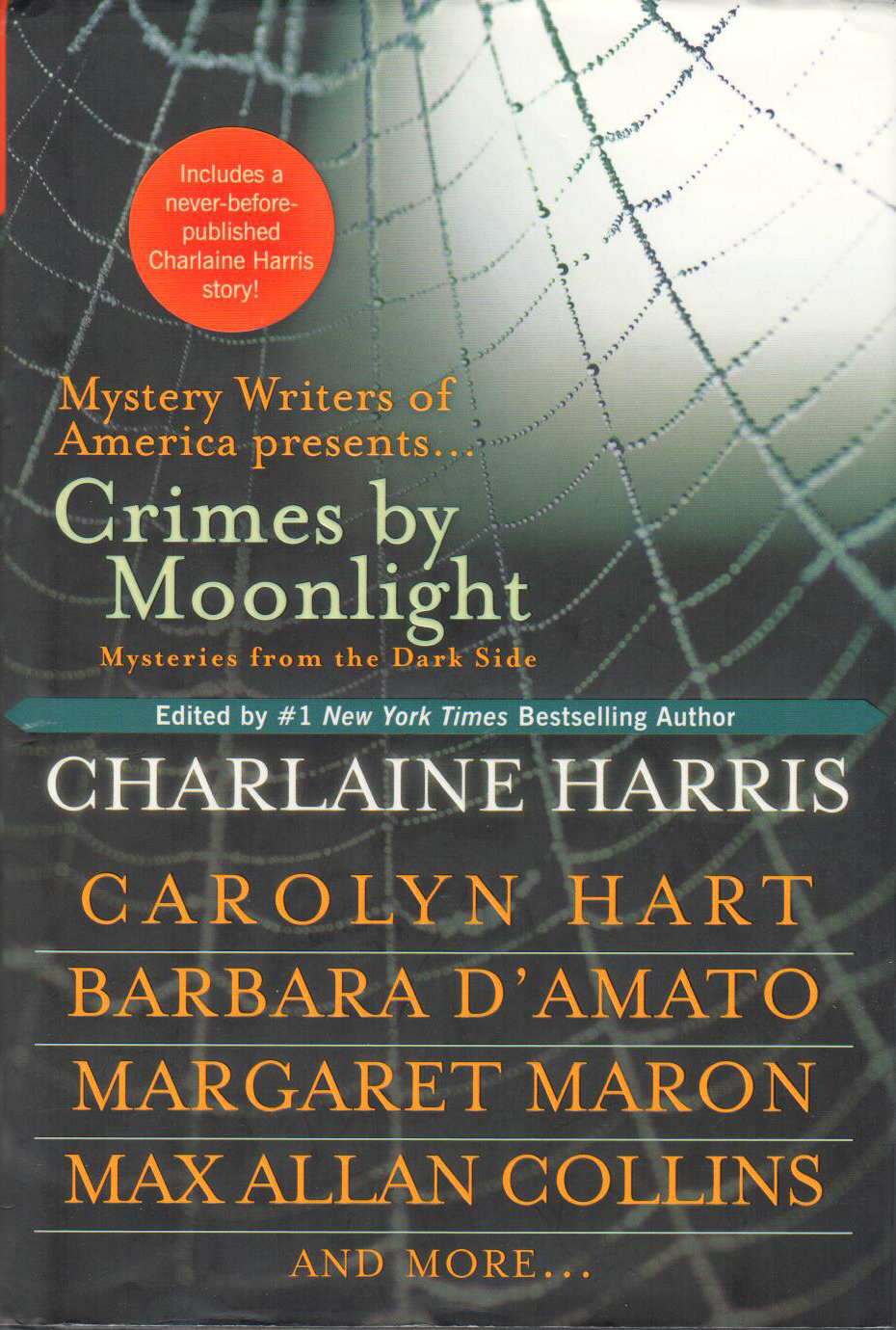 I started this anthology more than a year ago, got bored with it and put it down, then finally decided I was just going to FINISH it. Needless to say, my memories of the stories at the start is rather faint.
Basically, this is an okay selection of stories, most of just weren't my thing.
Death's Excellent Vacation (2010) edited by Charlaine Harris and Toni L. P. Kelner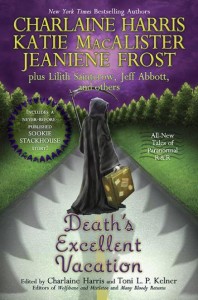 Yeah, I'm a sucker for anthologies. Especially ones where I know the majority of the stories will be good.
Mind you, I wasn't impressed enough with the list of authors to pay full price (this still isn't out in paperback yet?!) but there were plenty of used copies floating around, which is how I got my fix.
The opening story is Blondes by Charlaine Harris. Yeah, sorry True Blood fans, but I am over Sookie. And Sookie and Pam playing at being strippers? I believe my eyes rolled so hard the clinked.
The Boys Go Fishing by Sarah Smith is the story of an immortal superhero whose life lies heavy upon him. A red-headed girl (to his eyes she's a girl, anyway) asks him to take a group ice-fishing (the job he's hidden behind for the last several years). I really liked this story–I was never quite sure where it was taking me, but I quite liked where it ended up.
One for the Money by Jeaniene Frost is a Kat and Bones story. This actually fills in a couple blanks I'd missed (nothing major). Kat and Bones were on vacation until her Uncle Don calls in a favor–go protect the young college aged (orphaned) daughter of a man he'd worked with before. Sadly, nothing is easy. I quite liked this little peek into their lives, and a tiny bit of resolution between Bones and Justine. I'm not sure if this story would work as well if you weren't already familiar with the characters and story-line though.
Meanwhile, Far across the Caspian Sea… by Daniel Stashower was a rather unusual story, of a man starting his job at LifeSpan books and his somewhat strange and problematic co-worker. I really liked that I had no idea where this story was going, and strange as the ending was, I liked it just as well.
The Innsmouth Nook was, as I expected from A. Lee Martinez, quite funny.
"So two single guys from the big city move to our little town and open a bed-and-breakfast. But you're not gay."

"We're just friends," he said.

"Right. Because straight men open bed-and-breakfasts all the time."
That–and several other bits–cracked me up. It's also, now I look at it, as good a summation of the story as any.
Safe and Sound by Jeff Abbott was a good story, but not one that I particularly enjoyed. Nora Dare works for a 24-hour news station, and she's spent the past several months keeping up the search for a missing college student. It's definitely a stand-alone story, but I couldn't stand the main character.
I've books by L. A. Banks sitting waiting to be read, but for some reason never got around to raeding them. Seeing Is Believing makes me wonder why the hell I haven't read them. Jessica is trying to hold things together after the death of her mother, and her brother moving away, but between the lack of jobs in town, and her inheritance of her mother's gifts, things are very hard for her. The fact that something is preying on the people in her town only makes things worse.
I really really liked this story and should probably go find those L.A. Banks books I never got around to reading.
I generally don't like Katie MacAlister's stories, and The Perils of Effrijim was no exception. Just not my thing.
Thin Walls by Christopher Golden was another disturbing story. Well done, but…disturbing.
I'm sometimes hit or miss with Lilith Saintcrow, but I very much enjoyed The Heart Is Always Right. A gargoyle is getting ready to go on vacation when events intercede and he has to do the one thing he has been raised to do.
The Demon in the Dunes by Chris Grabenstein was interesting, but…
Home from America by Sharan Newman is the story of a young Irish-American who longs to go back to the old country. When he finally gets his wish, things are not as all as he expected. I liked this story as well, despite where it went.
Pirate Dave's Haunted Amusement Park by Toni L. P. Kelner was amusing. A young woman who was turned by a rogue werewolf heads to the place where she spent her childhood vacations to and sort things out before she is to make the decision about which pack to join. Kinda goofy, and also fun. And I very much liked her werewolf traits.
So, a pretty good collection. As always there were stories I didn't like, but most of them were simple a conflict of taste rather than bad stories. But really, it's been two and a half years. How is this not out in paperback already?
Published by Ace
Rating: 7/10
Home Improvement: Undead Edition (2011) edited by Charlaine Harris and Toni L. P. Kelner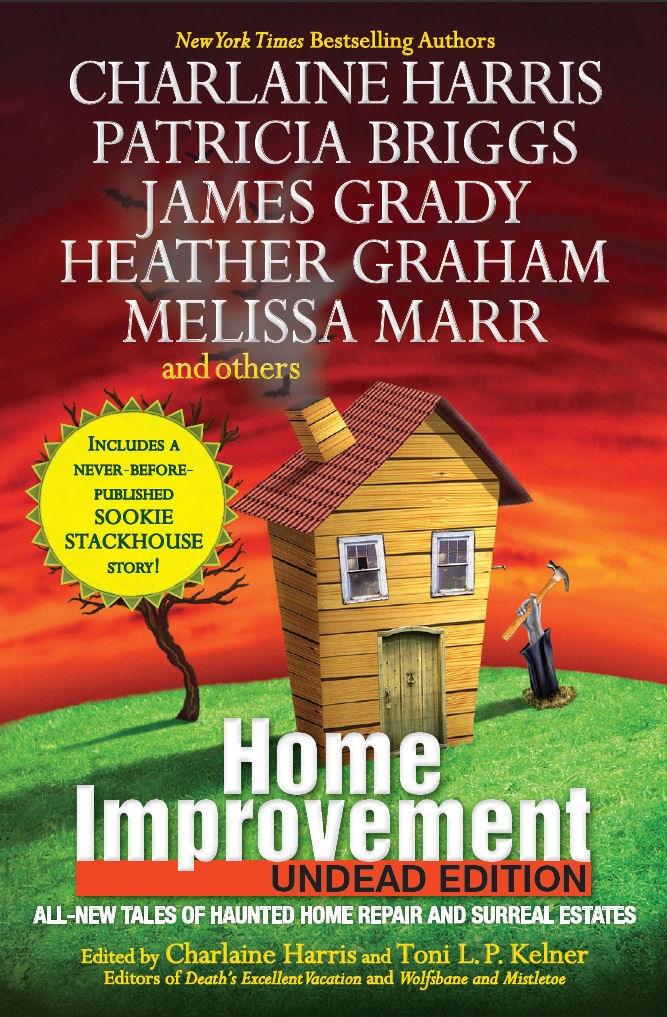 As with most anthologies, there are stories here I really liked, and some that I found to be just okay. What was unusual was that there were some stories that I actually strongly disliked.
Patricia Briggs
isn't a Mercy Thompson story, but is set her her world. A vampire returns to Chicago, to the home where she once lived. I quite liked this story. It stands on its own outside of the Mercy books, and is interesting in its own right. Vampires tend to be minor characters in the Mercy series, but I quite like her vampire mythology, and have very much enjoyed the short stories she's written that have been about vampires. This is one of my favorites.
"It's All in the Rendering" by Simon Green isn't set in Nightside, or any of his existing worlds, that I can tell. It's just about a house between the worlds, the couple who manage it, and the horrors of… bureaucracy.
I have to admit that I grew tired of Sookie Stackhouse a couple years ago, but I enjoyed the story "If I Had a Hammer" more than any of Charlaine Harris' Sookie stories I've read in years. There's no sex, just Sookie and her friends trying to solve a problem.
The story "Through This House" by Seanan McGuire may need a familiarity with Toby Daye's world to be fully appreciated, but as I've read the series as published so far, that wasn't a problem for me. This is how Toby comes to terms with/takes ownership (sort of) of her knowe. I was reminded why I like Toby so much.
"The Path" by S J Rozan was a somewhat unusual story for the collection, in that it wasn't particularly about renovation, or even a home, but instead a ghost learning to be brave, and hoping to get an artifact returned to where it belongs. I quite enjoyed the story, and will probably look to see if I can find anything else by the author.
I wasn't initially sure about Heather Graham's story "Blood on the Wall" but kept reading and found myself really enjoying it. A private detective keeps finding his family tomb covered in blood. He knows who the culprit is–a young nobody who made a name for himself as an occult "leader" but hasn't been able to do anything about it. Not quite home improvement, but good nevertheless.
I quite liked "In Brightest Day" by Toni Kelner, which was about voodoo and revenants and being yourself, with a bit of a murder mystery thrown in for fun.
The story "Wizard Home Security" by Victor Gischler wasn't bad, but it just didn't do anything for me.
Two stories, "Rick the Brave" by Stacia Kane and "Full-Scale Demolition" by Suzanne McLeod, were parts of series and involved already known characters, and I might have enjoyed them more if I was already familiar with the worlds, but as it was, I felt like I was missing something.
Two stories, "Woolsey's Kitchen Nightmare" by EE Knight and "The Strength Inside" by Melissa Marr weren't bad, but just didn't grab me.
The other two stories, "Squatter's Rights" by Rocelle Krich and "Mansion of Imperatives" by James Grady I actively disliked–their tone was…off… compared to the other stories in this series. I think both might have been better off in a straight-up horror anthology, which I wouldn't have bought, because I don't like horror, but they might be better appreciated.
All in all, an okay collection, but I'm not sure why it's been so expensive for so long, and if I could have gotten the Patricia Briggs story solo (I really do enjoy her short stories), I'm not sure I'd necessarily haven bothered with it.
Published by Ace
Rating: 6/10
An Apple for the Creature (2012) edited by Charlaine Harris and Toni L. P. Kelner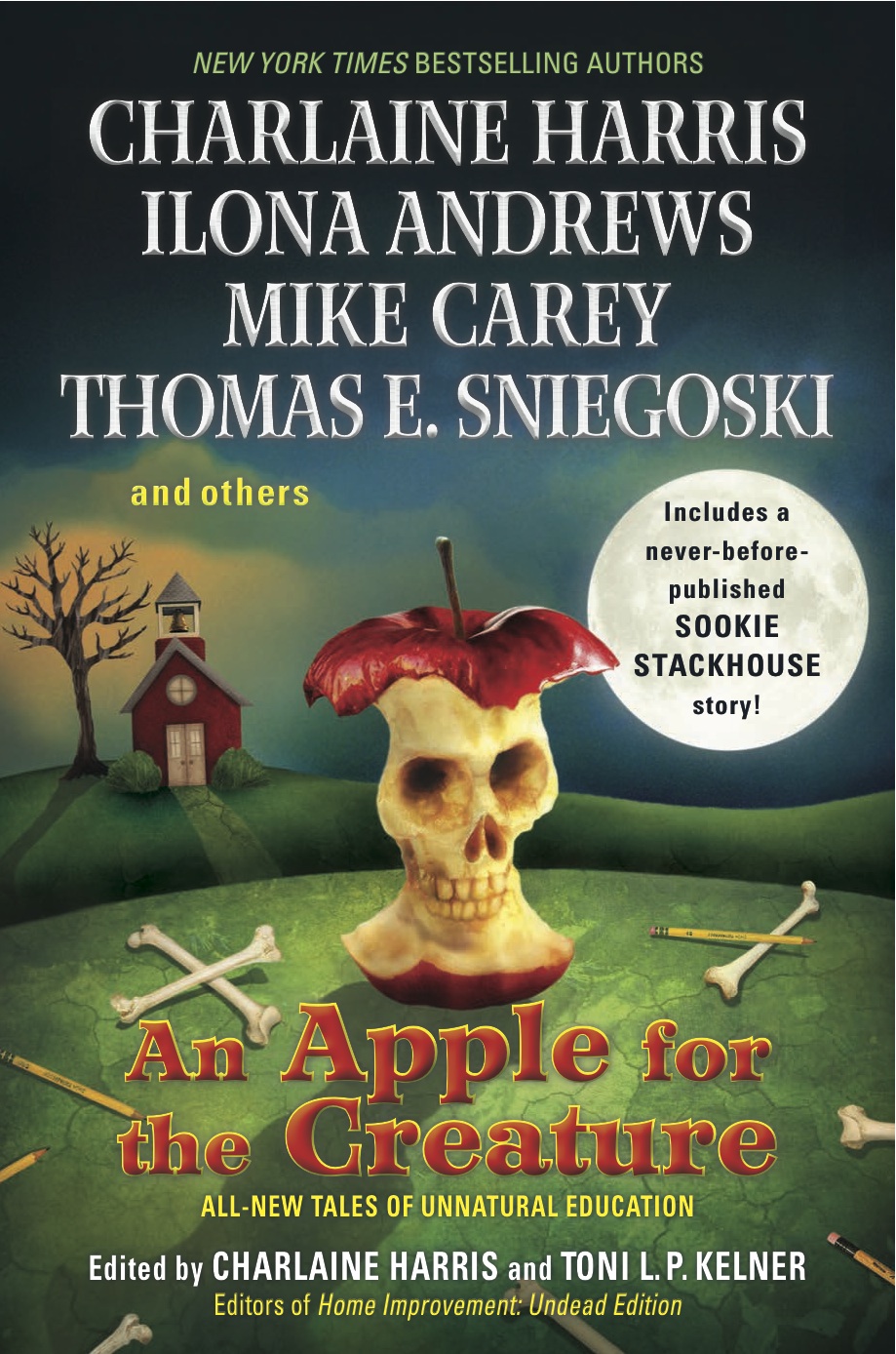 First, I hate this title. It grates on my nerves like nails down a chalkboard.
Luckily, the title is not reflective of most of the stories inside.
The anthology opens with a Sookie Stackhouse story, which… I'm sorry, but I got annoyed with Sookie several books back, so I have a hard time reading Sookie stories with an open mind. So, I found this story okay. Sookie is taking cupcakes to her nephew Hunter's kindergarten class, when bad things happen.
The story "Spellcaster 2.0″ by Jonathan Maberry was an unusual story that I quite enjoyed. Several times I thought I knew what was happening and where things were going, and although I saw the Big Event (kinda obvious, given the series) I kept being surprised by the turns of events. A project entering every magical spell that can be found into a database appears to be having glitches.
Donald Harstead's story "Academy Field Trip" was an interesting one. Law enforcement professionals are at a special training course; the three instructors pull one student aside to get her input on a "special case." I can't say I loved the story, but it was interesting.
"Sympathy for the Bones" by Marjorie M. Liu was very good. A young girl was taken in and raised by the local wise woman who uses her powers for her own gain and as she sees fit. Nice, complex tale.
"Low School," by Rhys Bowen was okay, but I saw where it was going right away. I did appreciate how your opinion of the main character changed as the story went in. People are complex and do things for complex reasons, and I think this was a fabulous example of creating a very complex character. But for the most part the story left me cold.
Amber Benson's "Callie Meet Happy" was set in her Calliope Reaper-Jones series, and just as I've had a hard time getting into the series (I'm only a couple chapters into the first book) so I had a hard time getting into this story. Callie, who inherited her father's position of grim reaper, needs to learn the necessary skills for the position, and so is sent to a remediation course. I think the problem is that I don't find Callie at all sympathetic.
"Iphigenia in Aulis" by Mike Carey is an amazing story. We learn bits and pieces as the story progresses, and the more we learn, the more horrified we are. This is a stand alone story not set in any of his existing worlds (that I know of).
Faith Hunter's "Golden Delicious" is set after the last Jane Yellowrock story. Rick is trying to rebuild his life after being infected with the were-virus, and so attempting to recover whatever law enforcement career he can. I like Rick, so I enjoyed this peek into seeing him recover his life.
Ilona Andrews' story "Golden Delicious" is set in the world of Kate Daniels, but Kate barely makes an appearance. Kate's ward, Julie (at Kate's insistence) needs to remain in school. As part of her introduction to the latest school, she is asked to see if she can discover why a student disappeared. As usual, Ilona Andrews' stories do not disappoint me.
"An Introduction to Jewish Myth and Mysticism" by Steve Hockensmith was a very interesting story that I very much liked. A professor is traumatized when her abusive ex returns to town, so a friend decides to see what he can do to convince her ex to leave. I quite enjoyed this story.
Nancy Holder's story "VSI" focused on a special training class where agents are shown evidence of the existence of vampires and trained to analyze crime scenes in which vampires may have been involved. I liked this one as well.
The last two stories weren't my cup of tea. I've read several books in the Remy Chandler series, and found them… okay. I don't dislike them, and I didn't dislike this story. I just didn't do anything for me.
All in all, it was a decent selection of short stories that made up for terrible title.
Published by Ace
Rating: 7/10