Books
Weather Warden: Ill Wind (2003), Heat Stroke (2004), Chill Factor (2005)
Anthologies: My Big Fat Supernatural Wedding (2006), Many Bloody Returns (2007), My Big Fat Supernatural Honeymoon (2007), Strange Brew (2009), Dark and Stormy Knights (2010), Vampires: The Recent Undead (2010), Those Who Fight Monsters: Tales of Occult Detectives (2011), Hex Appeal (2012), Kicking It (2013) 
Weather Warden
Ill Wind (2003)

If it wasn't for the fact that I was too lazy to get off the sofa, I would have put this book down several times and gotten something else to read. However, I was lazy, and eventually I got into the story, but it took several chapters.
Joanne Baldwin is a weather warden--barely past her apprenticeship. But right now she is on the run, accused of killing her boss, and in danger of losing both her powers and possibly even her life.
The book starts out in the middle. Joanne is on the run, but we don't know who she is, why she is on the run, or where she is going. The problem is that I also didn't care about Joanne right off the bat, and not knowing whether she deserved the trouble she was in made it hard to care what was happening to her. Which is one of the biggest failings I had with the story. I just didn't care about Joanne until several chapters into the book. Which is why I had such a hard time getting into the book.
However, once the story got started--once I finally got into the story--things moved pretty quickly, and I pretty much devoured the book from there on out. I did, however, quite like the ending and the plot twists leading up to the ending.
Take note: there was also a lot of boinking. Take that as you will.
As far as supernatural fantasies go, this one was okay, but wasn't one of my favorites. There are more books in the series, but I'm not sure that I'm interested enough to pay full price for the next book. (i.e. why can't I find more supernatural fantasy without boinking?)
Rating: 6/10
Heat Stroke (2004)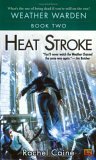 Heat Stroke is the second book in Rachel Caine's Weather Warden series. Joanna was killed at the end of the first book, and is now adjusting to life as a djinn. Unfortunately for her, her adjustment period is not going to be long, and is turns out to be incredibly unpleasant.
When I finished the first book in the series, Ill Wind, I wasn't quite sure how I felt about the series. There was an awful lot of boinking–more than the story seemed to deserve–which somewhat offset how much I enjoyed the story. But it wasn't bad, so I decided to give Heat Stroke a try.
First things first, there is still a lot of boinking, especially in the first part of the book. The boinking combined with the fact that this was my travel/waiting room book, meant that things were slow going at first. But being my only reading material in a waiting room or while waiting for the PRT means that I am willing to be quite lenient about a book, and put up with a lot more than I would otherwise. And as with the previous book, once I got into the story, the reading got easier, and I eventually took the book out of my jacket pocket to find out what happened.
I also found Joanne a little more likable in this story than I did in the previous. She adapts quickly to her new life and surroundings, and when she discovers that there are problems, she doesn't sulk or mope (too much) but does what she can to solve her problems. That helped this book a lot.
That's not to say that there weren't things that bothered me. There was still a lot of boinking, much of which I found somewhat annoying, since I was more interested in learning how she was going to do with all the changes. The other thing that bugged me was her extreme fascination with fashion. To say that I really couldn't care about her clothes and her shoes would be an understatement. So her going on and on about shoes was both boring and annoying.
But this book did have one major failing: the story was not resolved, and the end of the book was simply an opening for the next book in the series. So despite the fact that I liked the resolution that was there, I was really annoyed by the lack of a satisfactory conclusion. Nothing makes me madder than a lack of a satisfactory conclusion.
On the bright side, I found the fantasy portion of this book more satisfying than in the previous book. Because Joanna is learning to become a djinn, we learn, along with her, how magic works.
If you read Ill Wind then you may want to check out Heat Stroke. As long as you don't mind a lot of boinking.
Rating: 6/10
Chill Factor (2005)
Chill Factor takes up where Heat Stroke took off; Joanne has to get to Las Vegas to try and stop Kevin and Jonathan from inadvertently destroying much of the ecosystem of the planet.
Unlike Heat Stoke, Chill Factor doesn't have a cliff hanger ending, which is a major point in it's favor. It does, however, leave major unresolved plot points, which I really don't care for, but we're not left wondering about Joanne's immediate survival.
I still have continuing issues with Joanne, specifically I really hate the way that Joanne is so focused on clothes and fashion. Yes, great. She's gorgeous and dresses well and can walk in high heels. So what? Rachel Caine writes about this like it's a good thing for a woman to be obsessed with fashion and looking good and remaining thin and spending all her money on clothes. All I can think is, "What a waste."
Additionally, I was thrown violently out of the story by what was meant to be a cute random plot point: Joanne's fight against her new curly hair:
A sleek faux-ivory brush appeared under my nose. I looked up to see he was holding it out. I took it and began dragging it through my curly hair…ran the brush through my hair until the curls became glossy black waves.
Umm… no. It doesn't work like that. You never every brush curly hair when it's dry–at least not if you don't want it completely full of frizz and sticking out around your head. You can brush it while you're blow drying it, which will straighten the curls, assuming you use enough product, which it is not mentioned that Joanne does. So unless Joanne is using magic on her hair, that is so not happening. Never mind the fact that if her hair was as messy as it would have been, it would have taken a very long time and a lot of conditioner to straighten out the mess.
So sorry, but as someone who has spent years fighting with her curly hair, what Joanne does is completely delusional.
This isn't to say the story wasn't enjoyable–the story, as in previous books, was fast paced and engrossing. Joanne isn't perfect, and things almost never work out the way she wants them, and she has come to rely upon those around her to help her solve the problems she faces.
But because of the things that bother me, I'm not sure if I want to continue to read the series. I'll think about it and get back to you.
Rating: 6/10
Anthologies
My Big Fat Supernatural Wedding (2006) edited by P.N. Elrod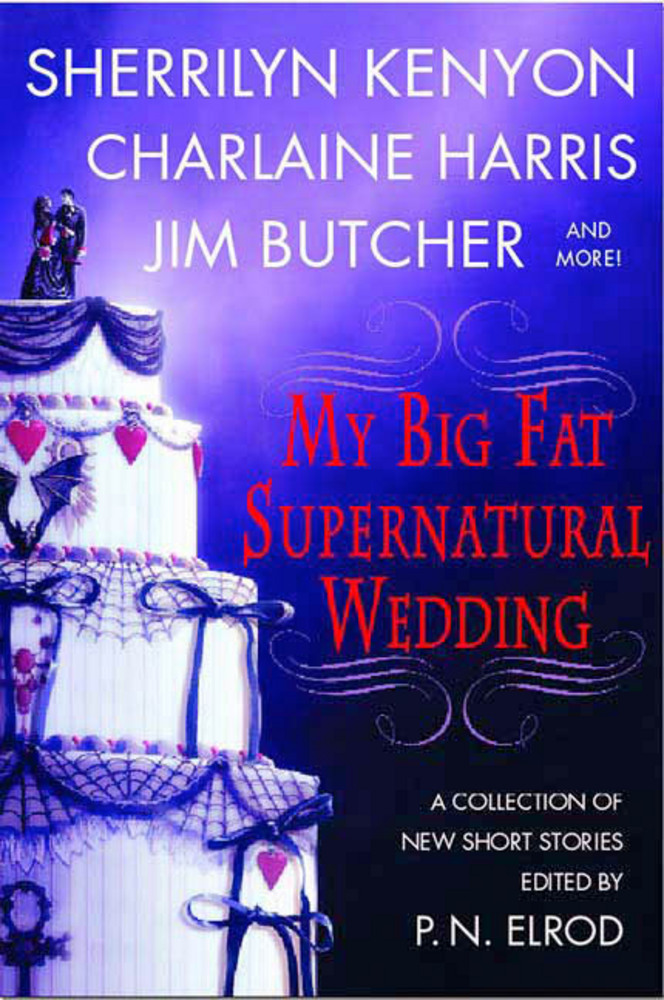 My Big Fat Supernatural Wedding is an anthology of short stories featuring supernatural creatures and weddings. All the stories are good, but some are better than others. In some of the stories the wedding is the main feature, while in other stories the wedding felt a bit tacked on to make the story fit into the anthology.
Spellbound - L.A. Banks
Something Borrowed - Jim Butcher
Dead Man's Chest - Rachel Caine
All Shook Up - P.N. Elrod
The Wedding of Wylda Serene - Esther M. Friesner
Charmed by the Moon - Lori Handeland
Tacky - Charlaine Harris
A Hard Day's Night-Searcher - Sherrilyn Kenyon
...Or Forever Hold Your Peace - Susan Krinard
All the stories have a romantic plot; some have boinking, but not all. (I, of course, prefer the stories without the boinking.) There were some stories that I preferred over others, but all the stories in the collection were strong and well worth reading, while several of the stories were well-written enough to make me glad I bought the collection.
Rating: 7/10
My Big Fat Supernatural Honeymoon (2007) edited by P.N. Elrod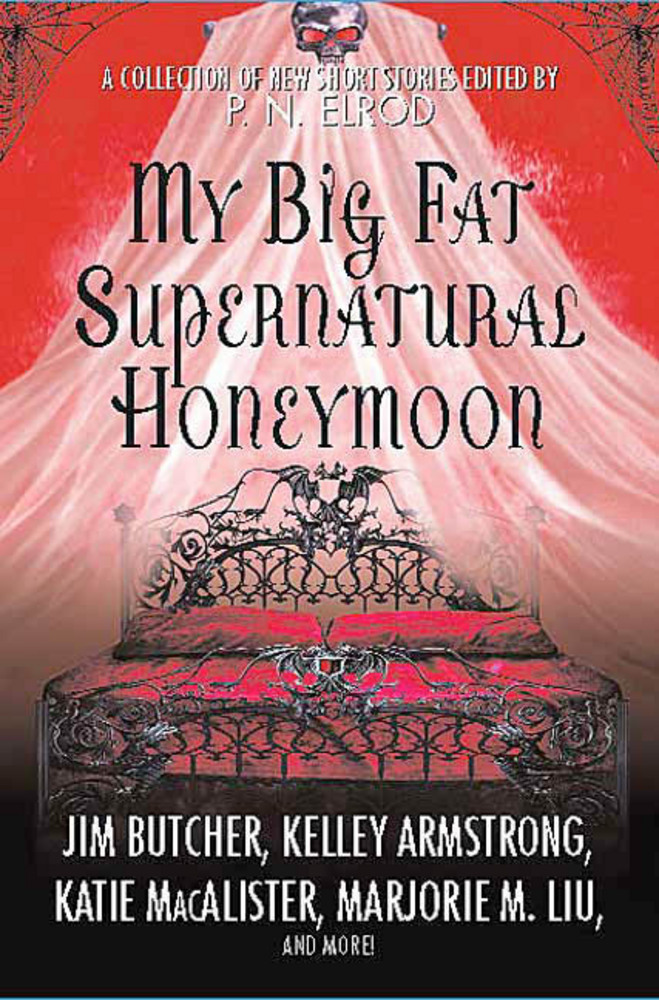 The follow up to My Big Fat Supernatural Wedding, at least in theme.
This was a very mixed bag. Some of the stories were good, some I could barely stand to finish, and in fact, put this anthology down several times, for something (anything?) I liked a little more.
Part of the problem is that several of the stories were tied strongly into a series, so I either had trouble following what was going on or there was zero character development, since it's all happening in the series.
"Roman Holiday, Or Spq-Arrrrrr" by Rachel Caine lost me completely. I read the first story in the previous volume, but apparently remembered nothing about it, and spent this story trying to play catch-up with the characters, and failing.
So, I generally found this a disappointment. If you're following the series, then it might be okay, but very few of the stories seemed to stand well on their own.
Rating: 4/10
Published by St. Martin's Griffin

Many Bloody Returns (2007) edited by Charlaine Harris and Toni L. P. Kelner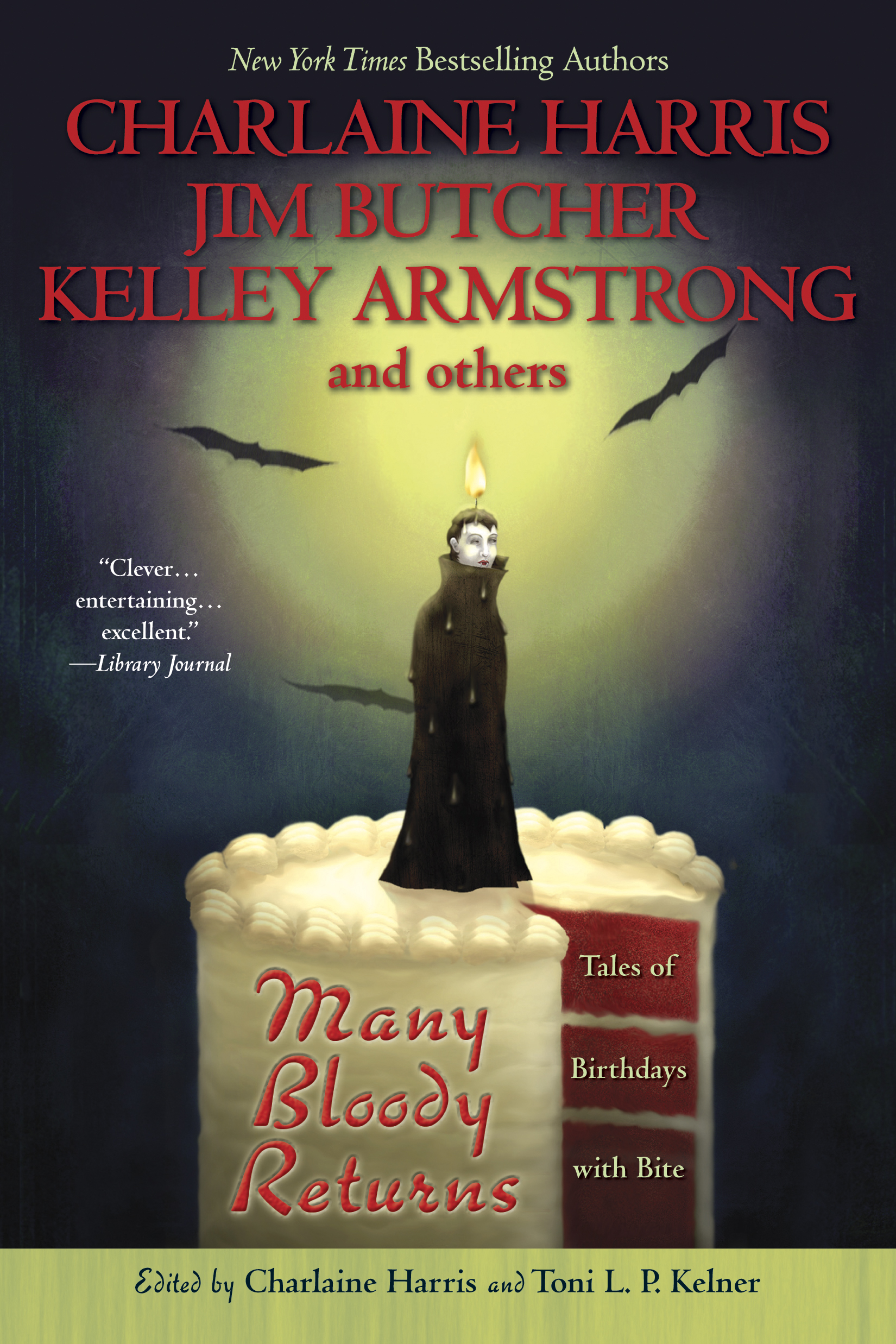 I pre-ordered this, not realizing it was in hardback. As much as I love anthologies, I'm not that excited about hardback books–especially anthologies where I don't know all the authors or the quality of the stories.
Many Bloody Returns pretty much tells you the focus of the stories: vampires and birthdays. In some cases it's the vampire who is having a birthday, in other cases…not.
Luckily, I wasn't too disappointed with my purchase. There were several stories by authors I like and charaters whose books I'm reading, namely, Charlaine Harris, PN Elrod, Jim Butcher, and Tanya Huff. Unsurprisingly, some those were also some of the stories I enjoyed most, as they built upon characters with which I am already familiar.
The First Day of the Rest of Your Life - Rachel Caine
Of those, my two favorite stories were Jim Butcher's "It's My Birthday Too" and P.N. Elrod's "Grave-Robbed".
Jim Butcher wrote a very solid Harry Dresden story. Although there isn't a lot of development of Harry's character, what I did like was how this story added another dimension of Harry's relationships with Molly (his apprentice) and Thomas (his half-brother). The continued building of those relationships was really the strong point of this story for me. One of the things that has annoyed me about Harry is his inability to turn to his friends for help, so I really liked seeing him working with others.
I also really enjoyed the P.N. Elrod story. Although I've found the Jack Flemming stories to have their ups and downs, I enjoy reading about Jack, and enjoy the time period in which his stories are written. Strangely, this was hardly a period piece in comparison to the other Jack Flemming stories. Instead, the focus is on the mystery/problem, and how Jack solves that mystery. And I quite liked Jack's solution to the problem at hand.
Another story I particularly liked as Jeanne C. Stein' story "The Witch and the Wicked". Although I did guess part of where the story was going, I enjoyed Sophie's musings and thoughts about her future, and her interactions with the vampires. But I mostly liked how the story went in a direction I was not at all expecting.
And I thought Elaine Viets' story, "Vampire Hours" was wonderful. Although being in a vampire collection, it was pretty obvious who/what the people Katherine was watching were, it didn't particularly distract from the story, since the focus was upon Katherine and her chase for eternal youth. The story felt a bit like First Wives Club crossed with a vampire tale. Fun and amusing, although I am not sure how I felt about the fact that Katherine was so focused upon her body and her beauty as her main assets.
But I have to admit that there were stories that I found disappointing. As much as I enjoy Charlaine Harris' Sookie Stackhouse series, this story didn't seem to add much, and in some ways Sookie felt to me as if she was acting slightly out of character. nothing I could put my finger on, but the story just felt a bit off to me.
I also didn't care too much for Rachel Caine's story "The First Day of the Rest of Your Life" because I felt like I was missing something–I was never quite certain what was happening or why, and why Eve really had no clue as to what she was going to do. Instead of interesting, I found her somewhat annoying. Which was somewhat surprising to me, since I enjoyed Rachel Caine's first Weather Warden book.
Otherwise, this was a pretty good collection of stories. I probably would have preferred the book in paperback, but over all I enjoyed it.
Rating:7/10
Strange Brew (2009) editor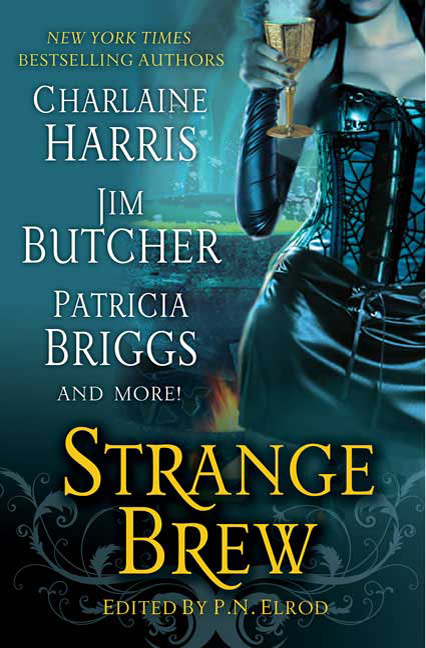 I love short story collections. They're a way to discover new authors, visit with favorite characters, and to be honest I just enjoy short stories. Now if you like short stories, you eventually learn that a lot of collections are not worth buying, but there are certain authors that will cause me to buy an anthology on sight. This collection has several of those authors: Patricia Briggs, Jim Butcher, and Charlaine Harris.
As with most collections, there are some good stories, and some stories I didn't like quite as well. For some reason, the stories I like the best seem to end up in the front of the book–which is unusual, because with Marion Zimmer Bradley's Sword & Sorceress anthologies, that tended to end on very strong stories. This collection, not so much, which is always a little disappointing.
Death Warmed Over by Rachel Caine
Death Warmed Over by Rachel Caine involves two characters I've come across in other stories, and this is how they came to work together. It was… fine.
What I thought was interesting was several of the stories reached back into mythology for parts of their stories, which I really enjoyed (although I didn't need all the explanation that was given). If you think you might be interested in reading supernatural fantasy, this anthology would be a good place to sample some stories.
Rating: 8/10
Published by St. Martin's Griffin
Re-Read: July 2014
Rating: 7/10
Dark and Stormy Knights (2010) edited by P.N. Elrod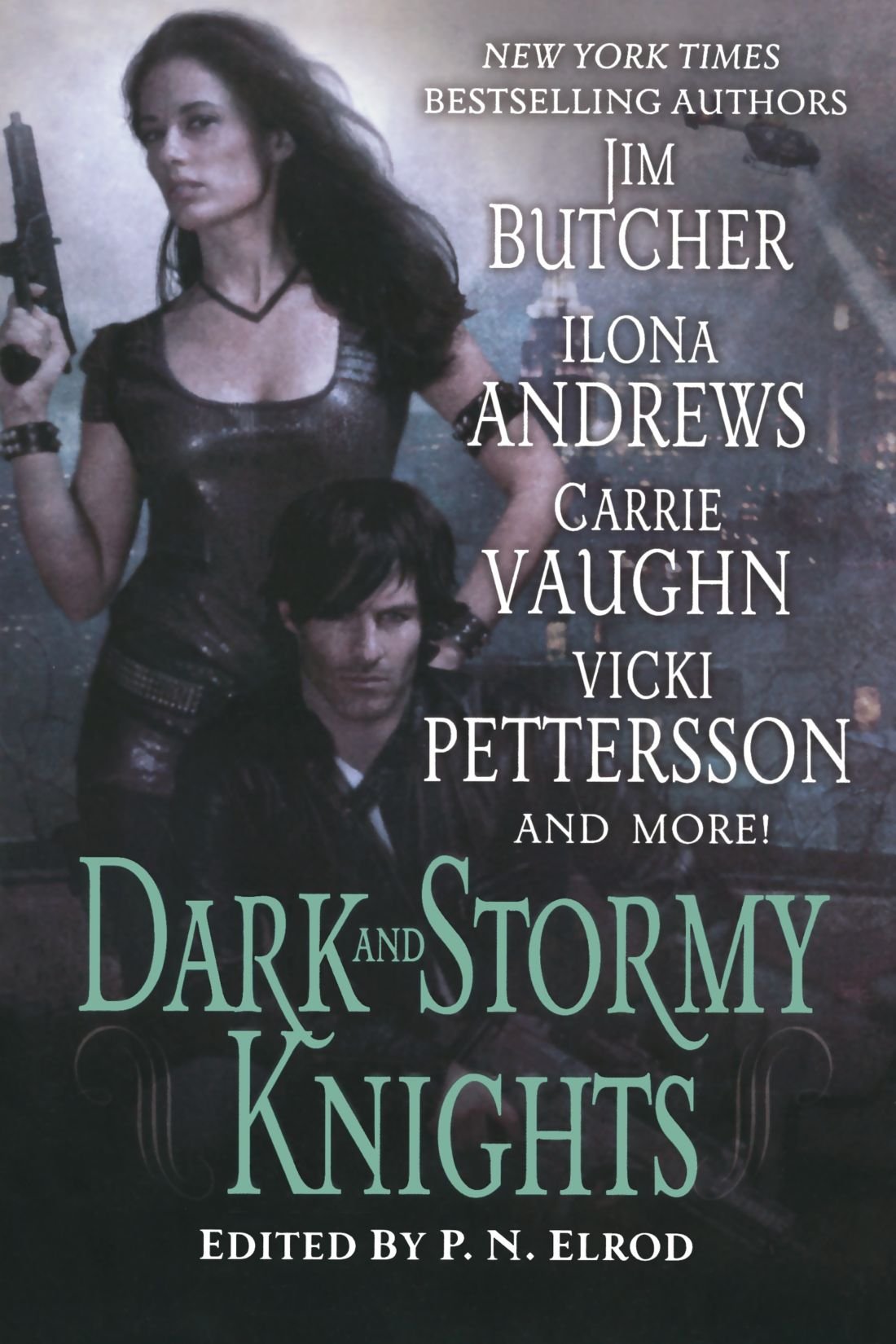 I can't help myself–I love anthologies. And fantasy anthologies with writers who write their fantasy with a healthy does of mystery? Sign me up! All anthologies have high and low points, but overall this was a fairly strong group of stories.
The fourth story was Rachel Caine's story, "Even a Rabbit Will Bite." I wasn't particularly thrilled with her Weather Warden series, so I wasn't expecting much from this story. Interestingly, it's a short stand-alone story that I ended up liking very much. Lisel is the last Dragonslayer, and she is to train her replacement to kill the last remaining dragon. An elderly woman is rarely the hero of the story, so I especially liked that twist.
Yes, there were other stories, but they weren't particular favorites. but the stories mentioned above are well worth the price of the book, especially if you've not read stories by these authors before.
Rating: 8/10
Published by St Martin's Griffin
Vampires: The Recent Undead (2011) edited by Paula Guran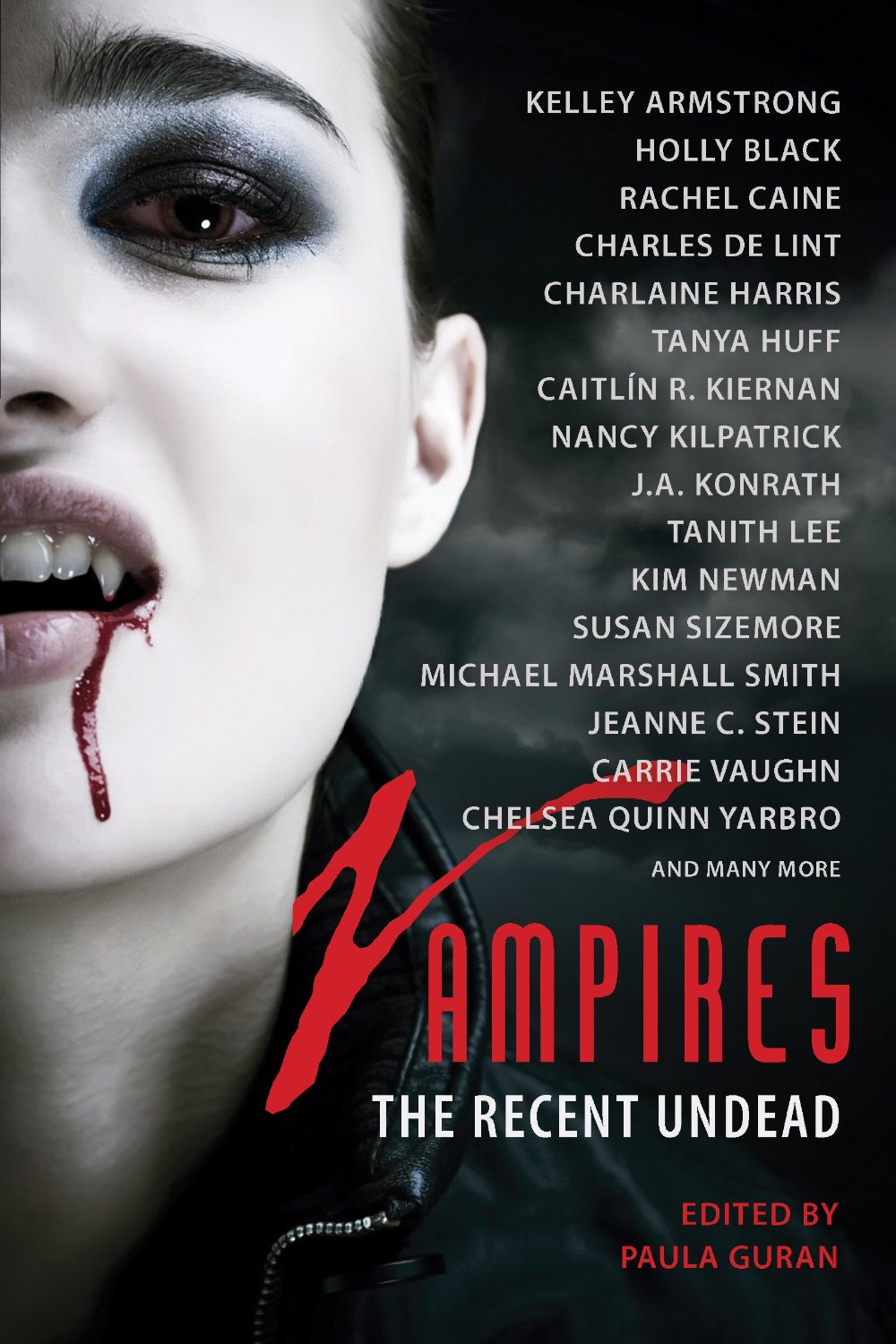 "Dead Man Stalking" by Rachel Caine
It has taken me an almost embarrassingly long time to finish this. How long you ask? I purchased it a couple months after it was published–that long ago.
The problem is I hit a point where I wasn't interested in a story, and instead of just skipping to the next story, I put the whole thing down. I know, rookie mistake. (But you'll see I made it several times, so I decided to just finish off these anthologies, and if I didn't like a story? SKIP.)
So, it was an uneven anthology for me, but there were some very good stories that are well-worth the price of the anthology.
Rating: 7/10
Published by Prime Books
Those Who Fight Monsters: Tales of Occult Detectives (2011) edited by Justin Gustainis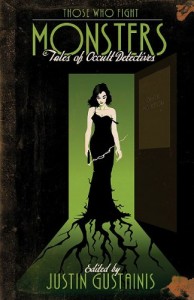 As the title says, this is a collection of supernatural mysteries.
"Running Wild: An Outcast Season Story" by Rachel Caine
This was, as sometimes happens, a mix of stories I liked and didn't like, though there wasn't any particular story I thought was terrible. Just stories that were more or less to my personal taste. There were also several stories I had previously read.
"Running Wild: An Outcast Season Story" by Rachel Caine. I've read Rachel Caine's Weather Warden books, and although they weren't bad, they also weren't my thing. I believe this story falls into the same category.
All an all, an interesting anthology, and would I can easily recommend–especially if it's still only $3.
Rating: 7/10
Published by EDGE Science Fiction and Fantasy Publishing
Hex Appeal (2012) edited by P.N Elrod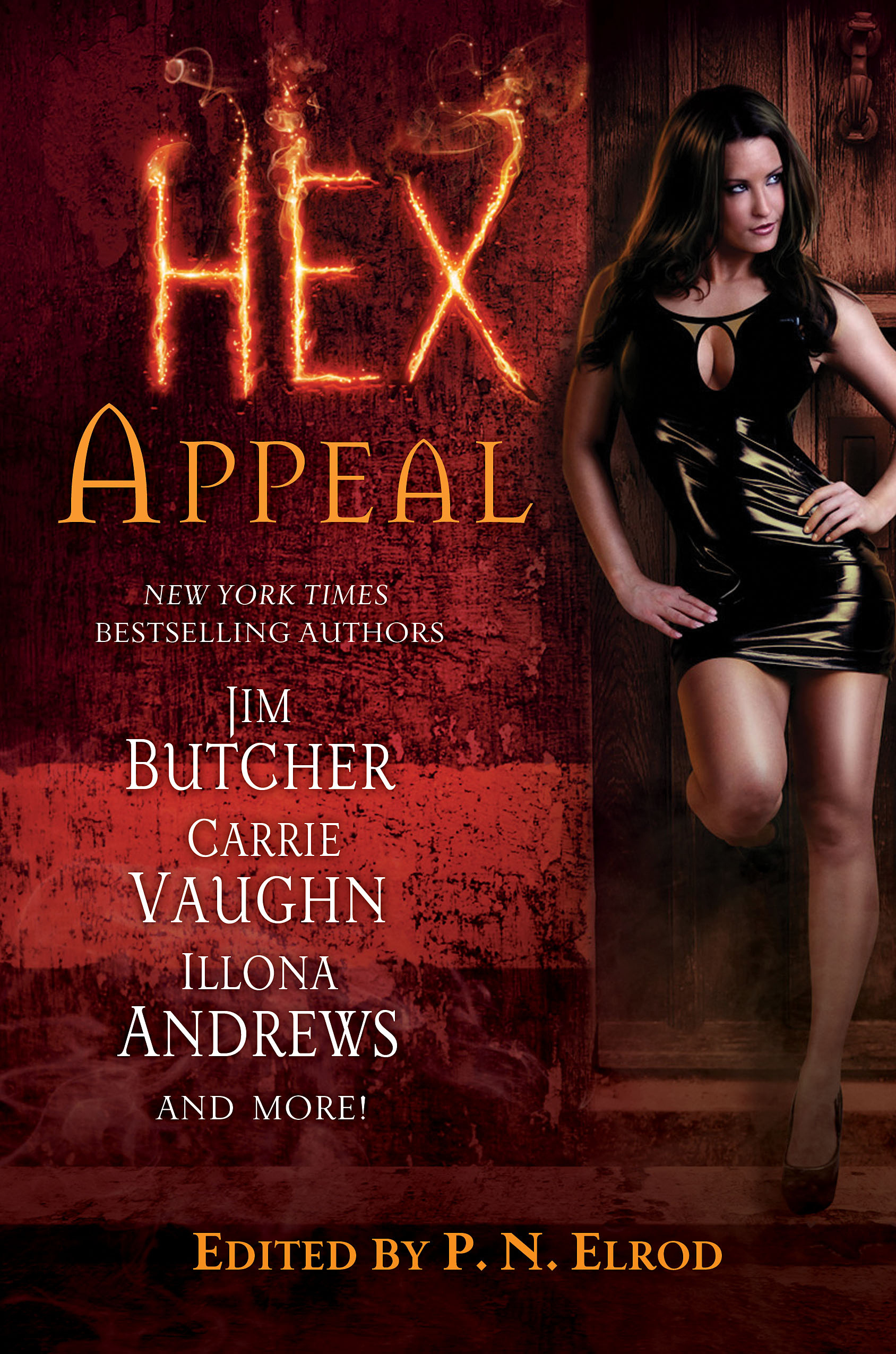 As I was expecting, this collection was a mixed bag. Luckily, the good stories were very good, and worth the price of the anthology.
Holly's Balm - Rachel Caine
I bought the anthology first and foremost because it had an Ilona Andrews story, "Retribution Clause".
"Holly's Balm" by Rachel Caine was okay, but I am unfamiliar with that world, and felt kinda lost through some parts of the story. Lots of sex. Lots of thinking about sex.
Not really my thing.
But all in all, it was well worth the price of admission for the stories I did like.
Rating: 8/10
Published by St. Martin's Griffin
Kicking It (2013) edited by Faith Hunter and Kalayna Price
"Forked Tongues" by Rachel Caine
I'll be blunt–I didn't read all these stories. If a story didn't hook me within the first couple pages, I moved onto the next story. The stories I did read, however, I typically enjoyed a lot.
"Forked Tongues" by Rachel Caine. I've read another short story with these characters (Holly and Andrew), so I wasn't completely lost in the story, and I did read it in its entirety, and it was interesting, but I can't say I particularly liked it. (5/10)
As I wrote this, I discovered what the problem is with some of the anthologies I've been reading recently: Authors don't know how to write short stories. Anthologies like this make me understand why many people don't like short stories and avoid anthologies. Which is too bad, because a well-written short story is a joy and a treasure.
But writing short stories is a skill, and one which many of these authors simply haven't honed. Taking an existing world and writing a brief tale in which existing characters have an adventure is not writing a short story.
A short story involves giving the reader everything they need to fall into your world in a small package. If enjoying the story requires already being familiar with your world and your characters, you haven't actually written a short story.
All of which is too bad, because, as I said, I love well-written short stories. And there were some well-written short stories here. There were just more stories that weren't. So I can't really recommend this anthology, I can just recommend that you look for stories that were good, to pop-up on-line as short story eBooks or perhaps, later, as part of different anthologies.
Rating: 2/10