Books
Crown Duel (2002)
Anthologies: Year's Best Fantasy (2001), Firebirds (2003), Firebirds Soaring (2009)
Crown Duel (Originally published as Crown Duel and Court Duel)

Great writing, great characters, great story. (Even realistic cover art!) Yet...I didn't like it. It was written as a romance.
Don't get me wrong, there is nothing wrong with romance per se, nor is there anything wrong with romantic elements within a story, but I am not particularly fond of romances when I want to read fantasy. It's one of the reasons I stopped reading Anne McCaffery, because her books got too mushy, and that's just typically not what I want to read.
I think I personally took affront because I am particularly fond of female authors and female lead characters, so it felt like a cop-out to me, when she took a strong female lead, in a well-written story, and then dumped in a bunch of transparent romantic plot devices.
Which is why I was particularly disappointed with this book. The characters, as I said, were very well written and likeable. The plot was very good, and I particularly liked the fact that the author was willing to admit the weaknesses of the characters. Specifically, someone who has only practiced minimally, unless they have an extraordinary talent (combined with constant practice), is never going to be able to take on swordsmen who have spent their whole lives practicing. This is a convention that is somewhat frustrating in many fantasy books, but I'm typically willing to suspend disbelief, so it was refreshing to read a fantasy book where this reality was admitted.
But was I said, there was such an unfortunate amount of romance that the book completely frustrated me, especially since the romance bits were interwoven such that I couldn't simply skip the mushy bits to get on with the intrigue and story.
It was one of those things where you meet the female lead, like her, then you meet a major male character, who is written in such a manner that you know, you just KNOW, that the two are going to become an item. Unfortunately all sorts of obstacles are placed in their way, each is blind to circumstances, blah, blah, blah, so that they DON'T GET TOGETHER TILL THE LAST STINKING MOMENT.
Ugh.
Anyway, it's a good story, and if you don't mind romance, I'd recommend this book. But it was neither what I was expecting, nor wanted, from the cover.
Anthologies
Year's Best Fantasy (2001)
I'm a sucker for short story collections--I love short stories, and fantasy collections are my favorite, so if I come across a collection, I usually buy it. This has, of course, led to some rather poor choices, such as "The Sorcerer's Academy" and "Earth, Air, Fire, Water", neither of which I've been able to finish. But for the most part collections tend to be good, and help to give me that reading fix, at times when I just can't get involved in a novel.
I'm not certain that I'd agree with the tag at the top of the book "A dazzling treasury of stories," but it is a nice collection. Some stories I liked, other I didn't care as much for, but on the whole it is a good collection.
The Hunger of the Leaves - Joel Lane
Greedy Choke Puppy - Nalo Hapkinson
The Golem - Naomi Kritzer
The Devil Disinvests - Scott Bradfield
A Serpent in Eden - Simon Brown and Alison Tokley
Wrong Dreaming - Kain Massin
Mom and Dad at the Home Front - Sherwood Smith
The Fey - Renee Bennett
GOlden Bell, Seven, and the Marquis of Seng - Richard Parks
Making a Noise in the WOrld - Charles de Lint
Magic, Maples, and Maryanne - Robert Sheckley
The Prophecies at Newfane Asylum - Don Webb
The Window - Zoran Zivkovic
And Still She Sleeps - Greg Costikyan
The Walking Sticks - Gene Wolfe
Debt of Bones - Terry Goodkind
"Hunger of the Leaves" by Joel Lane was one story that particularly struck me--it was more horror than fantasy, but still good. Although from a biological point of view, I did take issue with the premise of the tale. I also liked "The Golem" by Naomi Kritzer, but then I've always been fond of golem tales and Jewish folklore. This story has many of the elements I like about folklore--especially the dark side of the tale.
Scott Bradfield's "The Devil Disinvests" was very short, and very good. There's something about very short stories that are well done that is perfect. "Magic, Maples, and Maryanne" by Robert Sheckley I also liked, although like many of the stories in this collection, it was set in modernish times rather than a fantasy realm (as one would be lead to believe by the cover of the book.)
I have two other collection, volumes two and three, of which I've read volume three I believe. I'm not sure that they live up to the year's best fantasy, but the stories are good.
Firebirds (2003) edited by Sharyn November
Cotillion - Delia Sherman The Baby In The Night Deposit Box - Megan Whalen Turner Beauty - Sherwood Smith
Mariposa - Nancy Springer Max Mondrosch - Lloyd Alexander The Fall Of Ys - Meredith Ann Pierce Medusa - Michael Cadnum
The Black Fox - Emma Bull ; Illustrations By Charles Vess Byndley - Patricia A. Mckillip The Lady Of The Ice Garden - Kara Dalkey Hope Chest - Garth Nix Chasing The Wind - Elizabeth E. Wein Little Dot - Diana Wynne Jones Remember Me - Nancy Farmer Flotsam - Nina Kiriki Hoffman The Flying Woman - Laurel Winter
Published by Firebird
Firebirds Soaring (2009) edited by Sharyn November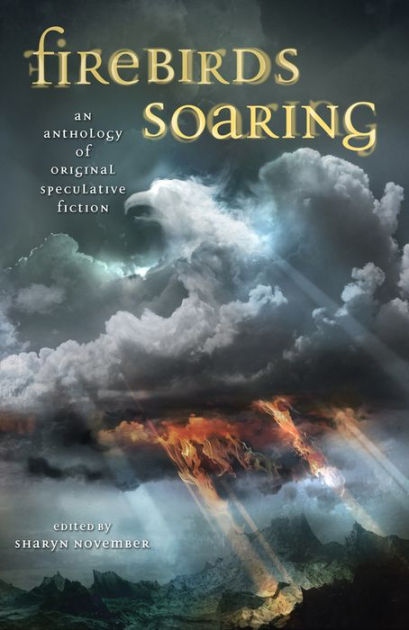 Kingmaker - Nancy Springer
A Ticket to Ride - Nancy Farmer
A Thousand Tails - Christopher Barzak
All Under Heaven - Chris Roberson
Singing On a Star - Ellen Klages
Egg Magic - Louise Marley
Flatland - Kara Dalkey
Dolly the Dog-Soldier - Candas Jane Dorsey
Ferryman - Margo Lanagan
The Ghosts of Strangers - Nina Kiriki Hoffman
Twilight Tales - Jo Walton
The Dignity He's Due - Carol Emshwiller
Power and Magic - Marly Youmans
Courtship - Sherwood Smith
Little Red - Jane Yolen & Adam Stemple
The Myth of Fenix - Laurel Winter
Fear and Loathing in Lalanna - Nick O'Donohoe
Bone-Chewer's Legacy - Clare Bell
Something Worth Doing - Elizabeth E. Wein
Published by Firebird