Books
Anthologies: Snow White, Blood Red (1993), The Year's Best Fantasy and Horror: Seventh Annual Collection (1994), The Year's Best Fantasy & Horror: Eighth Annual Collection (1995), The Essential Bordertown (1998), A Wolf at the Door (2000), The Green Man (2002), Firebirds (2003), The Faery Reel (2004), Firebirds Rising (2006), The Coyote Road (2007), The Secret History of Fantasy (2010), Under My Hat (2012)
Anthologies
Snow White, Blood Red (1993) edited by Ellen Datlow & Terri Windling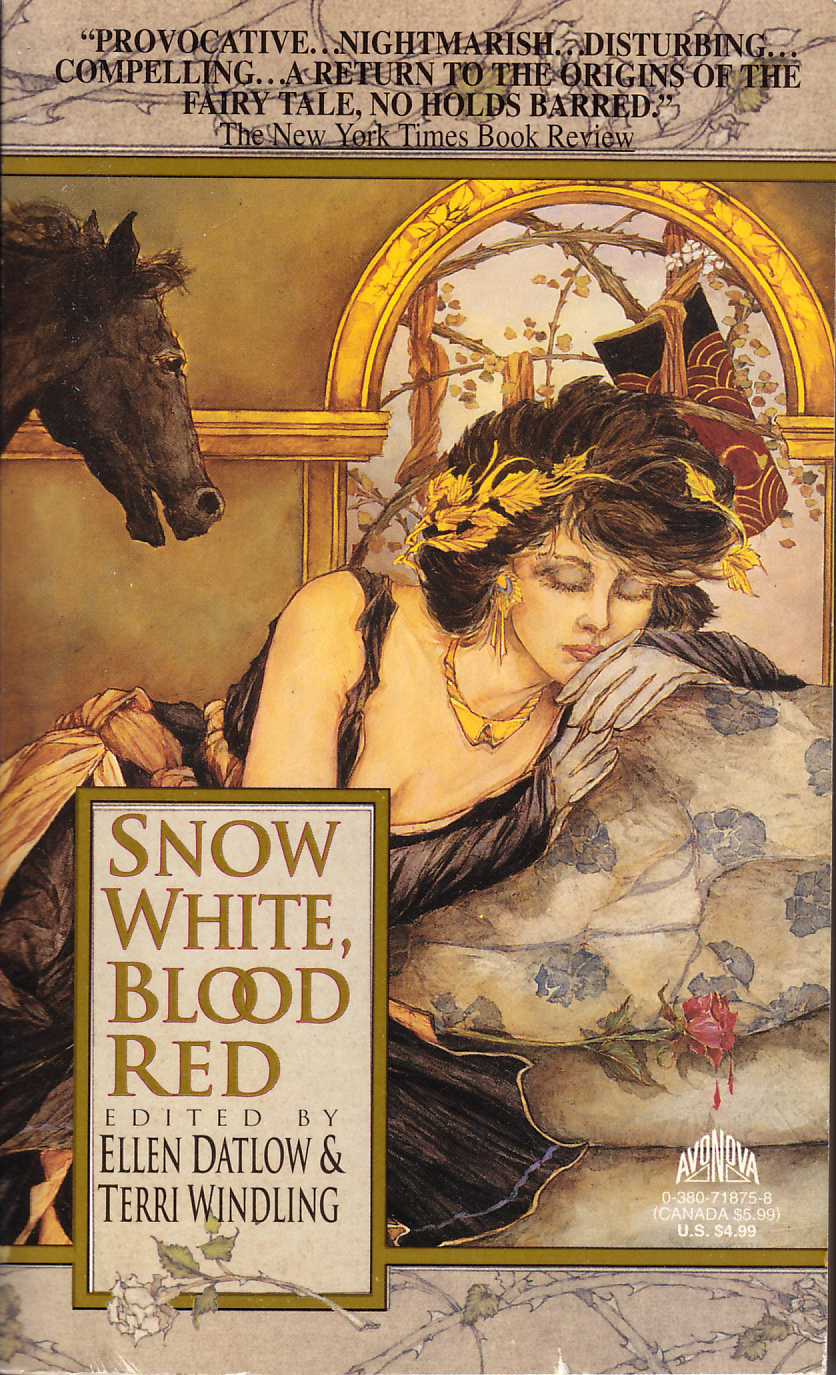 I often have a hard time putting down interesting books. Which means that if I'm reading a book I real like before bed, I end up staying up past my bed time instead of falling asleep. One solution is to read non-fiction before bed. The other solution is to read short story anthologies. Unfortunately, there are not a lot of high quality anthologies out there. At least, not enough to keep up with the rate at which I can read.
So I decided to go back and reread Ellen Datlow and Terri Windling's fantasy anthology Snow White, Blood Red. This book has a whole bunch of things going for it at once: it's edited by Ellen Datlow and Terri Windling; it's got stories by Neil Gaiman and Charles de Lint; and the stories are retellings or reinventions of folk and fairy tales. Mostly fairy tales in this book.
Plus, a gorgeous cover by Thomas Canty.
For those who are unfamiliar with folk tales and fairy tales, many of the original tales--before they got cleaned up and given to kids--were filled with sex, (in addition to the casual violence of people getting eyes poked out or chopping off bits of feet or being shoved into ovens.)
In other words, these are not stories for children.
...
I also particularly like Patricia A. McKillip's story "The Snow Queen." I reads to me precisely as a version of the tale involving grown-ups instead of children would read. Except of course that I wasn't really sure about how things would end. Some of these stories end as you would expect if you're familiar with the story, and so go off in unexpected directions, so I wasn't sure where this tale was going.
...
Also, the stories I liked less tended towards horror. This book is a collection of fantasy and horror (as are many Ellen Datlow-Terri Windling anthologies) so I expected that there were going to be at least one or two stories that I don't care for. So it didn't really bother me.
As best I can tell, this anthology is still available, so if you like short stories, this is an anthology you won't want to miss. However, if you like anthologies, this is probably one you already have sitting on your shelves.
Rating: 7/10
The Year's Best Fantasy and Horror: Seventh Annual Collection (1994) edited by Ellen Datlow & Terri Windling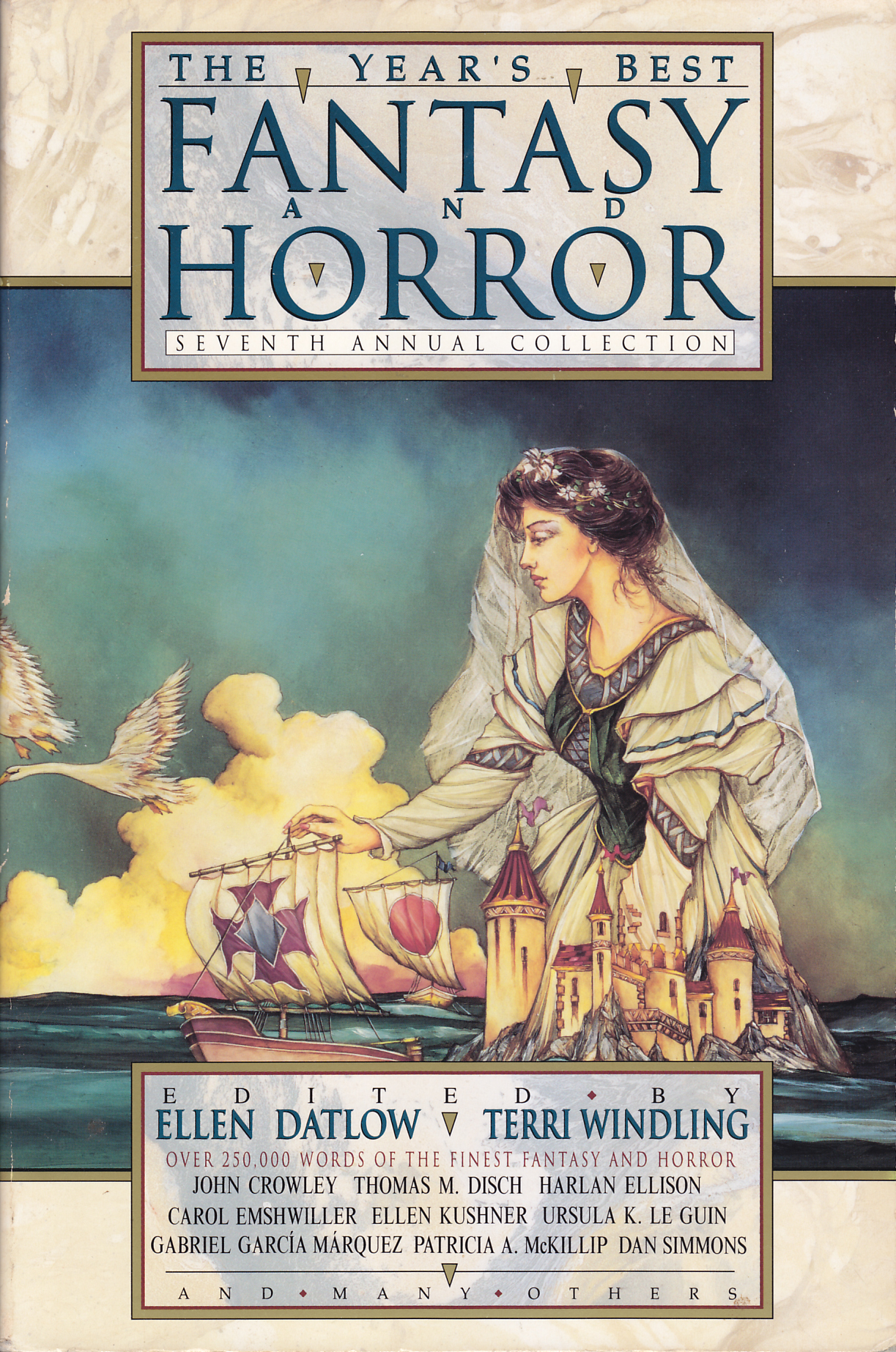 The Poacher by Ursula K. Le Guin England Underway by Terry Bisson The Woman in the Painting by Lisa Goldstein The Daemon Street Ghost-Trap by Terry Dowling Memo for Freud by Daína Chaviano; trans. by Heather Rosario-Sievert The Sunday-Go-To-Meeting Jaw by Nancy A. Collins Breath by Adam Corbin Fusco Knives by Jane Yolen Mrs. Jones by Carol Emshwiller Snow Man by John Coyne One Night, or Scheherazade's Bare Minimum by Thomas M. Disch Dead Man's Shoes by Charles de Lint
The Lodger by Fred Chappell The Erl-King by Elizabeth Hand The Chrysanthemum Spirit by Osamu Dazai; trans. by Ralph F. McCarthy Angel by Mary Ellis The Taking of Mr. Bill by Graham Masterton The Saint by Gabriel García Márquez; trans. by Edith Grossman Cottage by Bruce McAllister Doodles by Steve Rasnic Tem Dying in Bangkok by Dan Simmons Prisoners of the Royal Weather by Bruce Boston The Snow Queen by Patricia A. McKillip Troll Bridge by Neil Gaiman The Storyteller by Rafik Schami Rice and Milk by Rosario Ferr' Ridi Bobo by Robert Devereaux Playing with Fire by Ellen Kushner Later by Michael Marshall Smith Distances by Sherman Alexie Crash Cart by Nancy Holder Some Strange Desire by Ian McDonald The Dog Park by Dennis Etchison Wooden Druthers by E. R. Stewart Inscription by Jane Yolen In Camera by Robert Westall The Wealth of Kingdoms (An Inflationary Tale) by Daniel Hood The Crucian Pit by Nicholas Royle The Ecology of Reptiles by John Coyne The Last Crossing by Thomas Tessier Small Adjustments by Caila Rossi Precious by Roberta Lannes Susan by Harlan Ellison Freud at Thirty Paces by Sara Paretsky If Angels Ate Apples by Geoffrey A. Landis Exogamy by John Crowley The Princess Who Kicked Butt by Will Shetterly The Apprentice by Miriam Grace Monfredo Alvyta (A Lithuanian Fairy Tale) by O. V. de L. Milosz; trans. by Edouard Roditi The Pig Man by Augustine Bruins Funnell Tattoo by A. R. Morlan Lady of the Skulls by Patricia A. McKillip
To Scale by Nancy Kress Roar at the Heart of the World by Danith McPherson
Published by St Martins Press
The Year's Best Fantasy & Horror: Eighth Annual Collection (1995) edited by Ellen Datlow & Terri Windling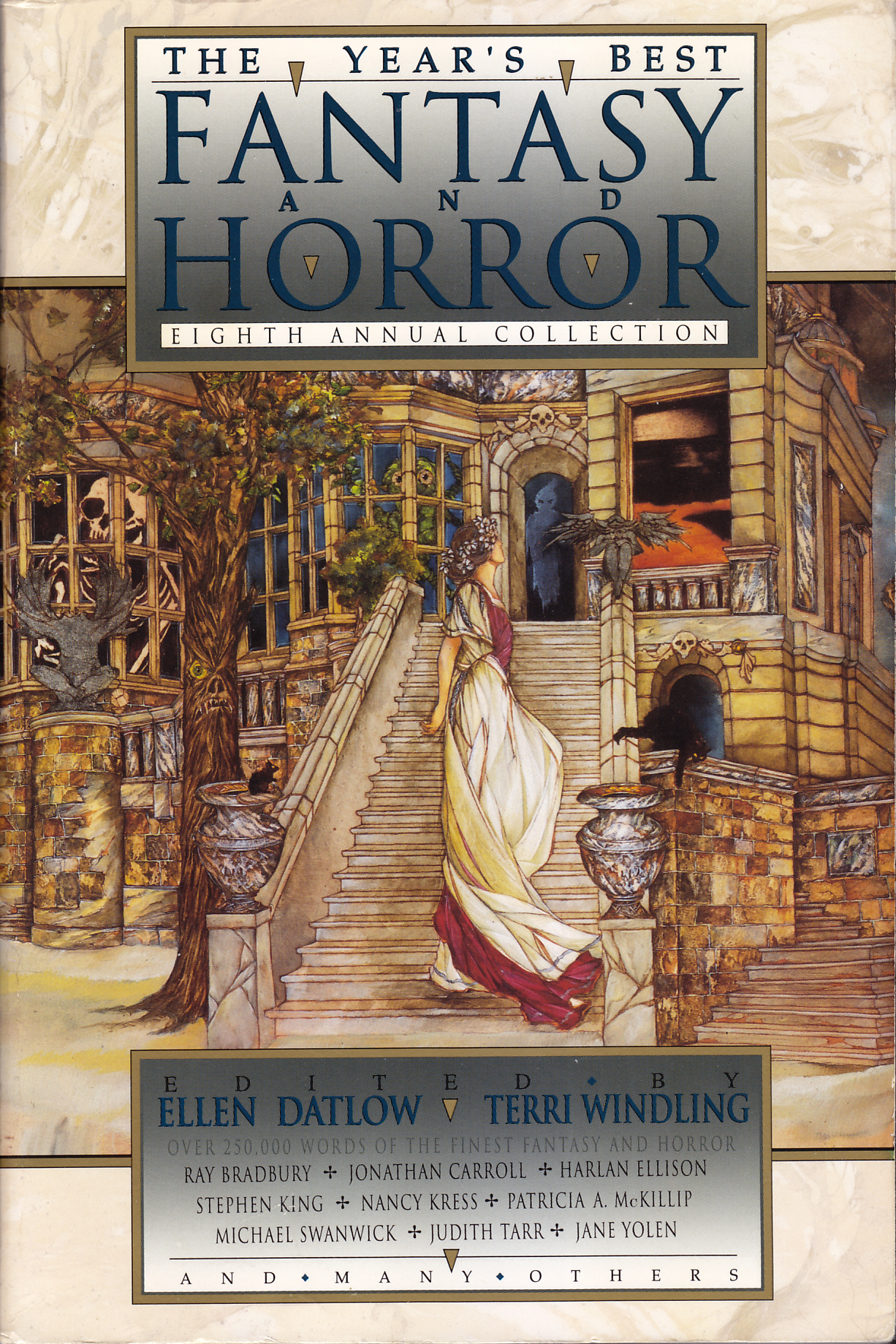 Transmutations by Patricia A. McKillip Bottom's Dream by Rachel Wetzsteon La Promesa by Leroy Quintana Aweary of the Sun by Gregory Feeley A Wheel in the Desert, the Moon on Some Swings by Jonathan Carroll Who Will Love the River God? by Emily Newland Brothers by Joyce Carol Oates Subsoil by Nicholson Baker Elvis's Bathroom by Pagan Kennedy Yet Another Poisoned Apple for the Fairy Princess by A. R. Morlan The Big Game by Nicholas Royle Buenaventura and the Fifteen Sisters by Margarita Engle De Natura Unicorni by Jane Yolen
Blue Motel by Ian McDonald A Friend Indeed by David Garnett Sometimes, in the Rain by Charles L. Grant Rain Falls by Michael Marshall Smith That Old School Tie by Jack Womack Animals Behind Bars! by Scott Bradfield Monuments to the Dead by Kristine Kathryn Rusch Unterseeboot Doktor by Ray Bradbury Young Woman in a Garden by Delia Sherman The Man in the Black Suit by Stephen King
'In the Tradition...' by Michael Swanwick Words Like Pale Stones by Nancy Kress
Märchen by Jane Yolen Giants in the Earth by Dale Bailey A Conflagration Artist by Bradley Denton Report by Carme Riera The Village of the Mermaids by John Bradley —And the Horses Hiss at Midnight by A. R. Morlan The Entreaty of the Wiideema by Barry Lopez White Chapel by Douglas Clegg The Stone Woman by Linda Weasel Head Coyote Stories by Charles de Lint
The Box by Jack Ketchum A Fear of Dead Things by Andrew Klavan He Unwraps Himself by Darrell Schweitzer Chandira by Brian Mooney Fever by Harlan Ellison The Best Things in Life by Lenora Champagne Mending Souls by Judith Tarr The Ocean and All Its Devices by William Browning Spencer Strings by Kelley Eskridge Superman's Diary by B. Brandon Barker Isobel Avens Returns to Stepney in the Spring by M. John Harrison The Sisterhood of Night by Steven Millhauser Winter Bodies by Noy Holland The Sloan Men by David Nickle Is That Them? by Kevin Roice The Kingdom of Cats and Birds by Geoffrey A. Landis Angel Combs by Steve Rasnic Tem Snow, Glass, Apples. by Neil Gaiman
Published by St Martins Press
The Essential Bordertown (1998) edited by Terri Windling & Delia Sherman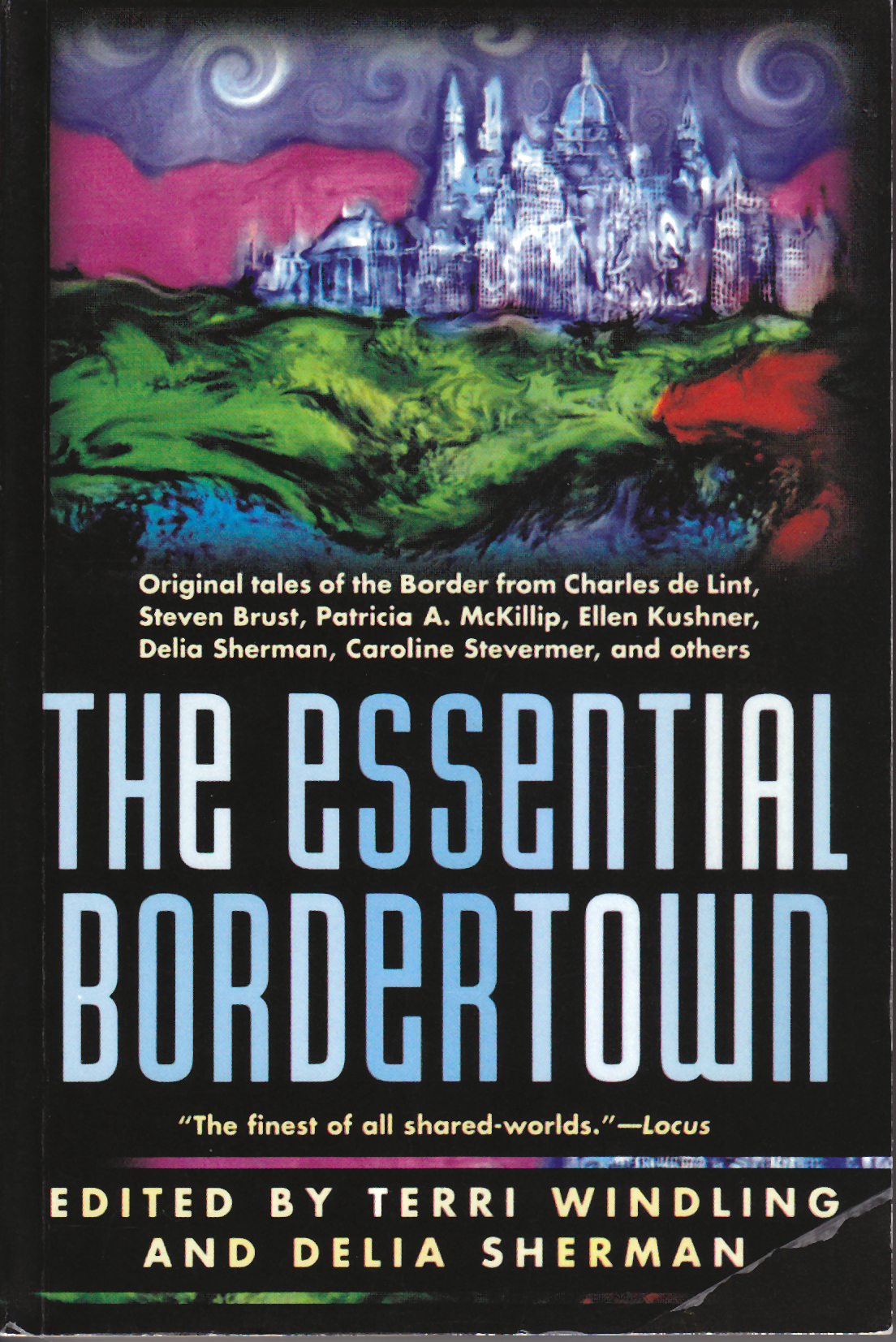 The Essential Bordertown is a collection of short stories set in Bordertown, the land between our world and Faerie. The stories are written with a teenage audiences in mind, with primarily teenage characters, and parts of a "traveler's guide" appearing before each chapter.
Bordertown strikes me as a cross between Sanctuary of Thieves' World and the world created by Charles de Lint. It's the area where faerie and the world of humans meets, and it's a strange place where neither magic or technology works properly, and although there are some places where elves and humans meet and get along, there are roving gangs of elves and humans who rule different parts of town, and woe to the opposite race who wanders into their territory.
Oak Hill - Patricia A. Mckillip
Dragon Child - Midori Snyder
Socks - Delia Sherman
Half Life - Donnard Sturgis
Hot Water : A Bordertown Romance - Ellen Kushner
Arcdia - Michael Korolenko
Changeling - Elisabeth Kushner
May This Be Your Last Sorrow - Charles De Lint
Rag - Caroline Stevermer
When The Bow Breaks - Steven Brust
Argentine - Ellen Steiber
Cover Up My Tracks With Rain - Micole Sudberg
How Shannaro Tolkinson Lost And Found His Heart - Felicity Savage
Some of my favorite authors contributed to this anthology: Charles de Lint, Steven Brust, Ellen Kushner. I particularly liked Charles de Lint's story "May This Be Your Last Sorrow", but then I think that he has his own magic in that he is able to write the most wonderful short stories.
Although all the stories in this anthology were good, I did like some more than others. As I mentioned, I particularly enjoyed Charles de Lint's "May this Be Your Last Sorrow". I also very much liked Carloline Stevermer's story "Rag", whose characters were adults, but they were adults deal with the friendships of childhood and adolescence. The story "Half Life" by Donnard Sturgis was particularly good–I had no idea where the story was going, and was pleased with how it ended.And Delia Sherman's story "Socks" was also particularly good, although there was much that was unresolved.
As a whole, the anthology was pretty good. Unlike Thieves World the authors didn't write each others characters, but they did have a shared world, which did tie the stories together, making it something more than a simple anthology.
I would love to read the original Borderland anthologies, however, they're out of print and I'll have to find them used if I want them. But I do recommend The Essential Bordertown to anyone who likes antholgies or any fan of the Charles de Lint.
Rating: 8/10
A Wolf at the Door (2000) edited by Ellen Datlow & Terri Windling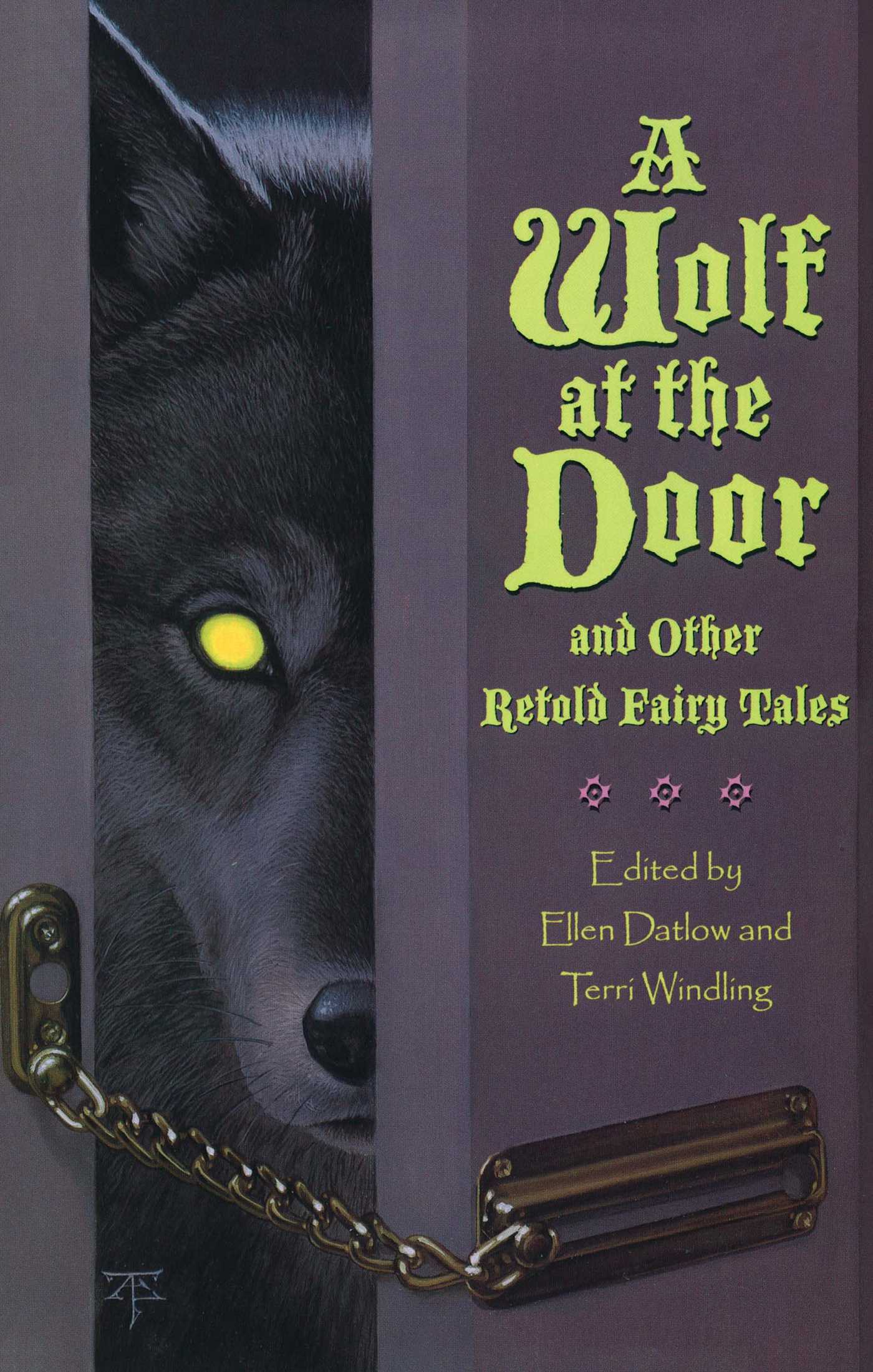 I love folk tales and fairy tales, and I love the idea of stories that have been told and retold, and then finally captured on paper. The problem of course, is finding an author who is good at translating stories from an oral tradition into something that works well written.
There's something wonderful about a well-told short story, and I think that the best short stories in the world are folk and fairy tales.
Ellen Datlow and Terri Windling are very good at finding authors who can take these stories and retell them, and they always put together wonderful anthologies. They brought together thirteen writers for this collection of retold fairy tales.
Conder Elephant - Jane Yolen
The Months of Manhattan - Delia Sherman
Instructions - Neil Gaiman
Mrs Big: "Jack and the Beanstalk" Retold - Michael Cadnum
Falada: The Goose Girls Horse - Nancy Farmer
A Wolf at the Door - Tanith Lee
Ali Baba and the Forty Aliens - Janeen Webb
Swans - Kelly Link
The Kingdom of the Melting Glances - Katherine Vaz
Hansel's Eyes - Garth Nix
Becoming Charise - Kathe Koja
The Seven Stage and Comeback - Gergory Maguire
The Twelve Dancing Princesses - Patricia A. McKillip

Although one or two of the stories I found to be just okay, others were nothing short of excellent. It also seems as if the stories were I liked the best were towards the end of the book. For me the collection started out okay, and then got better and better the more I read.
Not that I think the purpose of these stories is necessarily to scare us, as much as it is to make us pay attention to what is happening around us.
Rating: 7/10
The Green Man : Tales from the Mythic Forest (2002) edited by Ellen Datlow & Terri Windling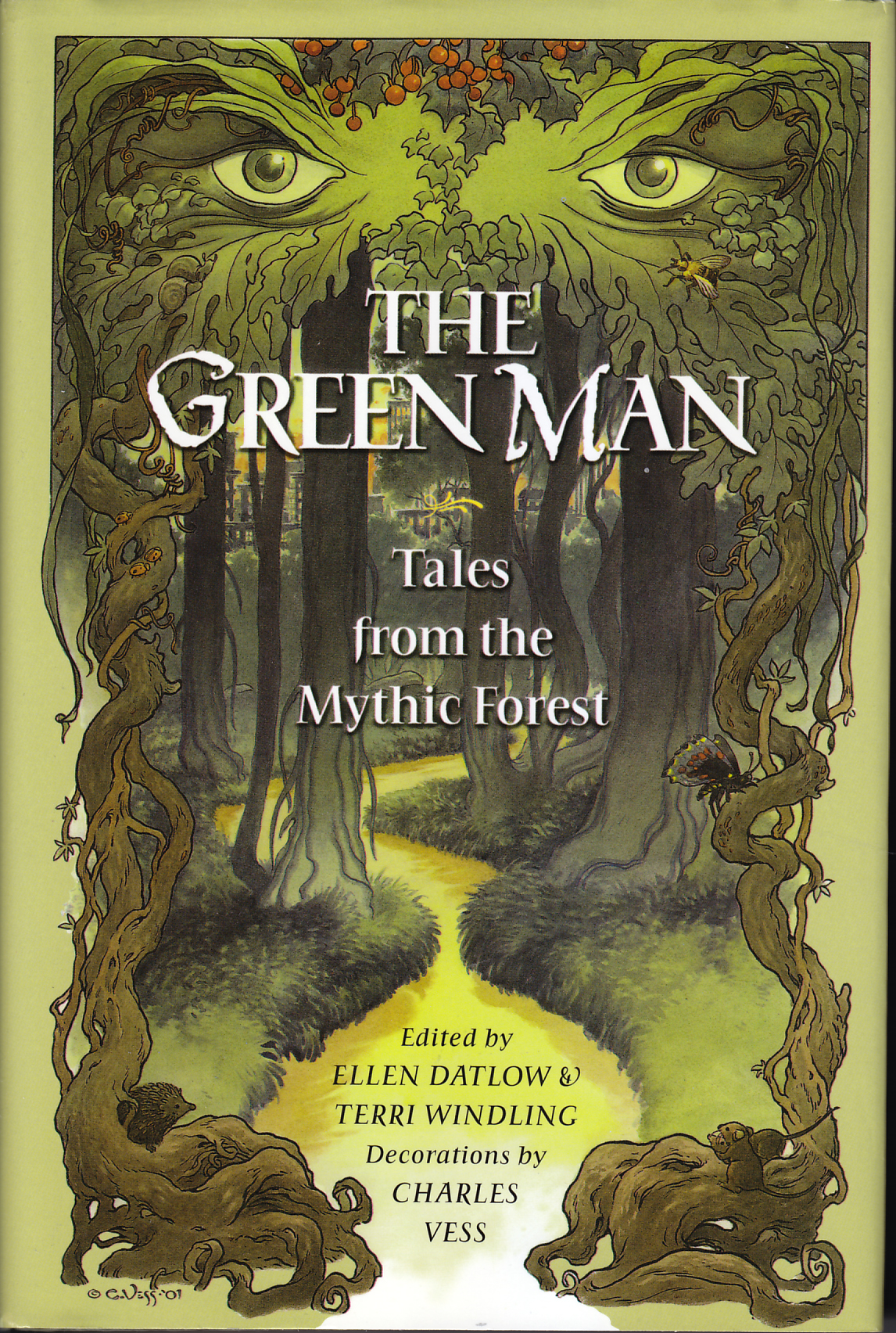 Going Wodwo (poem) - Neil Gaiman
Grand Central Park - Delia Sherman
Daphne - Michael Cadnum
Somewhere in My Mind There is a Painting Box - Charles de Lint
Among the Leaves So Green - Tanith Lee
Song of the Cailleach Bheur (poem) - Jane Yolen
Hunter's Moon - Patricia A. McKillip
Charlie's Away - Midori Snyder
A World Painted by Birds - Katherine Vaz
Grounded - Nina Kiriki Hoffman
Overlooking - Carol Emshwiller
Fie, Fi, Fo, Fum - Gregory Maguire
Joshua Tree - Emma Bull
Ali anugne o chash (the boy who was) - Carolyn Dunn
Remnants - Kathe Koja
The Pagodas of Ciboure - M. Shayne Bell
The Green Man (poem) - Bill Lewis
The Green Word - Jeffrey Ford
Published by Viking
Firebirds (2003) edited by Sharyn November
Cotillion - Delia Sherman The Baby In The Night Deposit Box - Megan Whalen Turner Beauty - Sherwood Smith
Mariposa - Nancy Springer Max Mondrosch - Lloyd Alexander The Fall Of Ys - Meredith Ann Pierce Medusa - Michael Cadnum
The Black Fox - Emma Bull ; Illustrations By Charles Vess Byndley - Patricia A. Mckillip The Lady Of The Ice Garden - Kara Dalkey Hope Chest - Garth Nix Chasing The Wind - Elizabeth E. Wein Little Dot - Diana Wynne Jones Remember Me - Nancy Farmer Flotsam - Nina Kiriki Hoffman The Flying Woman - Laurel Winter
Published by Firebird
The Faery Reel: Tales from the Twilight Realm (2004) edited by Ellen Datlow & Terri Windling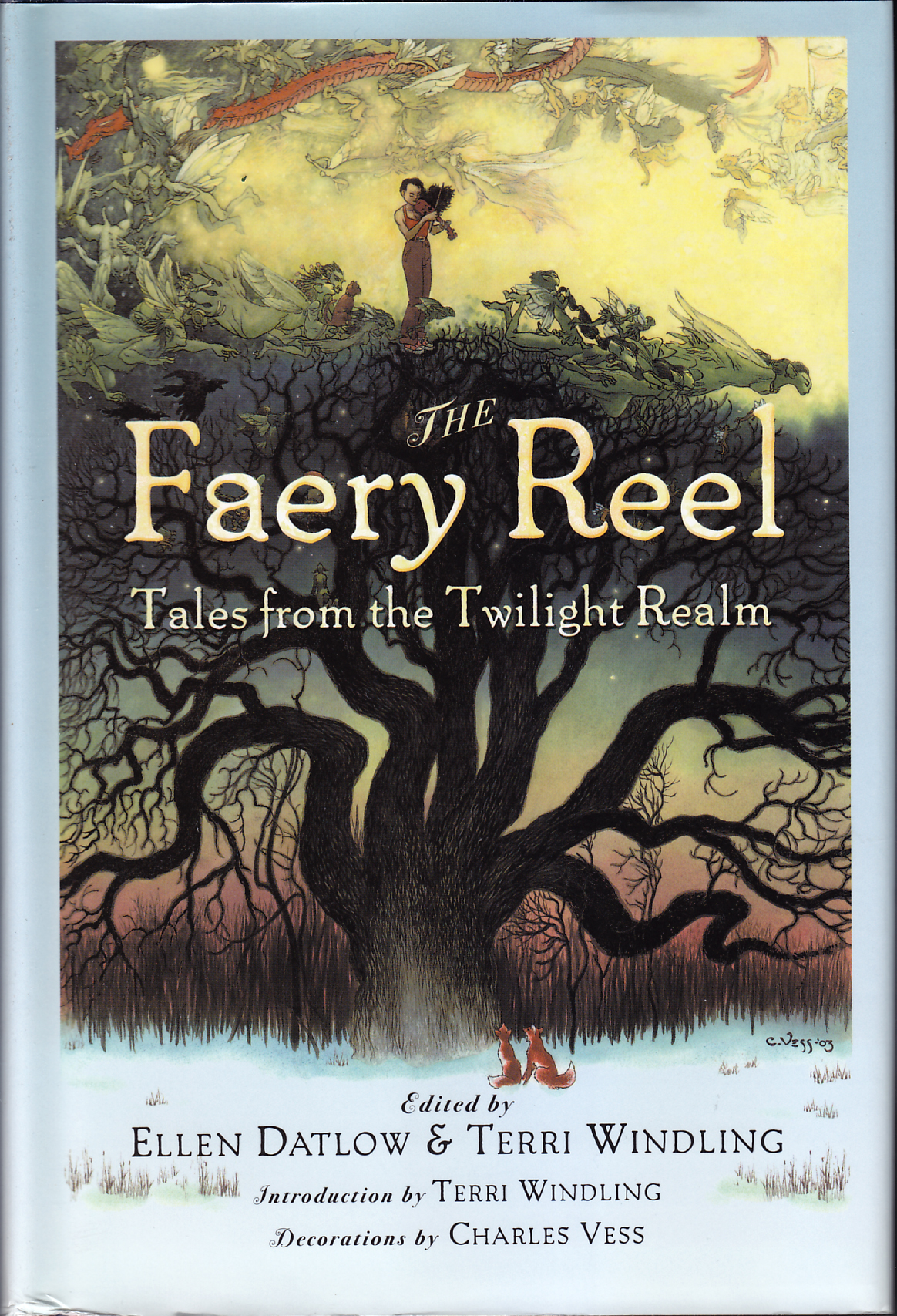 Any time I see a fantasy anthology edited by Ellen Datlow and Terri Windling, I'll often as not pick it up, because I know that it's going to be good. Usually very good. This volume however, has the added bonus of poems by both Charles de Lint and Neil Gaiman.
Needless to say I snatched it up--even thought it was in hardback--when I came across it.
These faery tales are based not upon the fairies of Disney but upon the faery of folktales. As they say in the introduction:
In this book about our good neighbors, we've asked a number of our favorite writers to travel into the Twilight Realm (an ancient name for the land of Faerie) and to bring back stories of faeries and the hapless mortals who cross their path. "No butterfly-winged sprites," we pleaded. "Read the old folktales, journey farther afield, find some of the less explored paths through the Realm.
It would be hard for me not to love this book.
The Boys of Goose Hill - Charles de Lint
Catnyp - Delia Sherman
Elvenbrood - Tanith Lee
Your Garnet Eyes - Katherine Vaz
Tengu Mountain - Gregory Frost
THe Faery Handbag - Kelly Link
The Price of Glamour - Steve Berman
The Night Market - Holly Black
Never Never - Bruce Glassco
SCreaming for Aferies - Ellen Steiber
Immersed in Matter - Nina Kiriki Hoffman
Undine - Patricia A. McKillip
The Oakthing - Gregory Maguire
Foxwife - Hiromi Goto
The Dream Eaters - A. W. Dellamonico
The Faery Reel - Neil Gaiman
The Shooter at the Heartrock Waterhole - Bill Congreve
The Annals of Eelin-OK - Jeffrey Ford
De La Tierra - Emma Bull
How to Find Faery - Nan Fry
...
All in all an excellent anthology. But I hardly expected anything less.
Rating: 8/10
Published by Viking
Firebirds Rising (2006) edited by Sharyn November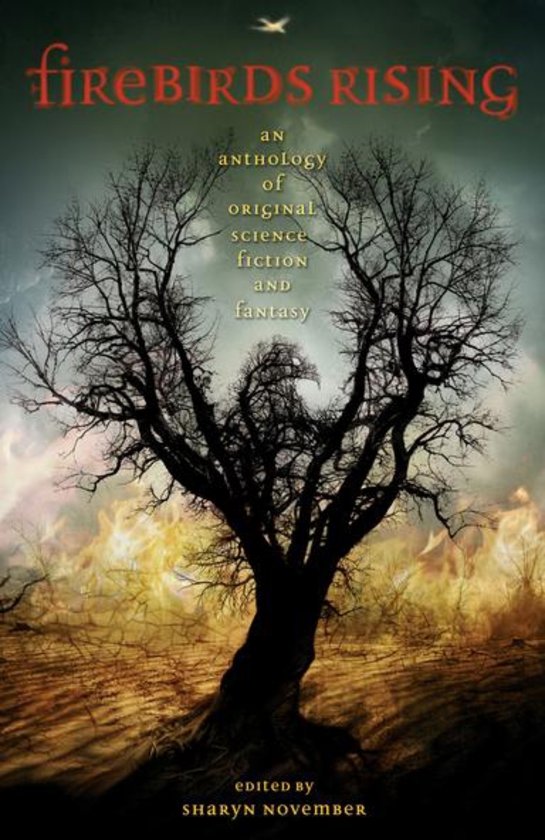 Huntress - Tamora Pierce
Unwrapping - Nina Kiriki Hoffman
The Real Thing - Alison Goodman
Little (Grrl) Lost - Charles de Lint
I'll Give you My Word - Diana Wynn Jones
In the House of the Seven Librarians - Ellen Klages
Wintermoon Wish - Sharon Shinn
The Wizards of Perfil - Kelly Link
Jack O'Lantern - Patricia A. McKillip
Quill - Carol Emshwiller
Blood Roses - Francesca Lia Block
Hives - Kara Dalkey
Perception - Alan Dean Foster
The House on the Planet - Tanith Lee
Cousins - Pamela Dean
What Used to be Good Still Is - Emma Bull
This is a collection of fantasy, urban fantasy (minus the boinking) and science fiction. Interestingly, I didn't mind most of the science fiction too much, though they weren't my favorite stories in the collection.
Rating: 7/10
Published by Firebird
The Coyote Road: Trickster Tales (2007) edited by Ellen Datlow & Terri Windling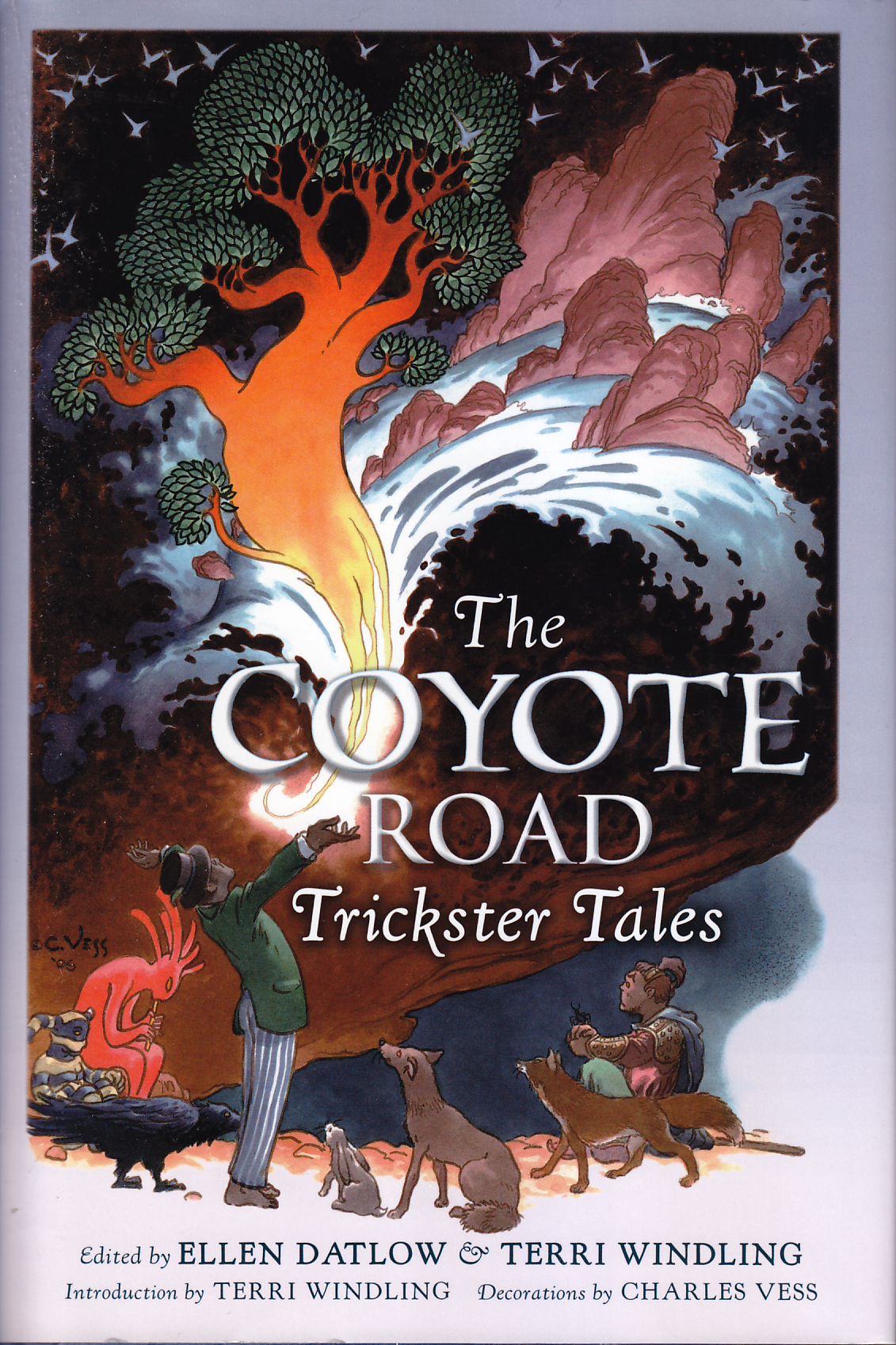 I love short stories. Aside from collections by Charles de Lint, I best love anthologies by Ellen Datlow & Terri Windling best. Their books are like comfort food, and I save them up for when I'm sick or feeling low.
In the same vein as The Green Man and The Faerie Reel, Datlow and Windling have this time collected stories about tricksters, and they've got some of my favorite authors in this collection: Charles de Lint, Nina Kiriki Hoffman, Ellen Kushner. As usual, they manage to collect stories by some of my favorite story tellers.
One Odd Shoe - Pat Murphy
Coyote Woman - Carolyn Dunn
Wagers of Gold Mountain - Steve Berman
The Listeners - Nina Kiriki Hoffman
Realer than You - Christopher Barzak
The Fiddler of Bayou Teche - Delia Sherman
A Tale for the SHort Days - Richard Bowes
Friday Night at St. Cecilia's - Ellen Klages
The Fortune Teller - Patricia A. McKillip
How Raven Made his Bride - Theodora Goss
Crow Roads - Charles de Lint
The Chamber of Music Animals - Katharine Vaz
Uncle Bob's Visits - Caroline Stevermer
Uncle Tompa - Midori Snyder
Cat of the World - Michael Cadnum
Honored Guest - Ellen Kushner
Always the Same Story - Elizabeth E. Wein
The Senorita and the Cactus Thorn - Kim Antieau
Black Rock Blues - Will Shetterly
The Constable of Abal - Holly Black
God Clown - Carol Emshwiller
The Other Labyrinnth - Jedediah Berry
The Dreaming Wind - Jeffery Ford
Kwaku Anansi Walks the World's Web - Jane Yolen
The Evolution of Trickster Stories Amount the Dogs of North Park after the Change - Kij Johnson
...
If like short story collections, or trickster tales, then you will want to read The Coyote Road. It has stories from many of my favorite writers, and as with all their collections, I was delighted to discover new authors for whom I'll be on the lookout.
Rating: 9/10
Published by Viking
The Secret History of Fantasy (2010) edited by Peter S. Beagle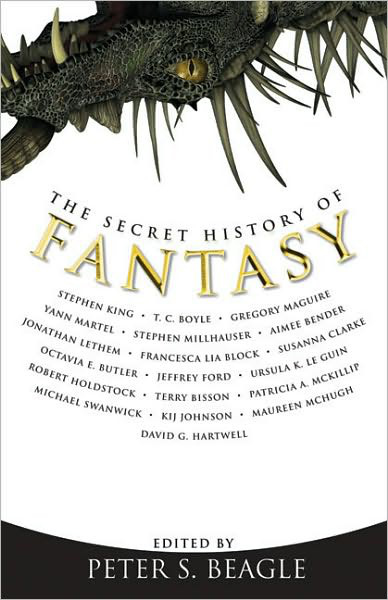 This is an interesting collection of short stories, by some very good authors. I can't say all the stories were to my taste, but they were all very good.
...
Patricia A. McKillip's story "Lady of the Skulls" was another interesting one. It unfolds slowly, as we learn what the Lady of the Skulls is doing there, how she got there, and possibly how the men who throw themselves at her tower might survive.
...
All in all, an excellent collection of stories, albeit one I don't recommend reading when you're depressed.
Rating: 8/10
Under My Hat: Tales from the Cauldron (2012) edited by Jonathan Strahan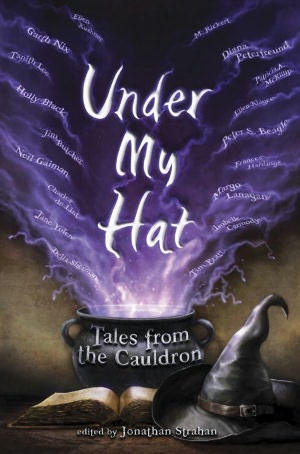 This is a lovely YA anthology, with some amazing stories by some of my favorite authors. I didn't love all the stories, but none of them were bad. The theme is young witches coming of age, but the stories are far greater than that.
...
Patricia A. McKillip's story "Which Witch" was cute, but in my opinion one of the weaker stories in this collection. That said, this is an amazingly strong collection, so the story is good, just not great.
...
Rating: 9/10
Published by Random House