Books: Fantasy
Anthologies
Snow White, Blood Red (1993), The Year's Best Fantasy and Horror: Seventh Annual Collection (1994), The Year's Best Fantasy & Horror: Eighth Annual Collection (1995), The Essential Bordertown (1998), A Wolf at the Door (2000), The Green Man (2002), Firebirds (2003), The Faery Reel (2004), Year's Best Fantasy 5 (2005), Firebirds Rising (2006), The Coyote Road (2007), The Secret History of Fantasy (2010), Under My Hat (2012)
Snow White, Blood Red (1993) edited by Ellen Datlow & Terri Windling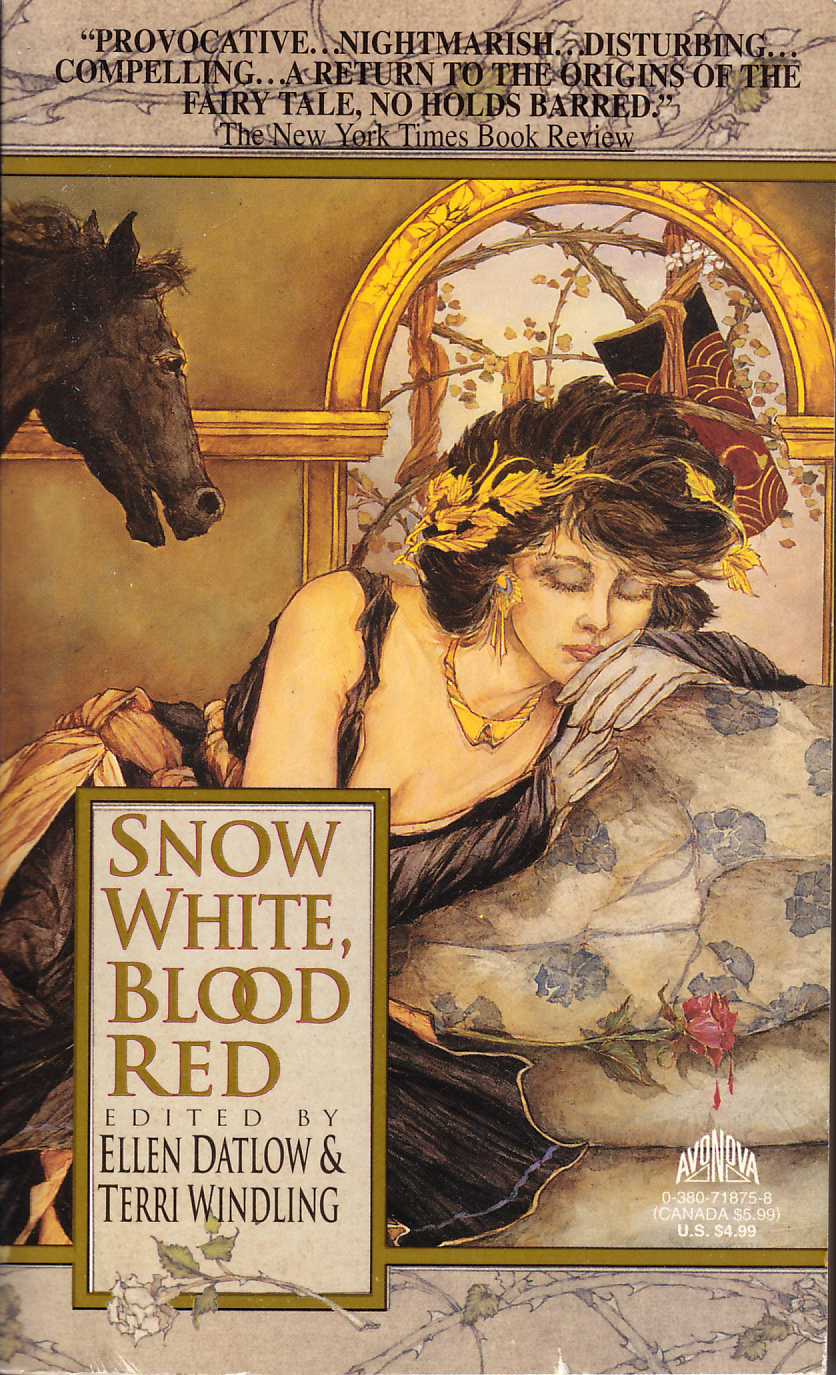 I often have a hard time putting down interesting books. Which means that if I'm reading a book I real like before bed, I end up staying up past my bed time instead of falling asleep. One solution is to read non-fiction before bed. The other solution is to read short story anthologies. Unfortunately, there are not a lot of high quality anthologies out there. At least, not enough to keep up with the rate at which I can read.
So I decided to go back and reread Ellen Datlow and Terri Windling's fantasy anthology Snow White, Blood Red. This book has a whole bunch of things going for it at once: it's edited by Ellen Datlow and Terri Windling; it's got stories by Neil Gaiman and Charles de Lint; and the stories are retellings or reinventions of folk and fairy tales. Mostly fairy tales in this book.
Plus, a gorgeous cover by Thomas Canty.
For those who are unfamiliar with folk tales and fairy tales, many of the original tales--before they got cleaned up and given to kids--were filled with sex, (in addition to the casual violence of people getting eyes poked out or chopping off bits of feet or being shoved into ovens.)
In other words, these are not stories for children.
I also particularly like Patricia A. McKillip's story "The Snow Queen." I reads to me precisely as a version of the tale involving grown-ups instead of children would read. Except of course that I wasn't really sure about how things would end. Some of these stories end as you would expect if you're familiar with the story, and so go off in unexpected directions, so I wasn't sure where this tale was going.
Also, the stories I liked less tended towards horror. This book is a collection of fantasy and horror (as are many Ellen Datlow-Terri Windling anthologies) so I expected that there were going to be at least one or two stories that I don't care for. So it didn't really bother me.
As best I can tell, this anthology is still available, so if you like short stories, this is an anthology you won't want to miss. However, if you like anthologies, this is probably one you already have sitting on your shelves.
Rating: 7/10
The Year's Best Fantasy and Horror: Seventh Annual Collection (1994) edited by Ellen Datlow & Terri Windling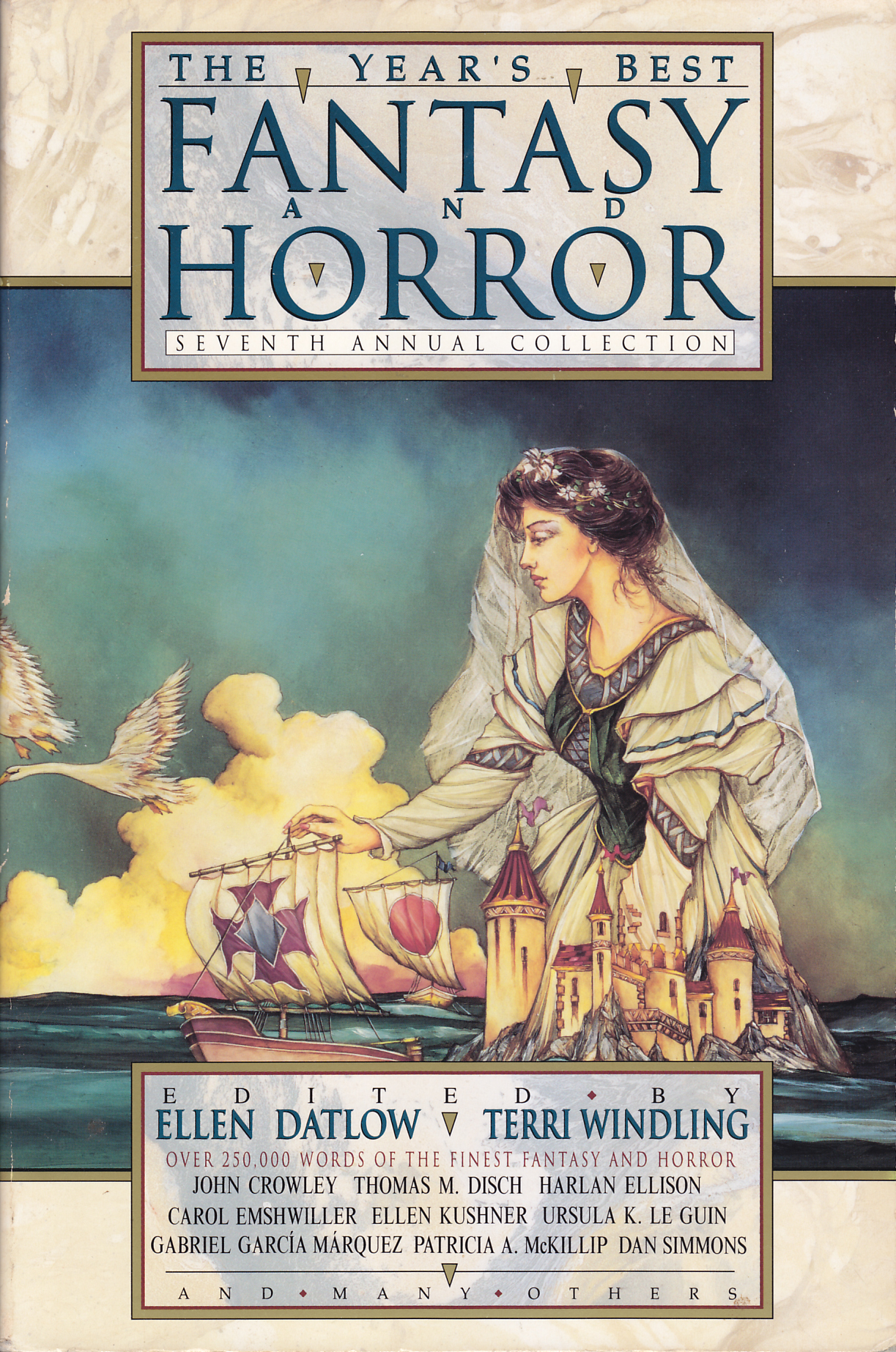 Published by St Martins Press
The Year's Best Fantasy & Horror: Eighth Annual Collection (1995) edited by Ellen Datlow & Terri Windling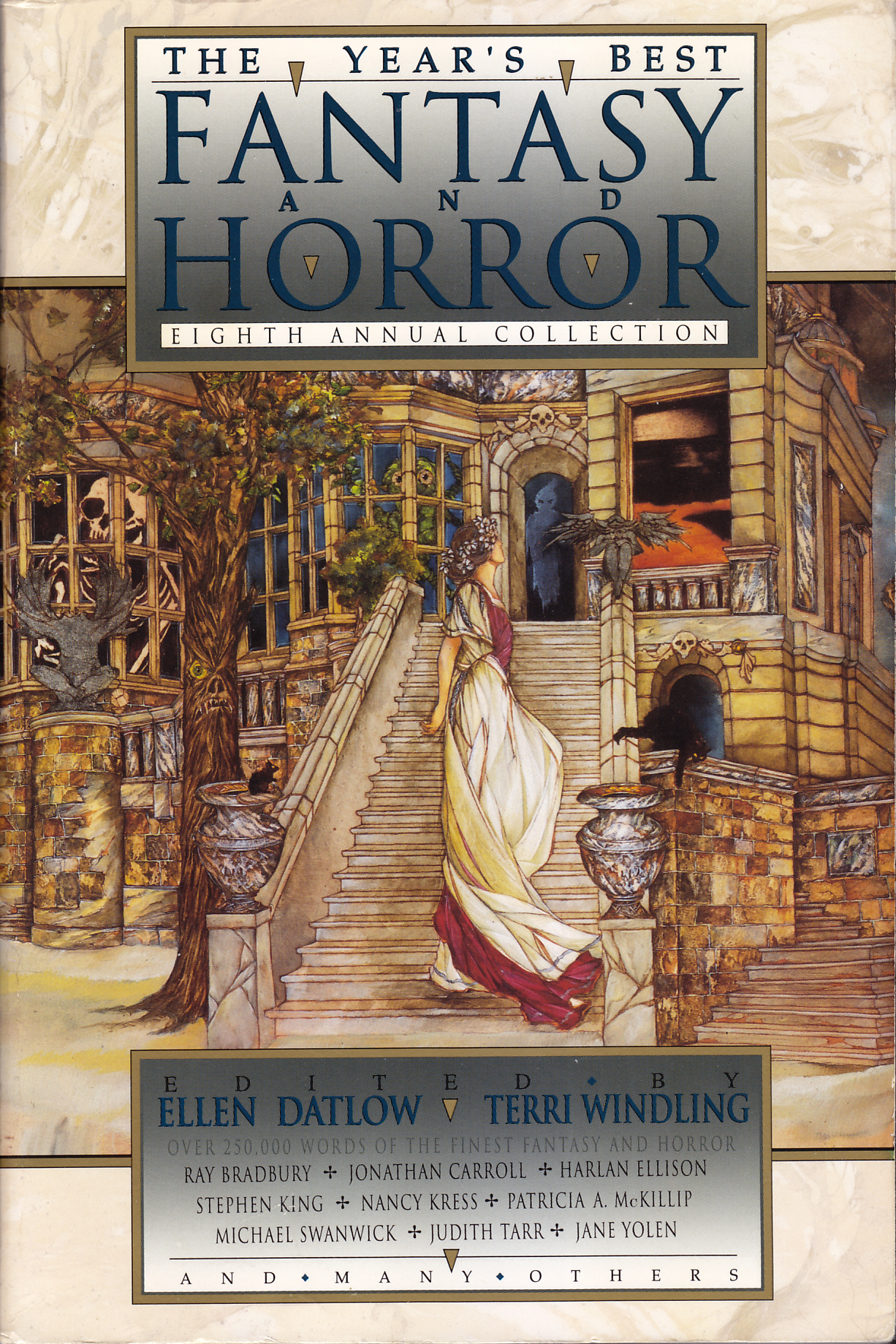 Published by St Martins Press
The Essential Bordertown (1998) edited by Terri Windling & Delia Sherman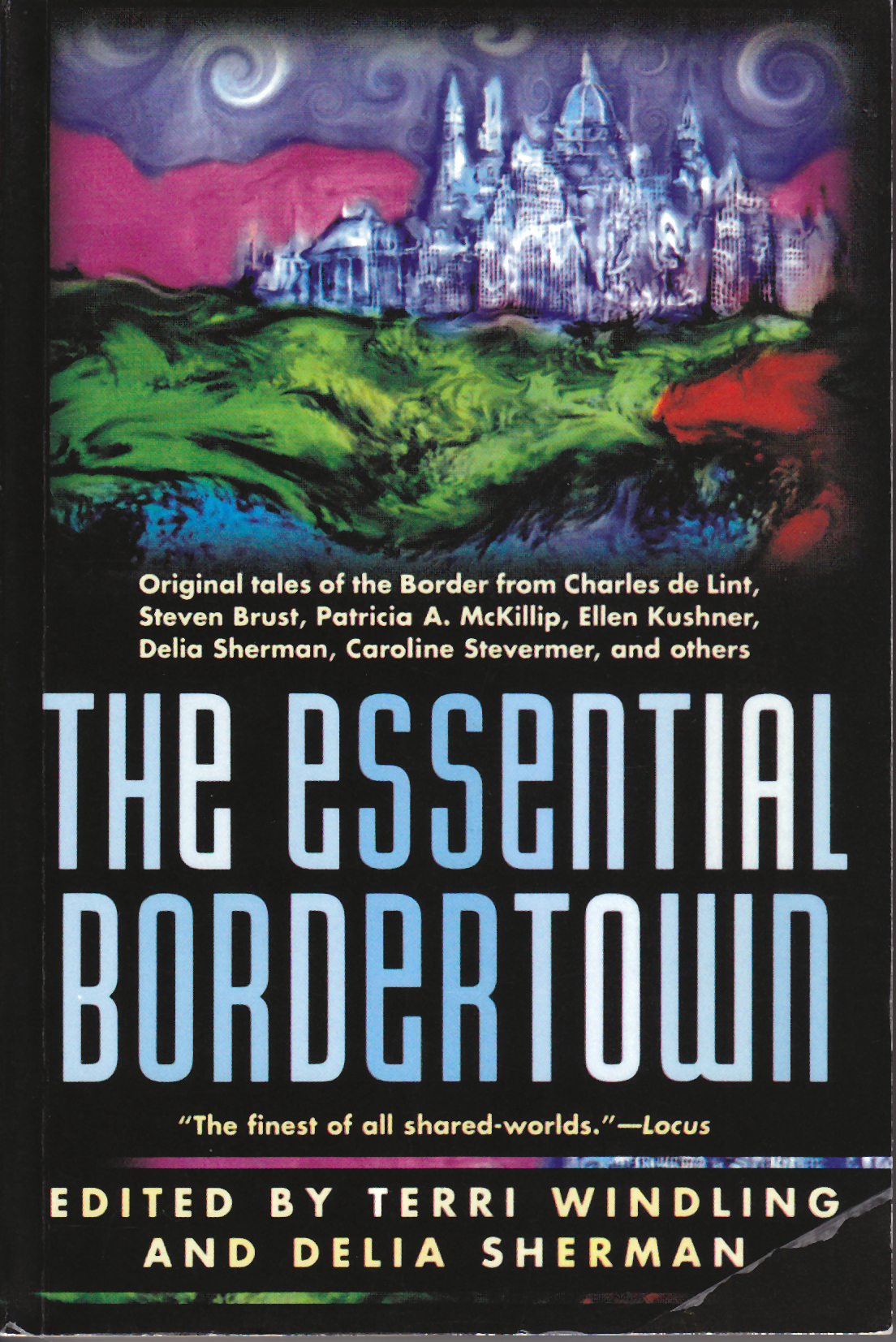 The Essential Bordertown is a collection of short stories set in Bordertown, the land between our world and Faerie. The stories are written with a teenage audiences in mind, with primarily teenage characters, and parts of a "traveler's guide" appearing before each chapter.
Bordertown strikes me as a cross between Sanctuary of Thieves' World and the world created by Charles de Lint. It's the area where faerie and the world of humans meets, and it's a strange place where neither magic or technology works properly, and although there are some places where elves and humans meet and get along, there are roving gangs of elves and humans who rule different parts of town, and woe to the opposite race who wanders into their territory.
Some of my favorite authors contributed to this anthology: Charles de Lint, Steven Brust, Ellen Kushner. I particularly liked Charles de Lint's story "May This Be Your Last Sorrow", but then I think that he has his own magic in that he is able to write the most wonderful short stories.  Although all the stories in this anthology were good, I did like some more than others. As I mentioned, I particularly enjoyed Charles de Lint's "May this Be Your Last Sorrow". I also very much liked Carloline Stevermer's story "Rag", whose characters were adults, but they were adults deal with the friendships of childhood and adolescence. The story "Half Life" by Donnard Sturgis was particularly good–I had no idea where the story was going, and was pleased with how it ended.And Delia Sherman's story "Socks" was also particularly good, although there was much that was unresolved.
As a whole, the anthology was pretty good. Unlike Thieves World the authors didn't write each others characters, but they did have a shared world, which did tie the stories together, making it something more than a simple anthology.  I would love to read the original Borderland anthologies, however, they're out of print and I'll have to find them used if I want them. But I do recommend The Essential Bordertown to anyone who likes antholgies or any fan of the Charles de Lint.
Rating: 8/10
A Wolf at the Door (2000) edited by Ellen Datlow & Terri Windling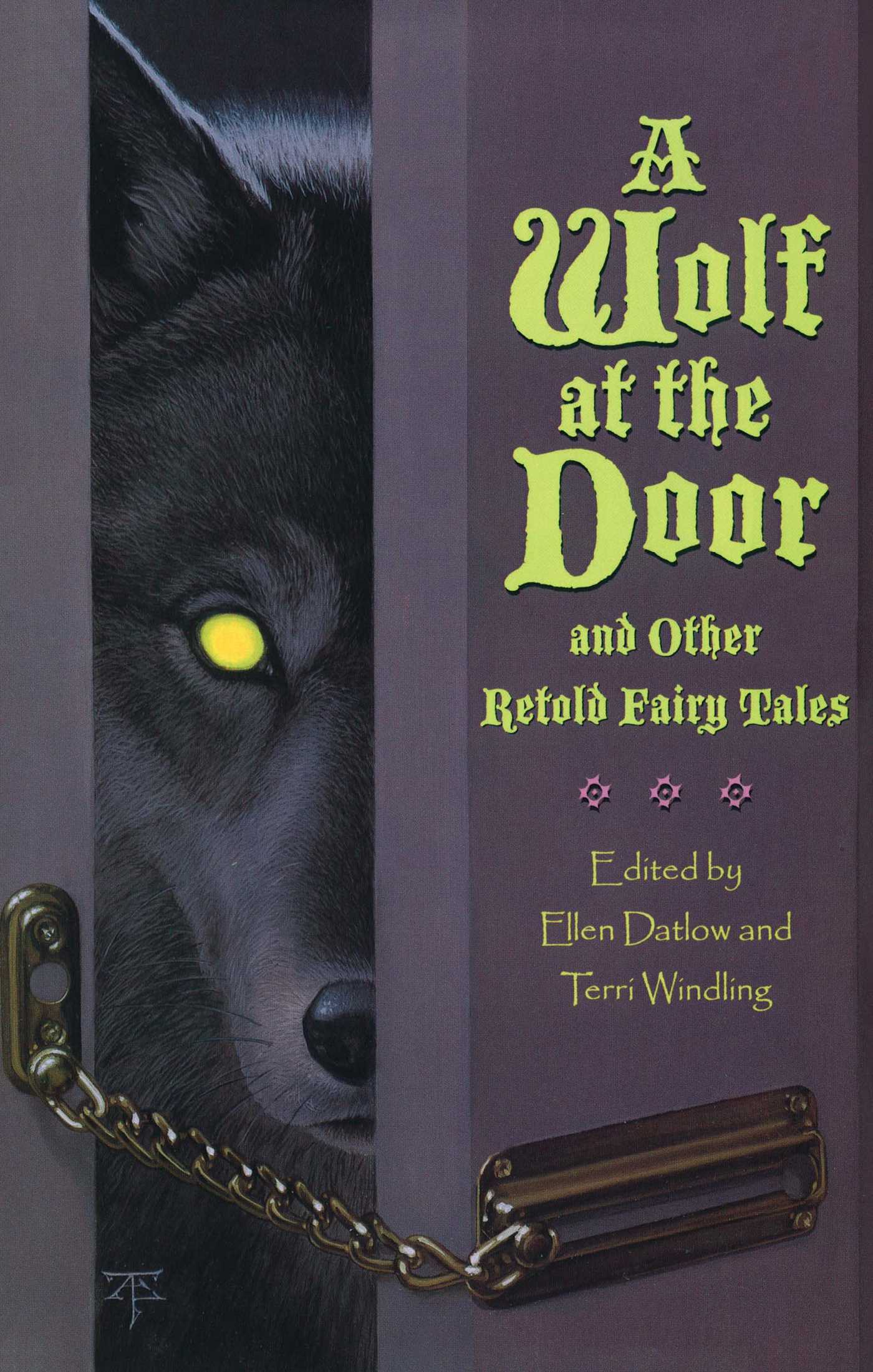 I love folk tales and fairy tales, and I love the idea of stories that have been told and retold, and then finally captured on paper. The problem of course, is finding an author who is good at translating stories from an oral tradition into something that works well written.
There's something wonderful about a well-told short story, and I think that the best short stories in the world are folk and fairy tales.
Ellen Datlow and Terri Windling are very good at finding authors who can take these stories and retell them, and they always put together wonderful anthologies. They brought together thirteen writers for this collection of retold fairy tales.
Although one or two of the stories I found to be just okay, others were nothing short of excellent. It also seems as if the stories were I liked the best were towards the end of the book. For me the collection started out okay, and then got better and better the more I read.
Not that I think the purpose of these stories is necessarily to scare us, as much as it is to make us pay attention to what is happening around us.
Rating: 7/10
The Green Man : Tales from the Mythic Forest (2002) edited by Ellen Datlow & Terri Windling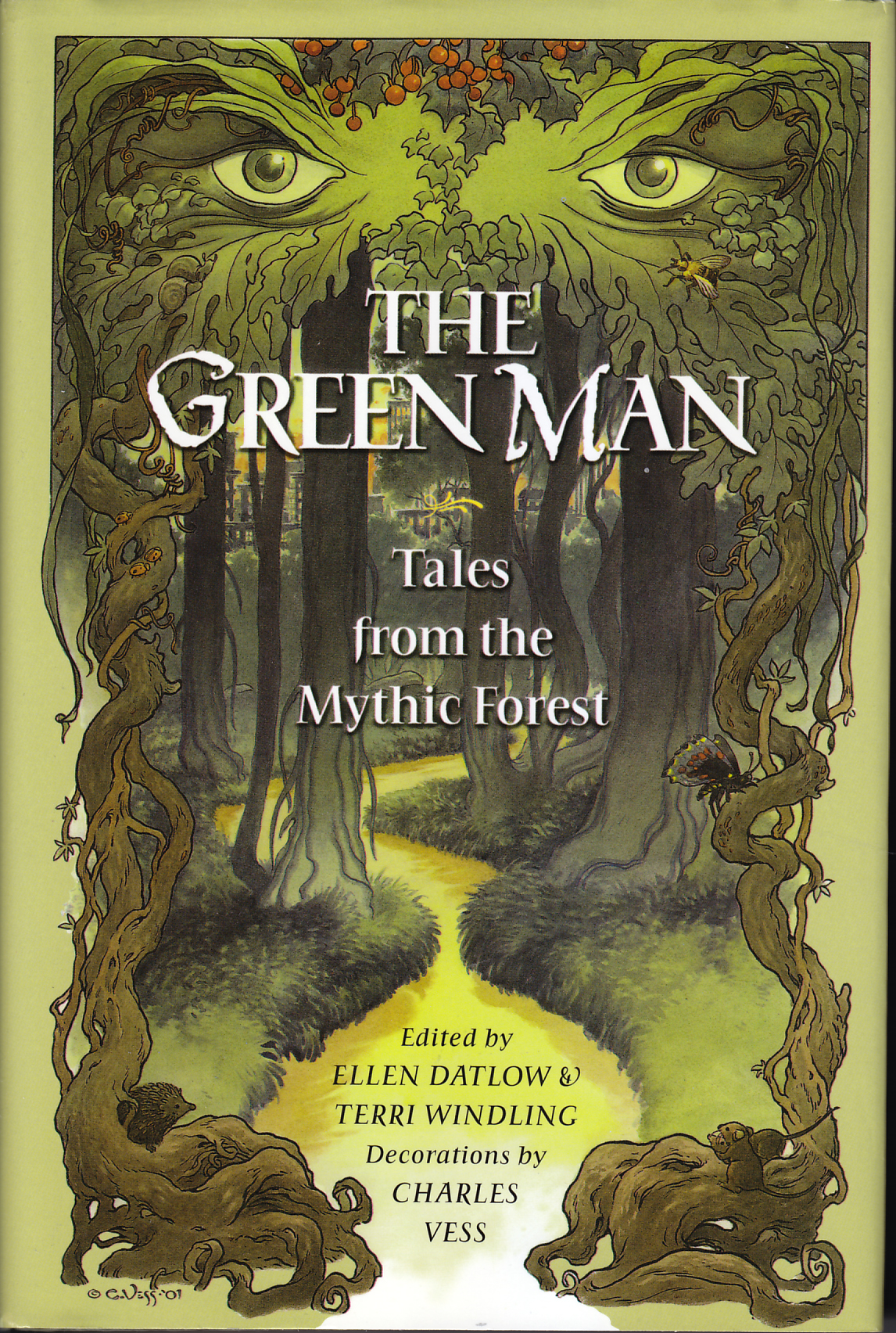 Published by Viking
Firebirds (2003) edited by Sharyn November
Published by Firebird
The Faery Reel: Tales from the Twilight Realm (2004) edited by Ellen Datlow & Terri Windling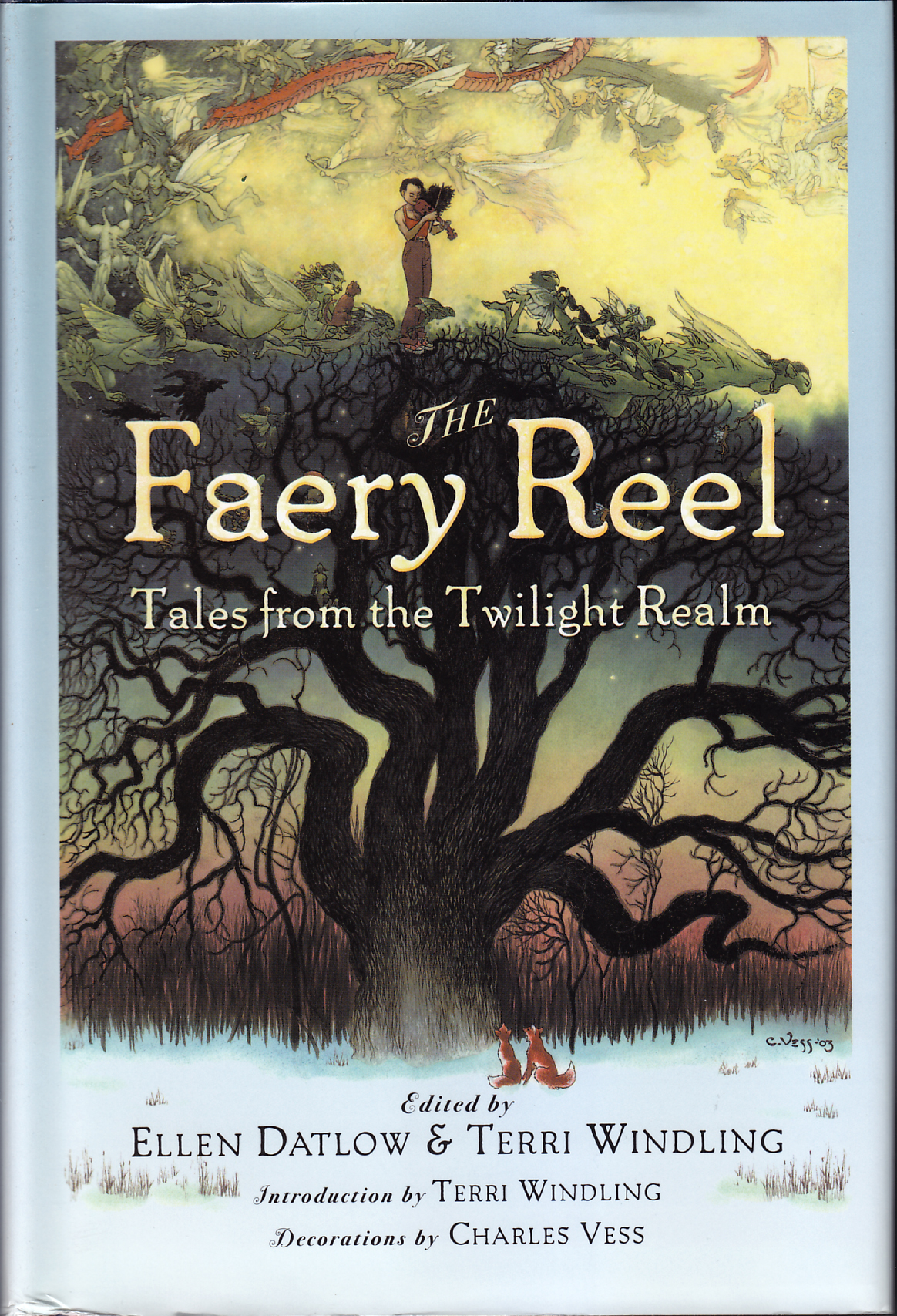 Any time I see a fantasy anthology edited by Ellen Datlow and Terri Windling, I'll often as not pick it up, because I know that it's going to be good. Usually very good. This volume however, has the added bonus of poems by both Charles de Lint and Neil Gaiman.
Needless to say I snatched it up--even thought it was in hardback--when I came across it.
These faery tales are based not upon the fairies of Disney but upon the faery of folktales. As they say in the introduction:
In this book about our good neighbors, we've asked a number of our favorite writers to travel into the Twilight Realm (an ancient name for the land of Faerie) and to bring back stories of faeries and the hapless mortals who cross their path. "No butterfly-winged sprites," we pleaded. "Read the old folktales, journey farther afield, find some of the less explored paths through the Realm.
It would be hard for me not to love this book.
All in all an excellent anthology. But I hardly expected anything less.
Published by Viking
Rating: 8/10
Year's Best Fantasy 5 (2005) edited by David G. Hartwell and Kathryn Cramer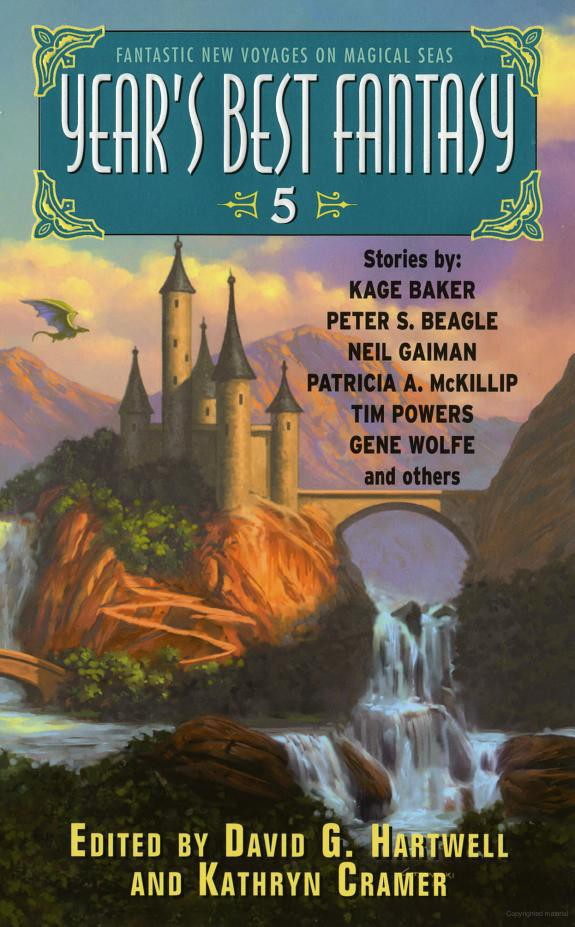 Publisher: Harper Voyager
Firebirds Rising (2006) edited by Sharyn November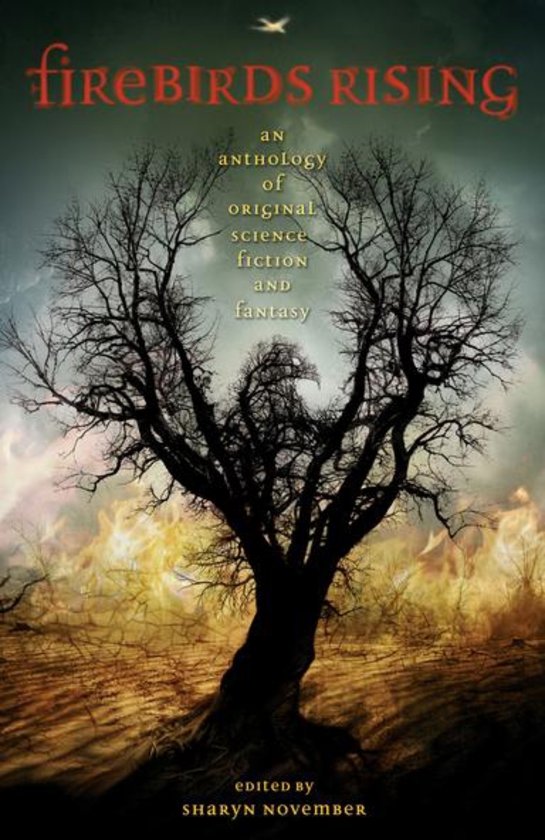 This is a collection of fantasy, urban fantasy (minus the boinking) and science fiction. Interestingly, I didn't mind most of the science fiction too much, though they weren't my favorite stories in the collection.
Published by Firebird
Rating: 7/10
The Coyote Road: Trickster Tales (2007) edited by Ellen Datlow & Terri Windling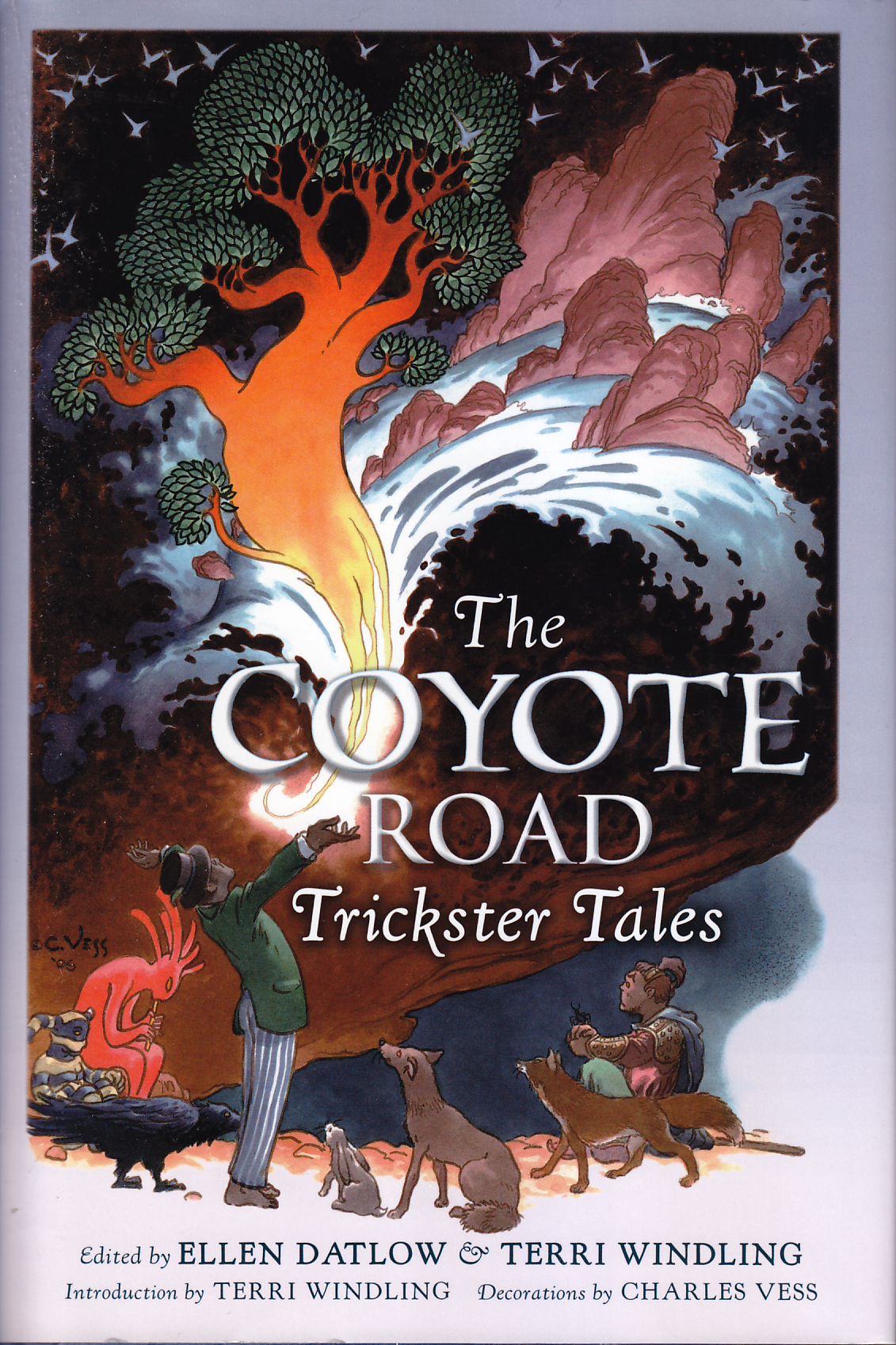 I love short stories. Aside from collections by Charles de Lint, I best love anthologies by Ellen Datlow & Terri Windling best. Their books are like comfort food, and I save them up for when I'm sick or feeling low.
In the same vein as The Green Man and The Faerie Reel, Datlow and Windling have this time collected stories about tricksters, and they've got some of my favorite authors in this collection: Charles de Lint, Nina Kiriki Hoffman, Ellen Kushner. As usual, they manage to collect stories by some of my favorite story tellers.
If like short story collections, or trickster tales, then you will want to read The Coyote Road. It has stories from many of my favorite writers, and as with all their collections, I was delighted to discover new authors for whom I'll be on the lookout.
Published by Viking
Rating: 9/10
The Secret History of Fantasy (2010) edited by Peter S. Beagle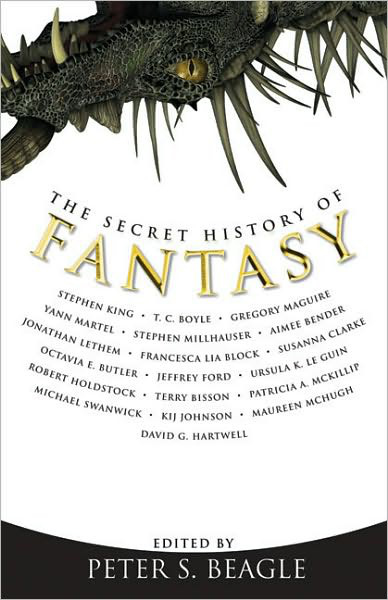 This is an interesting collection of short stories, by some very good authors. I can't say all the stories were to my taste, but they were all very good.
Patricia A. McKillip's story "Lady of the Skulls" was another interesting one. It unfolds slowly, as we learn what the Lady of the Skulls is doing there, how she got there, and possibly how the men who throw themselves at her tower might survive.
All in all, an excellent collection of stories, albeit one I don't recommend reading when you're depressed.
Rating: 8/10
Under My Hat: Tales from the Cauldron (2012) edited by Jonathan Strahan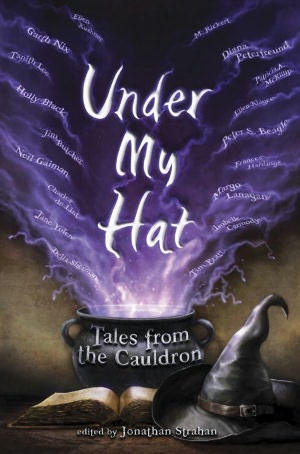 This is a lovely YA anthology, with some amazing stories by some of my favorite authors. I didn't love all the stories, but none of them were bad. The theme is young witches coming of age, but the stories are far greater than that.
Patricia A. McKillip's story "Which Witch" was cute, but in my opinion one of the weaker stories in this collection. That said, this is an amazingly strong collection, so the story is good, just not great.
Published by Random House
Rating: 9/10