Books
The Fall of the Kings (2002)
Anthologies: Ruby Slippers, Golden Tears (1995), The Year's Best Fantasy & Horror: Eighth Annual Collection (1995), The Sandman Book of Dreams (1996), The Essential Bordertown (1998), A Wolf at the Door (2000), The Green Man (2002), Firebirds (2003), The Faery Reel (2004), The Coyote Road (2007), Troll's Eye View (2009), The Beastly Bride (2010), The Way of the Wizard (2010), Naked City (2011), Teeth (2011), Under My Hat (2012), Queen Victoria's Book of Spells (2013), Magic City (2014), Street Magicks (2016)

The Fall of the Kings with Ellen Kushner (2002)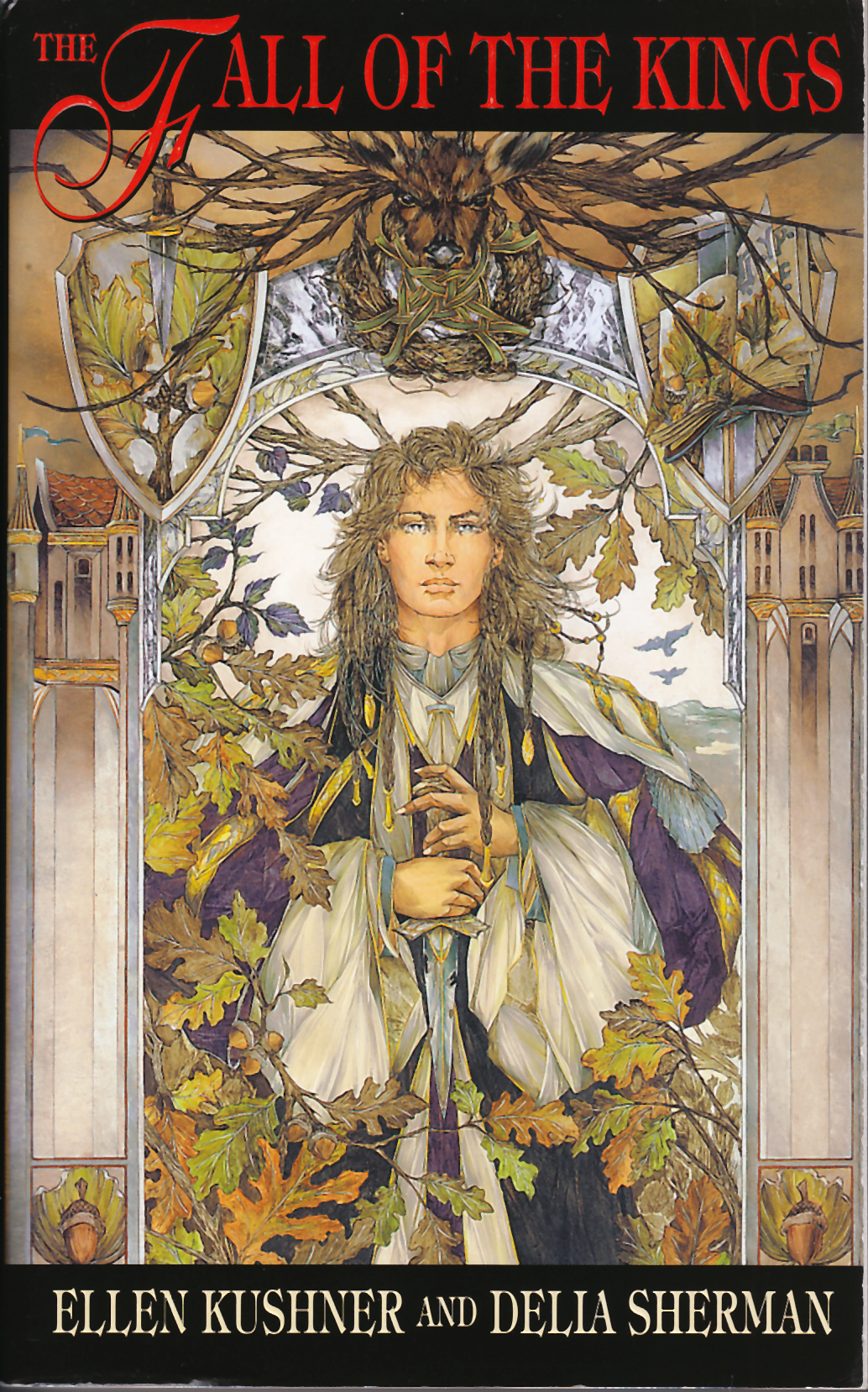 This book is set in the same world as Swordspoint, about two generations later. The story begins at the University, where Basil St Cloud is a young Doctor of History at the University. It is there that he meets Theron Campion, son of the Mad Duke and heir to Tremontaine.
I liked this book far less than I liked Swordspoint, which means that it's still a good book, although not a great book. What kept it from being great is that I just didn't care as much about the main characters as I did in Swordspoint. I was fond of some of the secondary characters, especially Justis, but I just couldn't get really attached to the main characters. I almost felt as if the author(s) knew that she (they) was (were) going to do bad things to some of the characters, and so didn't want to get too attached, so that she (they) could go through with it.
The other problem I had was that there was just too much sex for my tastes. Sure it may necessary to describe the sexual relationship between characters, because of the relationship between Kings and Wizards in history; I just don't care to read about all the details. Of course it wasn't as bad as I'm making it sound, I just would have preferred more detailed sword fights and fewer detailed sex scenes. (Which right there tells you plenty about me I suppose.)
Tied in, is the fact that when some of the characters made claims of being in love, I just didn't believe it. Lust I could believe. Obsession I could believe. But love? The story would have been far stronger if I could have believed it was a love story. I just didn't.
Oddly enough, I enjoyed the bits about research and scholarship, but then I do work in academia, so that shouldn't come as a huge surprise I suppose.
But, all in all, the book had political intrigue, romantic intrigue, and a fantastic plot, so the it is is well worth reading, despite my misgivings.
Rating: 7/10
Anthologies
The Sandman Book of Dreams (1996) edited by Neil Gaiman and Ed Kramer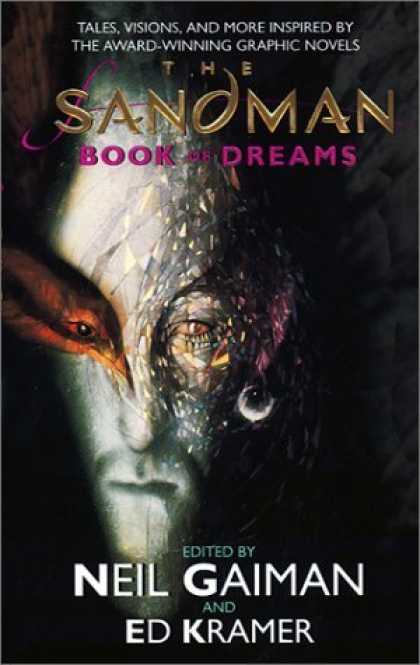 Masquerade and High Water by Colin Greenland
Chain Home, Low by John M. Ford
Stronger Than Desire by Lisa Goldstein
Each Damp Thing by Barbara Hambly
The Birth Day by B.W. Clough
Splatter by Will Shetterly
Seven Nights in Slumberland by George Alec Effinger
Escape Artist by Caitlin R. Kiernan
An Extra Smidgeon of Eternity by Robert Rodi
The Writer's Child by Tad Williams
Endless Sestina by Lawrence Schimel
The Gate of Gold by Mark Kreighbaum
A Bone Dry Place by Karen Haber
The Witch's Heart by Delia Sherman
The Mender of Broken Dreams by Nancy A. Collins
Ain't You 'Most Done? by Gene Wolfe
Valóság and Élet by Steven Brust
Stopp't-Clock Yard by Susanna Clarke
Afterword: Death by Tori Amos
It took me several months to read this book, not because it was boring, but because I was carrying it back and forth to work to read at lunch, or if I had to go somewhere for an appointment. This means that as I finished the last story in the book, I could barely remember the first story in the book.
I liked B.W. Clough's The Birth Day, a story of the beginning of an idea. I also liked Robert Rodi's An Extra Smidgen of Eternity, which is the second of two stories about Wanda from A Game of You. I liked A Bone Dry Place by Karen Haber, because it had several of the Endless interacting, although the story that tied everything together confused me, even on a second read. One of my favorite stories was Nancy A. Collin's The Mender of Broken Dreams. I quite liked the idea of the creatures of the realm of dream wondering about themselves. I of course loved Steven Brust's Valosag and Elet, but then I tend to love everything that Steven Brust writes, so you'll have to consider the source. One of the stories merits is that it is written as a folktale, and since I love folktales, that made it all the more endearing.
The horror tales were my least favorite. Will Shetterly's Splatter was set during The Doll's House collection in the Collectors, one of the more gruesome tales. The Writer's Child by Tad Williams is disturbing, although everything is alright in the end. But I don't particularly care for horror, so you'd best not take my opinion if you like it yourself. The stories were well written, but they were not anything that I particularly enjoy so take that as you will.
There was so much more that I wanted to say about these stories, but it's been over a month since I finished the collection, so I best say this for now, lest I forget everything.
These were stories written in the world of the Sandman, but they were not written by Neil Gaiman. If you liked Sandman and like short stories, then you'll like this collection. But if you are looking for more of Neil Gaiman's writing, or know little or nothing of The Sandman, then this collection is probably not for you.
Published by Harper Torch
The Essential Bordertown (1998) edited by Terri Windling & Delia Sherman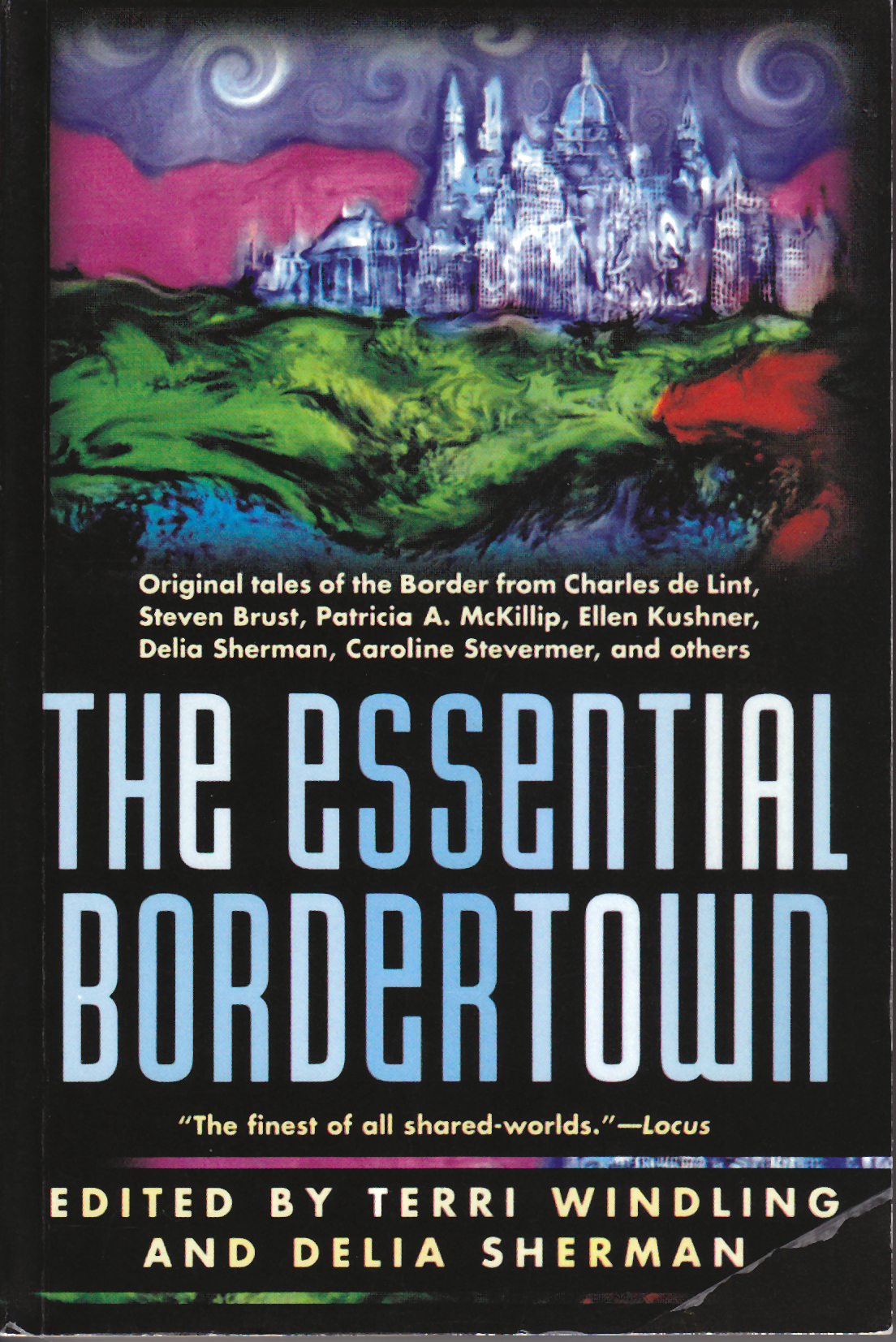 The Essential Bordertown is a collection of short stories set in Bordertown, the land between our world and Faerie. The stories are written with a teenage audiences in mind, with primarily teenage characters, and parts of a "traveler's guide" appearing before each chapter.
Bordertown strikes me as a cross between Sanctuary of Thieves' World and the world created by Charles de Lint. It's the area where faerie and the world of humans meets, and it's a strange place where neither magic or technology works properly, and although there are some places where elves and humans meet and get along, there are roving gangs of elves and humans who rule different parts of town, and woe to the opposite race who wanders into their territory.
Oak Hill - Patricia A. Mckillip
Dragon Child - Midori Snyder
Socks - Delia Sherman
Half Life - Donnard Sturgis
Hot Water : A Bordertown Romance - Ellen Kushner
Arcdia - Michael Korolenko
Changeling - Elisabeth Kushner
May This Be Your Last Sorrow - Charles De Lint
Rag - Caroline Stevermer
When The Bow Breaks - Steven Brust
Argentine - Ellen Steiber
Cover Up My Tracks With Rain - Micole Sudberg
How Shannaro Tolkinson Lost And Found His Heart - FelicitySavage
Some of my favorite authors contributed to this anthology: Charles de Lint, Steven Brust, Ellen Kushner. I particularly liked Charles de Lint's story "May This Be Your Last Sorrow", but then I think that he has his own magic in that he is able to write the most wonderful short stories.
Although all the stories in this anthology were good, I did like some more than others. As I mentioned, I particularly enjoyed Charles de Lint's "May this Be Your Last Sorrow". I also very much liked Carloline Stevermer's story "Rag", whose characters were adults, but they were adults deal with the friendships of childhood and adolescence. The story "Half Life" by Donnard Sturgis was particularly good–I had no idea where the story was going, and was pleased with how it ended.And Delia Sherman's story "Socks" was also particularly good, although there was much that was unresolved.
As a whole, the anthology was pretty good. Unlike Thieves World  the authors didn't write each others characters, but they did have a shared world, which did tie the stories together, making it something more than a simple anthology.
I would love to read the original Borderland anthologies, however, they're out of print and I'll have to find them used if I want them. But I do recommend The Essential Bordertown to anyone who likes antholgies or any fan of the Charles de Lint.
Rating: 8/10
Ruby Slippers, Golden Tears (1995) edited by Ellen Datlow & Terri Windling
Ruby Slippers - Susan Wade
The Beast - Tanith Lee
Masterpiece - Garry Kilworth
Summer Wind - Nancy Kress
This Century of Sleep, or Briar Rose Beneath the Sea -Farida S. T. Shapiro
The Crossing - Joyce Carol Oates
Roach in Loafers - Roberta Lannes
Naked Little Men - Michael Cadnum
Brother Bear - Lisa Goldstein
The Emperor Who had Never Seen a Dragon - John Brunner
Billy Fearless - Nancy A Collins
The Death of Koshchei the Deathless - Gene Wolfe
The Real Princess - Susan Palwick
The Huntsman's Story - Milbre Burch
After Push Comes to Shove - Milbre Burch
Hansel and Grettel - Gahan Wilson
Match Girl - Anne Bishop
Waking the Prince - Kathe Koja
The Fox Wife - Ellen Steiber
The White Road - Neil Gaiman
The Traveler and the Tale - Jane Yolen
The Printer's Daughter - Delia Sherman
Published by Harper Collins
The Year's Best Fantasy & Horror: Eighth AnnualCollection (1995) edited by Ellen Datlow & Terri Windling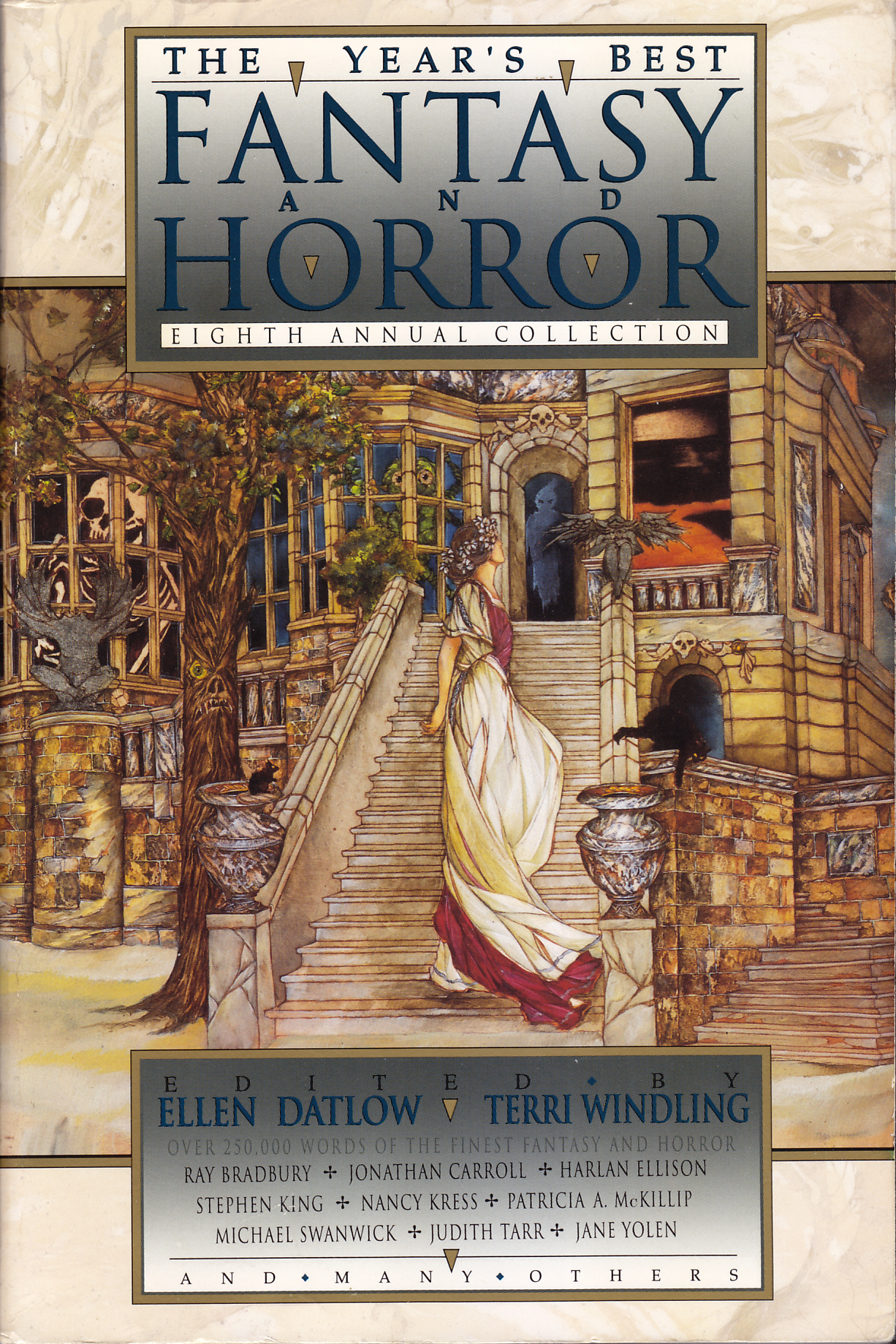 Transmutations by Patricia A. McKillip
Bottom's Dream by Rachel Wetzsteon
La Promesa by Leroy Quintana
Aweary of the Sun by Gregory Feeley
A Wheel in the Desert, the Moon on Some Swings by JonathanCarroll
Who Will Love the River God? by Emily Newland
Brothers by Joyce Carol Oates
Subsoil by Nicholson Baker
Elvis's Bathroom by Pagan Kennedy
Yet Another Poisoned Apple for the Fairy Princess by A. R.Morlan
The Big Game by Nicholas Royle
Buenaventura and the Fifteen Sisters by Margarita Engle
De Natura Unicorni by Jane Yolen
Blue Motel by Ian McDonald
A Friend Indeed by David Garnett
Sometimes, in the Rain by Charles L. Grant
Rain Falls by Michael Marshall Smith
That Old School Tie by Jack Womack
Animals Behind Bars! by Scott Bradfield
Monuments to the Dead by Kristine Kathryn Rusch
Unterseeboot Doktor by Ray Bradbury
Young Woman in a Garden by Delia Sherman
The Man in the Black Suit by Stephen King
'In the Tradition...' by Michael Swanwick
Words Like Pale Stones by Nancy Kress
Märchen by Jane Yolen
Giants in the Earth by Dale Bailey
A Conflagration Artist by Bradley Denton
Report by Carme Riera
The Village of the Mermaids by John Bradley
—And the Horses Hiss at Midnight by A. R. Morlan
The Entreaty of the Wiideema by Barry Lopez
White Chapel by Douglas Clegg
The Stone Woman by Linda Weasel Head
Coyote Stories by Charles de Lint
The Box by Jack Ketchum
A Fear of Dead Things by Andrew Klavan
He Unwraps Himself by Darrell Schweitzer
Chandira by Brian Mooney
Fever by Harlan Ellison
The Best Things in Life by Lenora Champagne
Mending Souls by Judith Tarr
The Ocean and All Its Devices by William Browning Spencer
Strings by Kelley Eskridge
Superman's Diary by B. Brandon Barker
Isobel Avens Returns to Stepney in the Spring by M. JohnHarrison
The Sisterhood of Night by Steven Millhauser
Winter Bodies by Noy Holland
The Sloan Men by David Nickle
Is That Them? by Kevin Roice
The Kingdom of Cats and Birds by Geoffrey A. Landis
Angel Combs by Steve Rasnic Tem
Snow, Glass, Apples. by Neil Gaiman
Published bySt Martins Press
A Wolf at the Door (2000) edited by Ellen Datlow & Terri Windling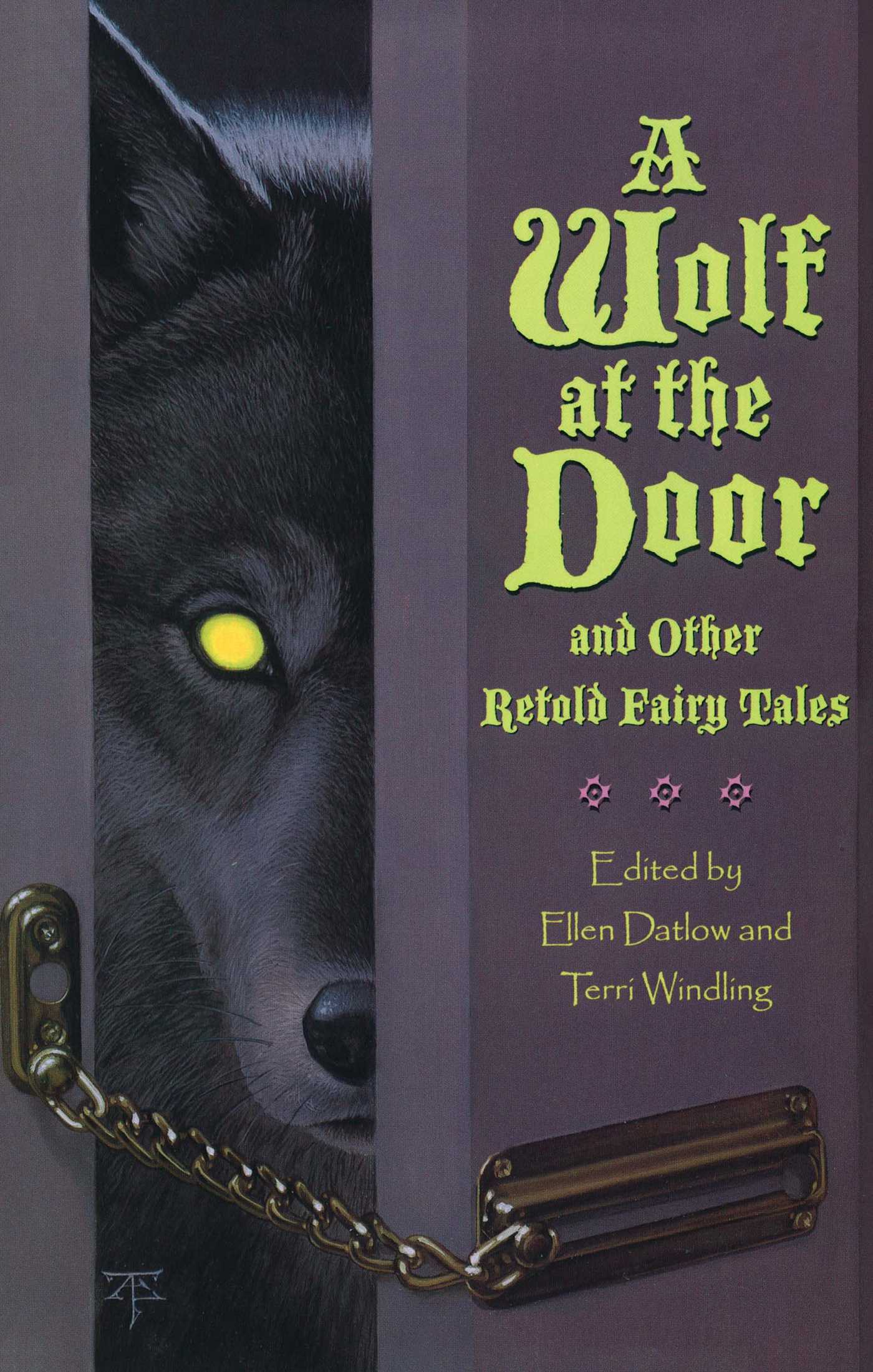 I love folk tales and fairy tales, and I love the idea of stories that have been told and retold, and then finally captured on paper. The problem of course, is finding an author who is good at translating stories from an oral tradition into something that works well written.
There's something wonderful about a well-told short story, and I think that the best short stories in the world are folk and fairy tales.
Ellen Datlow and Terri Windling are very good at finding authors who can take these stories and retell them, and they always put together wonderful anthologies. They brought together thirteen writers for this collection of retold fairy tales.
Although one or two of the stories I found to be just okay, others were nothing short of excellent. It also seems as if the stories were I liked the best were towards the end of the book. For me the collection started out okay, and then got better and better the more I read.
Delia Sherman's story, The Months of Manhattan is a retelling of one of my favorite folk tales, and although the moral remains the same--always try to have something nice to say--I was somewhat disappointed by the change in the ending. I thought that Janeen Webb's Ali Baba and the Forty Aliens did a better job modifying a familiar story without making it a bit too neat and pat. And considering some of the other stories in this collection, I'm not quite certain why the The Months of Manhattan ended the way it did.
...
Not that I think the purpose of these stories is necessarily to scare us, as much as it is to make us pay attention to what is happening around us.
Rating: 7/10
The Green Man : Tales from the Mythic Forest (2002) edited by Ellen Datlow & Terri Windling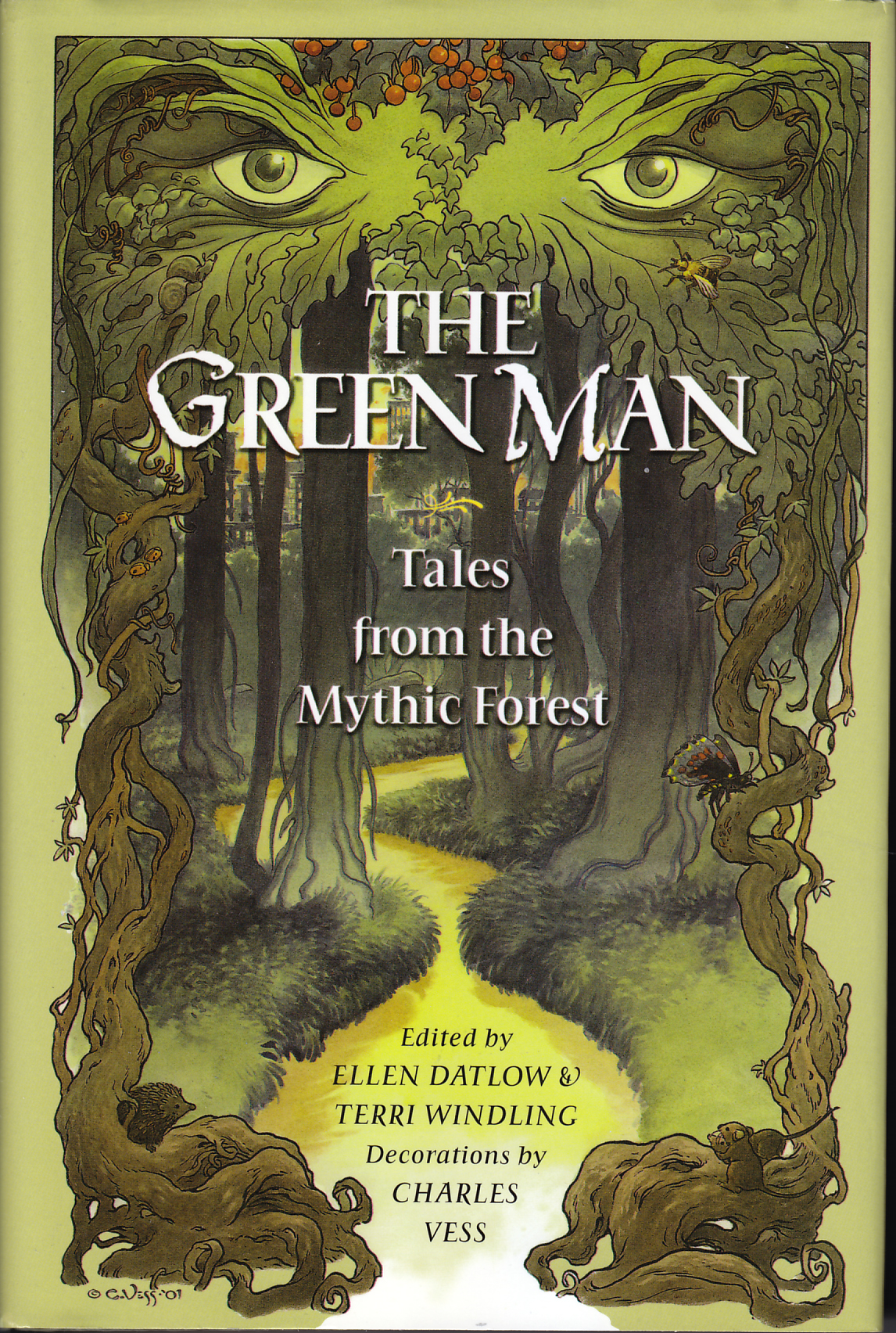 Going Wodwo (poem) - Neil Gaiman
Grand Central Park - Delia Sherman
Daphne - Michael Cadnum
Somewhere in My Mind There is a Painting Box - Charles deLint
Among the Leaves So Green - Tanith Lee
Song of the Cailleach Bheur (poem) - Jane Yolen
Hunter's Moon - Patricia A. McKillip
Charlie's Away - Midori Snyder
A World Painted by Birds - Katherine Vaz
Grounded - Nina Kiriki Hoffman
Overlooking - Carol Emshwiller
Fie, Fi, Fo, Fum - Gregory Maguire
Joshua Tree - Emma Bull
Ali anugne o chash (the boy who was) - Carolyn Dunn
Remnants - Kathe Koja
The Pagodas of Ciboure - M. Shayne Bell
The Green Man (poem) - Bill Lewis
The Green Word - Jeffrey Ford
Published by Viking
Firebirds (2003) edited by Sharyn November
Cotillion - Delia Sherman
The Baby In The Night Deposit Box - Megan Whalen Turner
Beauty - Sherwood Smith
Mariposa - Nancy Springer
Max Mondrosch - Lloyd Alexander
The Fall Of Ys - Meredith Ann Pierce
Medusa - Michael Cadnum
The Black Fox - Emma Bull ; Illustrations By Charles Vess
Byndley - Patricia A. Mckillip
The Lady Of The Ice Garden - Kara Dalkey
Hope Chest - Garth Nix
Chasing The Wind - Elizabeth E. Wein
Little Dot - Diana Wynne Jones
Remember Me - Nancy Farmer
Flotsam - Nina Kiriki Hoffman
The Flying Woman - Laurel Winter
Published by Firebird
The Faery Reel: Tales from the Twilight Realm (2004)edited by Ellen Datlow & Terri Windling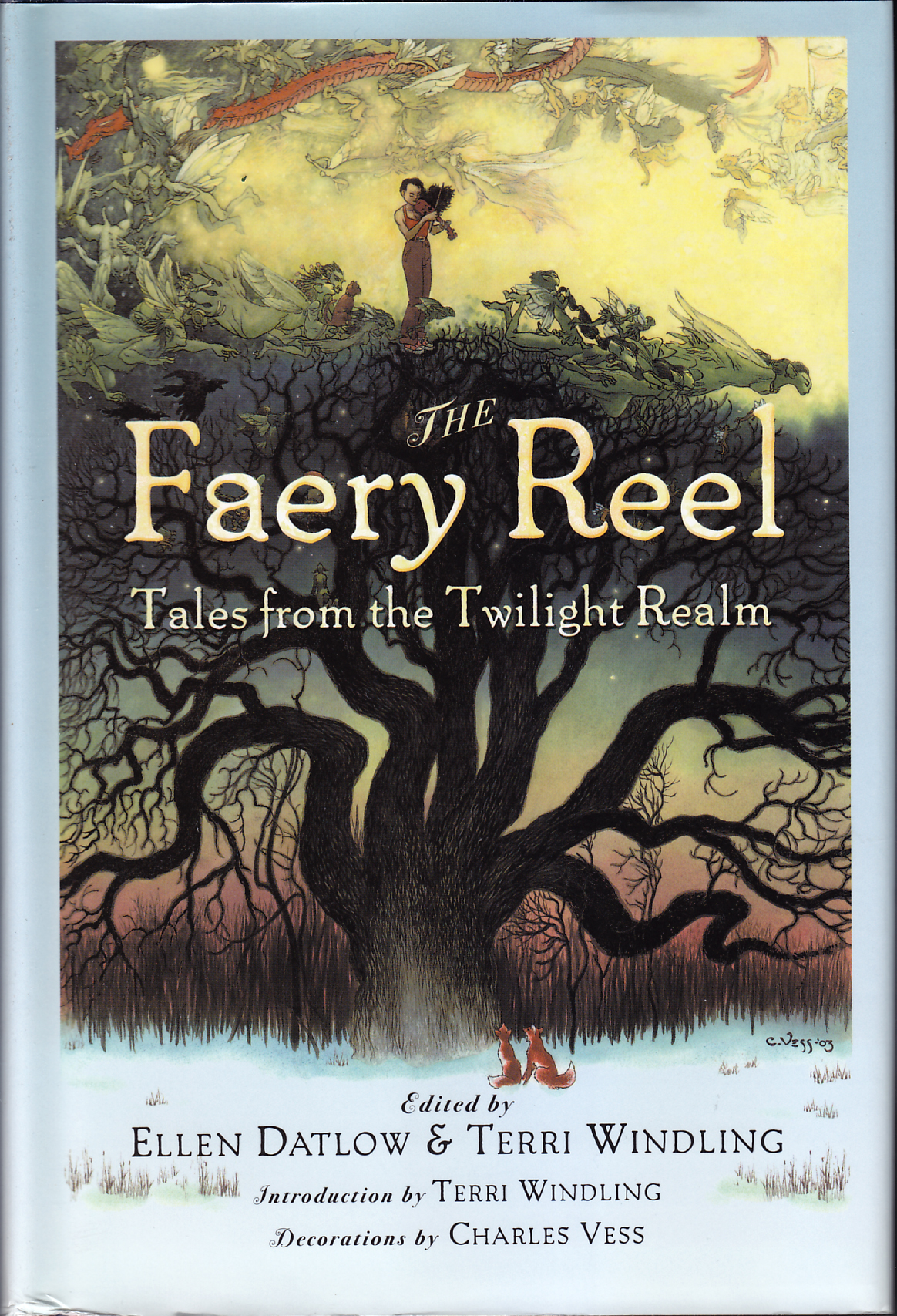 Any time I see a fantasy anthology edited by Ellen Datlow and Terri Windling, I'll often as not pick it up, because I know that it's going to be good. Usually very good. This volume however, has the added bonus of poems by both Charles de Lint and Neil Gaiman.
Needless to say I snatched it up--even thought it was in hardback--when I came across it.
These faery tales are based not upon the fairies of Disney but upon the faery of folktales. As they say in the introduction:
In this book about our good neighbors, we've asked a number of our favorite writers to travel into the Twilight Realm (an ancient name for the land of Faerie) and to bring back stories of faeries and the hapless mortals who cross their path. "No butterfly-winged sprites," we pleaded. "Read the old folktales, journey farther afield, find some of the less explored paths through the Realm.
It would be hard for me not to love this book.
...
Catnyp by Delia Sherman I quite liked; it reminded me a bit of a Charles de Lint story. In Catnyp, Faerie exists parallel to our world, and includes a New York Public Library that reminds me a bit of Terry Pratchett's library, only without the L-Space.
...
All in all an excellent anthology. But I hardly expected anything less.
Rating: 8/10
The Coyote Road: Trickster Tales (2007) edited by Ellen Datlow & Terri Windling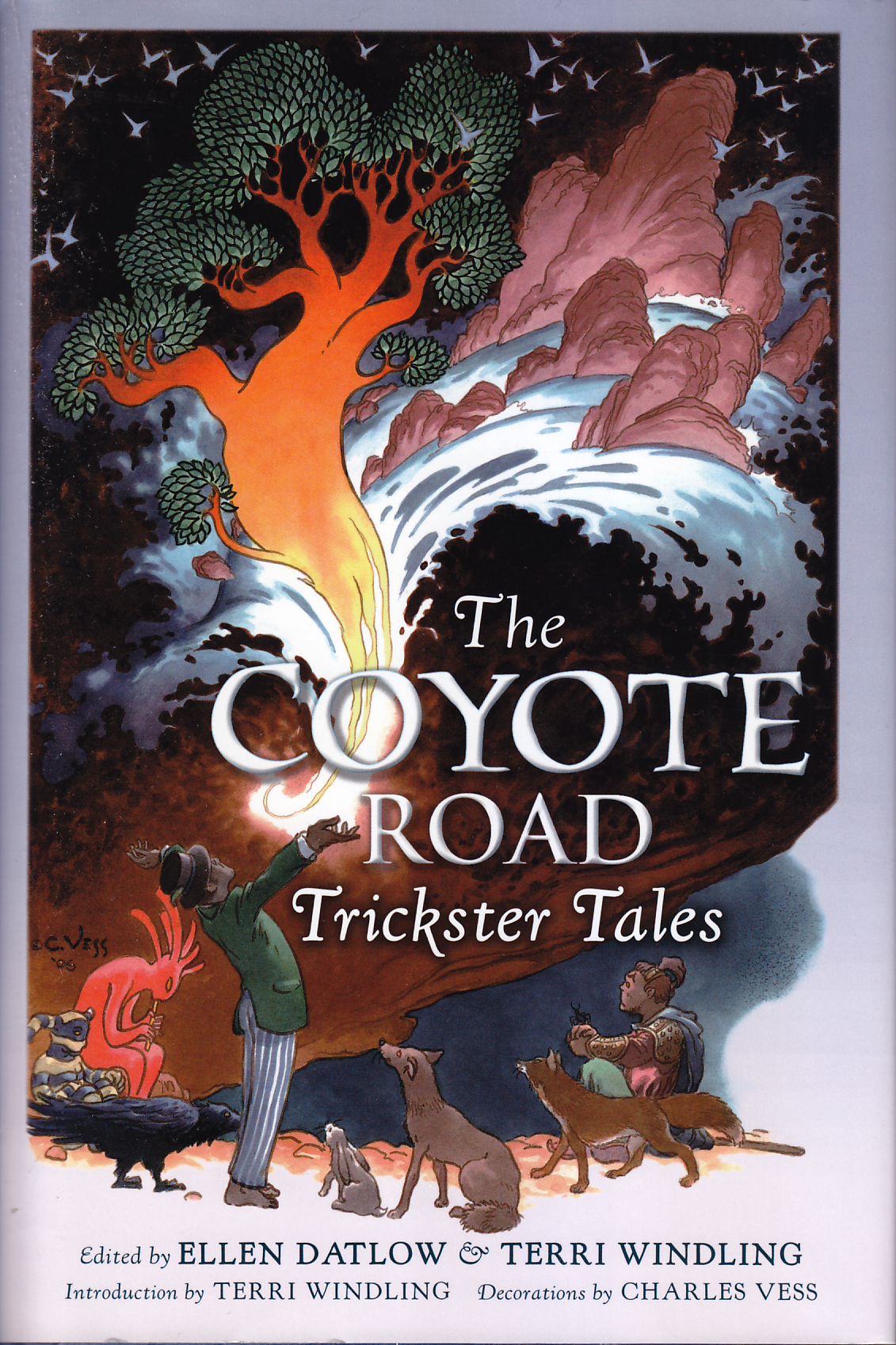 I love short stories. Aside from collections by Charles de Lint, I best love anthologies by Ellen Datlow & Terri Windling best. Their books are like comfort food, and I save them up for when I'm sick or feeling low.
In the same vein as The Green Man and The Faerie Reel,Datlow and Windling have this time collected stories about tricksters,and they've got some of my favorite authors in this collection: Charlesde Lint, Nina Kiriki Hoffman, Ellen Kushner. As usual, they manage tocollect stories by some of my favorite story tellers.
...
Besides those there, all the stories in this collection were good,and most were excellent. I especially enjoyed "The Fiddler of BayouTeche" by Delia Sherman, which is somewhat of a deal with the devilstory, except it's not really the devil, though for all he does, he mayas well be acting in the devil's stead.
...
If like short story collections, or trickster tales, then you will want to read The Coyote Road.It has stories from many of my favorite writers, and as with all theircollections, I was delighted to discover new authors for whom I'll beon the lookout.
Rating: 9/10
Troll's Eye View: A Book of Villainous Tales (2009) edited by Ellen Datlow & Terri Windling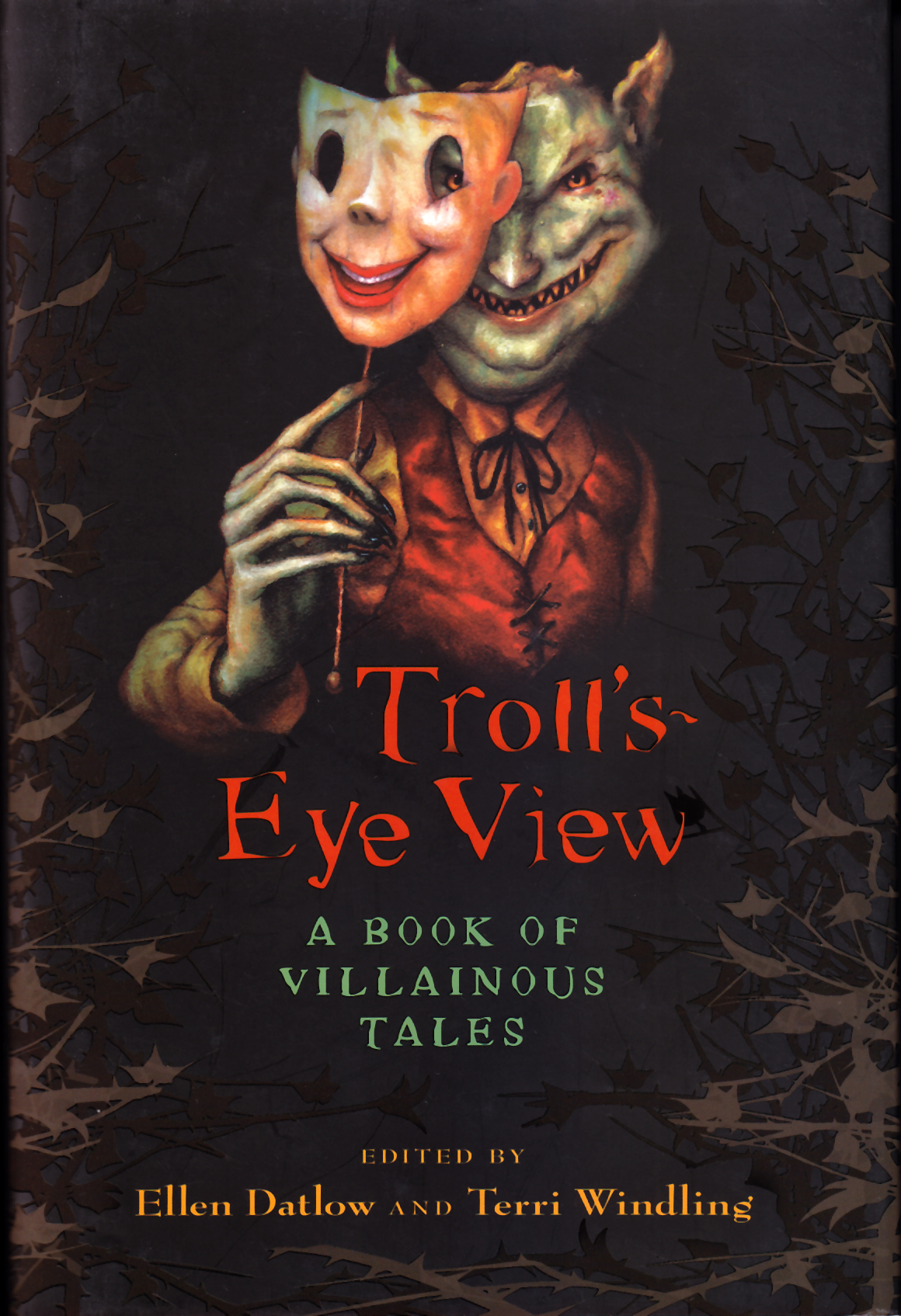 "Wizard's Apprentice" by Delia Sherman
"An Unwelcome Guest" by Garth Nix
"Faery Tales" by Wendy Froud
"Rags and Riches" by Nina Kiriki Hoffman
"Up the Down Beanstalk: A Wife Remembers" by PeterS. Beagle
"The Shoes That Were Danced to Pieces" by EllenKushner
"Puss in Boots, the Sequel" by Joseph Stanton
"The Boy Who Cried Wolf" by Holly Black
"Troll" by Jane Yolen
"Castle Othello" by Nancy Farmer
"'Skin" by Michael Cadnum
"A Delicate Architecture" by Catherynne M. Valente
"Molly" by Midori Snyder
"Observing the Formalities" by Neil Gaiman
"The Cinderella Game" by Kelly Link
Published by Viking Books for Young Readers
The Beastly Bride: Tales of the Animal People (2010) edited by Ellen Datlow & Terri Windling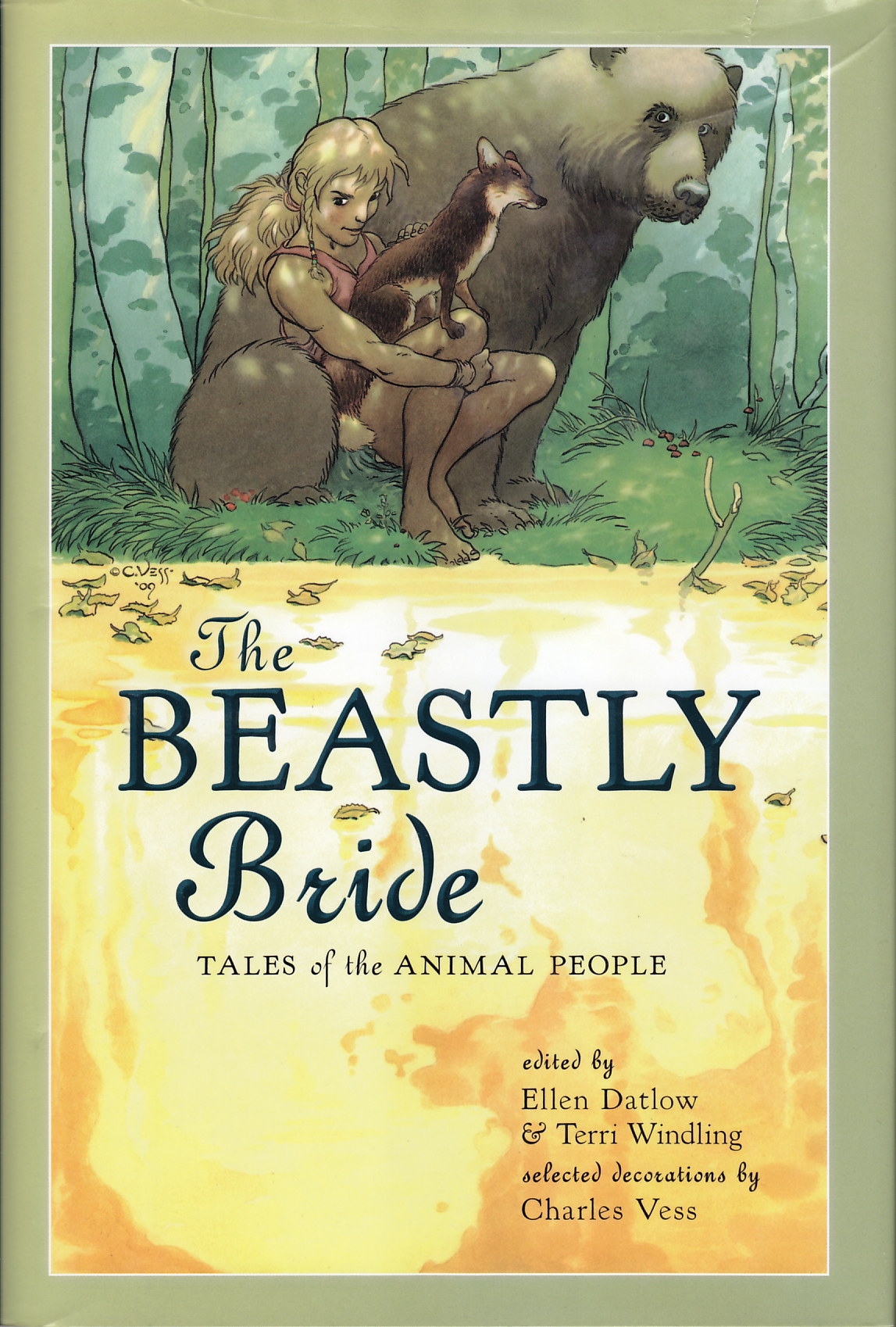 "Island Lake" by E. Catherine Tobler
"The Puma's Daughter" by Tanith Lee
"Map of Seventeen" by Christopher Barzak
"The Selkie Speaks" by Delia Sherman
"Bear's Bride" by Johanna Sinisalo
"The Abominable Child's Tale" by Carol Emshwiller
"The Hikikomori" by Hiromi Goto
"The Comeuppance of Creegus Maxin" by Gregory Frost
"Ganesha" by Jeffrey Ford
"The Elephant's Bride" by Jane Yolen
"The Children of Cadmus" by Ellen Kushner
"The White Doe Mourns Her Childhood" by Jeanine Hall Gailey
"The White Doe's Love Song" by Jeanine Hall Gailey
"The White Doe Decides" by Jeanine Hall Gailey
"Coyote and Valorosa" by Terra L. Gearheart
"One Thin Dime" by Stewart Moore
"The Monkey Bride" by Midori Snyder
"Pishaach" by Shweta Narayan
"The Salamander Fire" by Marly Youmans
"The Margay's Children" by Richard Bowes
"Thumbleriggery and Fledglings" by Steve Berman
"The Flock" by Lucius Shepard
"The Children of the Shark God" by Peter Beagle
"Rosina" by Nan Fry
Viking Books for Young Readers
The Way of the Wizard (2010) edited by John Joseph Adams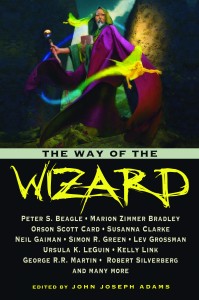 I love anthologies. They give me an escape in bite size pieces that won't keep me up past my bed time on a work night, and they also often a wonderful introduction to authors I have not read previously.
This anthology focuses upon wizards of all sorts, doing wizardly things, though not very many evil wizards.
...
Delia Sherman's story was "Wizard's Apprentice" was another story I'd read previously, but enjoyed just as well the second time through. I like how I thought it was going in one direction, but it then veered off someplace else completely. Also, what's not to like about an evil wizard running a used book store?
...
There were multiple stories I didn't care for, but on the whole, I found it a good and enjoyable collection. After all, I don't have to read the stories I don't like.
Published by Prime Books 
Rating: 7/10
Naked City (2011) edited by Ellen Datlow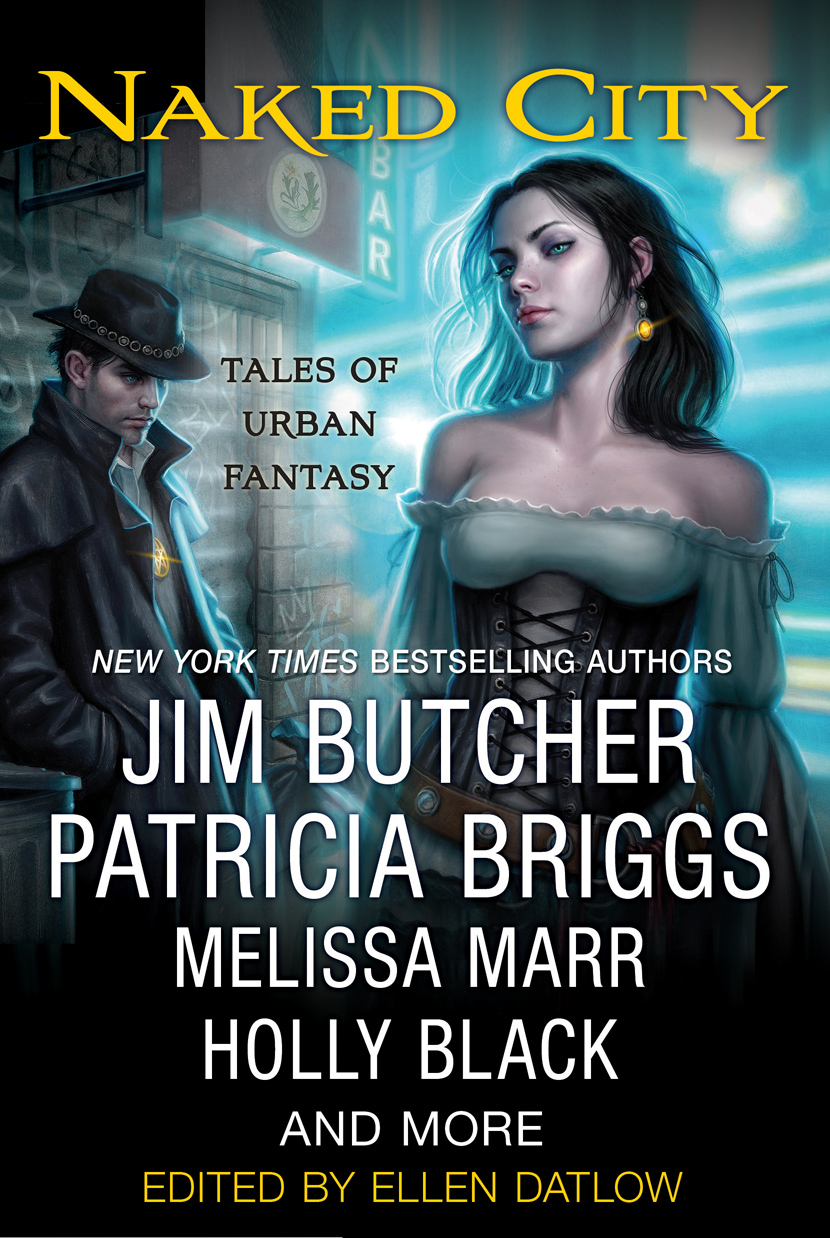 This collection of urban fantasy stories has several of my favorite authors, so it was a no-brainer to get. The bad thing is that I've been reading this collection for several months, so I now have no idea what the stories at the start of the anthology were about, which is dangerous, because it means I may end up accidentally rereading several of them.
...
Delia Sherman's story was next, "How the Pooka Came to New York City." It's 1855 and tells how a pooka came to NY with a human, Liam O'Casey.
...
Although there were several stories I didn't care for, I believe that was more a matter of personal taste than quality. And the stories I did like, I liked very much.
Published by St. Martin's Griffin
Rating: 8/10
Teeth: Vampire Tales (2011) edited by Ellen Datlow & Terri Windling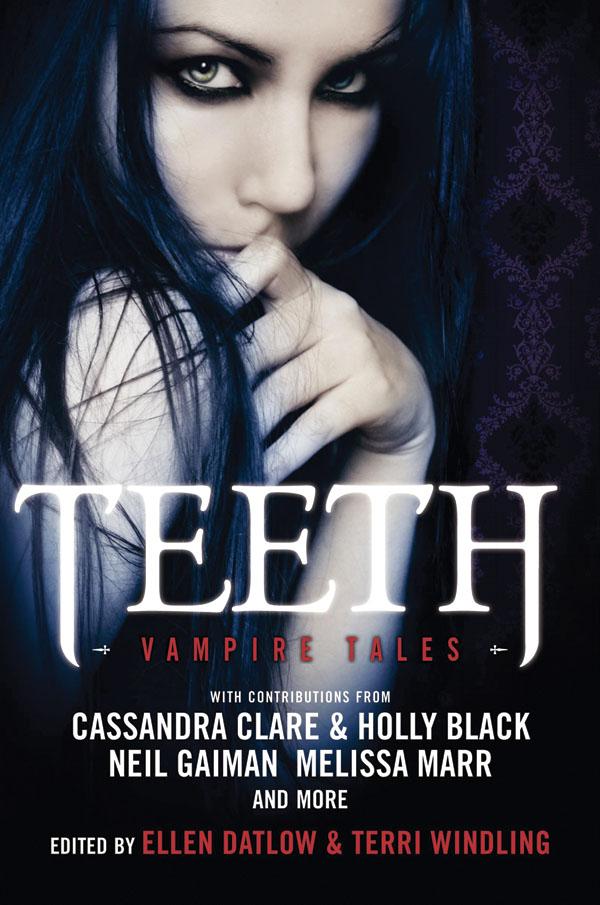 This is an Ellen Datlow and Terri Windling anthology, so as always, there are fascinating bits of folklore.
Rice, not garlic, was the most effective means of keeping Chinese vampires at bay, for they had a strange compulsion to count. Throwing rice at the ghost compelled it to stop; it would not move again until each grain was counted.
...
"Flying" by Delia Sherman was another favorite story. A young trapeze artist and her parents have to stop touring when she develops Leukemia, but Lenka misses the circus and wants more than anything to return.
...
As expected, this was a very good anthology, and although I didn't like the horror or the poetry, that's a failing of mine, not the anthology.
Published by Harper Collins
Rating: 8/10
Under My Hat: Tales from the Cauldron (2012) edited by Jonathan Strahan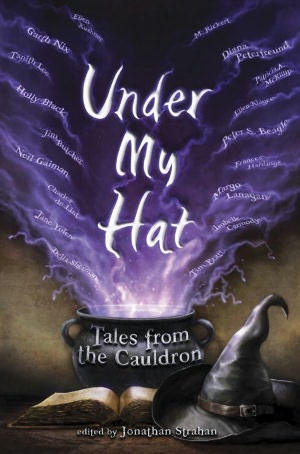 This is a lovely YA anthology, with some amazing stories by some of my favorite authors. I didn't love all the stories, but none of them were bad. The theme is young witches coming of age, but the stories are far greater than that.
...
"The Witch in the Wood" by Delia Sherman tells of a young woman meeting her true love, and how she breaks his enchantment.
...

Published by Random House
Rating: 9/10
Queen Victoria's Book of Spells: An Anthology of Gaslamp Fantasy (2013) edited by Ellen Datlow and Terri Windling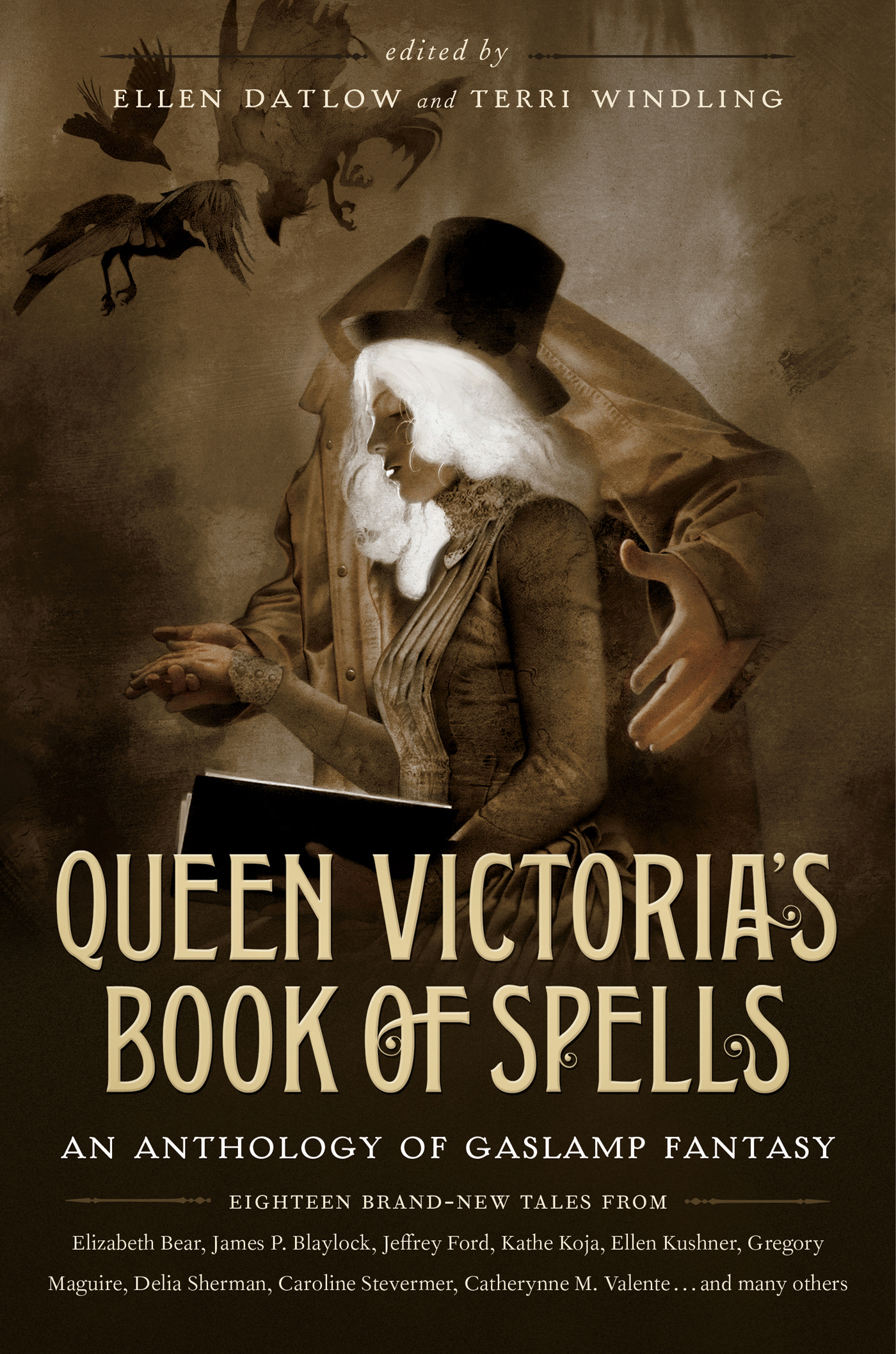 Queen Victoria's Book of Spells by Delia Sherman
The Fairy Enterprise by Jeffrey Ford
From the Catalogue of the Pavilion of the Uncanny and Marvellous, Scheduled for Premiere at the Great Exhibition (Before the Fire) by Genevieve Valentine
The Memory Book by Maureen McHugh
La Reine d'Enfer by Kathe Koja
For the Briar Rose by Elizabeth Wein
The Governess by Elizabeth Bear
Smithfield by James P. Blaylock
The Unwanted Women of Surrey by Kaaron Warren
Charged by Leanna Renee Hieber
Mr. Splitfoot by Dale Bailey
Phosphorus by Veronica Schanoes
We Without Us Were Shadows by Catherynne M. Valente
The Vital Importance of the Superficial by Ellen Kushner and Caroline Stevermer
The Jewel in the Toad Queen's Crown by Jane Yolen
A Few Twigs He Left Behind by Gregory Maguire
Their Monstrous Minds by Tanith Lee
Estella Saves the Village by Theodora Goss
I love anthologies and I love historical fiction. So this should have been an automatic win for me.
Instead it was a two-plus year slog that I finally forced myself to finish.
Queen Victoria's Book of Spells by Delia Sherman is the story of an historical researcher looking for new material on the beloved queen, when she discovers hidden material under Victoria's childhood sleep book.
From the moment her father, the Duke of Kent, died, when Victoria was eight months old, to the moment she became queen of England at eighteen, her mother and Sir John Conroy, her mother's treasurer and secretary, oversaw every aspect of her life. They developed something they called the Kensington System, after the palace King George IV had given them to live in, designed to keep the young princess safe from infection, accident, and making her own decisions.
...
Published by Tor
Magic City: Recent Spells (2014) edited by Paula Guran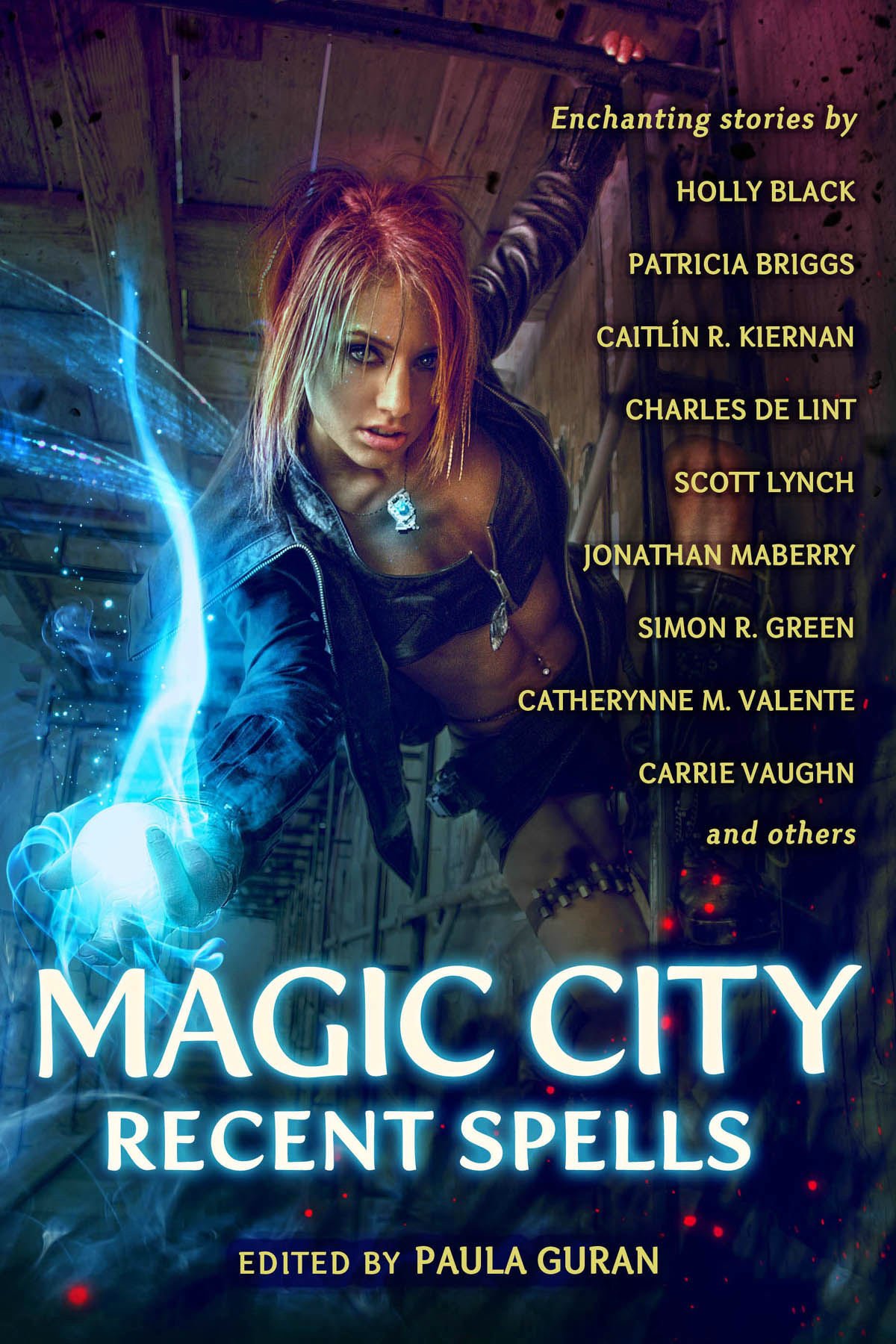 Table of Contents
"Street Wizard" by Simon R. Green
"Paranormal Romance" by Christopher Barzak
"Grand Central Park" by Delia Sherman
"Spellcaster 2.0" by Jonathan Maberry
"Wallamelon" by Nisi Shawl
"-30-" by Caitlín R. Kiernan
"Seeing Eye" by Patricia Briggs
"Stone Man" by Nancy Kress
"In the Stacks" by Scott Lynch
"A Voice Like a Hole" by Catherynne M. Valente
"The Arcane Art of Misdirection" by Carrie Vaughn
"Thief of Precious Things" by A.C. Wise
"The Land of Heart's Desire" by Holly Black
"Snake Charmer" by Amanda Downum
"The Slaughtered Lamb" by Elizabeth Bear
"The Woman Who Walked with Dogs" by Mary Rosenblum
"Words" by Angela Slatter
"Dog Boys" by Charles de Lint
"Alchemy" by Lucy Sussex
"Curses" by Jim Butcher
"De la Tierra" by Emma Bull
"Stray Magic" by Diana Peterfreund
"Kabu Kabu" by Nnedi Okorafor
"Pearlywhite" by Mark Laidlaw & John Shirley
...
"Grand Central Park" by Delia Sherman starts like this:
When I was little, I used to wonder why the sidewalk trees had iron fences around them. Even a city kid could see they were pretty weedy looking trees. I wondered what they'd done to be caged up like that, and whether it might be dangerous to get too close to them.
With a start like that, how can you resist?
...
All in all this is a marvelous collection, that I highly recommend.
Published by Prime Books
Rating: 8.5/10
Street Magicks (2016) edited by Paula Guran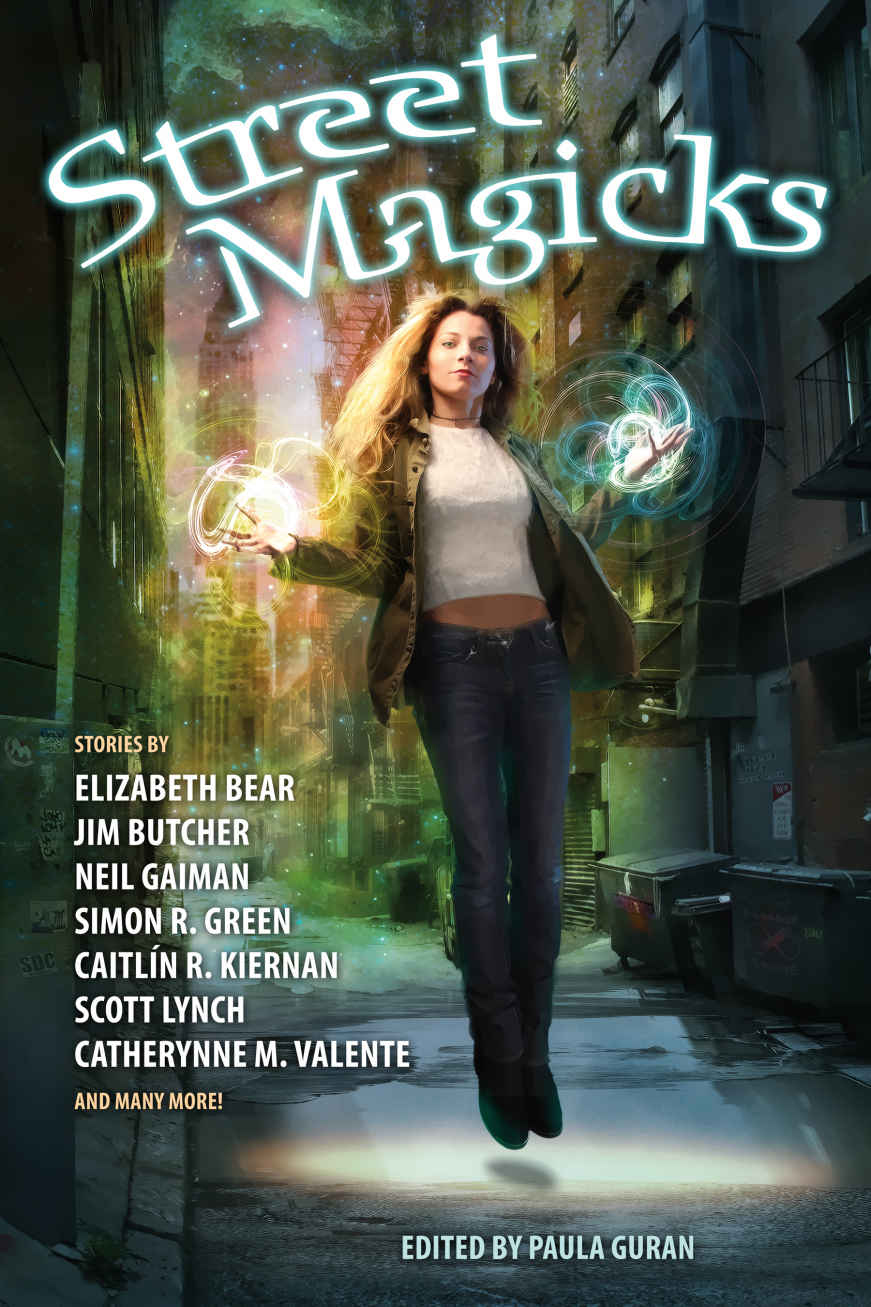 I believe it took me less than a year to finish this anthology. Hopefully this is a new trend for me.
"Freewheeling" by Charles de Lint
"A Year and a Day in Old Theradane" by Scott Lynch
"Caligo Lane" by Ellen Klages
"Socks" by Delia Sherman
"Painted Birds and Shivered Bones" by Kat Howard
"The Goldfish Pond and Other Stories" by Neil Gaiman
"One-Eyed Jack and the Suicide King" by Elizabeth Bear
"Street Worm" by Nisi Shawl
"A Water Matter" by Jay Lake
"Last Call" by Jim Butcher
"Bridle" by Caitlín R. Kiernan
"The Last Triangle" by Jeffrey Ford
"Working for the God of the Love of Money" by Kaaron Warren
"Hello, Moto" by Nnedi Okorafor
"The Spirit of the Thing: A Nightside Story" by Simon R. Green
"A Night in Electric Squidland" by Sarah Monette
"Speechless in Seattle" by Lisa Silverthorne
"Palimpsest" by Catherynne M. Valente
"Ash" by John Shirley
"In Our Block" by R. A. Lafferty
...
"Socks" by Delia Sherman is the story of a girl with an affliction who finds her voice.
...
An interesting collection, although there were a lot of stories that were not for me.
Published by Prime Books
Rating: 7/10