Books
The Heavenly Fox (2011)
Anthologies: A Magic-Lover's Treasury of the Fantastic(1998), Twice Upon A Time (1999), Year's Best Fantasy (2001),Year's Best Fantasy 2 (2002),Weird Detectives: Recent Investigations (2013)
The Heavenly Fox (2011)
A fox who reaches the age of fifty gains the ability to transform into a human woman. A fox who reaches the age of one hundred can transform into either a beautiful young girl or a handsome young man at will and can sense the world around them to a distance of over four hundred leagues. A fox who reaches the age of one thousand years, however, becomes a Heavenly Fox, an Immortal of great power, able to commune with the gods themselves.
That blurb seems the easiest way to explain the mythology.
Springshadow is a fox who is days away from becoming immortal. There is a price to pay for immortality: she must steal the chi of mortal men, but she has tried very hard not to kill those men.
I had not idea what to expect from this story, and with no expectations, the story simply unfolded before me, something I enjoyed.
Please be aware that this is a novella, so it's a slim book a few hundred pages long. One could hope that this will at some point be available in an eBook edition, so the price is a little less steep.
Rating: 8/10
Published by PS Publishing
Anthologies
A Magic-Lover's Treasury of the Fantastic (1998) edited byMargaret Weis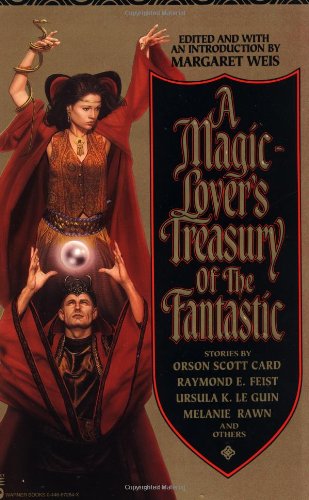 Gwydion And The Dragon -C.J. Cherryh
Misericorde - Karl Edward Wagner
The Barbarian - Poul Anderson
The Silk And The Song - Charles L. Fontenay
Mirror, Mirror On The Lam -Tanya Huff
Chivalry -Neil Gaiman
Firebearer - Lois Tilton
The Bully And The Beast -Orson Scott Card
A Time For Heroes -Richard Parks
The Cup And The Cauldron -Mercedes Lackey
The Lands Beyond The World - Michael Moorcock
Published by Aspect
Twice Upon A Time (1999) edited by Denise Little
Fairy tales seen from another perspective--the wife of the giant from the story of Jack and the Beanstalk. The hunter in the tale of Little Red Riding Hood. The Wolf who appears in multiple tales.
This book is hit and miss. Some of the stories are excellent, others are so-so. The idea of retold fairy tales is an excellent one, unfortunately not all the stories in this collection were able to pull it off as well as it should be done.
(What I found interesting is that although no single story was a retelling of Hansel and Gretel, they still managed to show up in several different tales.)
Spinning a Yarn -Jody Lynn Nye
How I Came To Marry a Herpetologist -Nina Kiriki Hoffman
Puck in Boots, the True Story - Connie Hirsch
Case #285B -Ester M. Friesner
Beanstalk Incident -Jane Lindskold
Gilly the Goose Girl - Nancy Springer
Fifi's Tale - Alan Rodgers
Thy Golden Stair -Richard Parks
True Love (Or the Many Brides of Prince Charming) - Todd Fahnestock And Giles Custer
Savior -John Helfers
Wolf at the Door - Lupita Shepard
Castle and Jack - Tim Waggoner
Baron Boscov's Bastard - Jacey Bedford
Emperor's New (And Improved) Clothes - Leslie What
One Fairy Tale, Hard-Boiled - P. Andrew Miller
Feeding Frenzy or the Further Adventures of The Frog Prince -Josepha Sherman
A Leg Up or the Constant Tin Soldier (Gonzo Version) - Gary A. Braunbeck
Mrs. Myrtle Montegrande vs. the Vegetable Stalker/Slayer - Elizabeth Ann Scarborough
Of the rest of the tales, some were good, some less so. I'd pick it up if I saw it used, but I don't think it's worth the $6.99 cover price.
Rating: 5/10
Year's Best Fantasy (2001)
I'm a sucker for short story collections--I love short stories, and fantasy collections are my favorite, so if I come across a collection, I usually buy it. This has, of course, led to some rather poor choices, such as "The Sorcerer's Academy" and "Earth, Air, Fire, Water", neither of which I've been able to finish. But for the most part collections tend to be good, and help to give me that reading fix, at times when I just can't get involved in a novel.
I'm not certain that I'd agree with the tag at the top of the book "A dazzling treasury of stories," but it is a nice collection. Some stories I liked, other I didn't care as much for, but on the whole it is a good collection.
The Hunger of the Leaves - Joel Lane
Greedy Choke Puppy - Nalo Hapkinson
The Golem - Naomi Kritzer
The Devil Disinvests - Scott Bradfield
A Serpent in Eden - Simon Brown and Alison Tokley
Wrong Dreaming - Kain Massin
Mom and Dad at the Home Front -Sherwood Smith
The Fey - Renee Bennett
GOlden Bell, Seven, and the Marquis of Seng -Richard Parks
Making a Noise in the WOrld -Charles de Lint
Magic, Maples, and Maryanne - Robert Sheckley
The Prophecies at Newfane Asylum - Don Webb
The Window - Zoran Zivkovic
And Still She Sleeps - Greg Costikyan
The Walking Sticks - Gene Wolfe
Debt of Bones -Terry Goodkind
"Hunger of the Leaves" by Joel Lane was one story that particularly struck me--it was more horror than fantasy, but still good. Although from a biological point of view, I did take issue with the premise of the tale. I also liked "The Golem" by Naomi Kritzer, but then I've always been fond of golem tales and Jewish folklore. This story has many of the elements I like about folklore--especially the dark side of the tale.
Scott Bradfield's "The Devil Disinvests" was very short, and very good. There's something about very short stories that are well done that is perfect. "Magic, Maples, and Maryanne" by Robert Sheckley I also liked, although like many of the stories in this collection, it was set in modernish times rather than a fantasy realm (as one would be lead to believe by the cover of the book.)
I have two other collection, volumes two and three, of which I've read volume three I believe. I'm not sure that they live up to the year'sbest fantasy, but the stories are good.
Year's Best Fantasy 2 (2002) edited byDavid G. Hartwell
"The Finder" byUrsula K LeGuin
"Senator Bilbo" by Andy Duncan
"Big City Littles" byCharles de Lint
"What the Tyger Told Her" by Kage Baker
"In the Shadow of Her Winds" by Ashok Banker
"The Heart of the Hill" by Marion Zimmer Bradley &Diana L. Paxson
"Queen" by Gene Wolfe
"The Black Heart" by Patrick O' Leary
"On the Wall" byJo Walton
"Hell is the Absence of God" by Ted Chiang
"The Man Who Stole the Moon" byTanith Lee
"Firebird by R. Garcia Robertson
"My Case for Retributive Action" by Thomas Ligotti
"The Shadow" by Thomas M. Disch
"Stitchery" by Devon Monk
"To Others We Know Not Of" by Kate Riedel
"The Lady of the Winds" by Poul Anderson
"His Own Back Yard" by James P. Blaylock
"A Place to Begin" byRichard Parks
"Nucleon" by David D. Levine
"My Stolen Sabre" by Uncle River
"Apologue" by James Morrow
Published by Harper Voyager
Weird Detectives: Recent Investigations (2013) edited byPaula Guran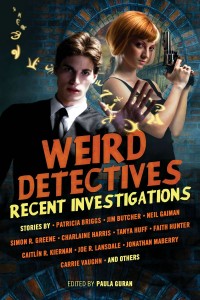 This is a collection of short stories previously published elsewhere, so I'd already read several of these stories. But there were several I had not, and several of the ones I'd read before were well worth reading again.
This book has been sitting around for awhile, waiting to be read, primarily because I got it in trade paperback, and it's huge and heavy–just the kind of book I hate reading. Too heavy and too bulky for comfortable reading. But the stories drew me in and didn't let me go. (Though the book itself was why I lacked patience for stories I'd recently read or didn't catch my interest immediately.)
"The Key" by Ilsa J. Blick
"The Nightside, Needless to Say" bySimon R. Green
"The Adakian Eagle" byBradley Denton
"Love Hurts" byJim Butcher
"The Case of Death and Honey" byNeil Gaiman
"Cryptic Coloration" byElizabeth Bear
"The Necromancer's Apprentice" by Lillian Stewart Carl
"The Case of the Stalking Shadow" byJoe R. Lansdale
"Hecate's Golden Eye" byP.N. Elrod
"Defining Shadows" byCarrie Vaughn
"Mortal Bait" by Richard Bowes
"Star of David" byPatricia Briggs
"Imposters" by Sarah Monette
"Deal Breaker" byJustin Gustainis
"Swing Shift" byDana Cameron
"The Beast of Glamis" by William Meikle
"Signatures of the Dead" byFaith Hunter
"Like a Part of the Family" byJonathan Maberry
"Fox Tails" byRichard Parks
"Death by Dahlia" byCharlaine Harris
"Sherlock Holmes and the Diving Bell" by Simon Clark
"See Me" byTanya Huff
"The Maltese Unicorn" byCaitlín R. Kiernan
Initially, I was just going to flip through and read stories by authors I love, but then I ended up just reading straight through. Having no patience, if I story didn't immediately grab hold, I didn't finish it, and if I hadn't thoroughly enjoyed it the first time (or had read the story very recently), I didn't give it a second read.
...
"Fox Tails" by Richard Parks is set in a mythical Japan, and I've read and enjoyed his stories before, but the mix of historical Japanese with noir detective just didn't work for me. Which is too bad because I liked the mystery, just not the tone of the main character.
...
As I said, this contained a lot of stories I'd read previously, but they are for the most part good stories, so if you don't have the original anthologies, this would be well worth getting.
Rating: 8/10