Books
The Heavenly Fox (2011)
Anthologies
A Magic-Lover's Treasury of the Fantastic (1998), Twice Upon A Time (1999), Year's Best Fantasy (2001), Year's Best Fantasy 2 (2002), Year's Best Fantasy 5 (2005), Weird Detectives: Recent Investigations (2013)
The Heavenly Fox (2011)
A fox who reaches the age of fifty gains the ability to transform into a human woman. A fox who reaches the age of one hundred can transform into either a beautiful young girl or a handsome young man at will and can sense the world around them to a distance of over four hundred leagues. A fox who reaches the age of one thousand years, however, becomes a Heavenly Fox, an Immortal of great power, able to commune with the gods themselves.
That blurb seems the easiest way to explain the mythology.
Springshadow is a fox who is days away from becoming immortal. There is a price to pay for immortality: she must steal the chi of mortal men, but she has tried very hard not to kill those men.
I had not idea what to expect from this story, and with no expectations, the story simply unfolded before me, something I enjoyed.
Please be aware that this is a novella, so it's a slim book a few hundred pages long. One could hope that this will at some point be available in an eBook edition, so the price is a little less steep.
Published by PS Publishing
Rating: 8/10
Anthologies
A Magic-Lover's Treasury of the Fantastic (1998) edited by Margaret Weis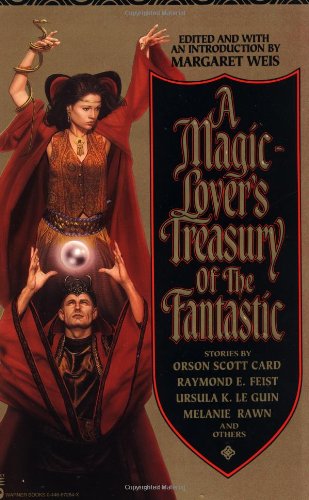 Published by Aspect
Twice Upon A Time (1999) edited by Denise Little
Fairy tales seen from another perspective--the wife of the giant from the story of Jack and the Beanstalk. The hunter in the tale of Little Red Riding Hood. The Wolf who appears in multiple tales.
This book is hit and miss. Some of the stories are excellent, others are so-so. The idea of retold fairy tales is an excellent one, unfortunately not all the stories in this collection were able to pull it off as well as it should be done.
(What I found interesting is that although no single story was a retelling of Hansel and Gretel, they still managed to show up in several different tales.)
Of the rest of the tales, some were good, some less so. I'd pick it up if I saw it used, but I don't think it's worth the $6.99 cover price.
Rating: 5/10
Year's Best Fantasy (2001) edited by David G. Hartwell
I'm a sucker for short story collections--I love short stories, and fantasy collections are my favorite, so if I come across a collection, I usually buy it. This has, of course, led to some rather poor choices, such as "The Sorcerer's Academy" and "Earth, Air, Fire, Water", neither of which I've been able to finish. But for the most part collections tend to be good, and help to give me that reading fix, at times when I just can't get involved in a novel.
I'm not certain that I'd agree with the tag at the top of the book "A dazzling treasury of stories, " but it is a nice collection. Some stories I liked, other I didn't care as much for, but on the whole it is a good collection.
"Hunger of the Leaves" by Joel Lane was one story that particularly struck me--it was more horror than fantasy, but still good. Although from a biological point of view, I did take issue with the premise of the tale. I also liked "The Golem" by Naomi Kritzer, but then I've always been fond of golem tales and Jewish folklore. This story has many of the elements I like about folklore--especially the dark side of the tale.
Scott Bradfield's "The Devil Disinvests" was very short, and very good. There's something about very short stories that are well done that is perfect. "Magic, Maples, and Maryanne" by Robert Sheckley I also liked, although like many of the stories in this collection, it was set in modernish times rather than a fantasy realm (as one would be lead to believe by the cover of the book.)
I have two other collection, volumes two and three, of which I've read volume three I believe. I'm not sure that they live up to the year'sbest fantasy, but the stories are good.
Year's Best Fantasy 2 (2002) edited by David G. Hartwell
Published by Harper Voyager
Year's Best Fantasy 5 (2005) edited by David G. Hartwell and Kathryn Cramer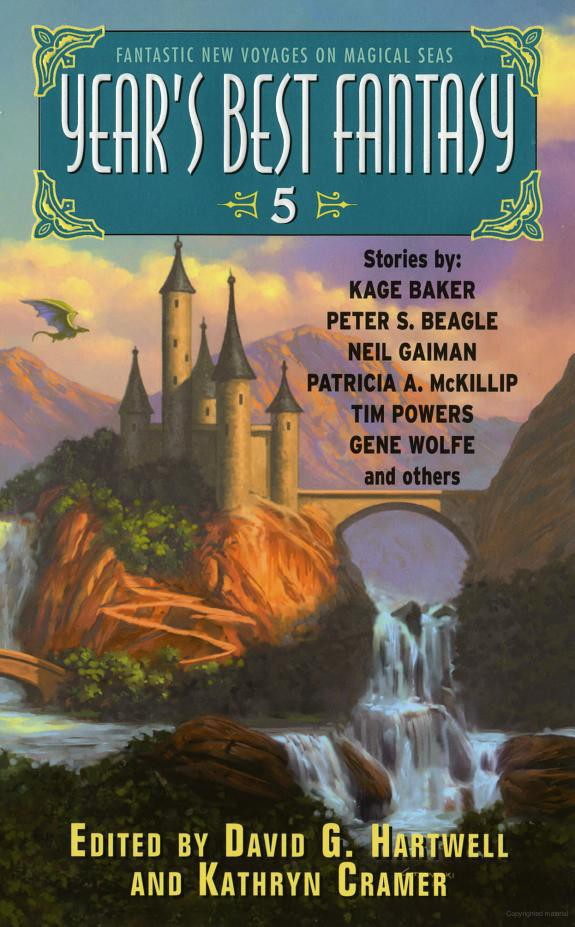 Publisher: Harper Voyager
Weird Detectives: Recent Investigations (2013) edited by Paula Guran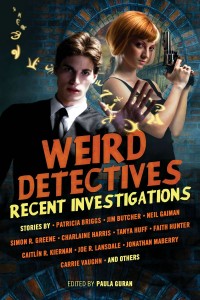 This is a collection of short stories previously published elsewhere, so I'd already read several of these stories. But there were several I had not, and several of the ones I'd read before were well worth reading again.
This book has been sitting around for awhile, waiting to be read, primarily because I got it in trade paperback, and it's huge and heavy–just the kind of book I hate reading. Too heavy and too bulky for comfortable reading. But the stories drew me in and didn't let me go. (Though the book itself was why I lacked patience for stories I'd recently read or didn't catch my interest immediately.)
Initially, I was just going to flip through and read stories by authors I love, but then I ended up just reading straight through. Having no patience, if I story didn't immediately grab hold, I didn't finish it, and if I hadn't thoroughly enjoyed it the first time (or had read the story very recently), I didn't give it a second read.
"Fox Tails" by Richard Parks is set in a mythical Japan, and I've read and enjoyed his stories before, but the mix of historical Japanese with noir detective just didn't work for me. Which is too bad because I liked the mystery, just not the tone of the main character.
As I said, this contained a lot of stories I'd read previously, but they are for the most part good stories, so if you don't have the original anthologies, this would be well worth getting.
Rating: 8/10