Books: Fantasy
Anthologies 
Little Red Riding Hood in the Big Bad City (2004), Children of Magic (2006), Firebirds Rising (2006), Better Off Undead (2008), The Mad Scientist's Guide to World Domination: Original Short Fiction for the Modern Evil Genius (2013)
Grails: Quests of the Dawn (2004) edited by Richard Gilliam and Martin H. Greenberg
The Question Of The Grail by Jane Yolen
The Cup And The Cauldron by Mercedes Lackey
The Which Overfloweth by Andre Norton
Chalice Of Tears, Or I Didn't Want That Damm Grail Anyway by Marion Zimmer Bradley
The Feast And The Fisher King by Diana L. Paxon
The Gift Of Gilthaliad by Brad Strickland
Curse Of The Romany by Ilona Ouspenskaya
Dagda by James S. Dorr
The Sailor Who Sailed After The Sun by Gene Wolfe
Water by Lee Hoffman
What You See... by Alan Dean Foster
Storyville, Tennessee by Richard Gilliam
Somewhere In Her Dying Heart by Lisa Lepovetsky
Hell-Bent For Leather by Jeremiah E. Phipps
Atlantis by Orson Scott Card
Invisible Bars by Dean Wesley Smith
That Way Lies Camelot by Janny Wurts
Hitchiking Across An Ancient Sea by Kristine Kathryn Rusch
Visions by Lawrence Watt-Evans
The Awful Truth In Arthur's Barrow by Lionel Fenn
Reunion by Brian M. Thomsen
Quest Now by Margo Skinner
Chivalry by Neil Gaiman
Falling To The Edge Of The End Of The World by Bruce D. Arthurs
Greggie's Cup by Rick Wilber
The Grail Legend: An Afterword by Fritz Leiber
Published by ROC
Little Red Riding Hood in the Big Bad City (2004) edited by Martin H. Greenberg & John Helfers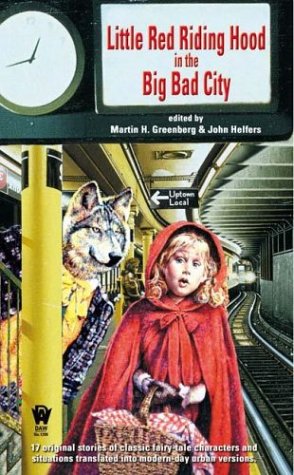 Mallificent by Nina Kiriki Hoffman
The Last Day Of The Rest by Russell Davis
Jack And The B.S. by Tanya Huff
Panhandler by Alan Dean Foster
Trading Fours With The Moldy Figs by Jean Rabe
Signs Are Hazy, Ask Again Later by Fiona Patton
Puss In D.C. by Pamela Sargent
A Faust Films Production by Janeen Webb
Brownie Points by Elizabeth Gilligan
After The Flowering by Janet Berliner
Little Red In The 'Hood by Irene Radford
Exterminary by Patricia Lee Macomber
The Nightingale by Dena Bain Taylor
Meet Mr. Hamlin by Bill Willingham
If You Only Knew My Name by David Niall Wilson
Keeping It Real by Jody Lynn Nye
The Rose Garden by Michelle West
Published by DAW
Children of Magic (2006) edited by Martin H. Greenberg & Kerrie Hughes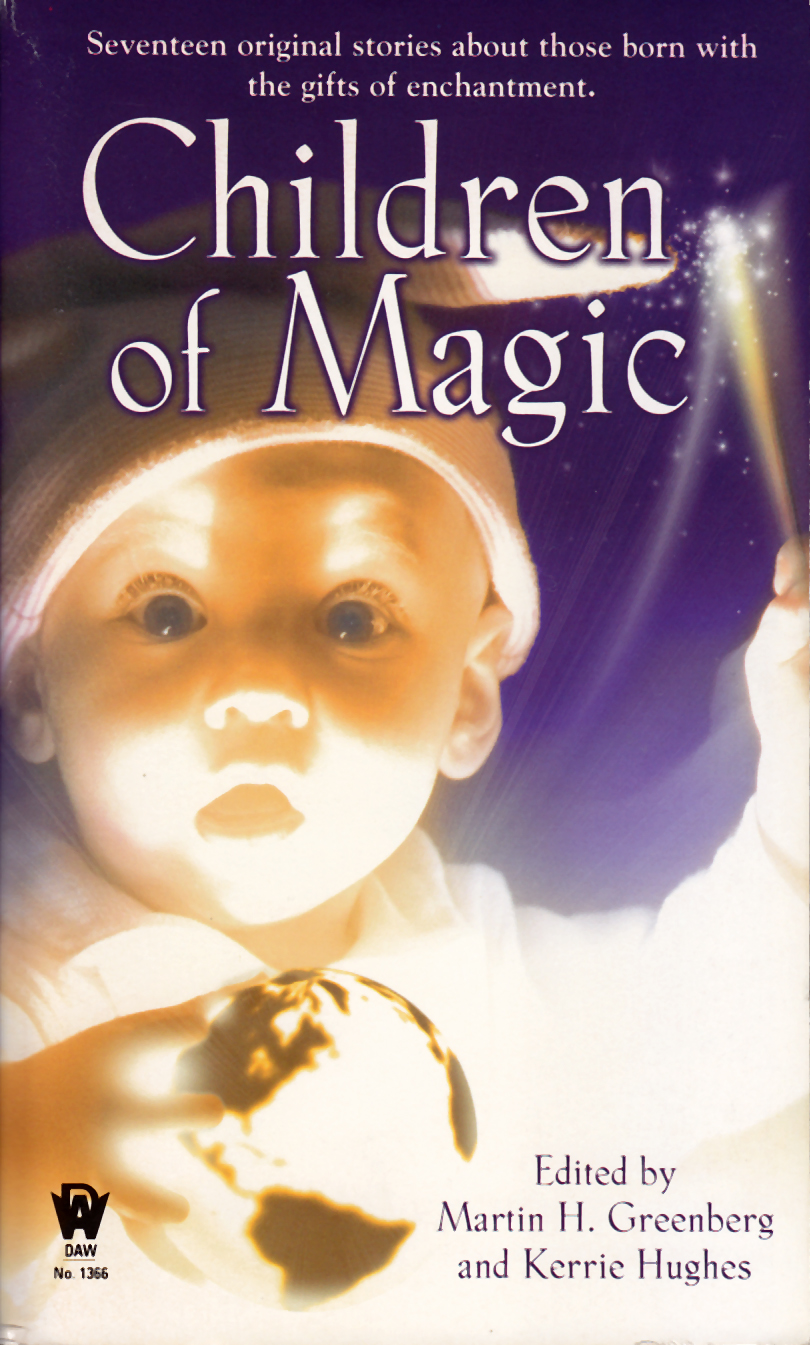 As I have mentioned on many previous occasions, I am a huge fan of short stories. Occasionally I have been disappointed, but for the most part the anthologies I have read have good, especially the one edited by Martin H. Greenberg.
The theme of Children of Magic is (as you would guess from the title) children with magic and the ability to change the world around them. The major problem with this review, however, is that I only read a one or two stories at a time, and then left the book on the headboard for a few weeks while I was reading something else (anthologies are good for that). So it actually took me several months to read Children of Magic as it dropped to the bottom of the pile in favor of whatever I was currently reading during the day (or sometimes something more boring, to put me to sleep.)
Published by DAW
Firebirds Rising (2006) edited by Sharyn November
This is a collection of fantasy, urban fantasy (minus the boinking) and science fiction. Interestingly, I didn't mind most of the science fiction too much, though they weren't my favorite stories in the collection.
Published by Firebird
Rating: 7/10
Better Off Undead (2008) edited by Martin H. Greenberg & Daniel M. Hoyt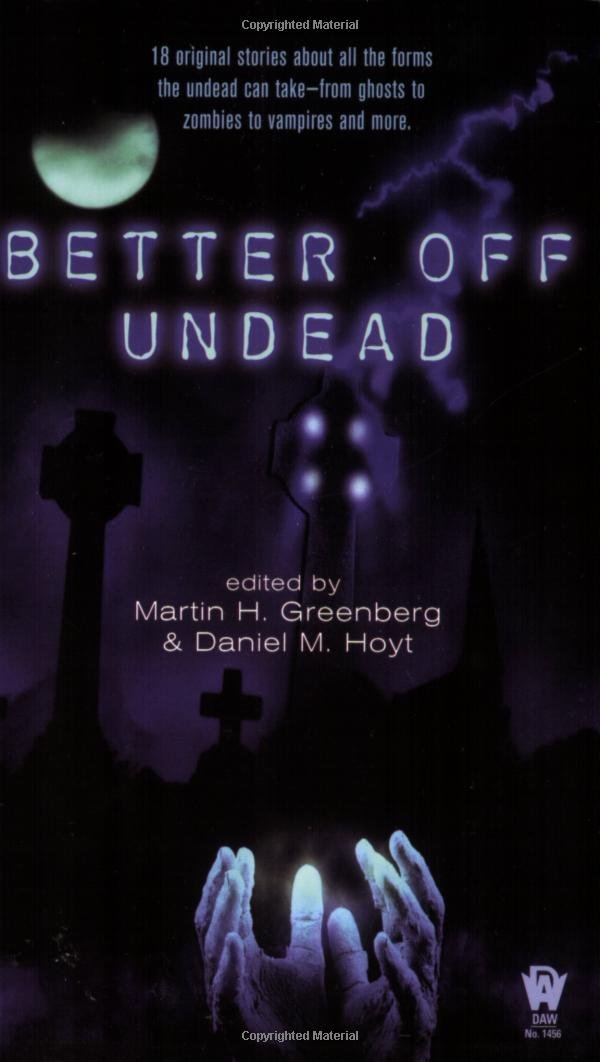 Anthologies edited by Martin H. Greenberg are usually ones I can pick up knowing that I'll like the majority of stories within.
This volume? Not so much. There were a handful of stories I thought were good, but for the most part? Meh.
A Grain of Salt by Sarah A. Hoyt 
The Poet Gnawreate and the Taxman by Dave Freer 
The Infernal Revenus Service by Laura Resnick 
Mummy Knows Best by Esther M. Friesner  
Genius Loci by Chelsea Quinn Yarbro 
Ah, Yehz by Alan Dean Foster 
Gamma Ray versus Death by Carrie Vaughn 
Museum Hauntings by Irene Radford 
My Tears Have Been My Meat by Nina Kiriki Hoffman 
The Perfect Man by Fran LaPlaca 
Two All Beef Patties by Jay Lake 
That Saturday by Devon Monk 
Walking Fossil by Robert A. Hoyt 
Night Shifted by Kate Paulk 
Twelve Stepping in the Dark by Rebecca Lickiss 
Gobble, Gobble, One of Us by Charles Edgar Quinn 
Bump in the Night by Amanda S. Green 
Separation Anxiety by S.M. Stirling
Alan Dean Foster's story "Ah, Yehz" was one that I particularly liked. Lots of the stories in this anthology had twists at the end, but for the most part that was the whole of the story–working up to the punchline in the end. But "Ah, Yehz" was interesting in and of itself, and for the brevity of the story, had some nice world building. Archie is caught stealing from a fountain in the cemetery by one of the ghosts. While trying to escape he meets an unusual fellow who is willing to help him.
And… that was about it. Like I said, most of the stories were meh, and some I actually disliked, but if you come across any of the above in another anthology, I highly recommend them.
Published by DAW
Rating: 5/10
The Mad Scientist's Guide to World Domination: Original Short Fiction for the Modern Evil Genius (2013) edited by John Joseph Adams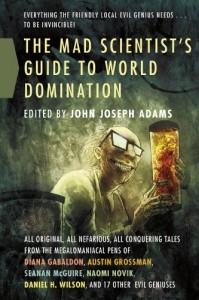 This is the third anthology I've read by John Joseph Adams, and I must say that he has a good rack record for creating anthologies with stories I really like. He also has a good mix of stories, some of which I am guaranteed not to like, but that's okay, because it's good to read stuff I don't normally read, and if I really don't like a story, I can always skip on to the next (even though I rarely do that).
The stories I liked best in this anthology were the straight-up cackling Evil Overlord sort (you know that list, right?), because they were funny. The ones I liked least tended to be the more serious ones, because, well, evil in its true form exists in the world, and it's generally funny at all.
"Professor Incognito Apologizes: an Itemized List" by Austin Grossman
"Father of the Groom" by Harry Turtledove
"Laughter at the Academy: by Seanan McGuire
"Letter to the Editor" by David D. Levine
"Instead of a Loving Heart" by Jeremiah Tolbert
"The Executor" by Daniel H. Wilson
"The Angel of Death Has a Business Plan" by Heather Lindsley
"Homo Perfectus" by David Farland
"Ancient Equations" by L. A. Banks
"Rural Singularity" by Alan Dean Foster
"Captain Justice Saves the Day" by Genevieve Valentine
"The Mad Scientist's Daughter" by Theodora Goss
"The Space Between" by Diana Gabaldon
"Harry and Marlowe Meet the Founder of the Aetherian Revolution" by Carrie Vaughn
"Blood and Stardust" by Laird Barron
"A More Perfect Union" by L. E. Modesitt, Jr.
"Rocks Fall" by Naomi Novik
"We Interrupt This Broadcast" by Mary Robinette Kowal
"The Last Dignity of Man" by Marjorie M. Liu
"The Pittsburgh Technology" by Jeffrey Ford
"Mofongo Knows" by Grady Hendrix
"The Food Taster's Boy" by Ben Winters
Alan Dean Foster's story "Rural Singularity" isn't an evil overlord story at all. It isn't even a mad genius story in vein of the other stories, but instead is the story of a journalist going out to cover a story on two headed chickens and finding a hidden genius instead.
Aside from the anthology ending on several depressing notes, this was all-in-all a varied and very good collection of stories, with something for everyone. After all, the stories I disliked were not bad, they were just not my type of story.
Published by Tor Books
Rating: 8/10