Books: Fantasy
Anthologies
Faerie Tales (2004), Children of Magic (2006), Places to Be, People to Kill (2007), Better Off Undead (2008)
Faerie Tales (2004) edited by Martin H. Greenberg & Russell Davis
Published by Daw
Children of Magic (2006) edited by Martin H. Greenberg & Kerrie Hughes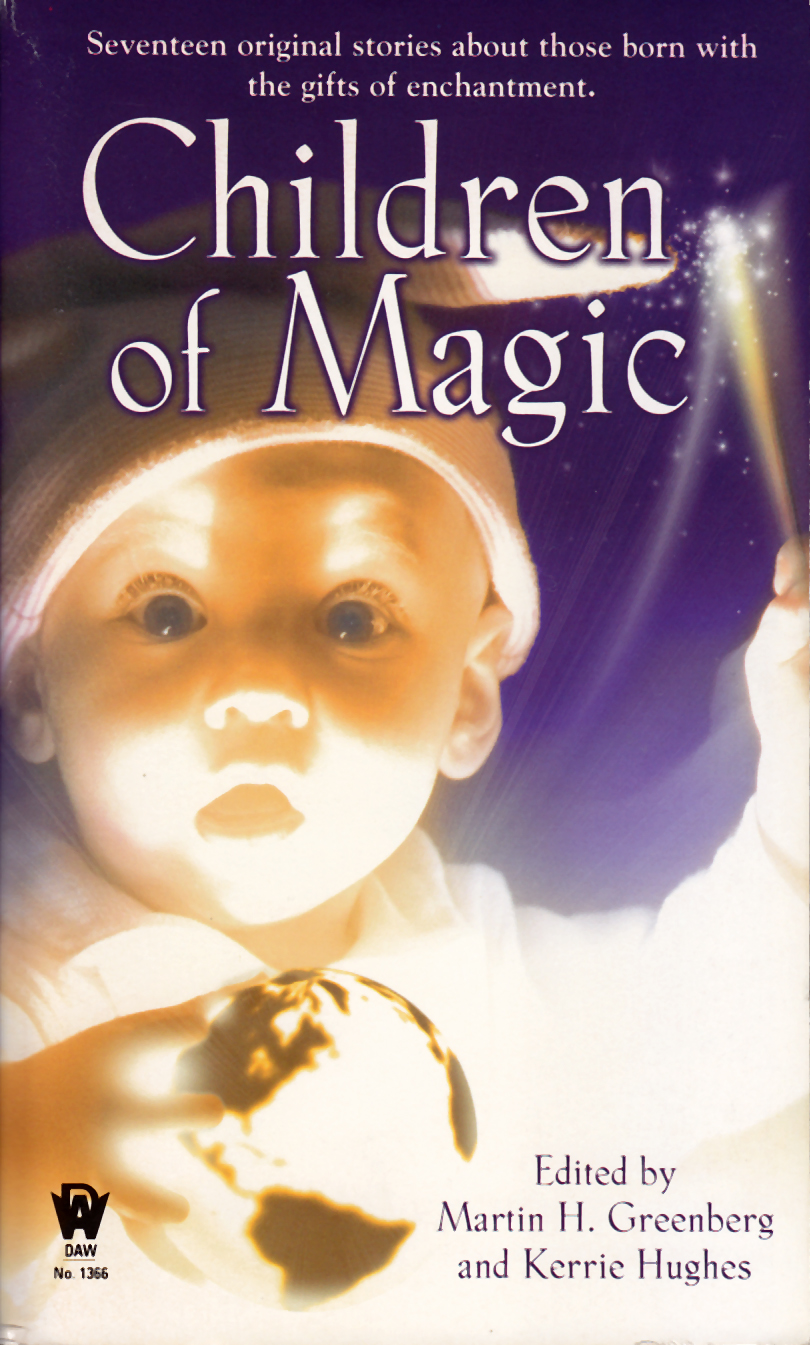 As I have mentioned on many previous occasions, I am a huge fan of short stories. Occasionally I have been disappointed, but for the most part the anthologies I have read have good, especially the one edited by Martin H. Greenberg.
The theme of Children of Magic is (as you would guess from the title) children with magic and the ability to change the world around them. The major problem with this review, however, is that I only read a one or two stories at a time, and then left the book on the headboard for a few weeks while I was reading something else (anthologies are good for that). So it actually took me several months to read Children of Magic as it dropped to the bottom of the pile in favor of whatever I was currently reading during the day (or sometimes something more boring, to put me to sleep.)
"Titan" by Sarah A. Hoyt was another story I very much enjoyed. It tells how Leonardo da Vinci gained his powers, from the point of view of one of Leonardo's childhood friends.
I found the rest of the stories adequate, but not anything particularly I'd go out of my way for. Some of that may have been that several stories were about teenagers, and I tend to dislike stories about teenagers unless those characters are very well written. (I remember all to well what it was like to be a teenager, and dislike reliving those feelings.)
So if you like anthologies, you may want to pick up this collection. Or you could wait and see if any of these stories ends up in a "Year's Best" collection.
Rating: 6/10
Places to Be, People to Kill (2007) edited by Martin H. Greenberg & Brittiany A. Koren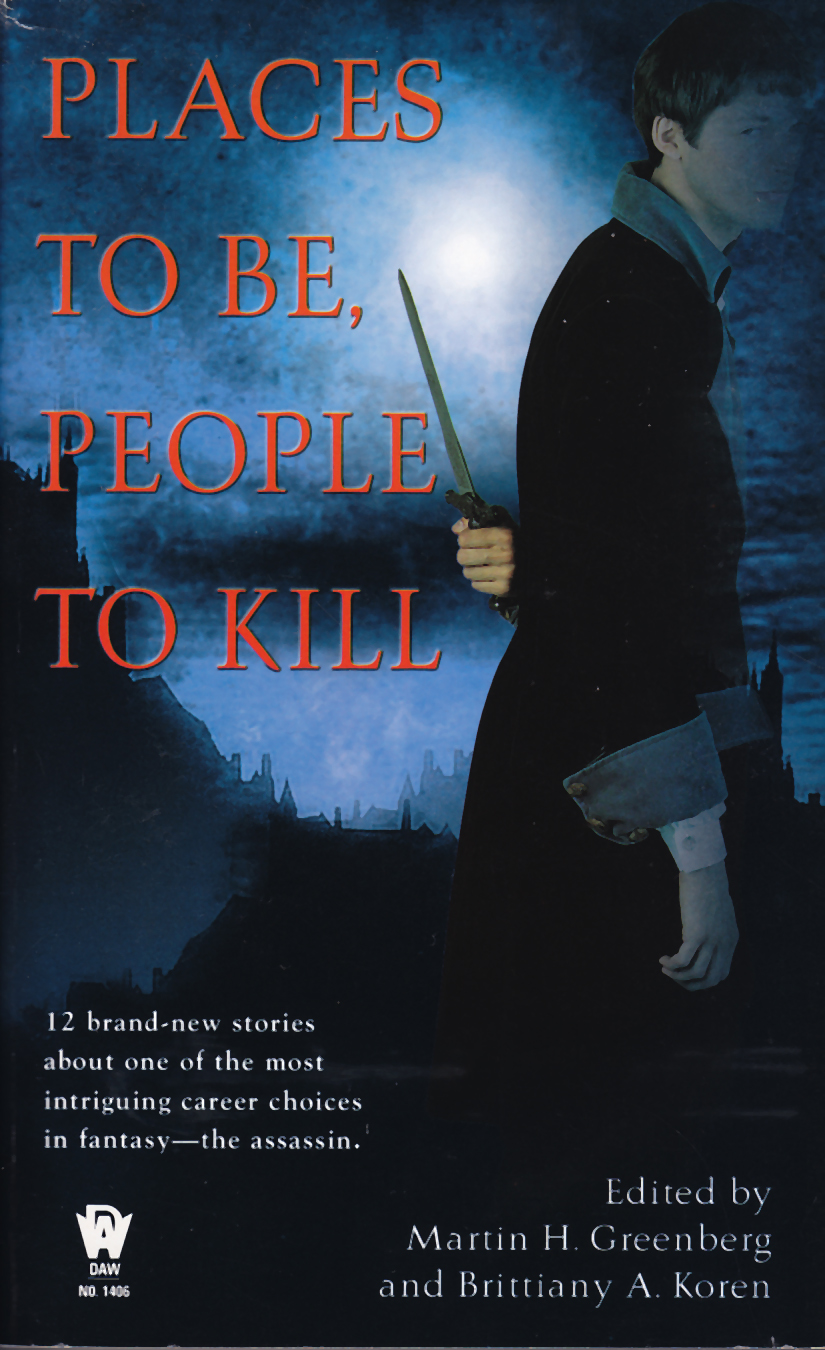 I really like short stories, so I'm a sucker for anthologies. I've been burned a couple of times, but for the most part, anything that Martin H Greenberg has a hand in will most likely contain a majority of stories I'll enjoy. The fact that the stories were about assassins was an added bonus. (For some reason I love to read about characters I would want absolutely nothing to do with if I read them in life: assassins, thieves, and scoundrels. Places to Be, People to Kill contains all three.
As with most anthologies, there were some stories I especially liked, and some I cared for less.
Exactly by Tania Huff
Bloodlines by Jim C. Hines
Hang Ten by Jean Rabe
Fealty by S. Andrew Swann
Breia's Diamond by Cat Collins
While Horse and Hero Fell by Sarah A. Hoyt
Deadhand by John Helfers
All in the Execution by Tim Waggoner
Money's Worth by Bradley H. Sinor
Substitutions by Kristine Kathryn Rusch
Drusilla by Ed Gorman
The Hundreth Kill by John Marco
Sarah A. Hoyt's story While Horse and Hero Fell was one I particularly enjoyed–it's a mix of science fiction and fantasy, and I especially loved the idea of a computer wizard. Sometimes geeks have what it takes to be people of action. It just takes the right motivation.
If you enjoy short stories–especially short stories about scoundrels and assassins, then I recommend that you check out Places to Be, People to Kill.
Rating: 6/10
The Secret History Of Vampires (2007)
"Introduction" by Darrell Schweitzer
"Under St. Peter's" by Harry Turtledove
"Two Hunters in Manhattan" by Mike Resnick
"Smoke and Mirrors" by P. D. Cacek
"Garbo Quits" by Ron Goulart
"Blood of Dreams" by Sarah A. Hoyt
"A Princess of Spain" by Carrie Vaughn
"Harpy" by Chelsea Quinn Yarbro
"Honored Be Her Name" by John Gregory Betancourt and Darrell Schweitzer
"Ill-Met in Ilium" by Gregory Frost
"The Temptation of Saint Anthony" by Brian Stableford
"Bohemian Rhapsody" by Ian Watson
"Green Wallpaper" by Tanith Lee
"Sepulchres of the Undead" by Keith Taylor
Published by DAW
Better Off Undead (2008) edited by Martin H. Greenberg & Daniel M. Hoyt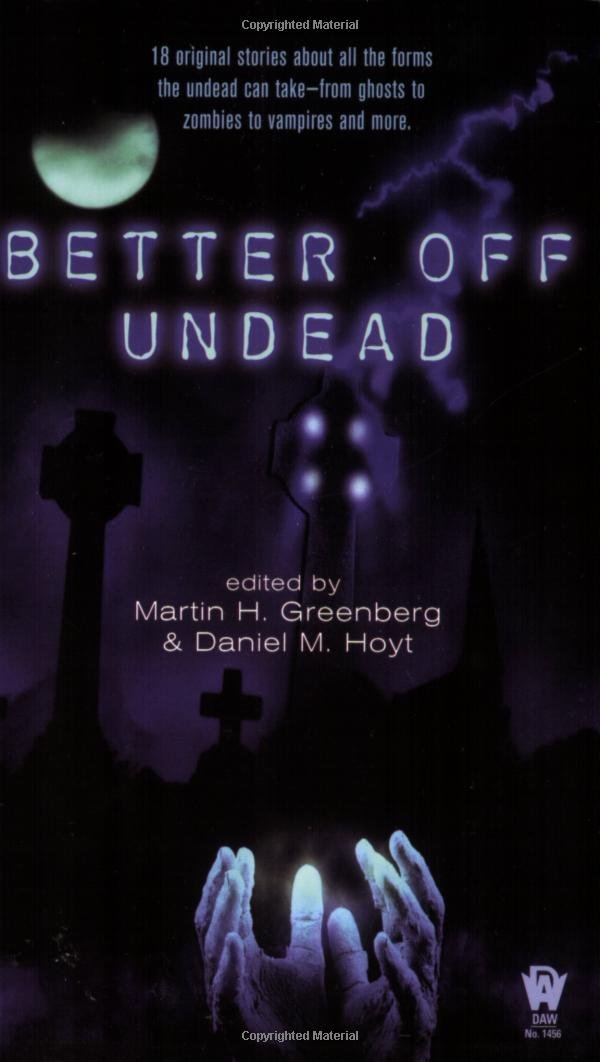 Anthologies edited by Martin H. Greenberg are usually ones I can pick up knowing that I'll like the majority of stories within.
This volume? Not so much. There were a handful of stories I thought were good, but for the most part? Meh.
A Grain of Salt by Sarah A. Hoyt 
The Poet Gnawreate and the Taxman by Dave Freer 
The Infernal Revenus Service by Laura Resnick 
Mummy Knows Best by Esther M. Friesner  
Genius Loci by Chelsea Quinn Yarbro 
Ah, Yehz by Alan Dean Foster 
Gamma Ray versus Death by Carrie Vaughn 
Museum Hauntings by Irene Radford 
My Tears Have Been My Meat by Nina Kiriki Hoffman 
The Perfect Man by Fran LaPlaca 
Two All Beef Patties by Jay Lake 
That Saturday by Devon Monk 
Walking Fossil by Robert A. Hoyt 
Night Shifted by Kate Paulk 
Twelve Stepping in the Dark by Rebecca Lickiss 
Gobble, Gobble, One of Us by Charles Edgar Quinn 
Bump in the Night by Amanda S. Green 
Separation Anxiety by S.M. Stirling