Nancy Kilpatrick
Books
Anthologies: Ruby Slippers, Golden Tears (1995), Dracula in London (2004), Outsiders: 22 All-New Stories From the Edge (2005), Blood Lite (2008), By Blood We Live (2009), Vampires: The Recent Undead (2011)
Anthologies
Ruby Slippers, Golden Tears (1995) edited by Ellen Datlow & Terri Windling
Ruby Slippers - Susan Wade
The Beast - Tanith Lee
Masterpiece - Garry Kilworth
Summer Wind - Nancy Kress
This Century of Sleep, or Briar Rose Beneath the Sea - Farida S. T. Shapiro
The Crossing - Joyce Carol Oates
Roach in Loafers - Roberta Lannes
Naked Little Men - Michael Cadnum
Brother Bear - Lisa Goldstein
The Emperor Who had Never Seen a Dragon - John Brunner
Billy Fearless - Nancy A Collins
The Death of Koshchei the Deathless - Gene Wolfe
The Real Princess - Susan Palwick
The Huntsman's Story - Milbre Burch
After Push Comes to Shove - Milbre Burch
Hansel and Grettel - Gahan Wilson
Match Girl - Anne Bishop
Waking the Prince - Kathe Koja
The Fox Wife - Ellen Steiber
The White Road - Neil Gaiman
The Traveler and the Tale - Jane Yolen
The Printer's Daughter - Delia Sherman
Published by Harper Collins
Dracula in London (2004) edited by P.N Elrod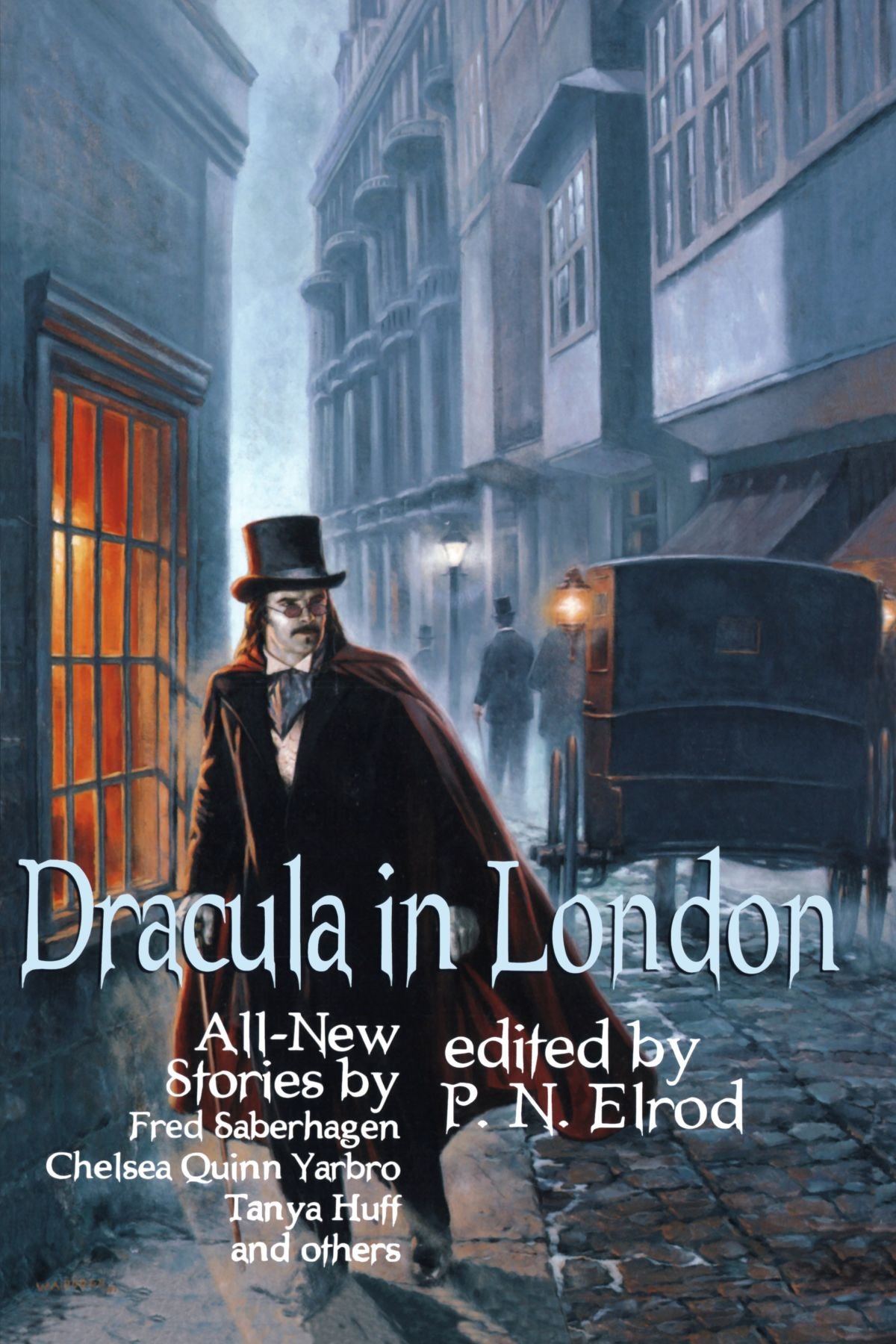 I give up. After six months I'm about three-quarters of the way through, and haven't enjoyed one single story I've read.
I generally like P.N. Elrod's stories, and I've read several other anthologies she has edited, all of which I've enjoyed, but these stories? No. Yuck.
To Each His Own Kind - Tanya Huff
Box Number Fifty – Fred Saberhagen
Wolf And Hound – Nigel Bennett & P.N. Elrod
The Dark Downstairs – Roxanne Longstreet Conrad
Dear Mr Bernard Shaw – Judith Proctor
The Three Boxes – Elaine Bergstrom
Good Help – K.B. Bogen
Places For Act Two – Bradley H. Sinor
Beast – Amy L. Gruss & Catt Kingsgrave Ernstein
A Most Electrifying Evening – Julie Barrett
An Essay On Containment – Gene Deweese
Berserker – Nancy Kilpatrick
Curtain Call – Gary A.  Braunbeck
Renfield Or Dining At The Bughouse – Bill Zaget
Everything To Order – Jody Lynn Nye
Longterm Investment – Chelsea Quinn Yarbro
One possibility is that these are all based on Dracula (as is obvious from the title) and so they may lean more towards horror that I generally dislike. But these stories weren't really that horrific–they didn't leave me with that vague sense of nausea that horror often gives me. Instead, I just didn't find them interesting.
So as my gift to myself at the end of the year, I'm going to stop trying to read this anthology and move on to something else.
Published by Ace
Outsiders: 22 All-New Stories From the Edge (2005) edited by Nancy Holder & Nancy Kilpatrick
The Empty Chambers - Neil Gaiman
The Company You Keep - Steve Rasnic Tem Under the Needle - Léa Silhol Scarabesque: The Girl Who Broke Dracula - Tanith Lee Expanding Your Capabilities Using Frame/Shift(tm) Mode - David J. Schow Cat and the Cold Prince - Freda Warrington Faces in Revolving Souls - Caitlín R. Kiernan Lighten Up - Jack Ketchum Pit Boy - Elizabeth Massie The Country of the Blind - Melanie Tem Ruby Tuesday - Kathe Koja
Running Beneath the Skin - Brett Alexander Savory Grim Peeper - Katherine Ramsland Craving - Yvonne Navarro Violent Angel - Thomas S. Roche ...And the Damage Done - Michael Marano
Pop Star in the Ugly Bar - Bentley Little Miss Singularity - John Shirley
The Working Slob's Prayer - Poppy Z. Brite If I Should Wake Before I Die - Brian Hodge Honing Sebastian - Elizabeth Engstrom The Shadows, Kith and Kin - Joe R. Lansdale
Blood Lite (2008) edited by Kevin J. Anderson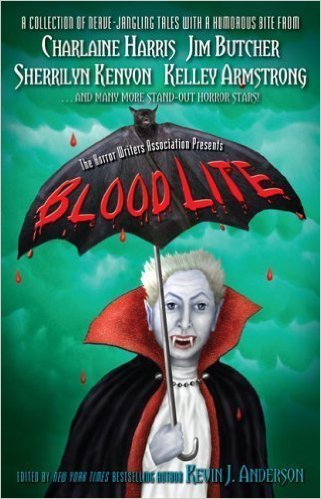 This anthology came out in hardback last year, but considering the theme, I was more than content to wait until it came out in paperback. Which it recently did.
As with most anthologies, there are good stories and bad stories, but there weren't too many stories that I hated, though there also weren't too many stories that I adored. So I'd say it all came out in the wash.

...
But over all, the stories were pretty good, and the series was worth reading. I would have been annoyed if I'd bought this in hardback, but it's not a bad buy as a paperback.
Rating: 6/10 
By Blood We Live (2009) edited by John Joseph Adams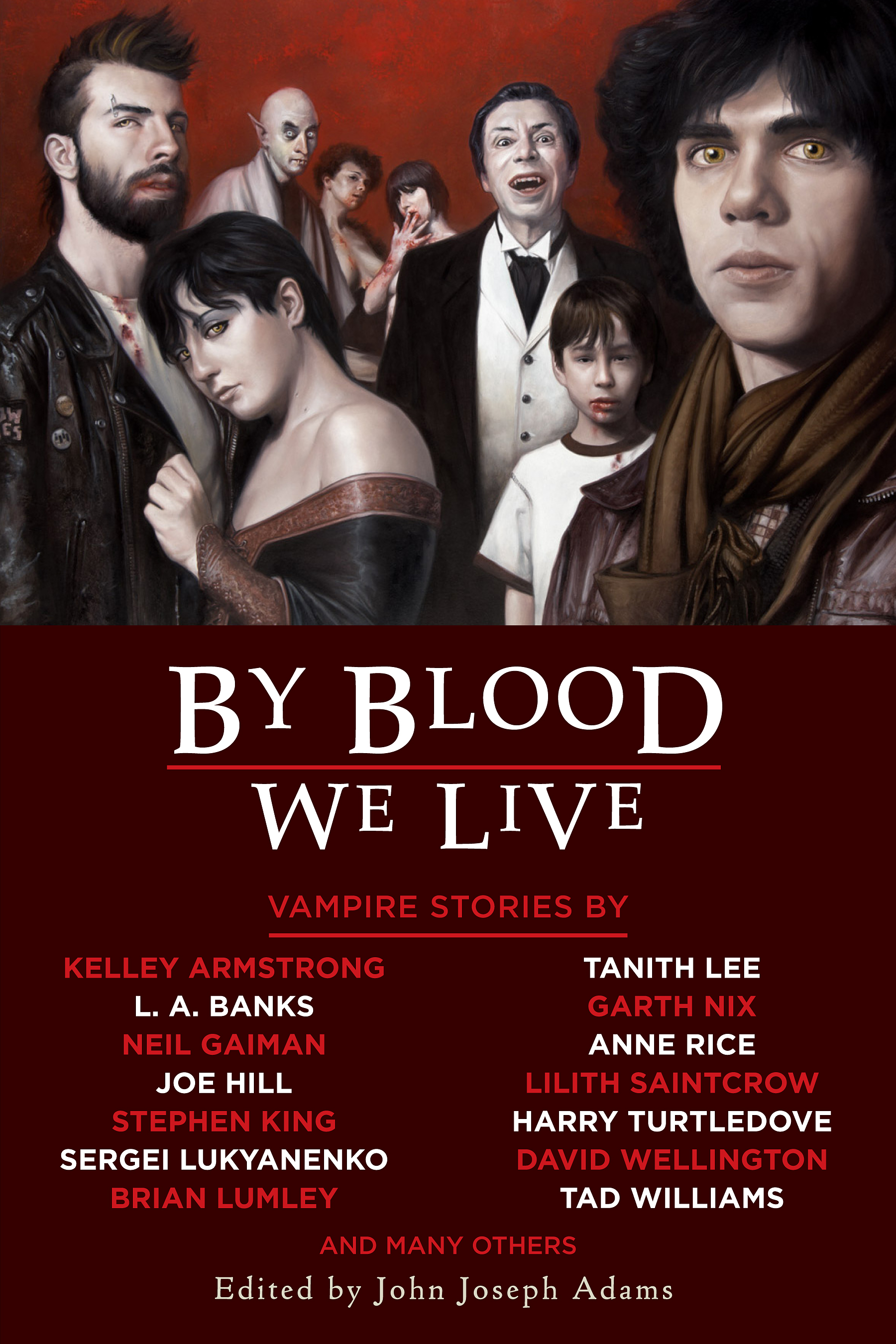 Snow, Glass, Apples - Neil Gaiman
The Master of Rampling Gate - Anne Rice
Under St. Peter's - Harry Turtledove
Child of an Ancient City - Tad Williams
Lifeblood - Michael A. Burstein
Endless Night - Barbara Roden
Infestation - Garth Nix
Life is the Teacher - Carrie Vaughn
The Vechi Barbat - Nancy Kilpatrick
The Beautiful, The Damned - Kristine Kathryn Rusch
Pinecones - David Wellington
Do Not Hasten to Bid Me Adieu - Norman Partridge
Foxtrot at High Noon - Sergei Lukyanenko
This is Now - Michael Marshall Smith
Blood Gothic - Nancy Holder
Mama Gone - Jane Yolen
Abraham's Boys - Joe Hill
Nunc Dimittis - Tanith Lee
Hunger - Gabriela Lee
Ode to Edvard Munch - Caitlín R. Kiernan
Finders Keepers - L.A. Banks
After the Stone Age - Brian Stableford
Much at Stake - Kevin J. Anderson
House of the Rising Sun - Elizabeth Bear
A Standup Dame - Lilith Saintcrow
Twilight - Kelley Armstrong
In Darkness, Angels - Eric Van Lustbader
Sunrise on Running Water - Barbara Hambly
Hit - Bruce McAllister
Undead Again - Ken MacLeod
Peking Man - Robert J. Sawyer
Necros - Brian Lumley
Exsanguinations - Catherynne M. Valente
Lucy in Her Splendor - Charles Coleman Finlay
The Wide, Carnivorous Sky - John Langan
One for the Road - Stephen King
Vampires: The Recent Undead (2011) edited by Paula Guran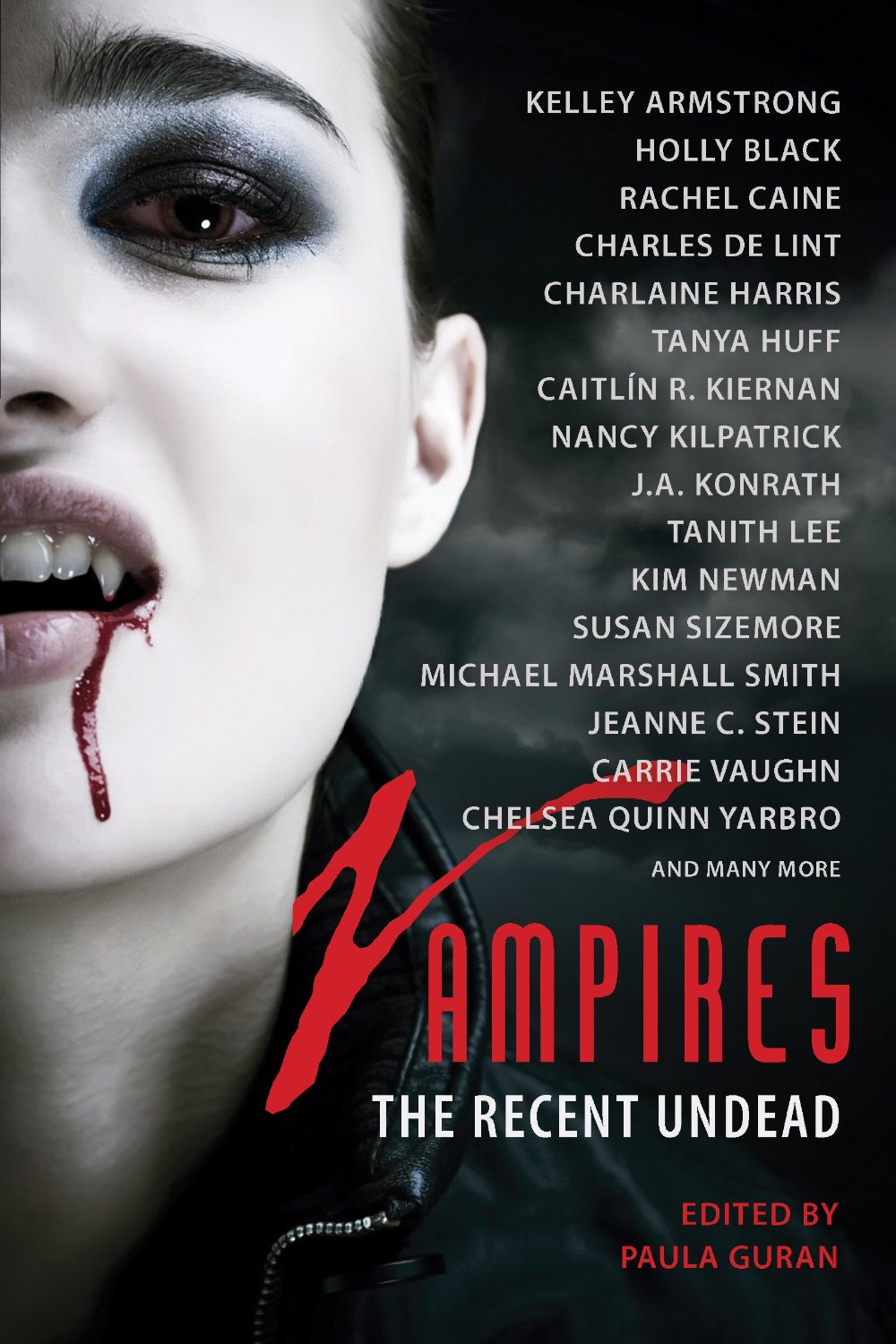 "The Coldest Girl in Coldtown" by Holly Black
"This Is Now" by Michael Marshall Smith
"Sisters" by Charles de Lint
"The Screaming" by J.A. Konrath
"Zen and the Art of Vampirism" by Kelley Armstrong
"La Vampiresse" by Tanith Lee
"Dead Man Stalking" by Rachel Caine
"The Ghost of Leadville" by Jeanne C. Stein
"Waste Land" by Stephen Dedman
"Gentleman of the Old School" by Chelsea Quinn Yarbro
"No Matter Where You Go" by Tanya Huff
"Outfangthief" by Conrad Williams
"Dancing with the Star" by Susan Sizemore
"A Trick of the Dark" by Tina Rath
"When Gretchen was Human" by Mary Turzillo
"Conquistador de la Noche" by Carrie Vaughn
"Endless Night" by Barbara Roden
"Dahlia Underground" by Charlaine Harris
"The Belated Burial" by Caitlin R. Kiernan
"Twilight States" by Albert Cowdrey
"To the Moment" by Nisi Shawl
"Castle in the Desert: Anno Dracula 1977? by Kim Newman
"Vampires in the Lemon Grove" by Karen Russell
"Vampires Anonymous" by Nancy Kilpatrick
"The Wide, Carnivorous Sky" by John Langan
It has taken me an almost embarrassingly long time to finish this. How long you ask? I purchased it a couple months after it was published–that long ago.
The problem is I hit a point where I wasn't interested in a story, and instead of just skipping to the next story, I put the whole thing down. I know, rookie mistake. (But you'll see I made it several times, so I decided to just finish off these anthologies, and if I didn't like a story? SKIP.)
...
"Vampires Anonymous" by Nancy Kilpatrick
This one was also amusing.
So, it was an uneven anthology for me, but there were some very good stories that are well-worth the price of the anthology.
Rating: 7/10
Published by Prime Books