John Helfers
Books
Anthologies: Twice Upon A Time (1999), Faerie Tales (2004), Little Red Riding Hood in the Big Bad City (2004), Places to Be, People to Kill (2007), The Best Paranormal Crime Stories Ever Told (2010)
Anthologies
Twice Upon A Time (1999) edited by Denise Little
Fairy tales seen from another perspective--the wife of the giant from the story of Jack and the Beanstalk. The hunter in the tale of Little Red Riding Hood. The Wolf who appears in multiple tales.
This book is hit and miss. Some of the stories are excellent, others are so-so. The idea of retold fairy tales is an excellent one, unfortunately not all the stories in this collection were able to pull it off as well as it should be done.
(What I found interesting is that although no single story was a retelling of Hansel and Gretel, they still managed to show up in several different tales.)
Savior - John Helfers
"Savior" by John Helfers is another excellent story–a short-short just four pages long. If I told you the plot it would take more words than the tale, so I'll just recommend it.
Of the rest of the tales, some were good, some less so. I'd pick it up again if I saw it used, but I don't think it's necessarily worth the $6.99 cover price.
Rating: 5/10
Faerie Tales (2004) edited by Martin H. Greenberg & Russell Davis
Changeling - John Helfers
Published by Daw

Little Red Riding Hood in the Big Bad City (2004) edited by Martin H. Greenberg & John Helfers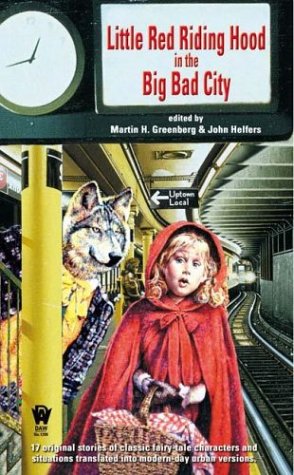 Mallificent - Nina Kiriki Hoffman
The Last Day Of The Rest - Russell Davis
Jack And The B.S. - Tanya Huff
Panhandler - Alan Dean Foster
Trading Fours With The Moldy Figs - Jean Rabe
Signs Are Hazy, Ask Again Later - Fiona Patton
Puss In D.C. - Pamela Sargent
A Faust Films Production - Janeen Webb
Brownie Points - Elizabeth Gilligan
After The Flowering - Janet Berliner
Little Red In The 'Hood - Irene Radford
Exterminary - Patricia Lee Macomber
The Nightingale - Dena Bain Taylor
Meet Mr. Hamlin - Bill Willingham
If You Only Knew My Name - David Niall Wilson
Keeping It Real - Jody Lynn Nye
The Rose Garden - Michelle West
Published by DAW
Places to Be, People to Kill (2007) edited by Martin H. Greenberg & Brittiany A. Koren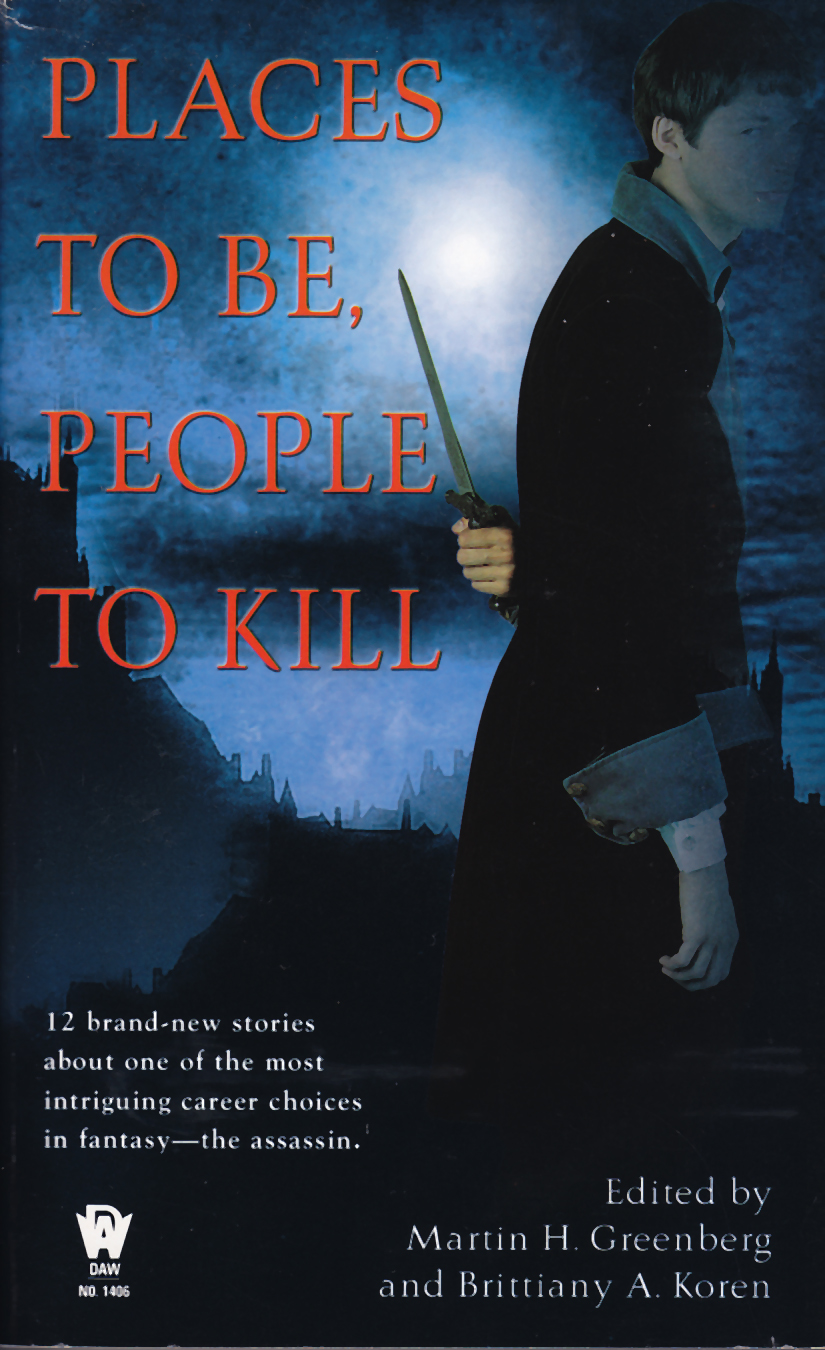 I really like short stories, so I'm a sucker for anthologies. I've been burned a couple of times, but for the most part, anything that Martin H Greenberg has a hand in will most likely contain a majority of stories I'll enjoy. The fact that the stories were about assassins was an added bonus. (For some reason I love to read about characters I would want absolutely nothing to do with if I read them in life: assassins, thieves, and scoundrels. Places to Be, People to Kill contains all three.
As with most anthologies, there were some stories I especially liked, and some I cared for less.
Deadhand - John Helfers
If you enjoy short stories–especially short stories about scoundrels and assassins, then I recommend that you check out Places to Be, People to Kill.
Rating: 6/10
Published by DAW
The Best Paranormal Crime Stories Ever Told (2010) edited by Martin H. Greenberg & John Helfers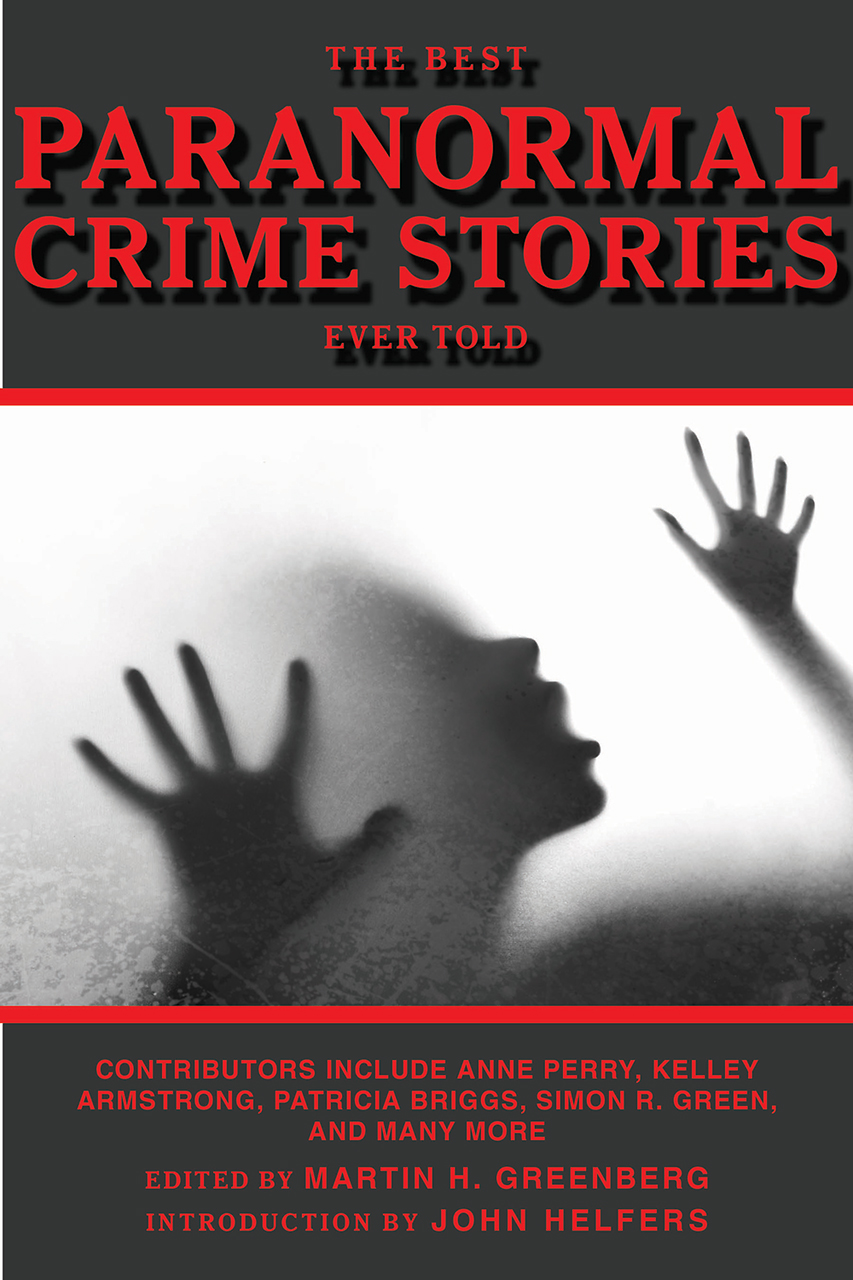 I wouldn't say the best necessarily, but it's not a bad selection of stories. And the fact that I got to read it for free probably helped.
Appetite for Murder - Simon R. Green
Star of David - Patricia Briggs
If Vanity Doesn't Kill Me - Michael Stackpole
Grave-Robbed - P.N. Elrod
The Judgement - Anne Perry
Surprise Special Guest Appearance by... - Carole Nelson Douglas
Occupational Hazard - Mike Resnick
She's Not There - Steve Perry
Hostile Takeover - Nina Kiriki Hoffman
Doppelgangster - Laura Resnick
The Necromancer's Apprentice - Lillian Stewart Carl
The Night of their Lives - Max Allen Collins
Road Dogs - Norman Partridge
Ninja Rats on Harleys - Elizabeth A. Vaughan
Stalked - Kelley Armstrong
Corpse Vision - Kristine Kathryn Rusch
The Unicron Hunt - Michelle West

"Appetite for Murder" is Simon R. Green story that does not feature John Taylor or Eddie Drood, but is set in Nightside. If you have never read a Nightside story, this would actually be a decent introduction to the place. If you enjoyed this story, I'd recommended the Nightside books. If you have read the Nightside series, one twist won't be much of a surprise, but the other… Sam Warren has been a Detective in the Nightside for a long long time. He's worked for the Authorities, and finds killers who manage to step out of line even in a place where murder is cheap and easy and all but expected on every corner.
Patricia Briggs' story, "Star of David" is set in the same world as her Mercy Thompson series, but as with Simon R Green's story, does not feature the main characters from that series, and again, works as a very good introduction to her world. Stella helps place kids in foster homes, and when it's reported that one boy she's placed has attacked his foster parents, she thinks something is wrong, and turns to someone she said she wouldn't call, to help he resolve the problem.
"Grave-Robbed" is one of P.N. Elrod's Jack Fleming story, but like other Fleming stories, does not require a knowledge of previous books, and (as with the previous two stories) is a good introduction to that world. A (very) young woman comes looking for Escott, but gets Jack. Because she needs immediate help, she decides to accept Jack's assistance. Her sister has fallen prey to a medium who is taking her for everything she's got, and it looks like he wants to marry the wealthy window. Jack's client wants this scum exposed before her sister ends up even worse off.
I've read several other of Mike Resnick's Harry the Book stories, and was disappointed that I couldn't find any others. Apparently Harry only lives in short stories, like "Occupational Hazard." Harry is a bookie, and when one of his client puts in a hex that goes over Harry's hex protection, Harry is in deep trouble.
I love Nina Kirki Hoffman's stories, so stumbling across on is always a pleasure. Terry is a witch, and although she practices some black magic, she still lives with her mother (although she is forbidden to practice in the house). She sells spells and makes plenty of money, but just doesn't want live alone, and aside from her magic practice, she gets along fine with her mother. As with all her stories, I love the various twists.
"Doppelgangster" is similar to (but not the same as) Laura Resnick's book Doppelgangster, and I think I prefer the story without Esther (the main character in the book).
Max Allen Collins' story, "The Night of their Lives" was one that surprised me into liking it. It's set during a great Depression, and a cop goes undercover into a shantytown to see if he can find out who has killed 11 of the down-down-on-their luck. I really liked this story, for a variety of reasons.
Norman Partridge's "Road Dogs" was an odd story, but one that I enjoyed once I got into it. Glen Barlow comes into town when he learns that his sister has died. Glen believe that her boyfriend is behind the murder, and there is no convincing him otherwise.
Kelly Armstrong's story "Staked" has the same characters as her story "Bitten" but like most of the other stories in this anthology, is accessible without having read any other of her stories. It's not a bad story, but it wasn't my favorite.
Kristine Kathryn Rusch's story "Corpse Vision" was one of the darker stories. Joe is slowly drinking himself to death in Paris, while working for a newspaper instead of writing his novel like he wanted to. This story takes awhile to get going, but it is quite good once I got into it. I suppose the problem with anthologies is that when a story has a very different tone from from the one before it, it takes a bit to settle down and figure what's going on.
I only actively disliked one story, "Ninja Rats on Harleys" which was just a whole bunch of WTF and was the one story in the collection that felt like a chapter out of an existing book rather than a whole and complete story.
There were a couple other stories in the collection, but I didn't love or hate them, so all in all, this was a pretty strong collection.
Rating: 8/10
Published by Skyhorse Publishing