Books
Anthologies: The Year's Best Fantasy and Horror: Seventeenth Annual Collection (2004), The Coyote Road: Trickster Tales (2007), The Secret History of Fantasy (2010)
Anthologies
The Year's Best Fantasy and Horror: Seventeenth Annual Collection (2004) edited by Ellen Datlow & Terri Windling
Kij Johnson  - At the Mouth of the River of Bees
Sara Maitland  - Why I Became a Plumber
M. Rickert  - Bread and Bombs
George Saunders  - The Red Bow
Vandana Singh  - The Wife
Lucius Shepard  - Only Partly Here
Steve Rasnic Tem  - Bone
Laird Barron  - Old Virginia
Neil Gaiman  - A Study in Emerald
Nathan Ballingrud  - You Go Where It Takes You
Dean Francis Alfar  - L'Aquilone du Estrellas (The Kite of Stars)
Stephen King  - Harvey's Dream
Ursula K. Le Guin  - Woeful Tales from Mahigul
Karen Joy Fowler  - King Rat
Kelly Link  - The Hortlak
Brian Hodge  - With Acknowledgments to Sun Tzu
Richard Butner  - Ash City Stomp
Michael Swanwick  - King Dragon
Patrick O'Leary  - Invisible Geese: A Theory
Patrick O'Leary  - The Perfect City
Peter Crowther  - Bedfordshire
Adam Corbin Fusco  - N007-JK1
Marc Laidlaw  - Cell Call
Philip Raines and Harvey Wells  - The Fishie
Dale Bailey  - Hunger: A Confession
Scott Emerson Bull  - Mr. Sly Stops for a Cup of Joe
Megan Whalen Turner  - The Baby in the Night Deposit Box
Paul LaFarge  - Lamentation over the Destruction of Ur
Mike O'Driscoll  - The Silence of the Falling Stars
Jon Woodward  - At the Mythical Beast
Paolo Bacigalupi  - The Fluted Girl
Kevin Brockmeier  - The Brief History of the Dead
Nina Kiriki Hoffman  - Flotsam
Dan Chaon  - The Bees
Glen Hirshberg  - Dancing Men
Theodora Goss  - Lily, with Clouds
Karen Traviss  - The Man Who Did Nothing
Shelley Jackson  - Husband
Michael Marshall Smith  - Open Doors
Benjamin Rosenbaum  - The Valley of the Giants
Thomas Ligotti  - Purity
Maureen F. McHugh  - Ancestor Money
Terry Bisson  - Almost Home
Daphne Gottlieb  - Final Girl II: The Frame
Published by St. Martin's Griffin
The Coyote Road: Trickster Tales (2007) edited by Ellen Datlow & Terri Windling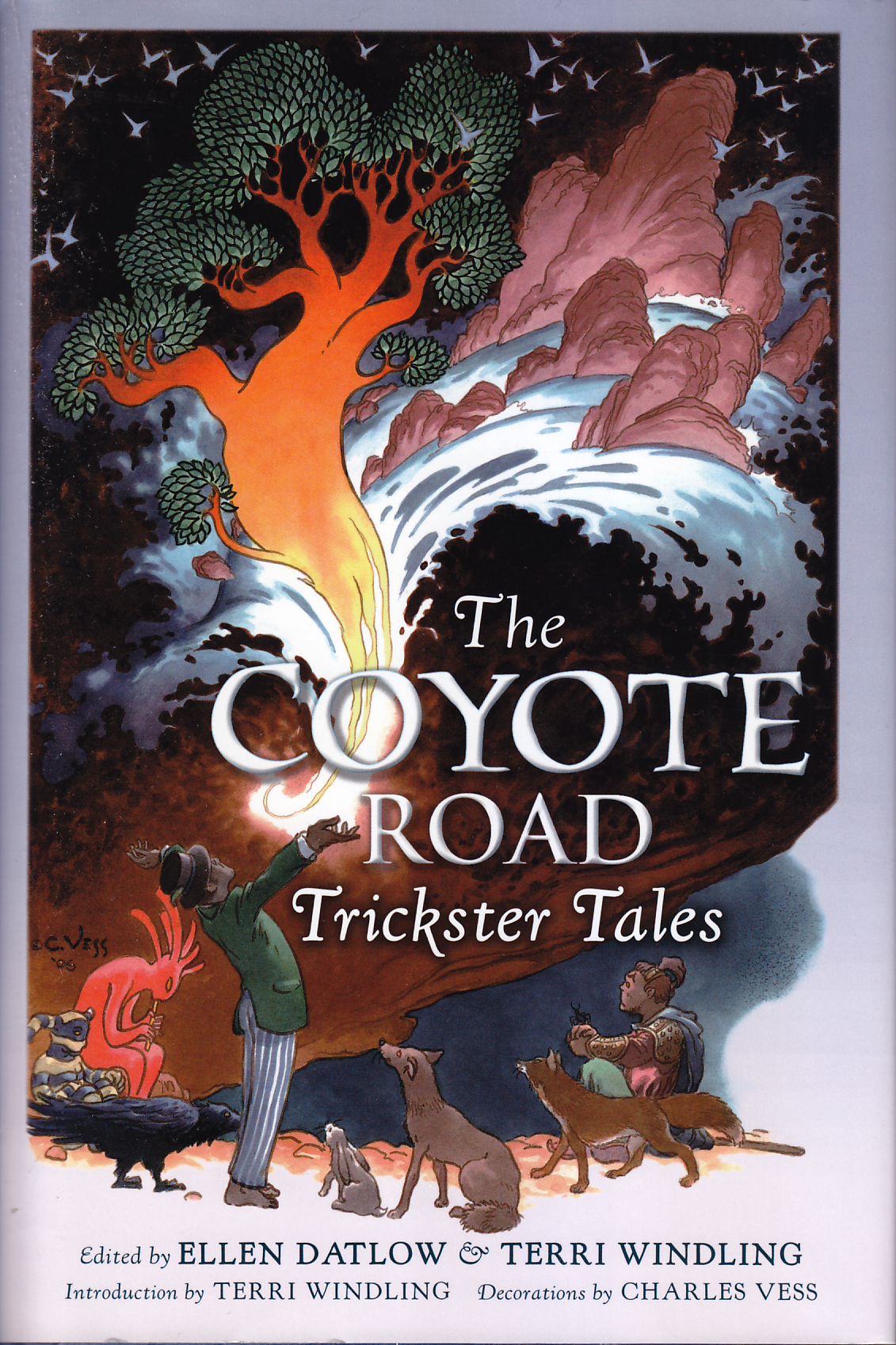 I love short stories. Aside from collections by Charles de Lint, I best love anthologies by Ellen Datlow & Terri Windling best. Their books are like comfort food, and I save them up for when I'm sick or feeling low.
In the same vein as The Green Man and The Faerie Reel, Datlow and Windling have this time collected stories about tricksters, and they've got some of my favorite authors in this collection: Charles de Lint, Nina Kiriki Hoffman, Ellen Kushner. As usual, they manage to collect stories by some of my favorite story tellers.
One Odd Shoe - Pat Murphy
Coyote Woman - Carolyn Dunn
Wagers of Gold Mountain - Steve Berman
The Listeners - Nina Kiriki Hoffman
Realer than You - Christopher Barzak
The Fiddler of Bayou Teche - Delia Sherman
A Tale for the SHort Days - Richard Bowes
Friday Night at St. Cecilia's - Ellen Klages
The Fortune Teller - Patricia A. McKillip
How Raven Made his Bride - Theodora Goss
Crow Roads - Charles de Lint
The Chamber of Music Animals - Katharine Vaz
Uncle Bob's Visits - Caroline Stevermer
Uncle Tompa - Midori Snyder
Cat of the World - Michael Cadnum
Honored Guest - Ellen Kushner
Always the Same Story - Elizabeth E. Wein
The Senorita and the Cactus Thorn - Kim Antieau
Black Rock Blues - Will Shetterly
The Constable of Abal - Holly Black
God Clown - Carol Emshwiller
The Other Labyrinnth - Jedediah Berry
The Dreaming Wind - Jeffery Ford
Kwaku Anansi Walks the World's Web - Jane Yolen
The Evolution of Trickster Stories Amount the Dogs of North Park after the Change - Kij Johnson
...
If like short story collections, or trickster tales, then you will want to read The Coyote Road. It has stories from many of my favorite writers, and as with all their collections, I was delighted to discover new authors for whom I'll be on the lookout.
Rating: 9/10
Published by Viking
The Secret History of Fantasy (2010) edited by Peter S. Beagle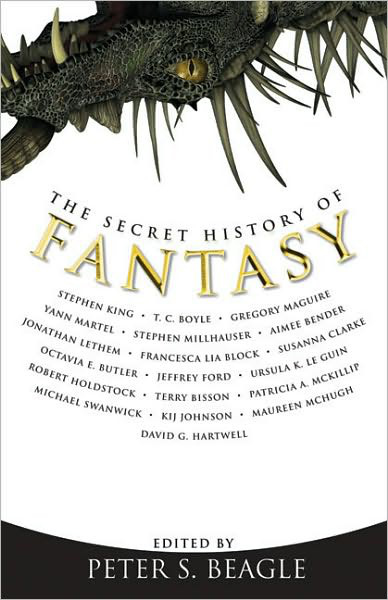 This is an interesting collection of short stories, by some very good authors. I can't say all the stories were to my taste, but they were all very good.
...
The final story was Kij Johnson's "26 Monkeys, Also the Abyss" which I very much liked. Slightly sad, and yet I found its ending lovely.
All in all, an excellent collection of stories, albeit one I don't recommend reading when you're depressed.
Rating: 8/10