Books
Anthologies: The Essential Bordertown (1998), Black Thorn, White Rose: A Modern Book of Adult Fairytales (1994), The Green Man: Tales from the Mythic Forest (2002), Swan Sister (2003), The Coyote Road: Trickster Tales (2007), Troll's Eye View: A Book of Villainous Tales (2009), The Beastly Bride: Tales of the Animal People (2010)

The Essential Bordertown (1998) edited by Terri Windling & Delia Sherman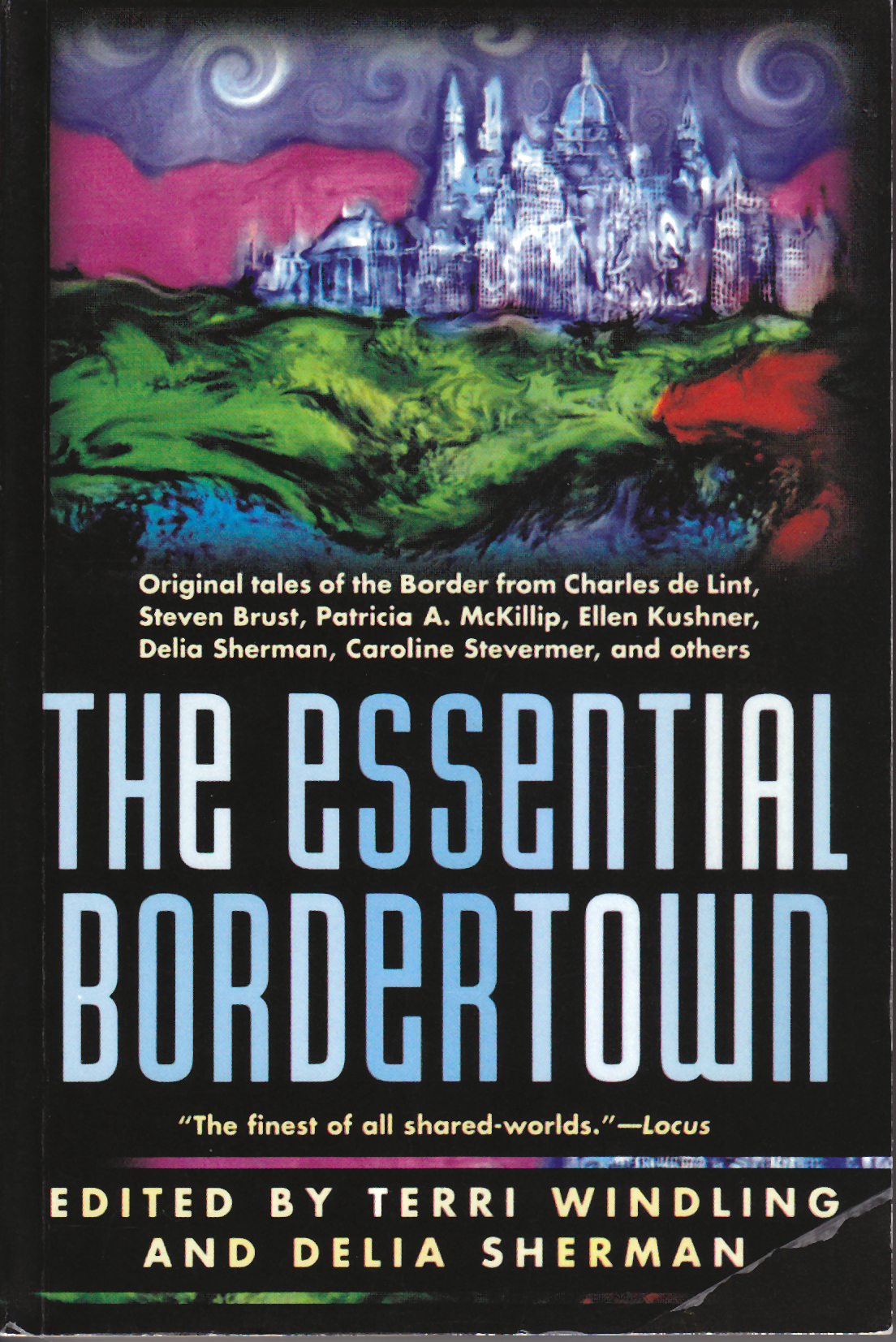 The Essential Bordertown is a collection of short stories set in Bordertown, the land between our world and Faerie. The stories are written with a teenage audiences in mind, with primarily teenage characters, and parts of a "traveler's guide" appearing before each chapter.
Bordertown strikes me as a cross between Sanctuary of Thieves' World and the world created by Charles de Lint. It's the area where faerie and the world of humans meets, and it's a strange place where neither magic or technology works properly, and although there are some places where elves and humans meet and get along, there are roving gangs of elves and humans who rule different parts of town, and woe to the opposite race who wanders into their territory.
Oak Hill - Patricia A. Mckillip
Dragon Child - Midori Snyder
Socks - Delia Sherman
Half Life - Donnard Sturgis
Hot Water : A Bordertown Romance - Ellen Kushner
Arcdia - Michael Korolenko
Changeling - Elisabeth Kushner
May This Be Your Last Sorrow - Charles De Lint
Rag - Caroline Stevermer
When The Bow Breaks - Steven Brust
Argentine - Ellen Steiber
Cover Up My Tracks With Rain - Micole Sudberg
How Shannaro Tolkinson Lost And Found His Heart - Felicity Savage
Some of my favorite authors contributed to this anthology: Charles de Lint, Steven Brust, Ellen Kushner. I particularly liked Charles de Lint's story "May This Be Your Last Sorrow", but then I think that he has his own magic in that he is able to write the most wonderful short stories.
Although all the stories in this anthology were good, I did like some more than others. As I mentioned, I particularly enjoyed Charles de Lint's "May this Be Your Last Sorrow". I also very much liked Carloline Stevermer's story "Rag", whose characters were adults, but they were adults deal with the friendships of childhood and adolescence. The story "Half Life" by Donnard Sturgis was particularly good–I had no idea where the story was going, and was pleased with how it ended.And Delia Sherman's story "Socks" was also particularly good, although there was much that was unresolved.
As a whole, the anthology was pretty good. Unlike Thieves World the authors didn't write each others characters, but they did have a shared world, which did tie the stories together, making it something more than a simple anthology.
I would love to read the original Borderland anthologies, however, they're out of print and I'll have to find them used if I want them. But I do recommend The Essential Bordertown to anyone who likes antholgies or any fan of the Charles de Lint.
Rating: 8/10
Black Thorn, White Rose: A Modern Book of Adult Fairytales (1994) edited by Ellen Datlow & Terri Windling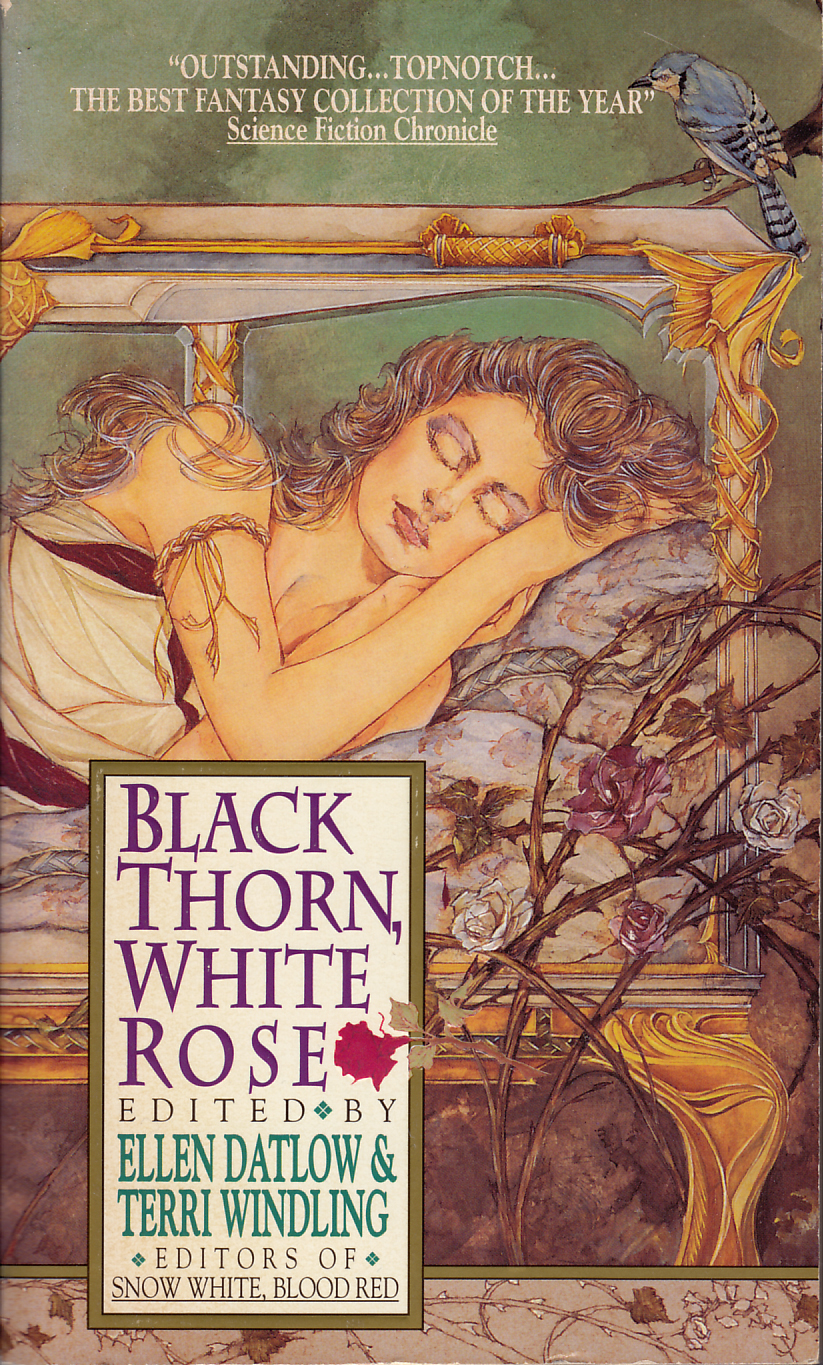 There were several of these collections in the 90s–and I had the first two if I remember correctly.
These are fairy tales retold–some with a change in the point of view, some retold in a modern setting, and some hewing only rather loosely the tales upon which they were based.
...
Please note that these are adult fairy tales. They are in the most part true to the original tales, but most adults would find those inappropriate for children.
Published by Wildside Press
Rating: 7/10
The Green Man : Tales from the Mythic Forest (2002) edited by Ellen Datlow & Terri Windling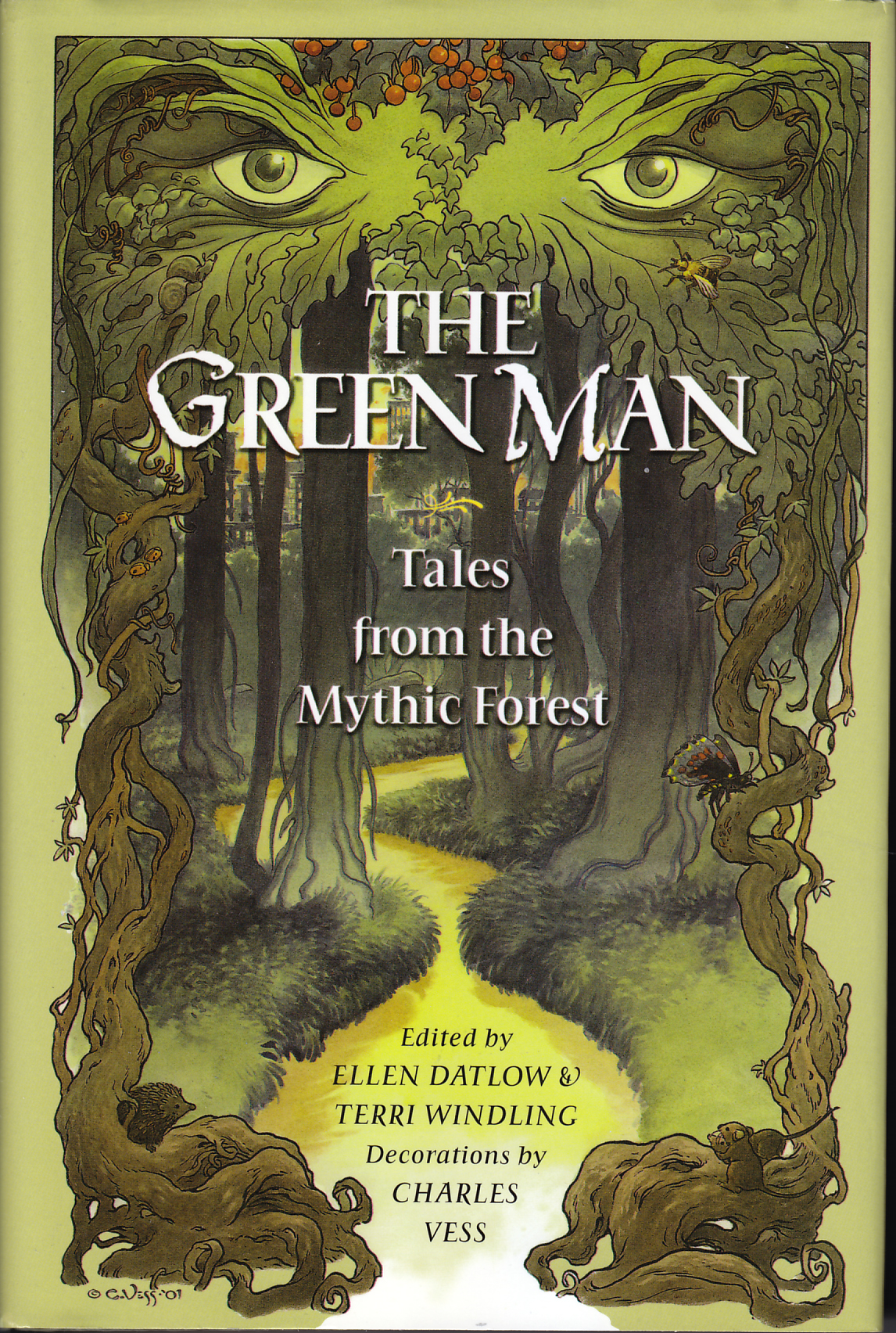 Going Wodwo (poem) - Neil Gaiman
Grand Central Park - Delia Sherman
Daphne - Michael Cadnum
Somewhere in My Mind There is a Painting Box - Charles de Lint
Among the Leaves So Green - Tanith Lee
Song of the Cailleach Bheur (poem) - Jane Yolen
Hunter's Moon - Patricia A. McKillip
Charlie's Away - Midori Snyder
A World Painted by Birds - Katherine Vaz
Grounded - Nina Kiriki Hoffman
Overlooking - Carol Emshwiller
Fie, Fi, Fo, Fum - Gregory Maguire
Joshua Tree - Emma Bull
Ali anugne o chash (the boy who was) - Carolyn Dunn
Remnants - Kathe Koja
The Pagodas of Ciboure - M. Shayne Bell
The Green Man (poem) - Bill Lewis
The Green Word - Jeffrey Ford
Published by Viking
Swan Sister (2003) edited by Ellen Datlow & Terri Windling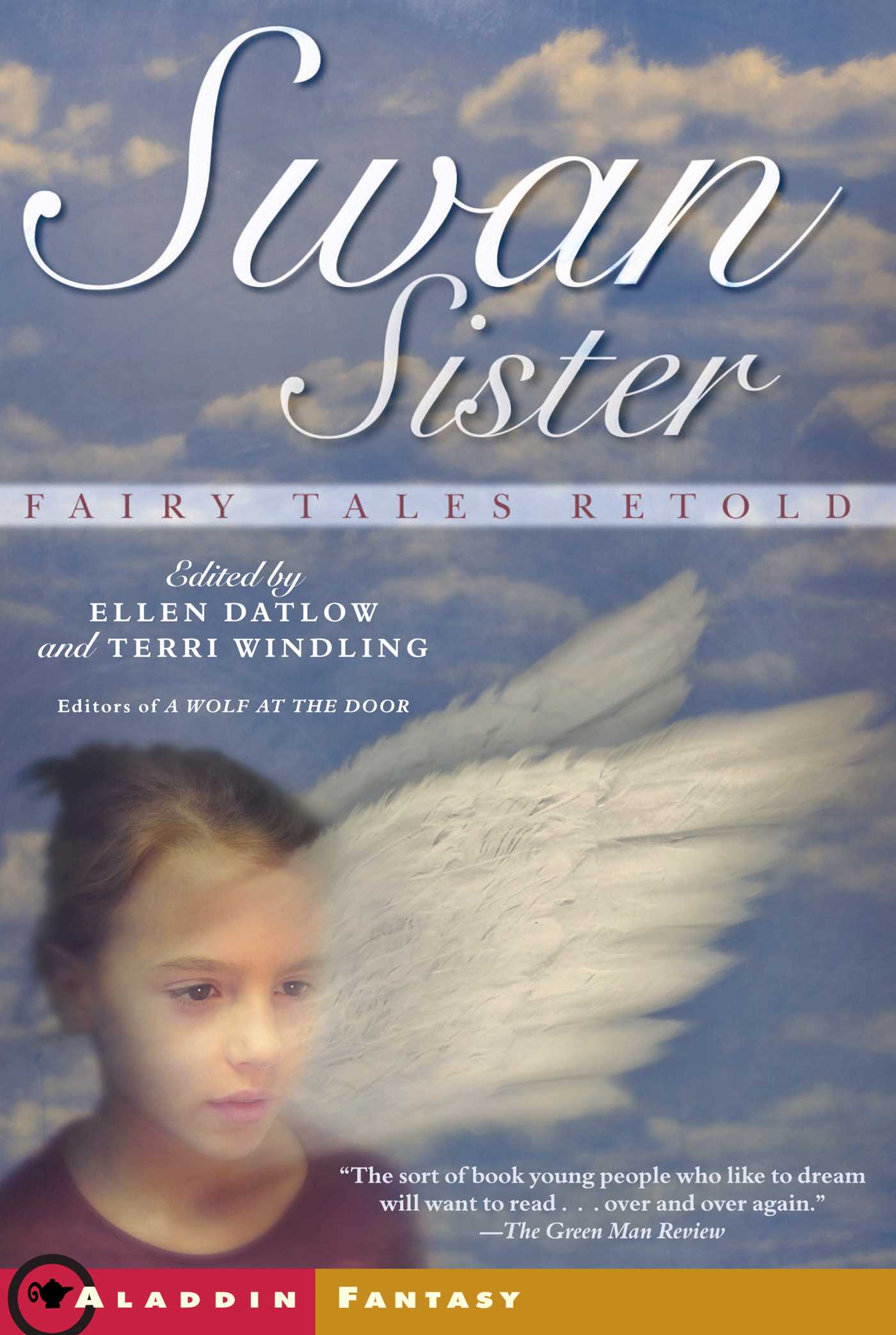 I don't think I've come across a short story collection put together by Ellen Datlow and Terri Windling that I didn't like, and Swan Sister is no exception to the rule.
The stories are fairy tales retold, by a variety of authors--many some of my favorites.
...
All in all, there wasn't a weak story in this collection.
Like A Wolf at the Door, this is a collection for children and young adults. However, the stories are so well written that adults should find them just as appealing. If you like folk and fairy tales, I highly recommend this collection.
Rating: 9/10
The Coyote Road: Trickster Tales (2007) edited by Ellen Datlow & Terri Windling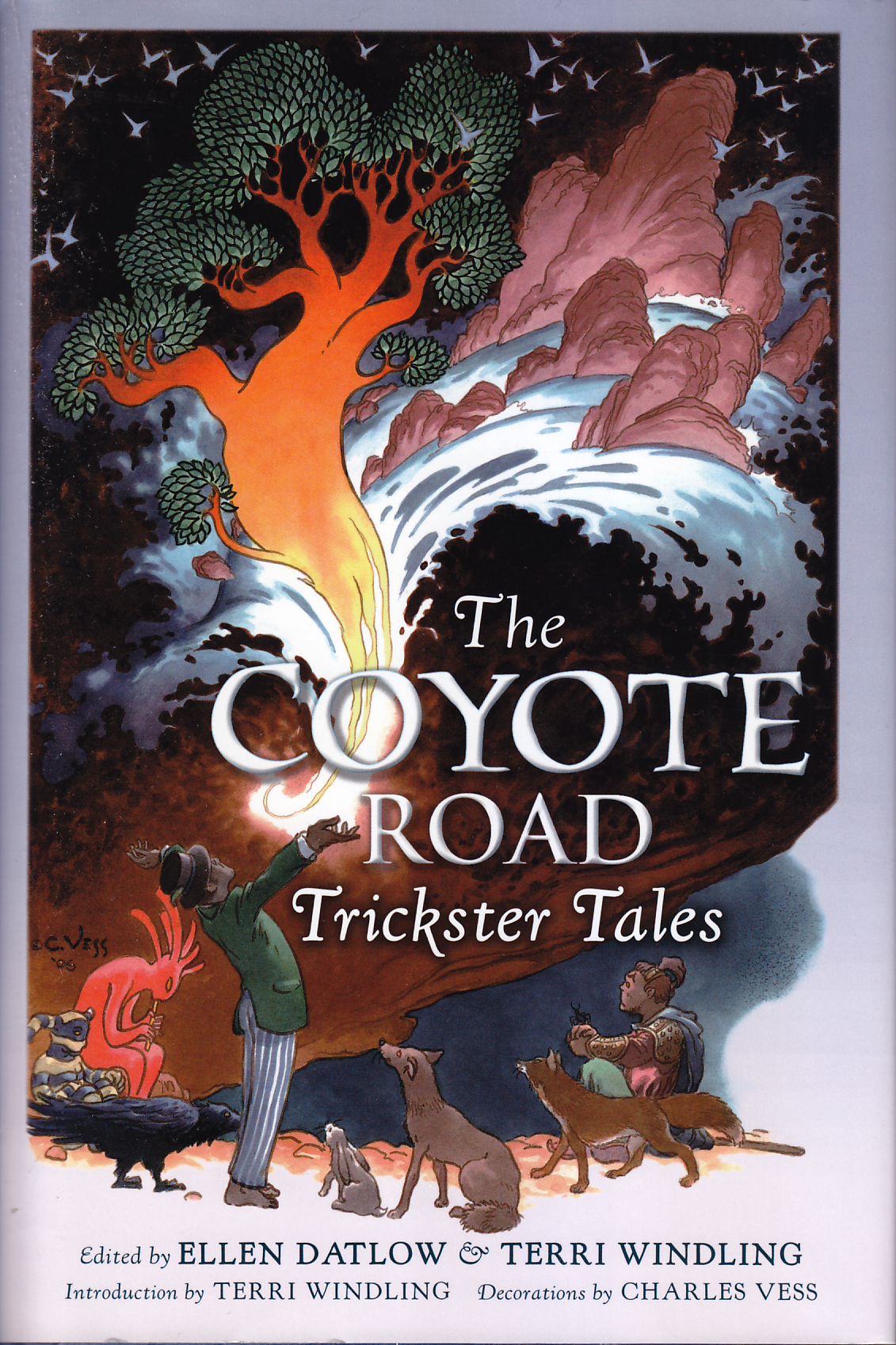 I love short stories. Aside from collections by Charles de Lint, I best love anthologies by Ellen Datlow & Terri Windling best. Their books are like comfort food, and I save them up for when I'm sick or feeling low.
In the same vein as The Green Man and The Faerie Reel, Datlow and Windling have this time collected stories about tricksters, and they've got some of my favorite authors in this collection: Charles de Lint, Nina Kiriki Hoffman, Ellen Kushner. As usual, they manage to collect stories by some of my favorite story tellers.
...
If like short story collections, or trickster tales, then you will want to read The Coyote Road. It has stories from many of my favorite writers, and as with all their collections, I was delighted to discover new authors for whom I'll be on the lookout.
Published by Viking
Rating: 9/10
Troll's Eye View: A Book of Villainous Tales (2009) edited by Ellen Datlow & Terri Windling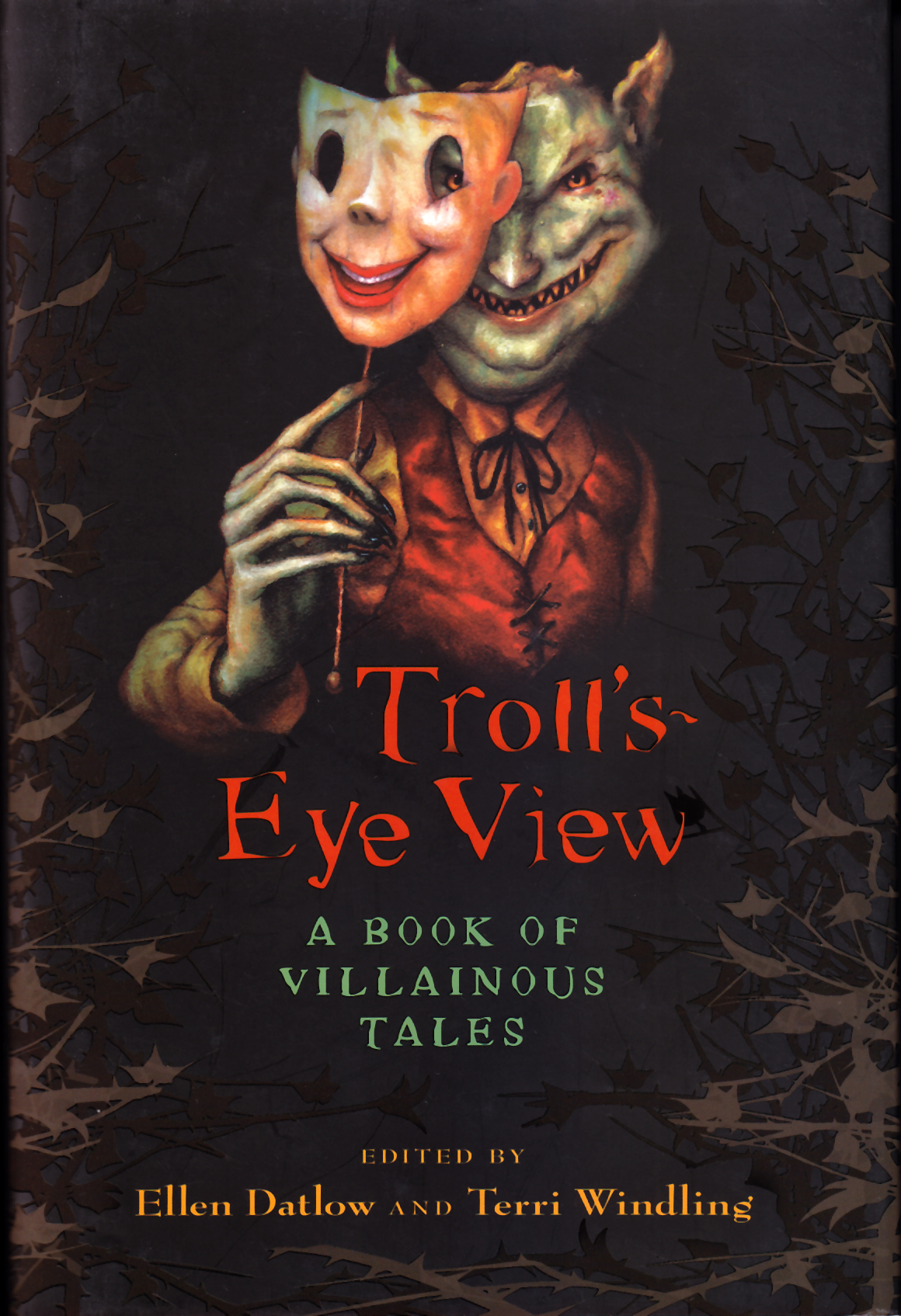 "Wizard's Apprentice" by Delia Sherman
"An Unwelcome Guest" by Garth Nix
"Faery Tales" by Wendy Froud
"Rags and Riches" by Nina Kiriki Hoffman
"Up the Down Beanstalk: A Wife Remembers" by Peter S. Beagle
"The Shoes That Were Danced to Pieces" by Ellen Kushner
"Puss in Boots, the Sequel" by Joseph Stanton
"The Boy Who Cried Wolf" by Holly Black
"Troll" by Jane Yolen
"Castle Othello" by Nancy Farmer
"'Skin" by Michael Cadnum
"A Delicate Architecture" by Catherynne M. Valente
"Molly" by Midori Snyder
"Observing the Formalities" by Neil Gaiman
"The Cinderella Game" by Kelly Link
Published by Viking Books for Young Readers
The Beastly Bride: Tales of the Animal People (2010) edited by Ellen Datlow & Terri Windling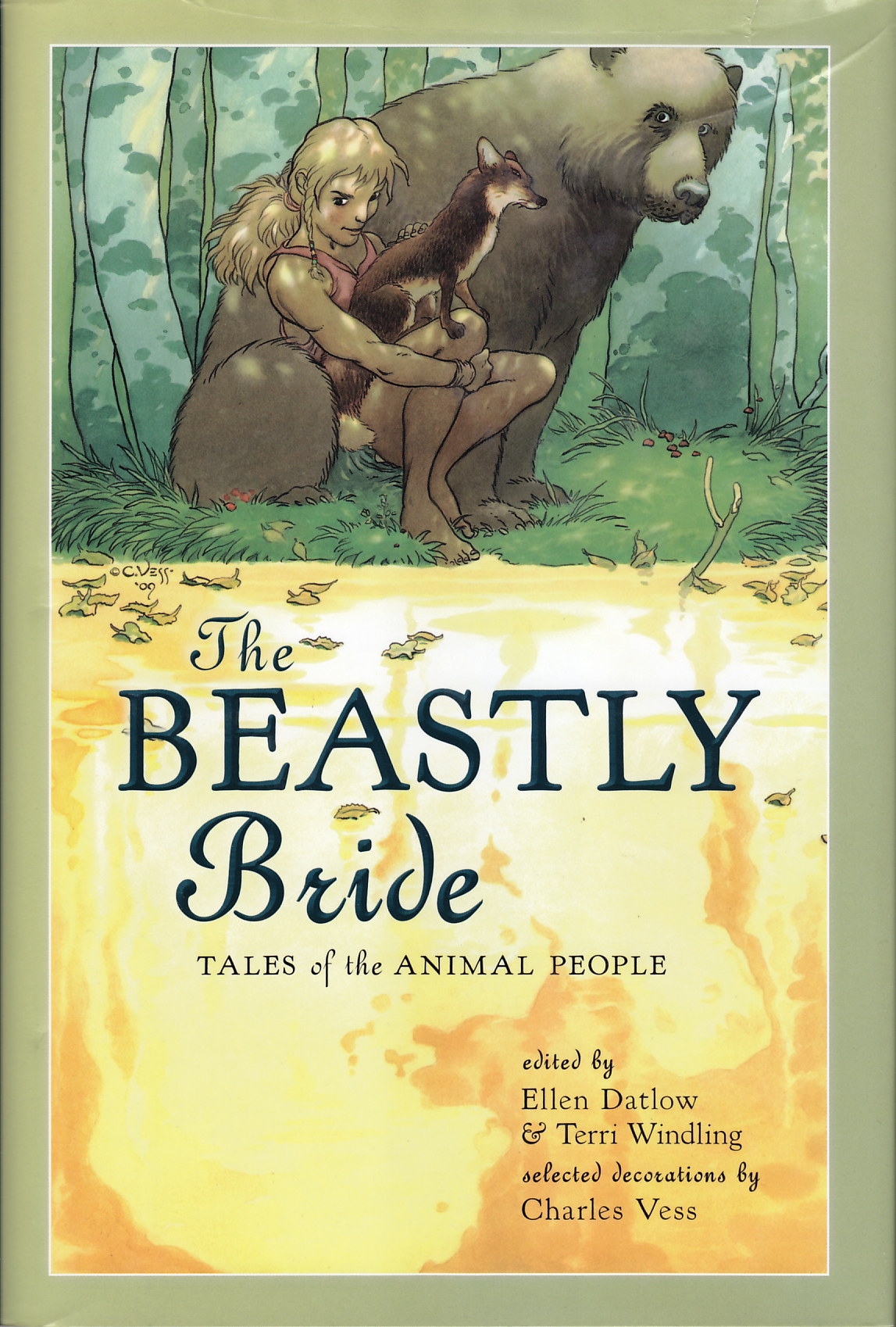 "Island Lake" by E. Catherine Tobler
"The Puma's Daughter" by Tanith Lee
"Map of Seventeen" by Christopher Barzak
"The Selkie Speaks" by Delia Sherman
"Bear's Bride" by Johanna Sinisalo
"The Abominable Child's Tale" by Carol Emshwiller
"The Hikikomori" by Hiromi Goto
"The Comeuppance of Creegus Maxin" by Gregory Frost
"Ganesha" by Jeffrey Ford
"The Elephant's Bride" by Jane Yolen
"The Children of Cadmus" by Ellen Kushner
"The White Doe Mourns Her Childhood" by Jeanine Hall Gailey
"The White Doe's Love Song" by Jeanine Hall Gailey
"The White Doe Decides" by Jeanine Hall Gailey
"Coyote and Valorosa" by Terra L. Gearheart
"One Thin Dime" by Stewart Moore
"The Monkey Bride" by Midori Snyder
"Pishaach" by Shweta Narayan
"The Salamander Fire" by Marly Youmans
"The Margay's Children" by Richard Bowes
"Thumbleriggery and Fledglings" by Steve Berman
"The Flock" by Lucius Shepard
"The Children of the Shark God" by Peter Beagle
"Rosina" by Nan Fry
Viking Books for Young Readers