Books
Anthologies:A Wolf at the Door (2000),The Green Man : Tales from the Mythic Forest (2002),The Faery Reel: Tales from the Twilight Realm (2004),The Secret History of Fantasy (2010),Happily Ever After (2011)
Anthologies
A Wolf at the Door (2000) edited byEllen Datlow &Terri Windling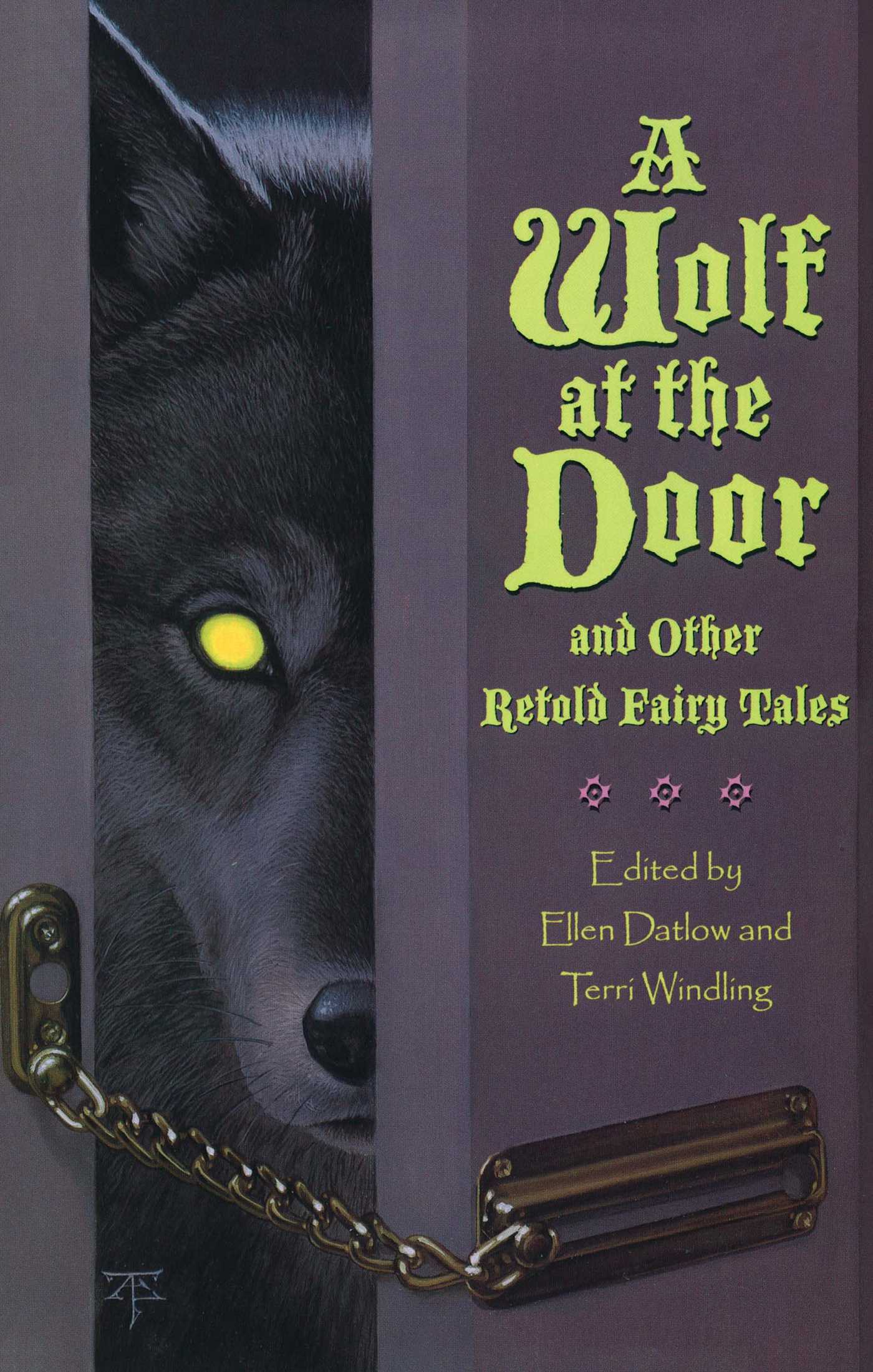 I love folk tales and fairy tales, and I love the idea of stories that have been told and retold, and then finally captured on paper. The problem of course, is finding an author who is good at translating stories from an oral tradition into something that works well written.
There's something wonderful about a well-told short story, and I think that the best short stories in the world are folk and fairy tales.
Ellen Datlow and Terri Windling are very good at finding authors who can take these stories and retell them, and they always put together wonderful anthologies. They brought together thirteen writers for this collection of retold fairy tales.
Conder Elephant -Jane Yolen
The Months of Manhattan -Delia Sherman
Instructions -Neil Gaiman
Mrs Big: "Jack and the Beanstalk" Retold -Michael Cadnum
Falada: The Goose Girls Horse - Nancy Farmer
A Wolf at the Door -Tanith Lee
Ali Baba and the Forty Aliens - Janeen Webb
Swans -Kelly Link
The Kingdom of the Melting Glances -Katherine Vaz
Hansel's Eyes -Garth Nix
Becoming Charise -Kathe Koja
The Seven Stage and Comeback -Gergory Maguire
The Twelve Dancing Princesses -Patricia A. McKillip

...
Not that I think the purpose of these stories is necessarily to scare us, as much as it is to make us pay attention to what is happening around us.
Rating: 7/10
The Green Man : Tales from the Mythic Forest (2002) edited byEllen Datlow &Terri Windling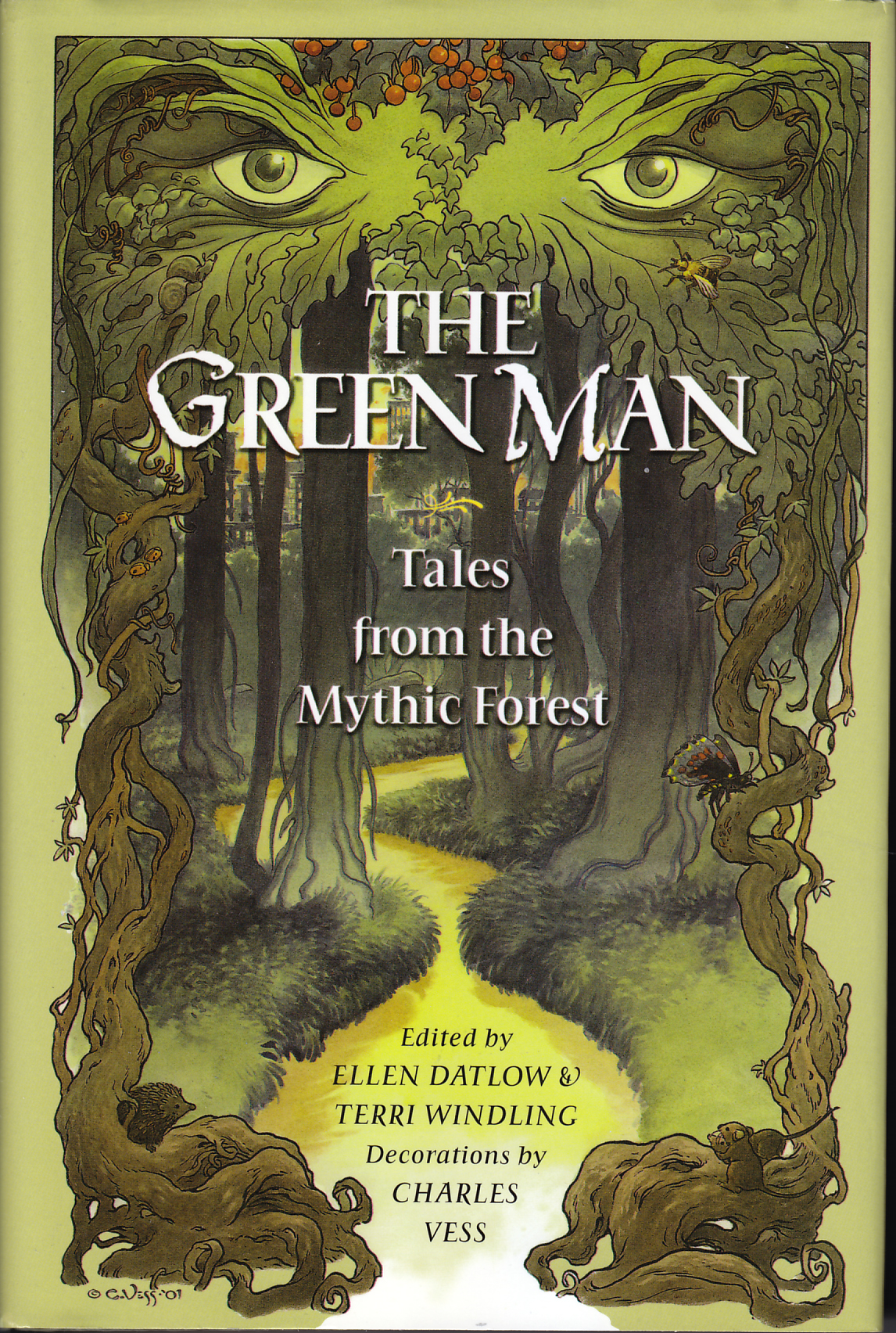 Going Wodwo (poem) -Neil Gaiman
Grand Central Park -Delia Sherman
Daphne -Michael Cadnum
Somewhere in My Mind There is a Painting Box -Charles de Lint
Among the Leaves So Green -Tanith Lee
Song of the Cailleach Bheur (poem) -Jane Yolen
Hunter's Moon -Patricia A. McKillip
Charlie's Away -Midori Snyder
A World Painted by Birds -Katherine Vaz
Grounded -Nina Kiriki Hoffman
Overlooking -Carol Emshwiller
Fie, Fi, Fo, Fum -Gregory Maguire
Joshua Tree -Emma Bull
Ali anugne o chash (the boy who was) - Carolyn Dunn
Remnants -Kathe Koja
The Pagodas of Ciboure - M. Shayne Bell
The Green Man (poem) - Bill Lewis
The Green Word -Jeffrey Ford
Published by Viking
The Faery Reel: Tales from the Twilight Realm (2004) edited byEllen Datlow &Terri Windling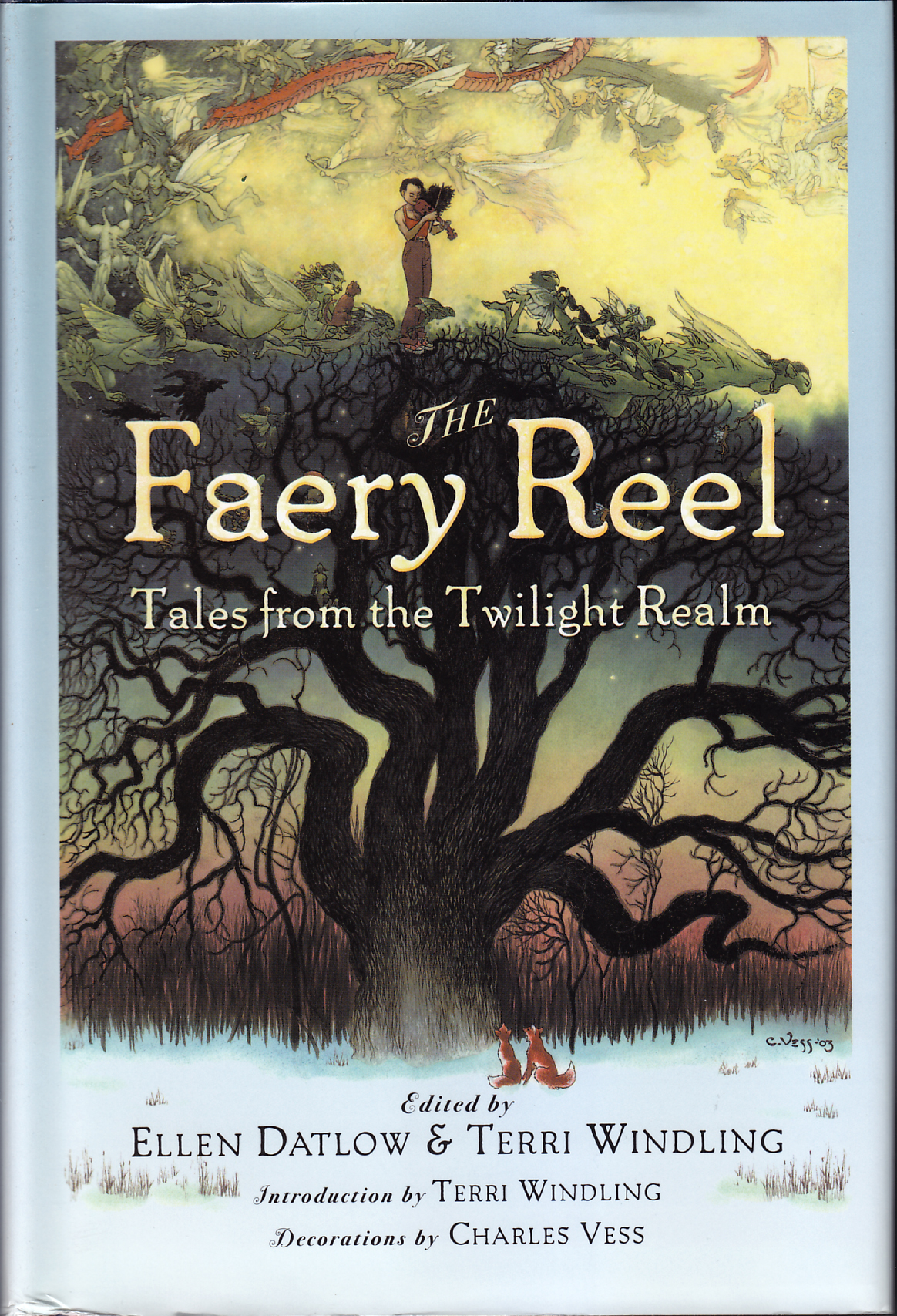 Any time I see a fantasy anthology edited by Ellen Datlow and Terri Windling, I'll often as not pick it up, because I know that it's going to be good. Usually very good. This volume however, has the added bonus of poems by bothCharles de Lint andNeil Gaiman.
Needless to say I snatched it up--even thought it was in hardback--when I came across it.
These faery tales are based not upon the fairies of Disney but upon the faery of folktales. As they say in the introduction:
In this book about our good neighbors, we've asked a number of our favorite writers to travel into the Twilight Realm (an ancient name for the land of Faerie) and to bring back stories of faeries and the hapless mortals who cross their path. "No butterfly-winged sprites," we pleaded. "Read the old folktales, journey farther afield, find some of the less explored paths through the Realm.
It would be hard for me not to love this book.
The Boys of Goose Hill -Charles de Lint
Catnyp -Delia Sherman
Elvenbrood -Tanith Lee
Your Garnet Eyes -Katherine Vaz
Tengu Mountain -Gregory Frost
THe Faery Handbag -Kelly Link
The Price of Glamour - Steve Berman
The Night Market -Holly Black
Never Never - Bruce Glassco
SCreaming for Aferies - Ellen Steiber
Immersed in Matter -Nina Kiriki Hoffman
Undine -Patricia A. McKillip
The Oakthing -Gregory Maguire
Foxwife - Hiromi Goto
The Dream Eaters - A. W. Dellamonico
The Faery Reel -Neil Gaiman
The Shooter at the Heartrock Waterhole - Bill Congreve
The Annals of Eelin-OK -Jeffrey Ford
De La Tierra -Emma Bull
How to Find Faery - Nan Fry
...
All in all an excellent anthology. But I hardly expected anything less.
Rating: 8/10
Published by Viking
The Secret History of Fantasy (2010) edited byPeter S. Beagle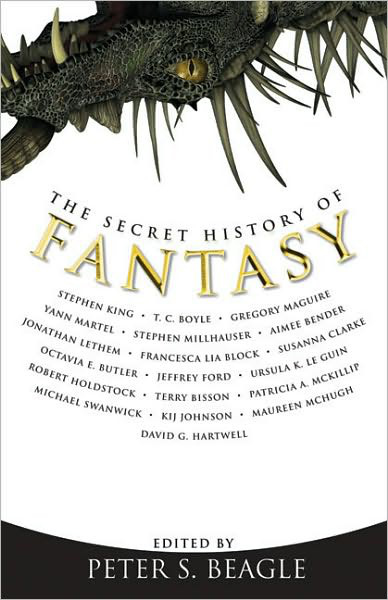 This is an interesting collection of short stories, by some very good authors. I can't say all the stories were to my taste, but they were all very good.
...
Gregory Maguire's story "Scarecrow" was good, but not particularly to my taste, which perhaps explains why I've never been able to get into "Wicked." This continues the Oz theme, from the point of view of the Scarecrow as he develops awareness and eventually meets Dorothy. Not quite sure what it is I didn't like, because the story that was happening behind the Scarecrow meeting Dorothy was very interesting. Perhaps his writing style simply isn't my thing,.
...
All in all, an excellent collection of stories, albeit one I don't recommend reading when you're depressed.
Rating: 8/10
Happily Ever After (2011) edited byJohn Klima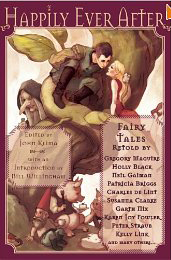 Not sure how I missed this when I first came out, but this anthology is full of things I love: authors whose books I love, stories based on folk and fairy tales–lovely!
The only thing I didn't like, is I wish the anthology hadn't ended on such a dark and depressing story.
Mind you, the dark and depressing stories were good–very good–but these tales ran very true to the original stories, with a not insignificant amount of rape and incest and general horribleness. Just like the original tales.
But there's also a good amount of humor as well, and I just wished the collection had ended with one of the funnier stories.
The Seven Stage a Comeback –Gregory Maguire
And In Their Glad Rags –Genevieve Valentine
The Sawing Boys – Howard Waldrop
Bear It Away – Michael Cadnum
Mr. Simonelli or the Fairy Widower –Susanna Clarke
The Black Fairy's Curse – Karen Joy Fowler
My Life As A Bird –Charles de Lint
The Night Market –Holly Black
The Rose in Twelve Petals –Theodora Goss
The Red Path –Jim C. Hines
Blood and Water – Alethea Kontis
Hansel's Eyes –Garth Nix
He Died That Day, In Thirty Years – Wil McCarthy
Snow In Summer –Jane Yolen
The Rose Garden –Michelle West
The Little Magic Shop – Bruce Sterling
Black Feather – K. Tempest Bradford
Fifi's Tail – Alan Rodgers
The Faery Handbag –Kelly Link
Ashputtle – Peter Straub
The Emperor's New (And Improved) Clothes – Leslie What
Pinocchio's Diary – Robert J. Howe
Little Red – Wendy Wheeler
The Troll Bridge –Neil Gaiman
The Price –Patricia Briggs
Ailoura – Paul Di Filippo
The Farmer's Cat – Jeff VanderMeer
The Root of The Matter –Gregory Frost
Like a Red, Red Rose – Susan Wade
Chasing America – Josh Rountree
Stalking Beans – Nancy Kress
Big Hair –Esther Friesner
The Return of the Dark Children – Robert Coover
The introduction was written byBill Willingham, whose writing I adore, and whose introduction amused me. Here's the very start of it:
I have to confess I'm no good at writing a proper introduction, because, I'm in the storytelling business, which means I get to lie for a living, and I've become well practiced at it. But introductions are supposed to be true. After so many years, I despair if I have much unvarnished truth in me.
...
Please note, as previously mentioned, the stories have rape and incest and lots and lots of sex in addition to evil stepmothers and other such killers.
There were also a fair number of very dark and very depressing tales that were very good, but that I didn't enjoy at all.
Rating:8/10
Published by Night Shade Books
Queen Victoria's Book of Spells: An Anthology of Gaslamp Fantasy (2013) edited by Ellen Datlow and Terri Windling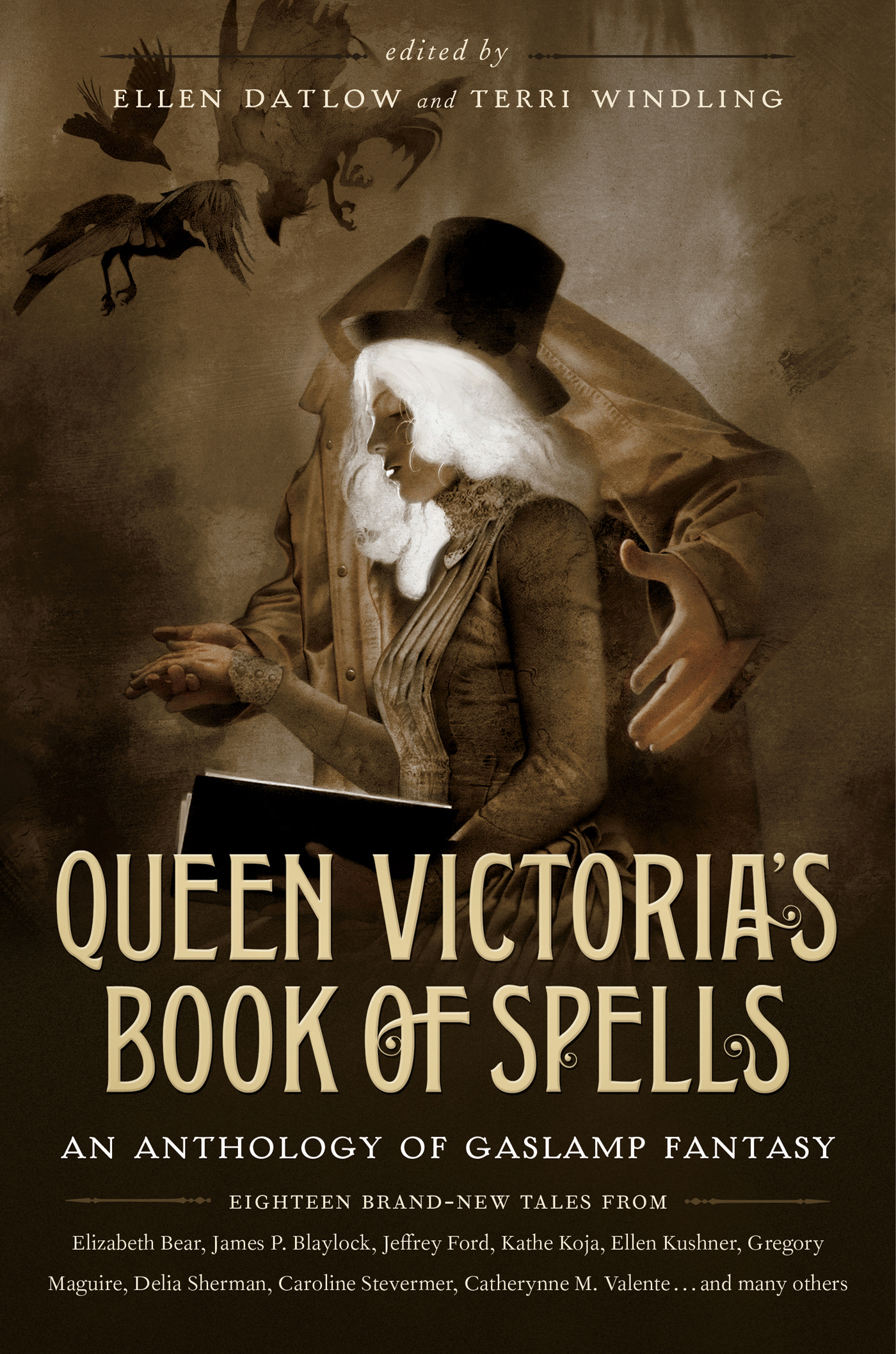 Queen Victoria's Book of Spells by Delia Sherman
The Fairy Enterprise by Jeffrey Ford
From the Catalogue of the Pavilion of the Uncanny and Marvellous, Scheduled for Premiere at the Great Exhibition (Before the Fire) by Genevieve Valentine
The Memory Book by Maureen McHugh
La Reine d'Enfer by Kathe Koja
For the Briar Rose by Elizabeth Wein
The Governess by Elizabeth Bear
Smithfieldby James P. Blaylock
The Unwanted Women of Surrey by Kaaron Warren
Chargedby Leanna Renee Hieber
Mr. Splitfoot by Dale Bailey
Phosphorusby Veronica Schanoes
We Without Us Were Shadows by Catherynne M. Valente
The Vital Importance of the Superficial by Ellen Kushner and Caroline Stevermer
The Jewel in the Toad Queen's Crown by Jane Yolen
A Few Twigs He Left Behind by Gregory Maguire
Their Monstrous Minds by Tanith Lee
Estella Saves the Village by Theodora Goss
I love anthologies and I love historical fiction. So this should have been an automatic win for me.
Instead it was a two-plus year slog that I finally forced myself to finish.
...
Published by Tor