Kathe Koja
Books
Anthologies: Snow White, Blood Red (1993), Ruby Slippers, Golden Tears (1995), A Wolf at the Door (2000), The Green Man: Tales from the Mythic Forest (2002), Swan Sister (2003), Outsiders: 22 All-New Stories From the Edge (2005), Teeth: Vampire Tales (2011)
Anthologies
Snow White, Blood Red (1993) edited by Ellen Datlow & Terri Windling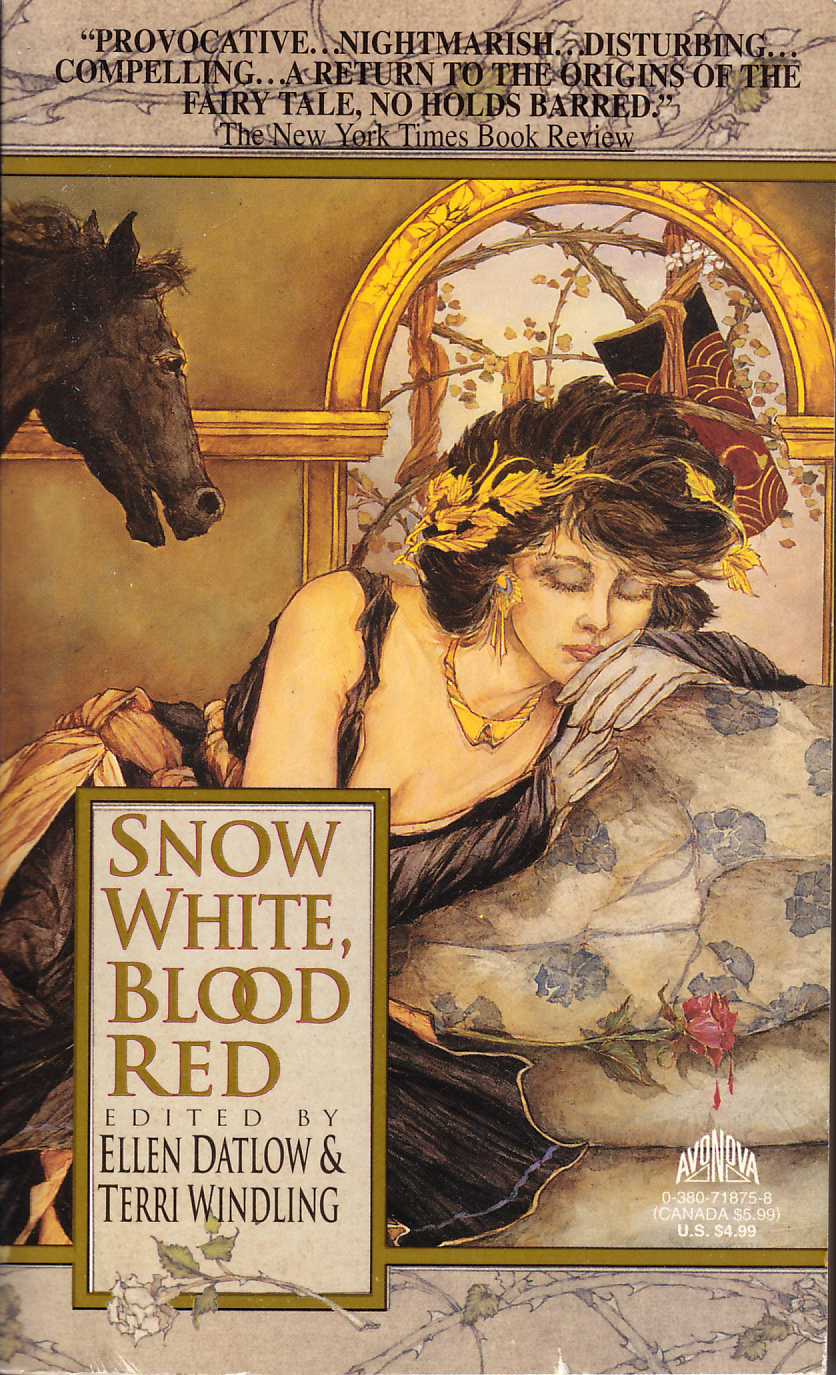 I often have a hard time putting down interesting books. Which means that if I'm reading a book I real like before bed, I end up staying up past my bed time instead of falling asleep. One solution is to read non-fiction before bed. The other solution is to read short story anthologies. Unfortunately, there are not a lot of high quality anthologies out there. At least, not enough to keep up with the rate at which I can read.
So I decided to go back and reread Ellen Datlow and Terri Windling's fantasy anthology Snow White, Blood Red. This book has a whole bunch of things going for it at once: it's edited by Ellen Datlow and Terri Windling; it's got stories by Neil Gaiman and Charles de Lint; and the stories are retellings or reinventions of folk and fairy tales. Mostly fairy tales in this book.
Plus, a gorgeous cover by Thomas Canty.
For those who are unfamiliar with folk tales and fairy tales, many of the original tales--before they got cleaned up and given to kids--were filled with sex, (in addition to the casual violence of people getting eyes poked out or chopping off bits of feet or being shoved into ovens.)
In other words, these are not stories for children.
...
As best I can tell, this anthology is still available, so if you like short stories, this is an anthology you won't want to miss. However, if you like anthologies, this is probably one you already have sitting on your shelves.
Rating: 7/10
Published by Harper Collins
Ruby Slippers, Golden Tears (1995) edited by Ellen Datlow & Terri Windling
Ruby Slippers - Susan Wade
The Beast - Tanith Lee
Masterpiece - Garry Kilworth
Summer Wind - Nancy Kress
This Century of Sleep, or Briar Rose Beneath the Sea - Farida S. T. Shapiro
The Crossing - Joyce Carol Oates
Roach in Loafers - Roberta Lannes
Naked Little Men - Michael Cadnum
Brother Bear - Lisa Goldstein
The Emperor Who had Never Seen a Dragon - John Brunner
Billy Fearless - Nancy A Collins
The Death of Koshchei the Deathless - Gene Wolfe
The Real Princess - Susan Palwick
The Huntsman's Story - Milbre Burch
After Push Comes to Shove - Milbre Burch
Hansel and Grettel - Gahan Wilson
Match Girl - Anne Bishop
Waking the Prince - Kathe Koja
The Fox Wife - Ellen Steiber
The White Road - Neil Gaiman
The Traveler and the Tale - Jane Yolen
The Printer's Daughter - Delia Sherman
Published by Harper Collins
A Wolf at the Door (2000) edited by Ellen Datlow & Terri Windling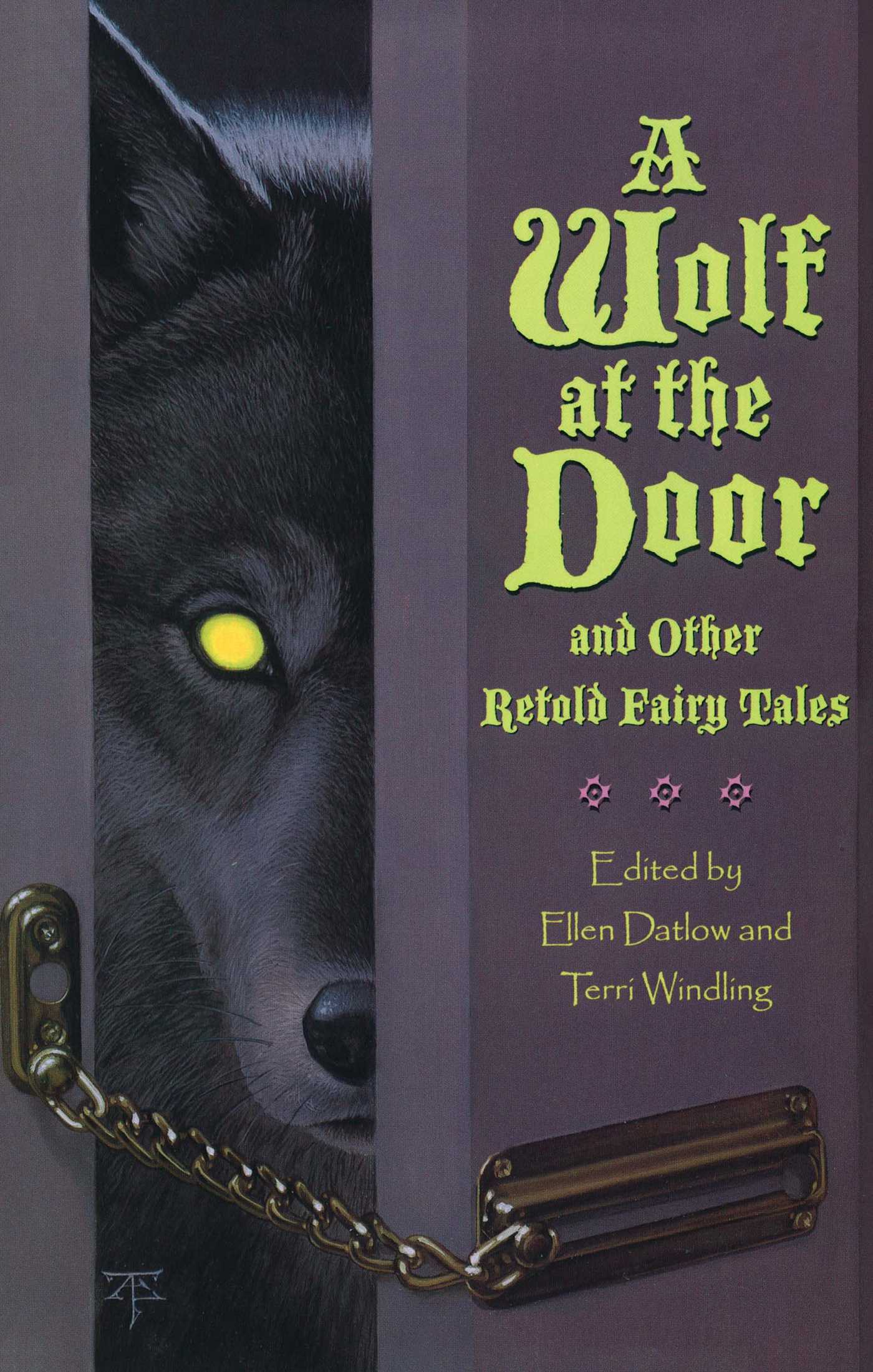 I love folk tales and fairy tales, and I love the idea of stories that have been told and retold, and then finally captured on paper. The problem of course, is finding an author who is good at translating stories from an oral tradition into something that works well written.
There's something wonderful about a well-told short story, and I think that the best short stories in the world are folk and fairy tales.
Ellen Datlow and Terri Windling are very good at finding authors who can take these stories and retell them, and they always put together wonderful anthologies. They brought together thirteen writers for this collection of retold fairy tales.

Although one or two of the stories I found to be just okay, others were nothing short of excellent. It also seems as if the stories were I liked the best were towards the end of the book. For me the collection started out okay, and then got better and better the more I read.
Not that I think the purpose of these stories is necessarily to scare us, as much as it is to make us pay attention to what is happening around us.
Rating: 7/10
The Green Man : Tales from the Mythic Forest (2002) edited by Ellen Datlow & Terri Windling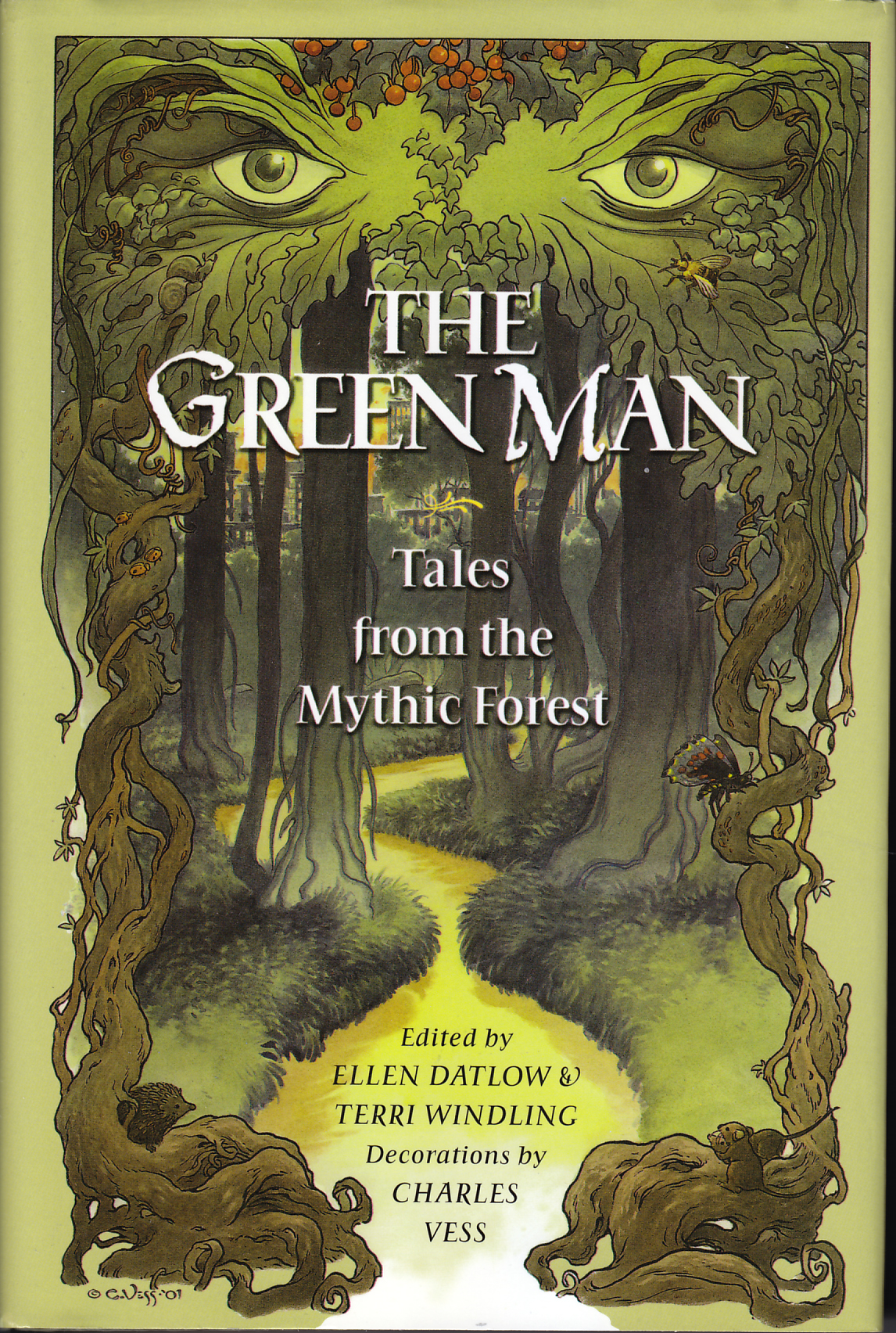 Going Wodwo (poem) - Neil Gaiman
Grand Central Park - Delia Sherman
Daphne - Michael Cadnum
Somewhere in My Mind There is a Painting Box - Charles de Lint
Among the Leaves So Green - Tanith Lee
Song of the Cailleach Bheur (poem) - Jane Yolen
Hunter's Moon - Patricia A. McKillip
Charlie's Away - Midori Snyder
A World Painted by Birds - Katherine Vaz
Grounded - Nina Kiriki Hoffman
Overlooking - Carol Emshwiller
Fie, Fi, Fo, Fum - Gregory Maguire
Joshua Tree - Emma Bull
Ali anugne o chash (the boy who was) - Carolyn Dunn
Remnants - Kathe Koja
The Pagodas of Ciboure - M. Shayne Bell
The Green Man (poem) - Bill Lewis
The Green Word - Jeffrey Ford
Published by Viking
Swan Sister (2003) edited by Ellen Datlow & Terri Windling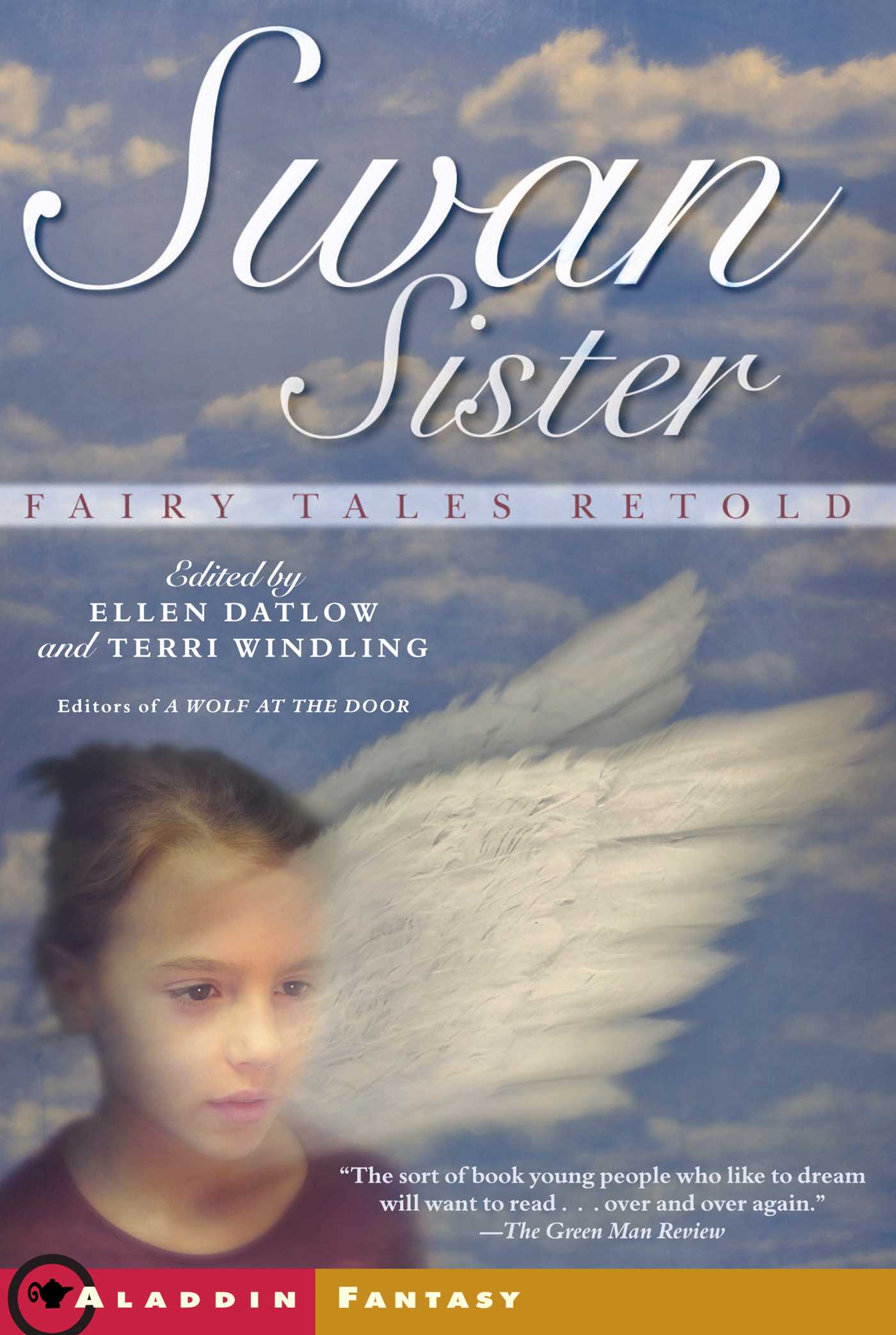 I don't think I've come across a short story collection put together by Ellen Datlow and Terri Windling that I didn't like, and Swan Sister is no exception to the rule.
The stories are fairy tales retold, by a variety of authors--many some of my favorites.
...
All in all, there wasn't a weak story in this collection.
Like A Wolf at the Door, this is a collection for children and young adults. However, the stories are so well written that adults should find them just as appealing. If you like folk and fairy tales, I highly recommend this collection.
Rating: 9/10
Year's Best Fantasy and Horror: Sixteenth Edition (2003) edited by Ellen Datlow & Terri Windling
Kelly Link - Lull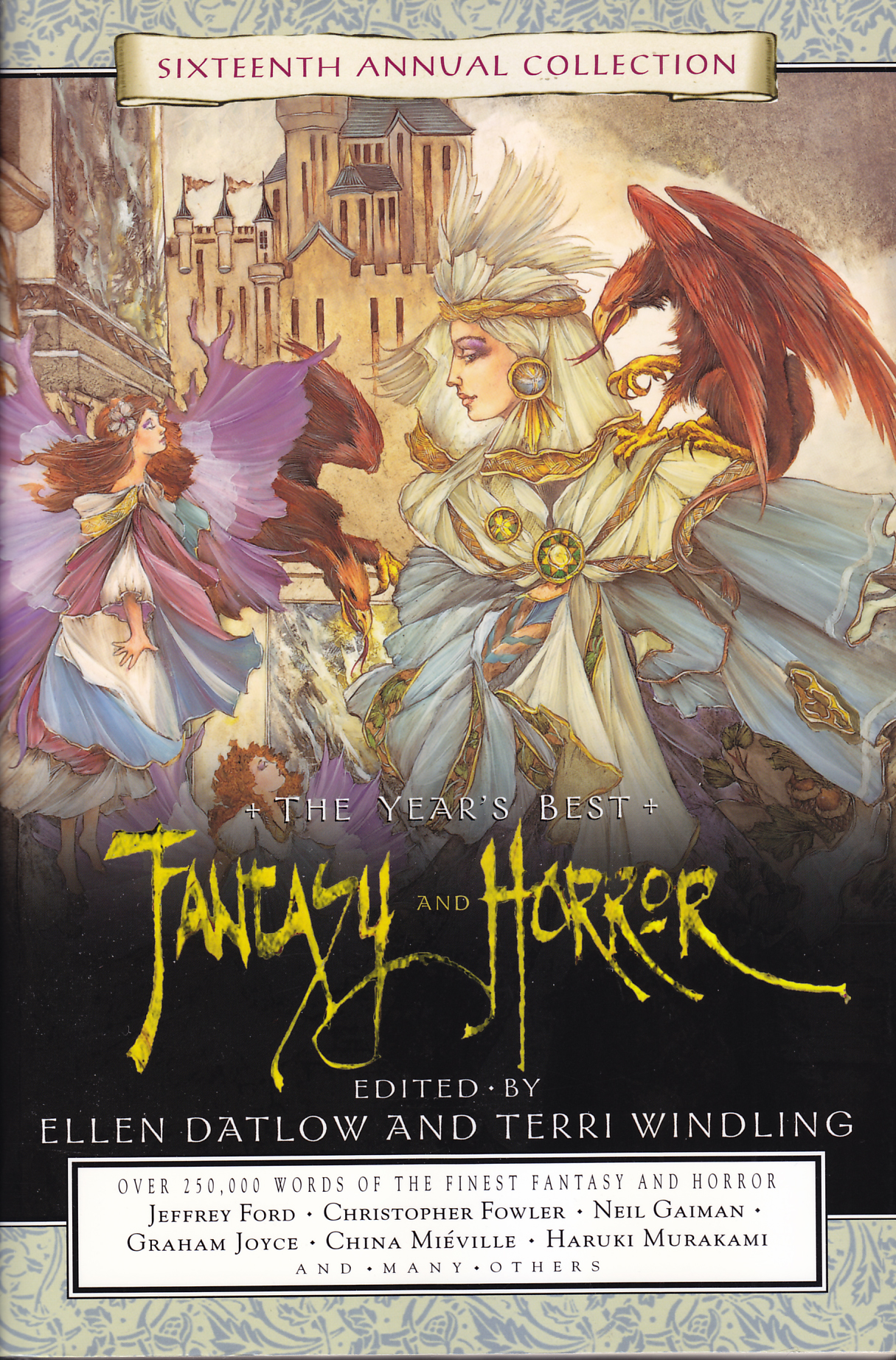 Kim Newman - Egyptian Avenue
Corey Marks - A Letter of Explanation
China Miéville - Details
Eric Schaller - The Assistant to Dr. Jacob
M. Shayne Bell - The Pagodas of Ciboure
Graham Joyce - The Coventry Boy
Helga M. Novak - The Wild Hunt
Jeffrey Ford - The Green Word
Terry Dowling - Stitch
Michael Libling - Puce Boy
Zoran Zivkovic - The Violin-Maker
Bentley Little - Maya's Mother
Carlton Mellick, III - Porno in August
Brian Hodge - Nesting Instincts
Conrad Williams - The Machine
Thomas M. Disch - Hansel, A Retrospective, or, The Danger of Childhood Obesity
Melissa Hardy - Aquerò
Joel Lane - The Receivers
Nicholas Royle - Standard Gauge
Jeffrey Ford - Creation
Tracina Jackson-Adams - Seven Pairs of Iron Shoes
Karen Joy Fowler - What I Didn't See
Jackie Bartley - Reading Myth to Kindergartners
Peter Dickinson - Mermaid Song
Neil Gaiman - Pages from a Journal Found in a Shoebox Left in a Greyhound Bus Somewhere Between Tulsa, Oklahoma, and Louisville, Kentucky
Ramsey Campbell - No End of Fun
Adam Roberts - Swiftly
Christopher Fowler - The Green Man
Brian Hodge - Some Other Me
Robert Phillips - The Snow Queen
Jay Russell - Hides
Luis Alberto Urrea - Mr. Mendoza's Paintbrush
Margaret Lloyd - Five Poems
Stephen Gallagher - Little Dead Girl Singing
Robin McKinley - The Pool in the Desert
Haruki Murakami - Thailand
Theodora Goss - The Rose in Twelve Petals
Kathe Koja - Road Trip
Lucy Taylor - Unspeakable
Elizabeth Hand - Inside Out: On Henry Darger
Kevin Brockmeier - The Green Children
Sharon McCartney - After the Chuck Jones Tribute on Teletoon
Neil Gaiman - Feeders and Eaters
Susan Power - Roofwalker
Don Tumasonis - The Prospect Cards
Nicholas Royle - Hide and Seek
Nan Fry - The Wolf's Story
Elizabeth Hand - The Least Trumps
Published by St. Martin's Griffin
Outsiders: 22 All-New Stories From the Edge (2005) edited by Nancy Holder & Nancy Kilpatrick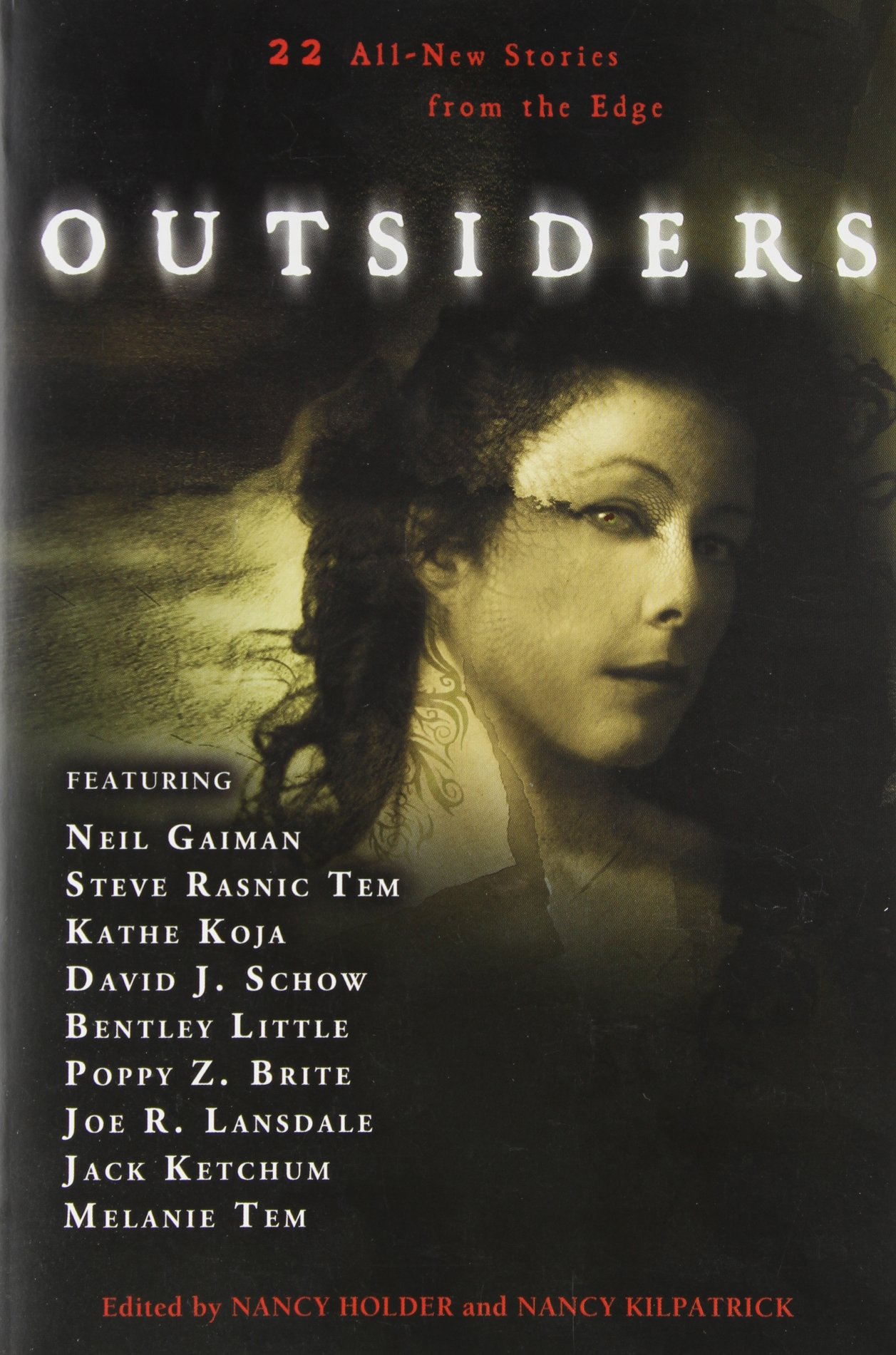 The Empty Chambers - Neil Gaiman
The Company You Keep - Steve Rasnic Tem Under the Needle - Léa Silhol Scarabesque: The Girl Who Broke Dracula - Tanith Lee Expanding Your Capabilities Using Frame/Shift(tm) Mode - David J. Schow Cat and the Cold Prince - Freda Warrington Faces in Revolving Souls - Caitlín R. Kiernan Lighten Up - Jack Ketchum Pit Boy - Elizabeth Massie The Country of the Blind - Melanie Tem Ruby Tuesday - Kathe Koja
Running Beneath the Skin - Brett Alexander Savory Grim Peeper - Katherine Ramsland Craving - Yvonne Navarro Violent Angel - Thomas S. Roche ...And the Damage Done - Michael Marano
Pop Star in the Ugly Bar - Bentley Little Miss Singularity - John Shirley
The Working Slob's Prayer - Poppy Z. Brite If I Should Wake Before I Die - Brian Hodge Honing Sebastian - Elizabeth Engstrom The Shadows, Kith and Kin - Joe R. Lansdale
Teeth: Vampire Tales (2011) edited by Ellen Datlow & Terri Windling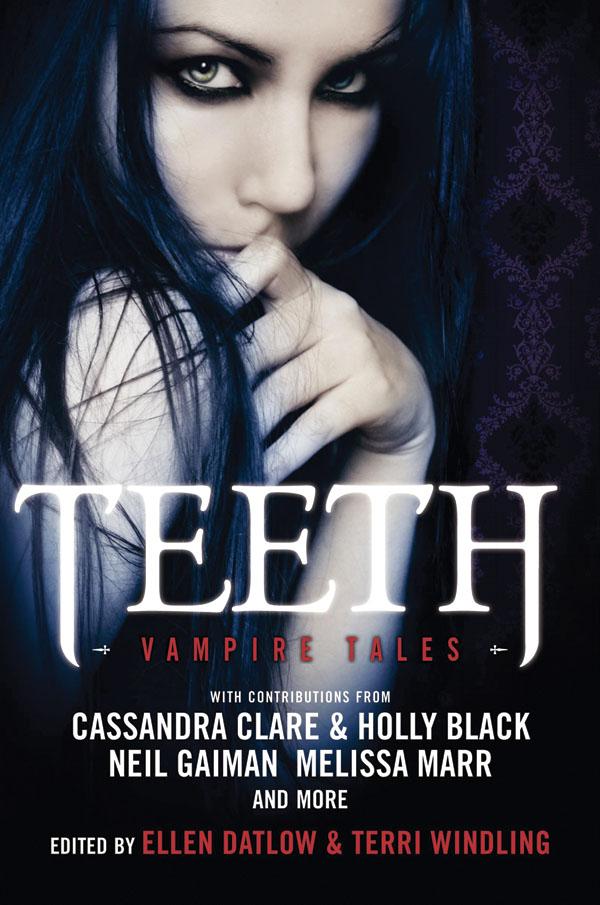 This is an Ellen Datlow and Terri Windling anthology, so as always, there are fascinating bits of folklore.
Rice, not garlic, was the most effective means of keeping Chinese vampires at bay, for they had a strange compulsion to count. Throwing rice at the ghost compelled it to stop; it would not move again until each grain was counted.
...
"Baby" by Kathe Koja is another story in the horror genre. Another not for me.
...
As expected, this was a very good anthology, and although I didn't like the horror or the poetry, that's a failing of mine, not the anthology.
Rating: 8/10
Published by Harper Collins